Katarina Deme is 19-year-old social media personality, model and actress, probably best known for her Instagram and TikTok accounts under the handles katarina.deme and katarinademe, respectively – she's amassed over 1.1 million followers on each. Katarina had a decent following by 2019, but gained additional prominence as the girlfriend of The Kid LAROI, the rapper who went viral in July 2021 with his song "STAY," featuring Justin Bieber.
Katarina Deme 🖤 pic.twitter.com/DtnHbpTDlY

— baddieproblemzz (@bproblemzz) October 30, 2021
Early life
Katarina Demetriades was born on 19 February 2004, in the USA. She has five or six siblings, probably three sisters and three rothers. Only two older sisters are social media stars, Anastasia and Alexandra "Alexa" Deme, the latter of whom was born on 21 December 2002. She's a social media personality known as @alexademe on Instagram and TikTok, while Anastasia has a minor following on her Instagram, @anastasiademe. The sisters, born to  James T. "Jim" and Nancy Demetriades, have Greek heritage.
Katarina's father was raised in a family of scientists, became interested in computers at nine, and enrolled at Caltech (California Institute of Technology) at 11. He matriculated from Webb School in Claremont, California in 1980, then graduated from Loyola Marymount University in Los Angeles, California, with a Bachelor of Science in economics and a second major in computer science; he also minored in marketing and mathematics. Afterwards, Jim worked for two software companies but at 26, quit to start his own, SeeBeyond – he invested $5,000, and sold it for $387 million to Sun Microsystems in June 2005.
Jim founded a real estate development and management company, Multiversal, a venture capital company, Kairos Ventures, and a media company for educating children on the Internet, Inspero.net.
Nancy, active on Instagram under her private profile, @nancydeme, spends her time homeschooling her children. According to Nancy's LinkedIn profile, she owned several restaurants in California from 2009 to 2014. In January 2014, she and Jim purchased The Landing Resort and Spa in South Lake Tahoe, California, which consists of a hotel, a bar and two restaurants
Early education, source of career
Katarina and her older sisters spent their youth and teenage years traveling across the globe; they've been to Africa, Dubai, Mexico and Italy, among other countries. A Reddit user, itakeoffstrokes, who seems to know intimate details about the Demetriades family, remarked on the /LAinfluencersnark subreddit that Katarina enrolled into New York University (NYU) in New York City, and that her sisters Alexa and Anastasia are attending University of California, Los Angeles (UCLA) – Anastasia's Instagram profile confirms that claim.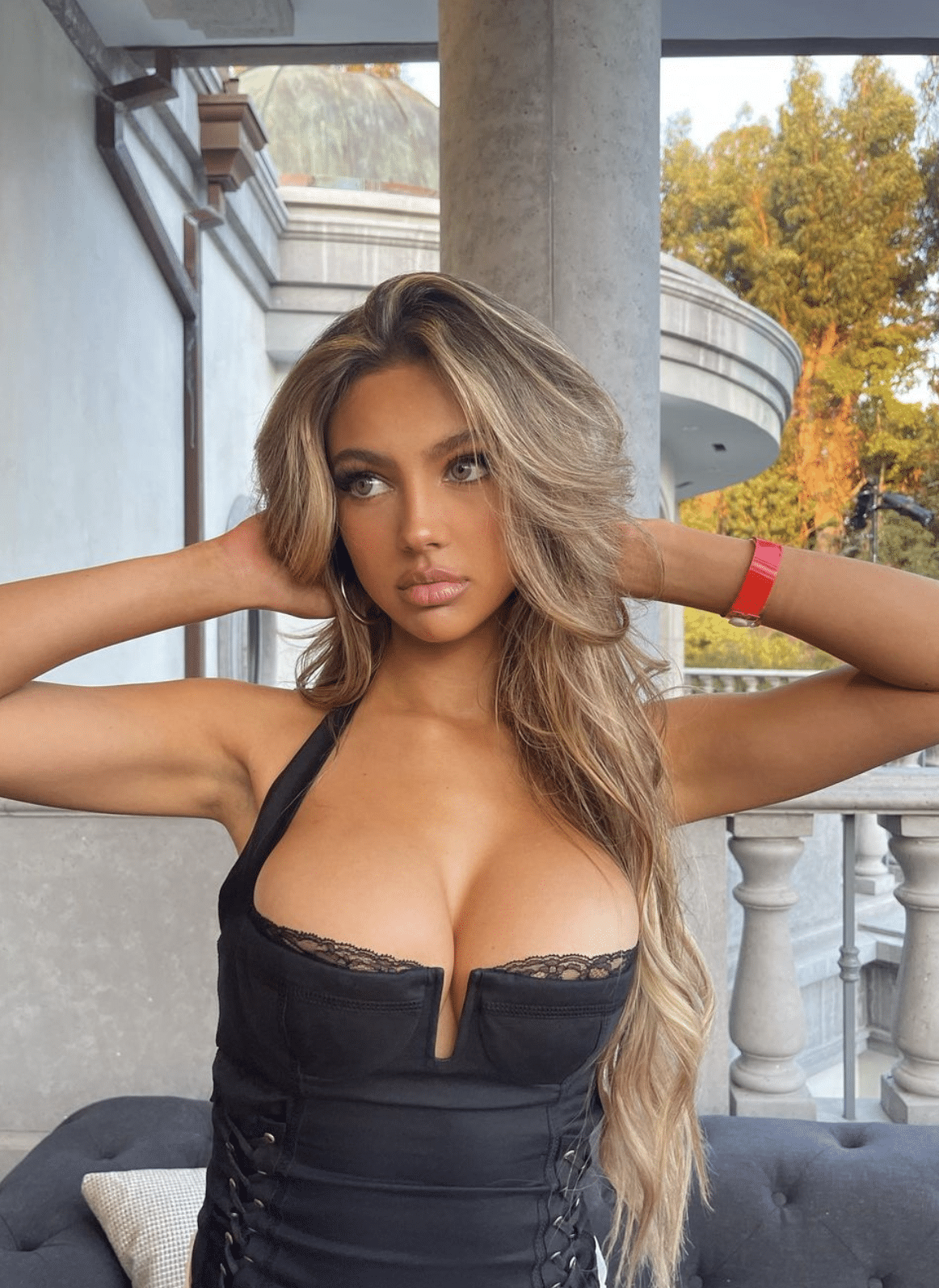 Career
Katarina first posted on Instagram on 29 November 2016. She only posted once again, in December 2018 before 2020, when her online prominence began to soar. Her posts roughly doubled the number of likes with each post, but she didn't use her large following to attract sponsors.
Modeling and acting
Katarina attempted to start her acting career in 2017 by starring in the short film entitled "Saturn Return." She then played Brianna in an episode of the well-known sitcom "Will & Grace" in 2018. After a two-year break, Katarina portrayed a waitress in the movie "The Came You," headlined by comedian Craig Ferguson and actress Kathie Lee Gifford. However, Katarina got into high-profile modeling in 2023 by appearing in a leather jacket and pants campaign for GUESS USA.
Ex-boyfriend, rapper The Kid LAROI
According to The US Sun, Katarina Deme began dating the Australian rapper and music producer Charlton Kenneth Jeffrey  – "The Kid LAROI" Howard – in July 2020. They fell in love after meeting through mutual friends, following The Kid LAROI's move from Sydney, Australia, to Los Angeles, where she lived.
The Kid LAROI gave her the spotlight for their first anniversary, by posting a picture of them and writing 'One year with you and I'm happier than ever. Time flies, kid.' Katarina previously featured him on Instagram for Valentine's Day, with a caption that 'it had been the best (almost) seven months of her life, and that she loves him.' She posted another picture of them on 25 July, but it's unclear if that date was their anniversary.
The two were spotted in the first-row seats at NBA game in Los Angeles in December 2021, exchanging displays of affection. Katarina also followed her boyfriend on his Bleed For You Tour between March and May 2022, then joined him on a new tour that began on 26 May.
Who is The Kid LAROI?
The Kid LAROI gained a following on SoundCloud, a music streaming platform that allows underground rappers to find an audience. The Kid LAROI signed with Sony Music Australia in 2017 and became the protege protegé of the rapper Juice Wrld. He released his debut extended play (EP) album, "14 with a Dream," in August 2018, and his first mixtape, "F*ck Love" on 24 July 2020, several months after Juice Wrld died. He released a trailer for his first studio album, "The First Time," on 12 January 2023 but has yet to reveal a release date.
Breaking up
Around their 3rd anniversary in July 2023, it became apparent that Katarina Deme and The Kid LAROI had broken up – both deleted all mentions of each other from social media. Katarina was silent, but The Kid LAROI posted on Instagram on 2 August 'that he was sorry for the silence, but that he had been going through a lot and needed space to focus on processing his feelings and work.' He reassured his fans that he had shot new music videos, designed an album cover, and prepared his album for a definite release date.
Moreover, The Kid LAROI was featured in the song "2 Grown" by rapper Lil Tjay, released on 10 July 2023. The lyrics for his part detail childish games, falling for strangers, depressed eating after a break-up, and personal information, such as 'taking her around the world, seven nights in Paris.'
He squashed doubts with his song "Crossed the Line" featuring d4vd, which he began performing live in August. Its lyrics start with, 'After three years, I'm just another one. You find somebody else, another one, but I miss you around, and my mother does. She always asks about you. I heard all the whispers on the street, it contradicts the things you said to me.'
Interesting facts
Despite her online prominence, Katarina said that posting to Instagram sometimes makes her anxious.
Katarina likes sushi.
She sometimes wears her mother's dressesfor outings.
Katarina can sing, surf, and swim.
She enjoys horseback riding, fencing, snowboarding, and skiing.
She has a Chanel school bag.
Physical characteristics
Katarina Deme has light brown hair and hazel eyes. She's 5ft 7ins (1.7m) tall and weighs out 123lbs (56kgs). Katarina's plump lips and voluptuous cleavage also stand out; both are the topic of an online debate regarding whether she's had plastic surgical operations.
Net worth
Katarina Deme's net worth is $100,000 or less. While she can charge over $10,000 per sponsored post with over a million followers on Instagram and TikTok, as of October 2023, Katarina has yet to promote a product or service. She's a student and actress with a slim portfolio, and has only had one notable modeling gig, with GUESS USA.
Katarina's parents currently sponsor her lavish lifestyle. Her mother is a real estate manager and restauranteur, while her father is an entrepreneur and venture capitalist, whose net worth is estimated t close to $100 million. Jim's wealth was estimated at $71 million in March 2023 on The National Herald's annual list of 50 Wealthiest Greeks in America. However, the same magazine used a different source to calculate his net worth at $95 million in March 2020.