• Brigitte Goudz is a famous fitness instructor and Instagram personality
• She was born on 24 July 1994 in Pennsylvania USA
• She promotes powerlifting and weight training for women
• Brigitte has a BA in Biology and earned over $1 million from her fitness career
• Brigitte is a cat lover, a fan of Marvel movies, and has a tattoo of a Unalome symbolizing her journey to enlightenment
 
Brigitte Goudz is a famous fitness instructor and Instagram personality. She promotes powerlifting and weight training for women by her own example. Let's find out more about her personal life, body measurements, age, etc.
Early life, family
Brigitte Goudz was born on 24 July 1994, in Pennsylvania USA, so under the sign of Leo and holding American nationality. Brigitte has never shared anything about her parents, such as  posting any photos of them, so it hard to find any information about their ages and occupations. However, her sister Alex shared several pictures of their mother, but never mentioned anything about her in particular. So, Brigitte has two older sisters: Amelia Sukiennik is an experienced hairdresser and has her own hairdressing salons called "Amelia Rebecca", and her eldest sister is Alexandra Michelle – nothing is known about her job and age, though it is known that she is in a close relationship with Brigitte, spending a lot of spare time together, walking, hiking and just having fun. From her early years, Brigitte suffered from low self-esteem and was not confident at all, but at the age of 18 she started going to the gym; as soon as she saw the first signs of her physique transforming, she understood it was her way, and decided to make fitness her career.
Education
Almost nothing is known about Brigitte's educational background, except that she matriculated from high school in Pennsylvania in 2012. She's never mentioned which college or university she graduated from, though her Instagram description says she has a BA in Biology.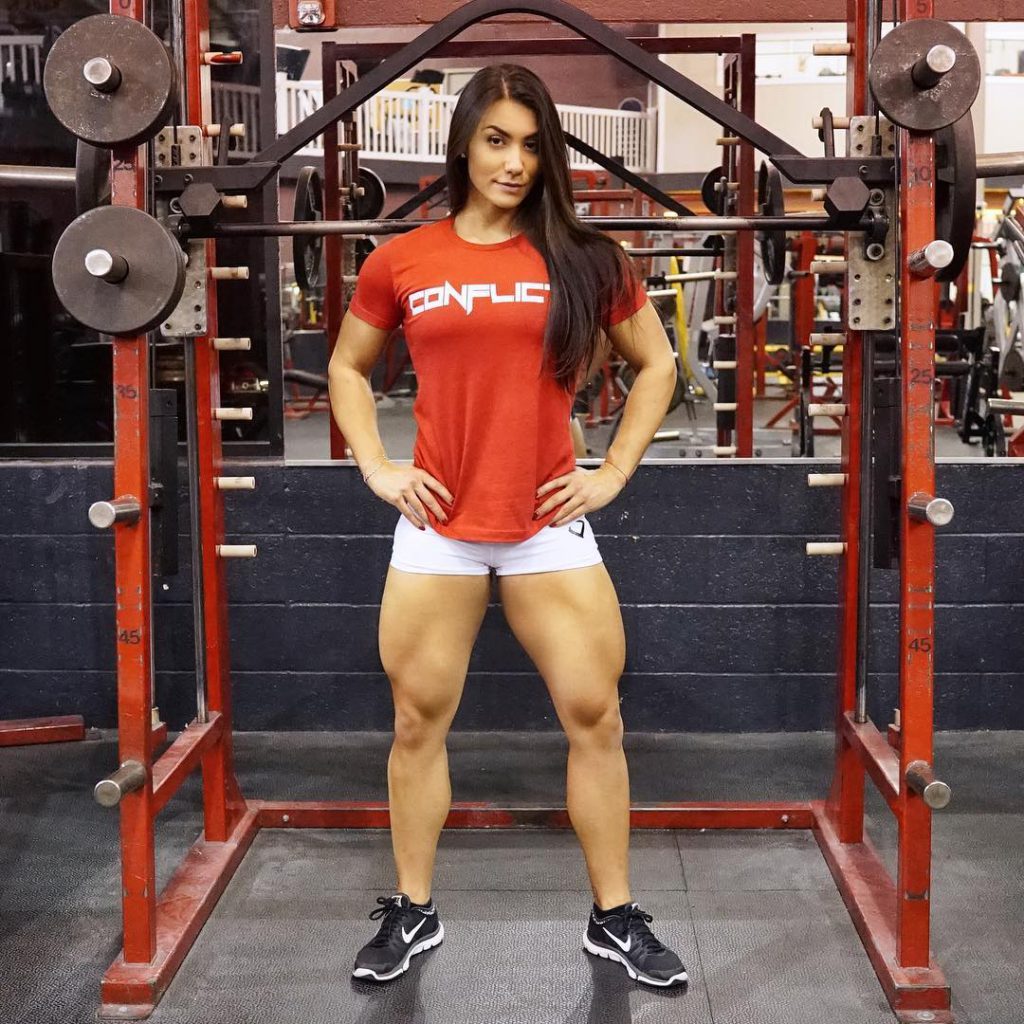 Career
As soon as she got to the gym and treated her training as a possible full-time job, she decided to document the stages of her transformation with the help of photos. So she started her Instagram account in July 2012 to show the world how a woman could benefit from consistent training, including weight lifting exercises. She went on training and attracted a wide audience to her Instagram profile, sharing her inspirational thoughts with her subscribers: 'This change and the positive self-image I got through bodybuilding motivated me enormously'.
She encouraged other women to not only do cardio and light weight training, but insisted that the true beauty of a woman's body lies in the full form of the muscles. She regularly demonstrates her massive thighs and shoulders, and feels proud of her body, not mentioning all the negative comments, though there are plenty of them under her photos. A lot of people think Brigitte looks too bulky for a fit woman, but she doesn't care about such opinions. Almost 500,000 subscribers on her Instagram account support her career, and help her to pursue her dream – to influence other people (especially women) to make a better lifestyle out of working out in the gym or at home on a habitual basis, and eating healthily.
Along with taking part in various fitness contests and championships, she also works as a fitness model with various brands and companies, such as Violate the Dress Code, Palm Organix and Granite Supplements.
https://www.youtube.com/watch?v=AKY1067AVlY
Beginners' mistakes, reviews and newcomers support
Brigitte is well-known for her delicate attitude to all newcomers who decide to make regular training a part of their life. In her Instagram blog she often shares her experiences and explains most frequent beginners' mistakes on the path of bodybuilding. She shared that earlier she trained too much, working out hard every day in the gym. This false scheme of training caused problems with her muscles – they were not growing fast enough. She understood that she wasn't taking enough nutrients, and so changed her diet, and so gave her body enough time to rest, and got the results she had been dreaming of, all of which information she's passed-on to her audience.
Nutrition and healthy diet
Brigitte is very serious about her diet, spending a lot of her time planning her meals a week ahead, and always counting the calories in her dishes. It may look hard, but for Brigitte it is a part of her job – to watch carefully what she eats not to overeat and not to gain extra weight. She once shared that she uses a special mobile phone application do make this process faster and easier. She shares that it's better to maintain a steady diet, and eat healthy food all the time, and not to change too much. It helps a person not to feel limited in the choice of dishes, and shows all the opportunities of constant healthy eating. Brigitte prefers seasonal fruit and vegetables, and often eats vegan food as she finds it very nutritious and tasty.
Brigitte also make sure that she takes all kinds of micro- and macro-nutrients. To get enough proteins she advises to include more organic chicken and beef, eggs, Greek yogurt and cottage cheese in one's diet. Among her favorite vegetables are tomatoes and cucumbers, lettuce, spinach and beetroot. She also likes pumpkin and sweet potatoes, and sometimes even eats wholemeal bread to make sure she gets enough carbohydrates. To pack her diet with enough fats, Brigitte advises eating nuts (almonds are her favorite ones), coconut and olive oils. She also consumes supplements to help her body grow in a proper way, such as L-Carnitine, Yohimbine, Creatine, etc.
Personal life
There is no information about Brigitte's personal life. She's never mentioned nor posted any photos of a current or former boyfriend. She often appears with her female friends, so there were rumors she is a lesbian, though Brigitte's never confirmed this information. She doesn't have any kids yet.
Hobbies and interesting facts
Brigitte likes hiking in such peaceful places as Ricketts Glen State Park where she can be close to nature and watch wild waterfalls and forests.
She is a cat lover and has a cat named Sammy.
She is a fan of Marvel movies, and once even cosplayed Wonder Woman.
Brigitte is a very communicative person and has a lot of friends in the fitness industry.
She once mentioned Ariel Khadr, the IFBB professional athlete, and Cassandra Martin, a famous fitness instructor are the people she follows passionately and gets inspired from their work and results.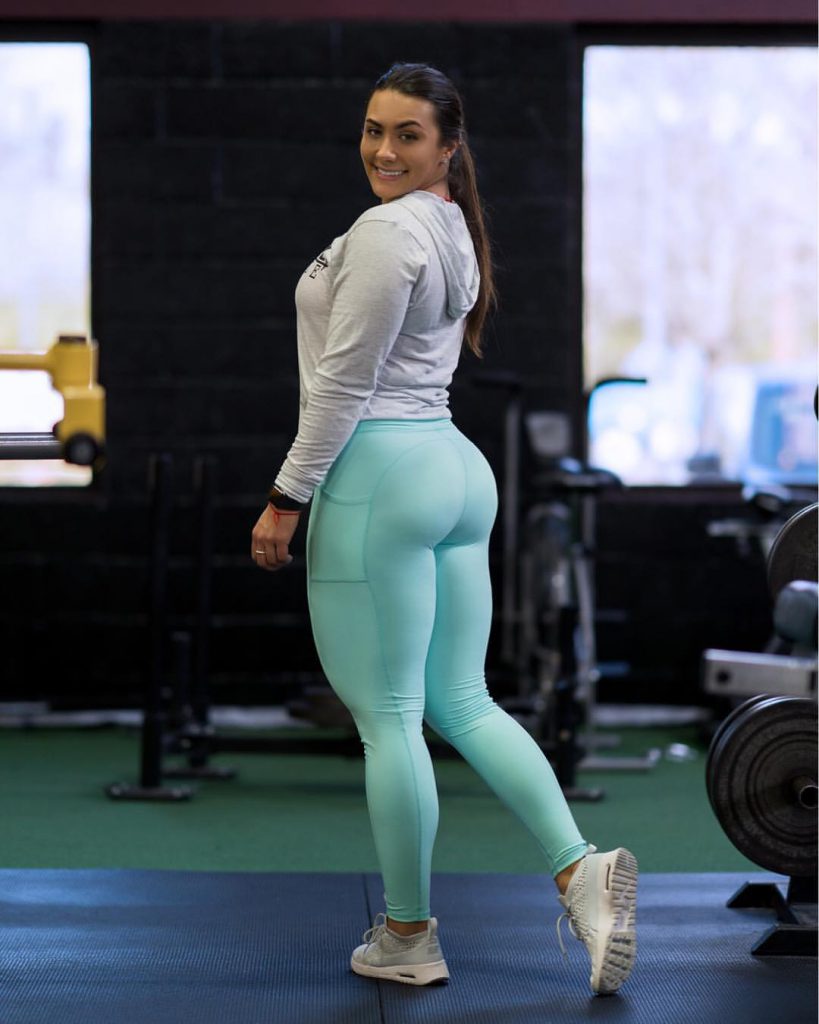 Social media presence
Brigitte's main platform on which she promotes her career is Instagram – her profile  has almost 500,000 subscribers. Her Facebook page has more than 25,000 followers. She hasn't got any Twitter profile, nor a YouTube channel, though YouTube is full of her working out videos on various sports motivational channels. Brigitte has a personal website on which she sells nutritional plans, diet programs and training programs.
Appearance
Brigitte has long naturally dark brown hair which she likes to wear straight; she has hazel eyes. Brigitte is 5ft 6ins (1.67m) tall, weighs around 145lbs (66kgs), and her vital statistics are 35-25-38. As for her clothing style, she prefers sporty and classy clothes, feminine short skirts which emphasize her bulky thighs. She also has a tattoo under her neck on the upper part of her back which depicts a Unalome – a symbol for the journey to enlightenment. Brigitte shared that this tattoo symbolized that one's life's path isn't always perfect, and may not at once go in the "right" direction, but one should have wisdom and understanding that the way to perfection is a journey of hard lessons to learn.
Net worth
Brigitte has taken her Instagram account very seriously, and she earns up to $2,400 per post. She also benefits from various commercial contracts and sponsored posts of such companies and brands as Violate The Dress Code, Reel Muscle merchandise shop, Granite Supplements and Palm Organix. She earns an impressive amount of money from her full-time job of a fitness instructor, selling her training programs and nutritional plans online on her website. Her overall net worth is estimated to be more than $1 million, according to authoritative sources.