Chad Hurley Wiki
He's probably known best as the Chief Executive Officer (CEO) of YouTube, and one of the founders, however, Chad Hurley is also a well-known webmaster and businessman who was voted 28th on the list of '50 People Who Matter Now' by the monthly magazine publication, Business 2.0. He also worked in eBay's PayPal division, and one of his tasks was creating the logo for PayPal.
As a co-founder of YouTube, the revolutionary video-sharing platform that reshaped the way we consume and share content, Chad's journey from humble beginnings to becoming an influential figure in the tech industry is nothing short of remarkable. So let us tell you all about this pioneering visionary.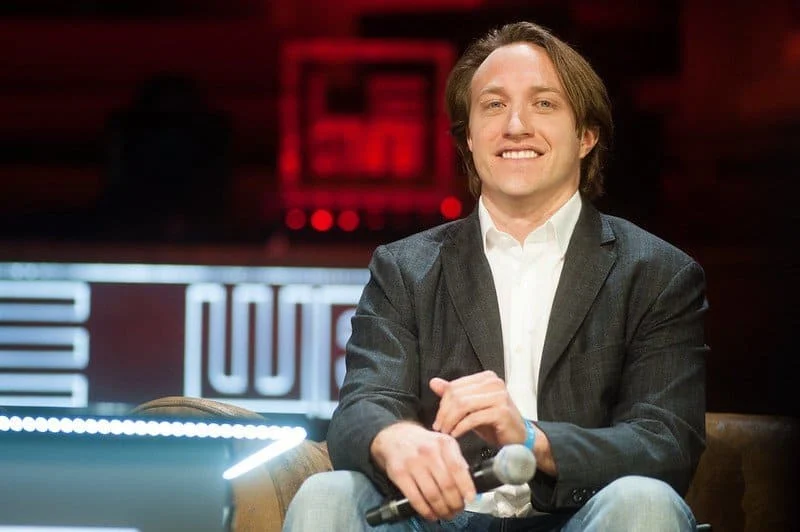 Early life, family, and education
Born Chad Meredith Hurley under the zodiac sign of Aquarius on 23 January 1977, he's today aged 46. A native of Reading, Pennsylvania USA, Chad holds American nationality and comes from a family of English and German descent. Although born in Reading, he grew up in Birdsboro, Pennsylvania, raised by his parents, Joann and Don, alongside his two siblings, Brent and Heather.
Chad had an interest in computers and electronic media from an early age. During his high school days, he was a member of the Technology Student Association, was very creative and his ideas were artistic – he would sell his art on a sidewalk of his house. Chad was also into sports, and excelled in cross-country running, helping his team to achieve numerous titles in the '90s.
When it comes to his educational background, Chad attended Twin Valley High School, and upon matriculating in 1995, he enrolled at Indiana University of Pennsylvania, from which he graduated with a Bachelor's degree in Fine Art in 1999.
YouTube
In 2005, with Steve Chen and Jawed Karim, Chad co-founded YouTube, a platform that allowed users to upload, share, and view videos, democratizing content creation and distribution.
The story begins in early 2005, when Chad Hurley and Steve Chen, former employees of PayPal, attended a dinner party in San Francisco, California. The party had a central theme: sharing videos taken at a dinner party, but the guests struggled to share the footage due to the limitations of existing online platforms.
This experience inspired Chad and Steve to start thinking about the possibility of a platform dedicated to sharing videos easily. They envisioned a platform where users could upload, share, and view videos without the technical hurdles and limitations of the time.
Chad Hurley, Steve Chen and Jawed Karim teamed up to turn their idea into a reality. Chad had a design background, Steve was a software engineer, and Jawed brought technical expertise to the table. The trio began working on a platform that would eventually become YouTube.
The domain name 'YouTube.com' was registered on 14 February 2005, and the platform was officially launched on 23 April. The first video uploaded onto the site was a 19-second clip entitled "Me at the zoo", featuring Jawed Karim at the San Diego Zoo. Which has been viewed over 280 million times, and the channel has been subscribed by nearly four million people.
Chad also has his self-titled channel on YouTube, launched on 24 April 2005, which has been subscribed by nearly 18,500 people. All of his videos combined have gained nearly 65,000 views.
The exponential growth and cultural impact of YouTube caught the attention of tech giant Google, and in November 2006, Google acquired YouTube for $1.65 billion in stock. This acquisition provided YouTube with the resources and support to continue expanding, while maintaining its independence as a platform. In October 2010, Chad stepped down as CEO of YouTube, and Salar Kamangar tooe over the position.
MixBit
In the following year, Chad co-founded another company – AVOS Systems – and again his partner was Steve Chen. They created a mobile phone application named MixBit, which was launched in 2013.
The platform provided users with tools to shoot and edit videos using their mobile devices. One of the distinctive features of MixBit was its emphasis on collaboration – users could remix and combine each other's clips to create new videos.
Contrary to hardcore investigative reporting… MixBit is not shutting down. Keep up the good work guys, blogging is hard!

— Chad Hurley (@Chad_Hurley) February 4, 2014
Investments
Chad has made several investments; he was involved as a major investor with US Formula One Team, and is a minority owner of the Major League Soccer (MLS)'s Los Angeles Football Club, and also of the National Basketball Association (NBA)'s Golden State Warriors team. In 2021, he announced that he'd become an investor in the English Premier League football club, Leeds United.
Chad is an avid fan of sports, so it isn't surprising that he's a co-founder of a firm focused on digital sports, called GreenPark Sports. Currently, the company is developing a mobile sports game.
Love life and wife
Chad was married to Kathy Clark, the daughter of James H. Clark, an American entrepreneur and computer scientist. Chad and Kathy met back in 2000 at a joint friend's birthday party. The two soon after began their relationship which blossomed into marriage. It isn't clear when the couple exchanged their wedding vows, since both of them prefer to keep their personal matters secret, but it's known that they have two children together, then that they divorced in 2012 – the names and genders of their children have remained undisclosed to date.
In 2020, Chad remarried to Elise Warden. The couple has been dating since 2014, and they have one child together, a boy, however, his name and age haven't been revealed. The wedding ceremony was held at the Santa Barbara beach.
How rich is Chad Hurley? Net worth
When they sold YouTube to Google, according to The Wall Street Journal, Chad's share was around $345 million, and he received 694,087 Google shares directly, and another 41,132 shares in a trust.
Besides his work with his company and his investments, Chad currently serves as the advisor of YouTube. Although many assume that Chad is a billionaire, according to sources, as of August 2023, his net worth has been estimated at over $800 million.