Who was Chalino Sanchez?
Chalino Sanchez was a Mexican singer and songwriter, celebrated for pioneering narcocorrido music—a genre that tells stories of drug trafficking and crime. Some of his best-known songs are "Nieves de Enero" and "Alma Anamorada".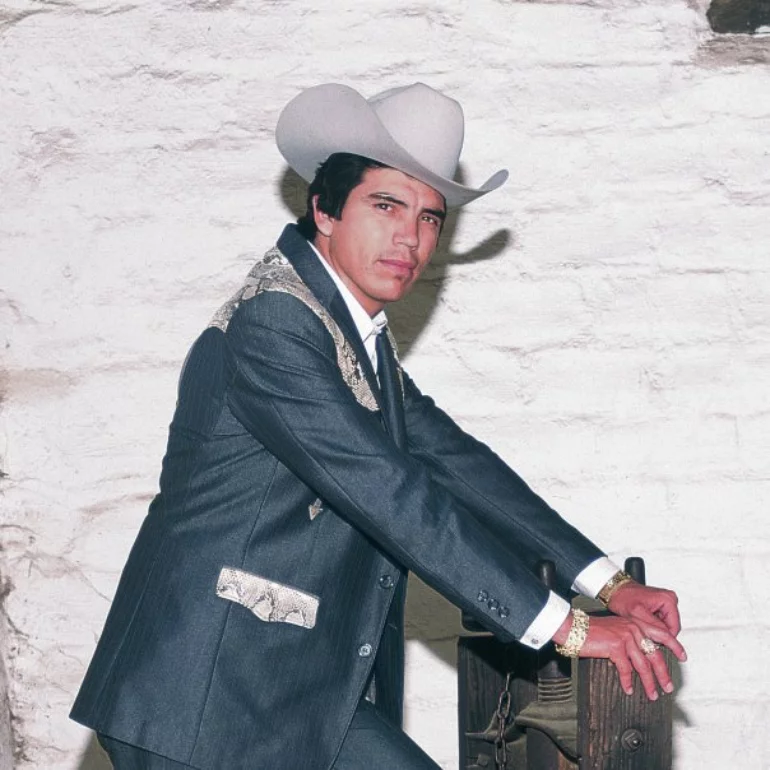 Wiki: Age, Childhood, and Education
Rosalino Sanchez Felix was born on 30 August 1960, in Rancho Las Flechas, Municipio de Cullacan, Sinaloa, Mexico. He was the youngest of seven children born to Santos Sanchez and Senorina Felix. His older brother, Armando was shot dead in the mid-'80s.
Life and Career
In 1975, when Chalino was 15, his sister was raped by an unidentified attacker. Two years later at 17, at a party he shot and killed the person he believed raped his sister.
He escaped to Tijuana after that, helping people sneak into the US illegally, carrying a gun and a Jesús Malverde chain.
That same year, he entered the US without proper papers and first lived in Oregon, then moved to Los Angeles with his aunt.
Chalino did all sorts of jobs, such as washing dishes, selling cars, and even selling drugs, including marijuana and cocaine.
He was also complicit with his older brother Armando in a not-so-legal business – sneaking people across the US border.
In 1984, Chalino experienced a devastating blow when Armando, was tragically shot and killed in a Tijuana hotel. This heart-wrenching loss catalyzed Chalino's entrance into the world of music, inspiring him to craft his very first "corrido" – a narrative song. Through his music, he sought to preserve the memory of his brother and the emotions tied to their bond.
During this tumultuous period, Chalino found himself arrested and facing legal troubles. While behind bars, he used his time to compose songs that he shared with fellow inmates, as well as anyone with a captivating tale to recount. These songs became a way for him to connect with others and share stories of hardship, survival, and human experiences.
Chalino's creative endeavors began to yield financial returns, and his compositions garnered attention from diverse quarters. His customers, who included figures such as Lucio Villareal, El Pelavacas, and Jorge "El Coquio" Castro, showed their appreciation by gifting him items such as firearms and other items. Amidst this emerging recognition, a group known as "Los Cuatro de la Frontera" suggested that Chalino venture to Los Angeles, where he could visit the San Angel Records studio owned by Angel Mariscal.
Originally, it was planned that another artist would perform Chalino's songs at the studio. However, when this artist canceled, Chalino stepped into the spotlight himself, singing his own compositions. This marked a pivotal moment in his musical journey, as he embraced his role as both songwriter and performer.
By 1989, Chalino had achieved a milestone by recording his inaugural cassette featuring 15 distinct tracks, which became his merchandise, sold directly from the trunk of his car. He strategically placed them in local spots such as swapmeets, bakeries, and establishments throughout South Central Los Angeles, aiming to reach a wider audience.
During this time, Chalino's path intersected with Pedro Rivera, another Mexican who had established Cintas Acuario, a Long Beach, California recording studio that catered to aspiring musicians with modest financial means. This studio provided a platform for artists such as Chalino to record their music affordably, facilitating the growth of his artistic journey.
Chalino and Rivera teamed up to pioneer "prohibited corridos" (corrido prohibido), a unique style of songs that glorified figures such as drug smugglers, killers, and "valientes" – those regarded as brave or fearless. These ballads held a mythic quality, often celebrating individuals who defied societal norms.
The Cintas Acuario stable, which eventually included Pedro's children Lupillo, Juan, and the late Jenni Rivera, initially struggled for airplay on radio stations. Nonetheless, their work laid the cornerstone for the burgeoning Latino music scene in Los Angeles.
Word about Chalino's music spread rapidly, prompting promoters from various parts of the region to clamor for his performances at their venues. What set Chalino apart was his distinctive style – he sang his songs using a unique cadence and the slang of Sinaloa, a Mexican state.
Who did this?.. Even though this moment Never took place,Tupac Shakur and Chalino Sanchez are Icons to their Culture and Core Audience..#FlashbackFriday #FridayThe13th #ThugLife pic.twitter.com/FuuooViEET

— ANGEL (@kevincanuhearme) April 13, 2018
Coachella Shooting
On 25 January 1992, Chalino was onstage at the Plaza Los Arcos venue in Coachella. He was slated to start his performance at 10 pm on the main stage, but by 7 pm, the venue was already filled with roughly 400 attendees.
During his performance, Chalino engaged with the crowd, taking song requests. Just before midnight, a man named Eduardo Gallegos, a 32-year-old local mechanic from Thermal, California, who was under the influence of drugs and alcohol, asked for a song. When he requested "El Gallo de Sinaloa", he unexpectedly leaped onto the stage and pointed a .25 caliber pistol at Chalino.
Chalino responded rapidly, drawing a 10 mm pistol from his waistband, resulting in an exchange of gunfire between the two. In the course of the gunfight, Chalino sustained two chest wounds, affecting his lung. One of the bullets also hit Ignacio "Nacho" Hernandez, the accordionist, in the thigh. Amidst the chaotic situation, a bystander named Claudio Rene Carranza, an innocent individual was fatally wounded in the leg.
Chalino and Gallegos continued firing shots as they moved into the crowd. Multiple shots were discharged, affecting several others in the process. An onlooker managed to subdue Gallegos, eventually disarming him by shooting him in the face with his own weapon.
Both Chalino and Gallegos were seriously injured, and were rushed to Desert Regional Hospital in Palm Springs. Chalino spent 11 days in the hospital and was subsequently released without facing legal charges based on a claim of self-defense.
Eduardo Gallegos survived his injuries and was found guilty of attempted murder. He received a sentence of 15 years to life in prison for his involvement in the incident.
This occurrence gained national attention, capturing headlines in both English and Spanish newspapers. Chalino's music began gaining traction, particularly with the track "Nieves de Enero". Demand for his performances in Los Angeles surged to the extent that doors needed to close hours prior to his scheduled appearances.
How Did Chalino Sanchez Die?
The events that led to Chalino's death started during a performance at Salon Bugambilias in Culiacán. Chalino received a note from the crowd, believed to be a death threat. He crumpled the note, which can be seen in a video while singing "Alma Enamorada".
After midnight, Chalino left the venue with his brothers, a cousin, and some young women. Armed men in black Chevrolet Suburbans claiming to be police stopped them. They said their "commandant" wanted to see Chalino. He agreed and got into their car, while the rest followed. Tragically, Chalino's lifeless body was discovered near an irrigation canal on the morning of 16 May 1992. The circumstances suggested a violent end, with blindfold, rope marks, and gunshot wounds to the back of his head.
Net Worth
According to authoritative sources, Chalino Sanchez's net worth was estimated at $1.5 million at the time of his death.
Personal Life, Married, Wife, Children
Chalino Sanchez was married to Marisela Vallejos from 1984 until his death in 1992; they had two children, Adan and Cynthia Sanchez. His son became a prominent Mexican singer, but succumbed to injuries from a car accident at just 19 years old.