Fans of live music performances on YouTube must have run into Karolina Protsenko's videos at least once – her main YouTube channel, Karolina Protsenko Violin, has amassed over eight million subscribers in nearly five years. The 14-year-old violin prodigy, whose parents created and managed her channel, has uploaded over 450 videos of her playing, solo and in collaboration on the streets of California. She's mesmerized audiences by playing masterfully, and adapting songs in various genres to one instrument, while dancing energetically.
Her two younger brothers, Leo and Nicholas, added the adorable factor by standing or swaying next to her, sometimes in a costume that fits the song's theme. They also frequently jump around, attracting her and the audience's attention, or swoop in to hug their sister, or ask for a kiss on the cheek. Other people's children would also imitate their actions, or feel compelled to approach Karolina when her brothers are absent.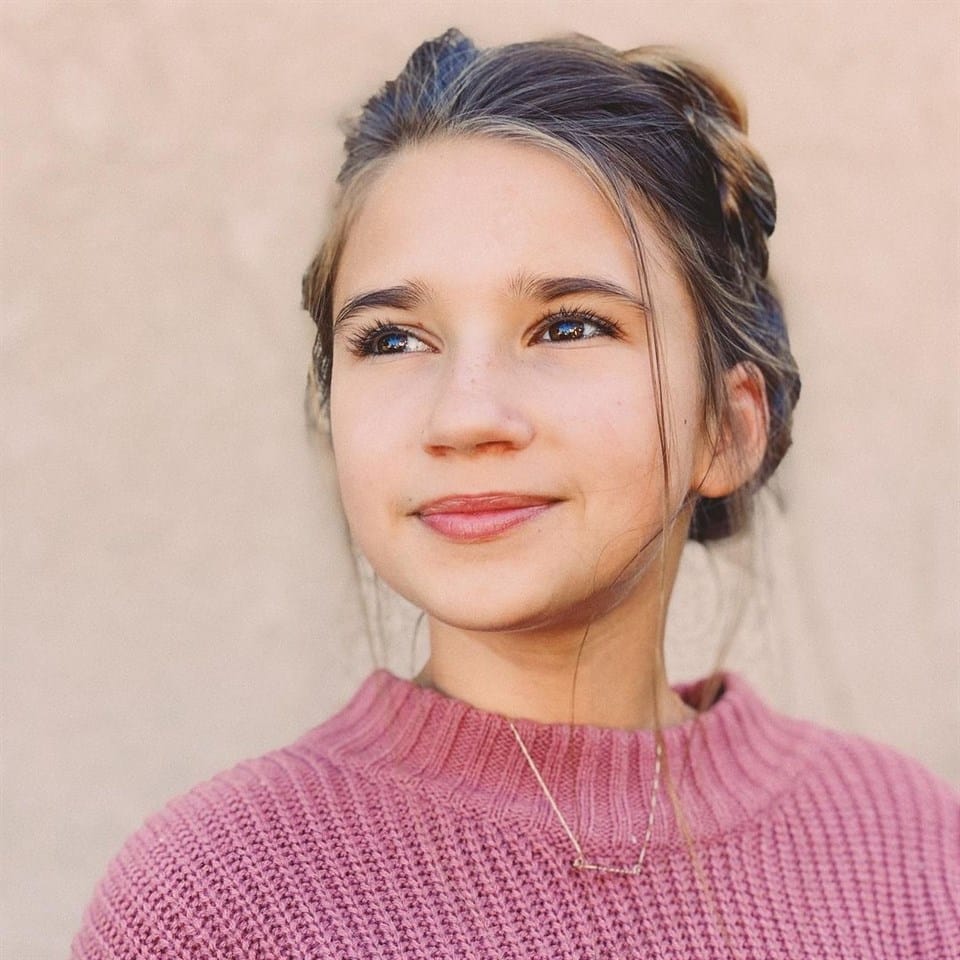 However, getting to the streets of California was challenging, requiring courage and perseverance from her parents. They believed in Karolina's talent and proficiency, encouraged her to play in public, and consistently uploaded videos of her street performances to YouTube. That allowed Karolina to draw huge audiences, and collaborate with artists and musicians such as Oscar Stembridge, Daniele Vitale, and Ani Leva. Karolina also met Ellen DeGeneres, became a musical guest in "The Kelly Clarkson Show" in March 2022, and landed her first acting role as Young Ellen in the 2020 movie "Sightless´- this covers Karolina's journey to success.
Karolina grew up in front of cameras
Karolina, a Ukrainian-born violinist, found success on the streets of California after her parents packed their things and emigrated to the USA nearly a decade ago. They uploaded her first YouTube videos around 2017, documenting Karolina's childhood prodigy performances, mainly alongside her father at Christian church events. Her channel's viewership rapidly increased when she played her violin and danced in front of people passing by, and she now has four YouTube channels, and plays the guitar and piano. Despite her popularity, Karolina is committed to staying humble, being a loving sister and daughter, and remaining a dedicated student at a private school.
She moved to the US at six
Karolina was born to a musical family on 3 October 2008, in Kyiv, Ukraine. Her father, Nikolay "Nick" Protsenko, plays the guitar, and her mom, Ella Protsenko, sings and plays piano. Karolina was six when the entire family relocated to the United States in 2015, and she began taking violin lessons the same year, but which she'd started playing a year or two before, when her parents asked her to choose between saxophone and her favorite string instrument. "Suzuki Violin Book Volume 1" was Karolina's first violin book, which she completed in a year, then needed a year more to finish the second, and a half of the third book.
Karolina's parents married in November 2005, and her father Nick was successful with online jobs related to stores, and had visited over a dozen countries before 2015. Thus, with a love for adventure and the knowledge that he could continue making money from any location, and that his in-laws already lived in the US, he left Ukraine with his family. Consequently, Karolina's brothers were born in the US.
Most people learned about her in 2017
Karolina was classically trained and never stopped doing violin recitals, but her life changed in 2017 when she started busking for fun on the streets of Santa Monica, California. She has a similar story to a fellow street busker and YouTuber, Allie Sherlock, whose father recorded her performances and became her manager. Karolina's parents wanted to document her violin performances just for themselves, while helping her improve, but they kept going because of a surge in viewership. Their main reason stayed the same, however. The YouTube channel description states, 'Karolina is a phenomenal violin prodigy who plays with passion, and her performance will make you feel happy.'
Although she performs at various locations, Karolina returns to 3rd Street Promenade in Santa Monica, California, her favorite spot, but her parents realized that not everyone could see her live. Karolina is still a teenager and will turn 15 in 2023, so her parents manage all her social media accounts. They created a Facebook page, @karolinaprotsenkoviolinist, which has amassed over 10 million followers, and an Instagram account, @karolina_protsenko, which has attracted over 980,000 followers.
To deal with the recent bump in interest, they created two more channels, @KarolinaProtsenko, on which they upload amateur music videos and her performances outside of the street, and @karolinaprotsenkovlog726, a family vlogging channel. What truly sets Karolina apart is that she continues developing her brand through practicing two to four hours daily. Moreover, she performs at violin recitals, and attends a private school in California while practicing on two more instruments. Karolina also admitted that learning pop songs was relatively easy for her, and she's mastered some in under an hour.
Karolina released four albums
Most viewers enjoy her street performances in person or via YouTube, and rarely check her family vlogs. Therefore, they may not know that Karolina wants to release albums and travel the world to perform in concerts. She uses her website, www.karolinaprotsenko.com, to sell the physical copies of her albums, "My Dream" and "Fly," released in 2018, and "Sky" and "Sunflower" released the following year. Karolina can also be heard alongside Daniele Vitale, a well-known saxophonist, on their 2022 album, "Finally Together." Her albums are also available for streaming on Spotify, Apple Music, and Deezer.
Ellen DeGeneres hosted her in 2019
Although Karolina found success by 2019, what skyrocketed her popularity was her appearance in an episode of "The Ellen DeGeneres Show" that year, performing Post Malone's "Sunflower" track, which the studio audience loved. After interviewing Karolina, Ellen gifted her a blue violin with "As Seen on Ellen" stickers, and an eye-catching busking tip jar, which Ellen later filled with cash to kickstart her new journey to fame.
When singer Kelly Clarkson invited Karolina to appear in her talk show in March 2022, Lindsey Sterling was also there. Despite being a dancer and violinist virtuoso who reached the quarter-finals of the fifth season of "America's Got Talent" reality TV show, Lindsey told Karolina, 'I wish I could say you reminded me of me when I was little, but you are so much more talented!' Karolina was ecstatic and flattered, especially since Lindsey gifted her one of her branded violins, but revealed that she still looked up to Lindsey as her inspiration. Karolina notably auditioned for "America's Got Talent", but didn't make it to the televised show.
She is developing new skills
Viewers of her vlogging YouTube channel can learn much more about Karolina. For instance, the family lived in an apartment until March 2020, then moved to a house which allowed her to practice violin in the morning and before bedtime. Moreover, Karolina began playing piano, which her mother plays, for the first time in May 2022, under the guidance of piano teacher Ekaterina Panferova. She has also been playing guitar in videos on her second channel, and mentioned that she was flexible and could do the splits without pain since she was a child.
Karolina has typical interests such as journaling and organizing her room for school. However, she also enjoys pencil drawing, baking, and biking. Some of her interests are slightly unusual; Karolina loves ice skating, skiing, and playing tennis, and she got into horseback riding in August 2021. She also showed her nerdy side by going on several rides at Universal Studios. She revealed that she loves the "Harry Potter" franchise, and was ecstatic to visit Universal Studios' Harry Potter World.
Viewers have commented on Karolina's outfits in street performances, prompting her to list her top five Italian dresses. She promised to showcase her style more in the future, especially because she struggles with finding the right fit due to her tiny waist. Karolina also promised herself to take on two new challenges last year – she's done ballet since she was a child, but wanted to become a better ballerina after getting her first ballet pointe shoes in April 2022. Her parents bought her a record player for Christmas in 2021, and vowed to use it as frequently as possible because it sounded excellent, despite being old-fashioned.
Finally, Karolina and her family got a Golden Retriever, Cashew, in August 2022, as a gift from musicians Martin and Miriam, with whom she collaborated. She immediately thought that Cashew was 'the smartest and most amazing puppy in the world.' They took him to his first ocean dip at 12 weeks, and he also looked enamored while listening to her violin practice.
Ukraine is in her heart
Karolina has a grandmother and grandfather who hail from Ukraine but live in the US. They appeared in an April 2022 video when her grandfather baptized her in the ocean. Karolina is a devout Christian who celebrates all significant holidays with her family, including Christmas, Easter and New Year's, but hasn't been back to Ukraine since she left in 2015. Therefore, she was heartbroken to learn that her great-grandmother, Babushka Jenia, passed away in January 2023 in Ukraine. Karolina stated that Jenia was a big role model who regularly cared for her until she left the country. She religiously watched her videos after Karolina moved, and would tell her which one had the most views during their weekly phone calls.
Karolina also visited New York City for the first time in March 2022, shortly after Russia invaded Ukraine. She didn't explore the city exhaustively because she was about to perform, but concluded that it looked like Kyiv, Ukraine's capital. A few days before, she performed in Santa Monica, and with her mother's help, used both opportunities to raise awareness and US$20,000 for her homeland.
Karolina's passion is on the rise
Although her life has become busier and she's reached renown that most people would be satisfied with, Karolina is pressing on. She uploads relentlessly, yet finds ways to diversify her content, not only with different music genres. In early 2022, she started a fourth YouTube channel, @karolinaprotsenkopiano6055, entirely dedicated to her piano music,. Karolina also shares unusual things that she likes doing, or her fans would like to see, such as going on vacations to explore nature in the US and trying new things, such as feeding squirrels and petting giraffes.
She finds time to enjoy the music of her favorite artists, such as listening to Mariah Carey and Whitney Houston's albums. Karoline also attended a musical concert by "2CELLOS," one of her favorite musicians, in April 2022. As Karolina ages, she feels more comfortable sharing lesser-known things about herself. For instance, she disclosed that she has never had her hair short, and only trims it occasionally. That's a life-long habit, as Karolina admitted that her hair was down to her knees when she was six. She hasn't dyed her hair and doesn't plan to, because her natural color was nearly identical to her father's before it turned gray; Karolina's favorite colors are light blue and white. She doesn't have a favorite song, only a current favorite that changes quickly.
Karolina also disclosed to her fans in a YouTube video that she's not always cheerful, despite appearing perpetually happy in her videos. While she couldn't provide a real-life example of a sad situation on the spot, Karolina pointed out that she cried when the ship sank and Jack, played by Leonardo DiCaprio, died in the 1997 movie "Titanic".