Israel Kamakawiwoʻole, a renowned singer and musician, achieved global acclaim through his distinctive interpretations of timeless classics such as "Over The Rainbow" and "What A Wonderful World." His artistry was characterized by the pure and soulful simplicity of his renditions, complemented by the enchanting sounds of the ukulele, creating a truly unique musical experience. Despite his imposing physical stature, his gentle voice captivated audiences worldwide. Remarkably, his songs became some of the most requested in the catalog of various music publishing houses. Beyond his musical prowess, he used his influence to champion Hawaiian rights, transcending cultural boundaries in the process.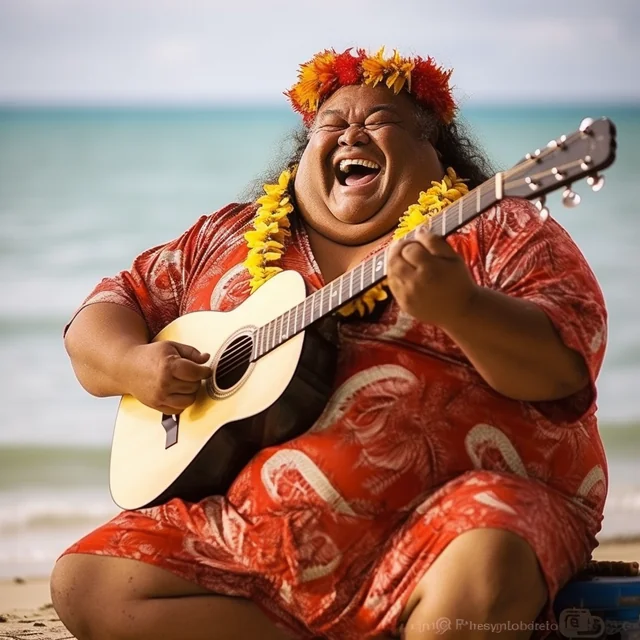 Get to know Israel Kamakawiwoʻole
Affectionately known as "Iz," he's left an unforgettable mark in the music industry, having touched the hearts of millions with his soothing voice and ukulele melodies. His journey from humble beginnings to international acclaim is a story of talent, passion and the enduring power of music.
Early years
Israel Kaʻanoʻi Kamakawiwoʻole was born on 20 May 1959, in Honolulu, Hawaii, to parents Henry "Tiny" Kaleialoha Naniwa Kamakawiwoʻole, a native of O'ahu island, and Evangeline Keale, a resident of Ni'ihau. He grew up with his two siblings in the serene and historically vibrant community of Kaimuki, nestled near the idyllic Waikiki. His living arrangements were unique, with half of his time spent in his parent's home, and the other half in his grandfather's residence in Palolo Valley. From a young age, Israel had an insatiable appetite, a trait lovingly indulged by both his mother and grandfather, contributing to his robust physique, even during his childhood years.
Got into many fights
His educational journey began at Wai'alae Elementary, where Israel's imposing physique often made him the target of taunts, leading to fights. His fiery temper frequently embroiled him in conflicts, mainly because he couldn't tolerate the way others singled him out due to his size. One anecdote that circulated involved a schoolmate who pushed him too far, taunting him about his weight. In response, Israel hoisted the offender by one foot, suspending him dangerously from a second-floor balcony. The school eventually reached out to his uncle to mediate, and calm the situation.
Israel also possessed a stubborn streak, and a penchant for mischief. His pranks often landed him in hot water while his siblings were known for their obedience. He consistently defied the rules, much to his mother's chagrin. One uncle humorously referred to him as a "brat" during his formative years, largely attributing this behavior to the indulgent influence of his doting grandfather. The only time his favorite grandson faced a slightly stern reprimand was when he mischievously clogged the toilet with an excessive amount of toilet paper, resulting in a bathroom flood. There was also the memorable incident in which young Israel set off firecrackers in a cow pasture at dinner time, triggering a stampede that had the adults searching for the missing cows well into the early hours of the morning.
Exposure to music
Coming from a family steeped in musical tradition, Israel's interest in music began early in life,;profoundly influenced by his uncle, Moale Keale, a prominent figure in the Hawaiian music scene. It wasn't long before he picked up the ukulele, a quintessential Hawaiian instrument that would become his musical companion. His upbringing was enriched by exposure to the performances of Hawaiian artists such as Don Ho, Peter Moon, Keola Beamer, and Palani Vaughan. These prominent local artists frequently graced a popular Waikiki nightclub where Israel's parents were employed. His mother assumed the role of manager while his father worked as a bouncer there before he became a truck driver at the US Navy Shipyard in Pearl Harbor.
His band and early success
At the tender age of 11, a young Israel Kamakawiwoʻole embarked on a musical journey that would shape his future. Alongside his brother Skippy, cousin Allen Thornton, and childhood friends Jerome Koko and Moon Kaukahi, in 1976 they formed a band known as the Makaha Sons of Ni'ihau, which served as the bedrock for Israel's blossoming career. A pivotal moment arrived later that year, when a former mentor and friend, Jacqueline Rossetti, extended an invitation to the boys to record a selection of Hawaiian songs. It was during this time that she recognized his potential for making a significant impact on the local music industry. His former bandmates fondly recalled that they willingly allowed him to lead them on stage, harmoniously supporting him. While Israel possessed remarkable ukulele skills, it was his powerful and distinctive voice that set him apart from his peers.
Audiences were magnetically drawn to the band's performances, primarily owing to the captivating allure of Israel's vocals. The CEO of Mountain Apple Co, Israel's record label, described him as a very polite, stubborn individual with a determined spirit, a combination that propelled his career to soaring heights. The Makaha Sons of Ni'ihau would go on to release approximately 10 albums from their debut until 1991. They graced stages with their renditions of traditional and contemporary Hawaiian music, performing at prestigious venues such as the Waikiki Shell, Hollywood Bowl, and even Carnegie Hall.
Drug use and jail stint
Unbeknownst to many, despite the success, Israel was doing drugs. In Dan Kois' book entitled "Facing Future" released in 2009, there was detailed information about Israel's drug and alcohol use, as well as jail stint. Apparently, he and Skippy were always at odds during their band days, as Israel never took their music career seriously. He not only skipped band practices but also missed scheduled events. The brothers had starkly different personalities, with Israel maintaining his laid-back and carefree demeanor in various aspects of life, including his studies and career. It didn't help that Israel was so talented that everything came easily for him when it came to singing, playing an instrument, and writing songs. However, he never learned how to rein in his temper. There was one time that he landed in jail because he punched a guy who turned out to be a priest, just because he crossed the street in front of Israel's van while pushing a stroller. He was infuriated at the man, believing that the latter had endangered the baby's life, so decided to teach him a lesson. Israel found himself spending the next 12 weeks in jail as the priest sustained severe injuries to his face. It took a heart attack in 1989 to make him almost change his ways.
Going solo
In 1990, Israel made the significant decision to embark on a solo career. His debut album, "Ka ʻAno'i," was met with tremendous success, solidifying his status as a rising star. The accolades followed, with Israel winning prestigious awards for Contemporary Album of the Year and Male Vocalist of the Year from the Hawai'i Academy of Recording Arts. It became evident to all in the Hawaiian music industry that Israel was destined to leave an indelible lasting mark on the entertainment scene. Before fully dedicating himself to his solo endeavors, Israel recorded one last album with his band, entitled "Ho'oluana." Remarkably, this album emerged as the band's best-selling, a testament to their enduring appeal in the Hawaiian music scene.
Israel's mainstream and global success
His friends and family knew that he was quite talented, but never imagined the huge impact that his renditions of the iconic songs would resonate not only with his Hawaiian fans, but also all around the world
His entry into the mainstream stage
By 1993, Israel found himself at what many considered to be the lowest point in his life and career. He had already parted ways with his band, a move that some attributed to his ambition to become a solo sensation, or to artistic disagreements. However, the true reason behind his departure was far more pressing—he was in dire financial straits. After 17 years and 10 albums with the band, Israel had wasted his earnings on a lifestyle marked by revelry, excessive drinking, and substance abuse including methamphetamine and cocaine.
Israel Kamakawiwo'ole – Facing Future. Original 1993 CD headed out to Tijeras, New Mexico. #IsraelKamakawiwoole #IZ #FacingFuture #SomewhereOverTheRainbow #RockMusic #ReggaeMusic #HawaiianMusic #CDCollector #CDCollectorsOfTwitter pic.twitter.com/nn2lBxt70x

— radiofuturamusic (@radiofuturamusi) June 6, 2020
During a three-day rejuvenation treatment at the Queen's Medical Center, a pivotal phone call was placed to the CEO of Israel's record label. On the other end of the line was Israel himself, discussing his plans for an upcoming album. This album predominantly featured traditional Hawaiian-language songs, including cherished classics like "White Sandy Beach," "Hawai'i '78," "Kaulana Kawaihae," and "Maui Hawaiian Sup'pa Man." Aptly entitled "Facing Future," the album showcased Israel's remarkable versatility, with a memorable cover of John Denver's "Take Me Home, Country Roads."
A last-minute decision altered the course of Israel's career. Five years prior to planning the album, he had recorded an acoustic medley of two beloved songs: "Over the Rainbow," made famous by Judy Garland, and Louis Armstrong's "What a Wonderful World." During the demo session back in 1988, one music producer even scrambled to find a sturdy chair to accommodate Israel's hefty size, anticipating a lengthy recording session. However, witnesses in the tiny Waikiki studio recalled a remarkable feat: Israel delivered the medley in a single flawless take. Interestingly, the version included on his debut album was a different one; instead, the producer chose an upbeat Jawaii version of the medley, which, while beautiful, didn't possess the distinctive charm that would later captivate the world. Since then, Israel's kept this version for his personal enjoyment.
Fast forward to 1993 – recording engineer Milan Bertosa, who also possessed a copy of the old acoustic version in his archives, shared it with one of the album's producers, Jon de Mello. He liked it, and decided to include it as the 14th song on the album's track list with the title, "Somewhere Over the Rainbow/What A Wonderful World." This impulsive choice proved to be a stroke of genius, propelling Israel's career into the mainstream spotlight. "Facing Future" skyrocketed, debuting impressively at number 25 on Billboard's Pop Chart. The Hawaiian music industry even celebrated this historic achievement as they received their first-ever platinum certification for a Hawaiian album from the Recording Industry Association of America (RIAA). Remarkably, approximately one million CDs were sold after its release. The medley became so beloved that it was subsequently released as a single in the United States, entering the Billboard Hot Digital Tracks chart at number 14 in 2004.
Used as OST in various movies and TV series
Israel's iconic medley captivated the attention of numerous Hollywood producers, leading to its inclusion in several prominent TV series and movies. The first notable usage came when director Martin Brest selected the song for Brad Pitt's movie, "Meet Joe Black," which hit theaters in 1998. This marked the beginning of a journey that saw the medley featured in other significant films, such as Sean Connery's "Finding Forrester", and Drew Barrymore and Adam Sandler's "50 First Dates." These placements ultimately helped in making it more recognizable worldwide. The medley also found its way into popular TV series, enhancing the soundtrack of shows, such as "ER," "Charmed," "Glee," and "Scrubs."
Selected for preservation in the US Library of Congress
In 2000, "Somewhere Over the Rainbow/What a Wonderful World" earned the distinction of being one of the 25 audio recordings selected for preservation all time by the US Library of Congress. This recognition was granted by the National Recording Preservation Board, based on the historical, aesthetic, and cultural impact that the medley had achieved. Notably, these songs needed to be approximately a decade old at the time of selection. In that particular year, the National Recording Registry received nearly a thousand nominations of audio recordings for consideration, making Israel's inclusion a remarkable testament to the long-lasting power and influence of his music.
Israel as an activist
While capturing the hearts of millions worldwide was undoubtedly a significant aspect of Israel's life, it wasn't his sole mission. He also ardently pursued his advocacy for Hawaiian independence from US governance. His songs predominantly revolved around the Hawaiian people, and he fearlessly expressed his political viewpoints through his music. Israel was renowned for his critique of what he perceived as the exploitation of his people by corporate America.
Wherever he performed, he seized the opportunity to educate anyone willing to listen about his roots and to impart the rich Hawaiian culture. This deep-seated love for his heritage was cultivated during his summers with his grandfather in a place often described as one of the most untamed, rugged, and remote areas in Hawaii — Ni'ihau. Some even referred to it as the "forbidden island" because it didn't welcome non-Native Hawaiians. Israel's experiences on Ni'ihau left a lasting mark on him, further fueling his commitment to preserving and promoting Hawaiian culture and advocating for the rights and sovereignty of the Hawaiian people.
Personal life
In 1982, Israel married his longtime sweetheart, Marlene Ku'upua Kamakawiwoʻole. Together, they built a loving family with their daughter Ceslie-Ann, whom they nicknamed "Wehi." For many years, he never really took care of his wife properly and eventually, after talking about it, they decided to live separately. However, despite their situation, Marlene provided unwavering support to Israel's music career and his health challenges as she would always take care of him even if they no longer lived together. She also actively assisted him in his advocacy for Hawaiian rights.
A Life Cut Short
Regrettably, Israel Kamakawiwoʻole did not live to witness the full impact of his remarkable music. On 26 June 1997, at the age of just 38, he succumbed to respiratory failure, stemming from obesity-related health issues. Throughout his life, Israel struggled with weight problems, attempting various diets and surgeries in a bid to take control of his health and eventually enjoy a quality life, but none proved successful. He had difficulty adhering to doctors' orders, and his determination to overcome drug and alcohol addiction faltered repeatedly. At the time of his passing, he was close to 1,000 pounds on the weighing scale. Both those close to him and Israel himself recognized that his days were numbered, as he had long neglected his health. In the last few years prior to his death, he made efforts to change, but he was too far gone and his body had already taken a beating due to his unhealthy lifestyle over many years.
He received a state funeral in Hawaii, attended by thousands who came to pay their respects. His coffin, draped with the Hawaiian flag, was carried by a canoe to Makua Beach, where he was cremated, and his ashes scattered into the ocean.
Israel Kamakawiwoʻole's life story inspired many, despite the bad choices he made in life. He was the epitome of someone who, by society's standards, was not destined for success – an obese man without a high school diploma, battling drug and alcohol addiction. However, destiny played its hand, and he will be forever celebrated as one of the greatest Hawaiian musicians and one of the most influential artists globally. To Hawaii and its people, he remains a hero and a legend, a source of immense pride and joy. Israel Kamakawiwoʻole, the voice of Hawaii, resides somewhere over the rainbow, in a wonderful world, where his spirit and music endure.