Danielle Colby is more than just a reality TV star; she's a woman of many talents and passions. Her journey through life has been as diverse and captivating as the vintage treasures she helps uncover on History Channel's hit series "American Pickers." From managing Antique Archaeology's office to her thriving career in burlesque dancing, her commitment to important causes, and her entrepreneurial ventures, Danielle's life is a remarkable tapestry of success and purpose, as seen in her accumulated wealth.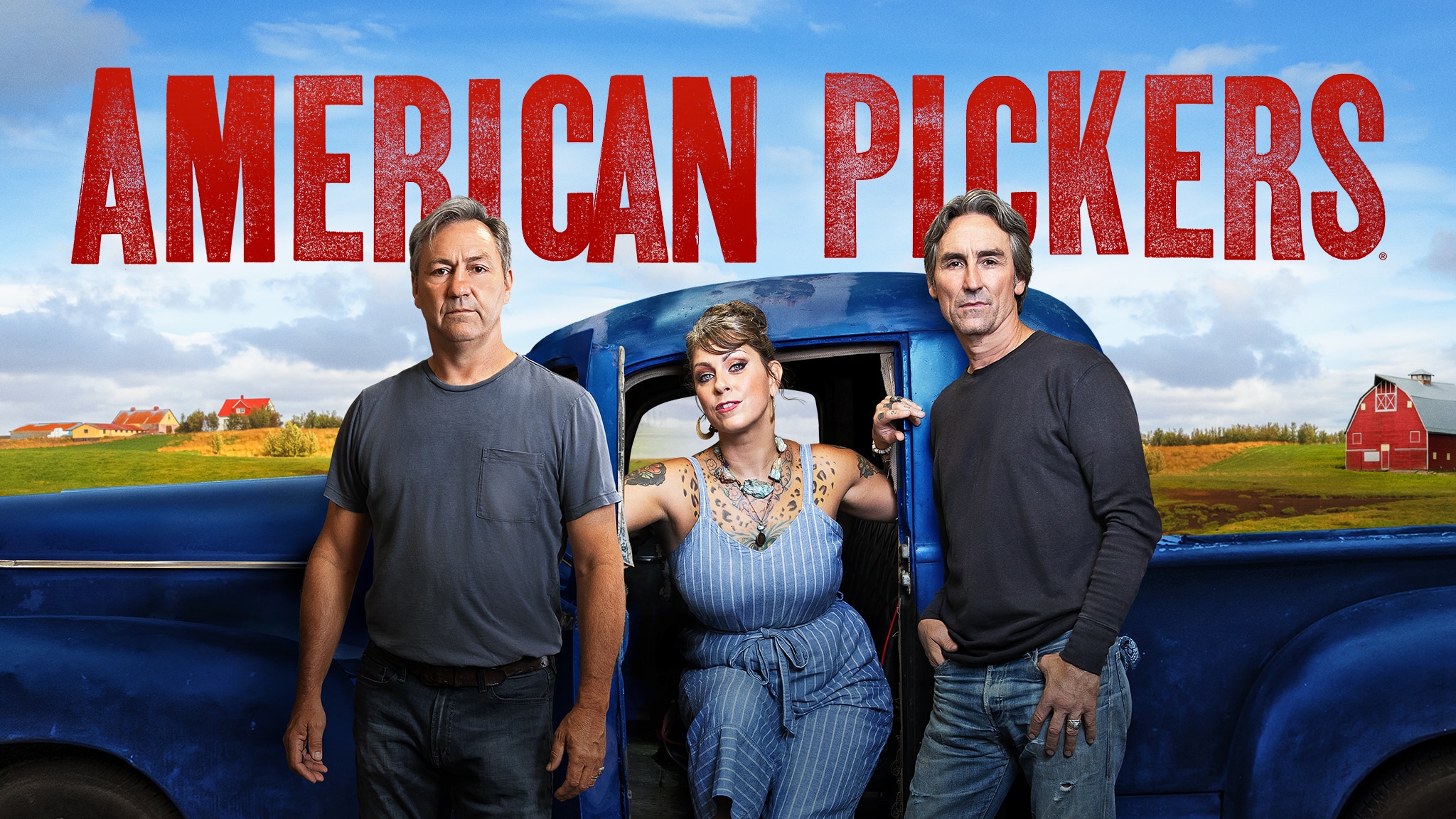 The Early Years and Unconventional Upbringing
Danielle Colby was born on 3 December 1975, in Davenport, Iowa, but spent a significant part of her childhood in Chicago. Her parents' unconventional approach to life made her upbringing unique. Raised in a Jehovah's Witness household, she often felt like an outcast in their community due to her family's adherence to this faith. Her parents were activists from the hippie era, and their dedication to fighting the system left a lasting impression on Danielle. Her mother, Sue Colby, would often tell the Colby children, 'I sacrificed my dream of becoming a Playboy bunny to have all of you.' Her father, an artistic, hard-on-himself, loyal, and protective figure, shaped her worldview. In one of her podcast guest appearances, she shared that there was a time in her life when they were abruptly uprooted by her father from the city and stayed in the mountains for a while. It turned out to be one of her most memorable childhood memories.
A Roller Derby Player
Her journey into the world of roller derby might seem surprising to many, given her background and interests. However, she not only embraced this physically demanding sport, but excelled in it. Danielle took her passion for roller derby to the next level by becoming the owner of her own roller derby team called "Big Mouth Mickies." It was a group of spirited Irish women who shared a common love for this roller skating contact sport. They came together with a shared determination to conquer the roller derby scene. However, the demanding nature of the sport took a toll on her body over the years.
In an interview, Danielle candidly shared her experience, explaining that the shelf life of a roller derby athlete typically spans three to five years. Despite her dedication and enthusiasm for the sport, she faced several injuries and physical wear and tear during her three years of playing. These challenges eventually led her to make the difficult decision to retire from the roller derby.
Danielle was also known as Dannie Diesel
Most people only knew Danielle when she became a reality TV personality, but before immersing herself in the art of antique picking, she pursued a career in burlesque dancing, highly inspired by her experiences living in Chicago. Her introduction to this world came during a night at a gay club, where she performed her first striptease show during a drag night. Initially, she wasn't that comfortable showing her skin but later on, when she gave birth to her son, it gave her a certain confidence that posing nude for an art class wasn't such a big deal anymore.
Her interest in the art of burlesque dancing deepened after watching captivating performances of Cecelia Helene Walker and Margaret Cho, both of whom she looked up to. As her self-confidence continued to grow, she went on to study the intricacies of this risqué type of dancing by attending Michelle L'Amour burlesque classes. In the burlesque community, she was known as "Dannie Diesel", a nickname given to her by her godfather when she was five years old. It was now a way of paying tribute to one of her father's best buddies as some of her unforgettable memories growing up were with him.
Dirty Show 20 welcomes Dannie Diesel @daniellecolby from the History Channel's American Pickers, the second weekend, Feb 14, 15 & 16 in Detroit. Get Tickets at https://t.co/mVkrYx40QM#danniediesel #dannied #dirtyshow #dirtyshowxx #dirtyshowtickets #eroticart #detroit #burlesque pic.twitter.com/YBAYhXgj5i

— Dirty Show (@DIRTYSHOWTWEET) January 19, 2019
Formed a burlesque troupe and established a school
Armed with enough knowledge and experience, in 2009 she established her own burlesque troupe called "Burlesque Le Moustache", comprised of eight talented dancers, many of whom, came from her former roller derby team. She found success by bringing her group across the USA to perform in several cities and headline shows such as "Burlesque Le' Moustache Goes to the Movies," "St. Valentine's Day Massacre" and "Bewitched, Bothered, and Bewildered." Back in Chicago, she opened up a burlesque school, Dannie Diesel's Bump 'n Grind.
Her interest in vintage collectibles
Beyond the spotlight, Danielle's heart beats for vintage clothing and accessories, particularly antique stage costumes. Over the years, she's amassed an impressive collection, with prized items including Lili Langtry's original costume used in "Follies Bergere in Paris" from the 1890s, and Josephine Baker's iconic Banana Skirt. Her relentless pursuit of treasures often led her to flea markets and estate sales, searching for hidden gems. Her loved ones wouldn't be surprised if she'd be gone for long hours if there was a flea market in a city they were visiting, as she would be found neck-deep in boxes of antiquities.
The "American Pickers" Journey
Danielle became a part of "American Pickers" when her close friend Mike Wolfe sought to add a unique perspective to his reality TV series. Her longstanding friendship with Mike, which started during a chance encounter at a yard sale, proved invaluable. The production crew wasn't convinced that she would fit in the show's narrative, and didn't want anything to do with her. However, Mike stubbornly told them that she was needed to make the show even more interesting. Eventually, History Channel executives gave the green light but only after they were sent a video clip of her with Mike on the set, which was filmed using an iPhone. Mike was indeed right, as Danielle became an integral part of the show over the years.
A brief background on "American Pickers"
"American Pickers" owes its existence to the creative mind of Mike Wolfe, a dedicated antique enthusiast with a passion for collecting and reselling unique items. His journey in the world of antiquities began at a remarkably young age; he was already wheeling and dealing at the tender age of five. This entrepreneurial spirit stayed with him, and as he grew older, he ventured into antique trading, eventually establishing his own antique store.
Mike wasn't content with just traditional antique dealing; he had a vision that went beyond the ordinary. With foresight that set him apart, he documented his adventures as an antique picker through videos with the assistance of a fledgling production company. These videos were uploaded on his website. A local PBS network guy saw them online and expressed interest in collaborating; however, their visions didn't align, and Mike had to firmly decline his offer. He then pitched his idea to several networks, but it was rejected until he met with History Channel executives, who gave him the rare chance of approving the concept even without watching a pilot episode.
In January 2010, "American Pickers" made its TV debut with Mike Wolfe, Frank Fritze and Danielle Colby, it's just finished airing its 24th season in August 2023. Mike's persistence and innovative approach paid off handsomely, with the show garnering high ratings – it was reported that the History Channel attracted more than 10 million viewers on Monday nights.
Controversies over the years in the spotlight
Rumors and controversies are practically par for the course in the world of reality TV, and Danielle and her show were no exception to this trend. Whether these rumors had a grain of truth to them or were entirely fabricated, they seemed to play a role in keeping her and "American Pickers" in the public eye. Interestingly, these controversies often ended up serving as an unintentional marketing tool, ensuring that the show remained relevant in the eyes of viewers.
Sexually abused as a kid and later as an adult
A poignant and revealing moment occurred when she shared her painful past on her Facebook account. In a courageous and heartfelt post, she delved into the traumatic experiences she endured, both as a child and later as an adult. These haunting memories included instances of childhood abuse, and a series of abusive relationships in her later life, which played a crucial role in illuminating the driving force behind her unconventional career choice. It was a powerful testament to her resilience, using her art to rise above the shadows of her past, and reclaim her sense of self.
Fake, staged, and scripted
Accusations of being scripted and insincere have occasionally plagued Danielle and her co-stars, as well as the long-running show, "American Pickers." Given its enduring presence on TV, it's not surprising that skepticism emerged. Some critics contended that the antiques weren't authentically discovered by Mike or Frank, but rather selected by TV producers. These allegations asserted that production staff would pre-negotiate deals with antique owners, before the cast and crew even arrived at the location.
Most people who made these allegations in the past have completely forgotten Danielle's pivotal role in the show. She's the one gathering leads through cold-calling that allowed Mike and Frank to use their time more efficiently on the road – they all assured the fans that everything was one hundred percent legitimate. Viewers from across the US regularly reached out via email, inviting them to visit their barnyards. Naturally, for a smooth filming process, the production crew often needed to engage in preliminary discussions with the owners. By now, most of the fans realized that these series are more aptly described as "guided reality" TV shows.
A heated feud between co-stars
In 2021, the producers of "American Pickers" announced that Frank Fritz wouldn be returning for the next season of the show. This announcement triggered a whirlwind of speculations about the reason behind his absence, with many pointing to a feud between co-stars. The speculations might have remained mere conjectures had Frank himself not addressed the matter in an interview with the tabloid press, claiming that he was forcibly removed from the show, albeit temporarily, due to health reasons. He assumed that the reason behind his removal was Mike's desire to have his own brother, an antique expert, replace him. It was also revealed that Frank's communication with Mike had been virtually non-existent for a couple of years.
On the other hand, Mike confirmed Frank's departure from the show in a social media post. He refrained from delving into the controversies raised by Frank, and instead reminisced about the challenging moments they had triumphantly overcome since the first season. He also conveyed his well-wishes for Frank's future endeavors.
Danielle, on her part, wrote a long post on her social media page, expressing her desire for things to have turned out differently. She alluded to the difficulties they had faced watching Frank, hinting that whatever happened to him was self-inflicted. While she didn't specify the nature of the issue, fans assumed that Danielle was referring to Frank's battle with alcohol. If this were true, it contradicted Frank's claim of sobriety for about 10 months.
In 2022, Frank suffered a stroke, and Mike requested prayers for his friend through his Instagram account. Frank eventually recovered, and in May 2023, they had a reunion after being estranged for several years. A friend who arranged the meeting clarified what had really transpired between the two, stating 'This was not a feud between Mike and Frank at all. They needed separation to appreciate each other.' Initially, Mike had wanted to see Frank, but Frank wasn't ready yet. This time, it was Frank who requested to see Mike. As they say, "All's well that ends well."
Danielle's rumored departure from the show
In August 2021, a flurry of speculations emerged surrounding the TV show, and the whereabouts of the cast members. Many viewers believed that "American Pickers" was on the verge of being axed from the History Channel, due to the constant airing of reruns. However, the network adhered to its standard operating procedure of not releasing any official statements; they typically cancel shows without fanfare or explanation. Danielle became the focal point of these speculations, and many fans began to believe that she had already left the show, sparking a new wave of rumors.
One prevalent online theory suggested that she and Mike had a falling out. The online chatter began when fans discovered that she and her family had relocated to Puerto Rico with a commitment to contribute to the island's recovery efforts. Danielle was known for dedicating her spare time to causes such as aiding orphanages and animal shelters, but given the considerable distance of over 3,000 kilometers from Iowa, it wasn't unreasonable for fans to entertain the notion that she had indeed left the show. Adding to the speculation, when she made changes to her social media profiles, she omitted any mention of "American Pickers", and never addressed these issues.
However, some fans speculated that they might be planning for a spin-off series, which Danielle mentioned in an interview that she would be excited to be a part of. When the 22nd season of the series aired, fans were relieved to see that Danielle was still very much a part of the show.
Danielle Colby's Net Worth
Over a remarkable career spanning more than 300 captivating episodes of "American Pickers" from 2010 to 2023, Danielle Colby has forged a path to success, resulting in a substantial net worth. Her involvement in the show, for which it's rumored that she commands between $15,000 and $20,000 per episode, significantly contributes to her financial success. Yet, her portfolio isn't one-dimensional, as she has diverse sources of earnings. Beyond the small screen, her financial acumen thrives. She's an astute collector of antiques, which serves as another wellspring of wealth. Her entrepreneurial spirit has also led her to delve into endorsements and various business ventures that keep the cash flowing, including her successful burlesque troupe, which is set to perform a series of shows in Chicago starting September '23, entitled "The Dannie Diesel Dope Show."
Once upon a time, her vintage clothing haven, "4 Miles 2 Memphis," was a cornerstone of her financial empire, but alas, it has since bid adieu. However, her presence continues to resonate in the digital realm through Etsy and eBay stores, even though they're currently on hiatus due to her busy schedule. Her enterprising spirit extends to online platforms such as Patreon, on which she entertains and engages with nearly 800 devoted patrons on her page entitled "Danielle Colby Striptease Historian/The Queen of Rust," offering different tiers for contributions ranging from $5 per month. Furthermore, she has boldly ventured into the realm of OnlyFans, where she currently has close to 40 videos and 500 photos, championing a body-positive message that further bolsters her unique brand.
As of September 2023, the estimation of Danielle Colby's net worth ranges up to $2 million, a testament to her remarkable journey, fueled by passion and an unapologetic commitment to authenticity and individuality. If recent reports are accurate, her net worth might be affected by the possibility of her reality TV show being canceled for real this time, as it garnered quite low ratings in the recent season.