Who is Chino Pacas?
Chino Pacas, whose real name is Cristian Humberto Avila Vega, is a young and emerging Mexican singer known for his contributions to the corrido music genre. He gained significant attention with his 2023 song "El Gordo Trae el Mando", which was streamed over 100 million times within its first few months of release, and entered the Billboard charts at number 84, making him the youngest Mexican artist to achieve this level of chart success.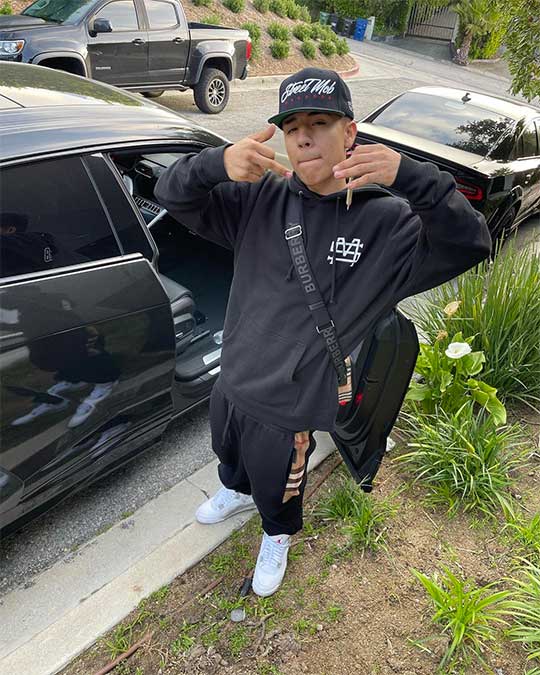 Early Life and Introduction to Music
Chino was born in 2007 in Apaseo el Alto, Guanajuato, Mexico. At 12 years old, he moved to Tampa Bay, Florida with his family, which is where he's spent his teenage years. Chino has a younger brother named Vega Diego, who is also a musician, performing under the alias Turo Pacas.
From a tender age, Chino was exposed to both the Mexican and American culture and music. The melodies and stories told through corridos, a genre deeply embedded in Mexican culture, captivated his interest. Another major influence on Chino's music was American hip hop, which he masterfully combines with more traditional sounds.
Rise to Stardom
In 2023, at just 16 years old, Chino released his first single, "El Gordo Trae el Mando", a track that would catapult him into the limelight after going viral on TikTok. The song, which was streamed over 100 million times in its initial months of release, narrates a compelling story, a hallmark of the corrido style, while also integrating modern musical elements that appealed to a wide demographic.
Following up such a hit was no easy feat, but Chino proved that he's not a 'one hit wonder' with his second single "Dijeron Que No La Iba Lograr", which has also surpassed 100 million views on YouTube.
Chino's meteoric rise to fame has facilitated collaborations with various artists, notably Calle 24, with whom he released the single "Negro Como la Pantera". His music has not only charted on prestigious platforms such as "Billboard" but has also garnered him recognition as one of the youngest Mexican artists to achieve such a feat.
In April 2023, Chino proudly accumulated over 10 million monthly listeners on his Spotify page, only two months after making his debut.
Musical Style and Influence
Chino's music is a harmonious amalgamation of traditional Mexican corridos and contemporary musical elements. His songs, while rooted in the storytelling characteristic of corridos, are infused with modern rhythms and themes that resonate with a younger, global audience. His innovative approach to the genre has not only preserved its cultural significance, but also propelled it into contemporary relevance.
Chino has played a pivotal role in revitalizing and globalizing corridos, ensuring the genre's continuity and relevance in the modern musical landscape. His innovative adaptations and compelling narratives have introduced corridos to new listeners, fostering an appreciation for the genre beyond its traditional audience.
Through his music, Chino has become a bridge between generations of corrido listeners. His respect for the traditional elements of the genre, coupled with his willingness to experiment with contemporary sounds, has resulted in music that is both familiar and refreshingly new. Older audiences find comfort in the familiar narrative and melodic structures, while younger listeners are drawn to the innovative and contemporary aspects of his songs.
Chino cites the Mexican singer Natanael Cano as one of the biggest individual influences on his music.
Personal Life
Despite his meteoric rise to fame, Chino has managed to keep his personal life private. He's said that he's passionate about his music, but doesn't want to be a typical celebrity, which is reflected in his media presence.
On social media, Chino often uploads casual photos and videos of himself travelling and enjoying himself. As of October 2023, he appears to be single and there haven't been any rumors about his love life.
Net Worth
Chino's net worth is estimated to be $2 million, accumulated through his successful career as a rapper and songwriter, with his notable hits and collaborations in the music industry. It's worth noting that net worth can be influenced by various factors, including investments, expenses, market fluctuations, and more, and therefore is probably not a static figure.
What is Corrido?
Corrido, a genre deeply embedded in the cultural tapestry of Mexico, is a form of musical storytelling that has been passed down through generations, weaving tales of historical events, social issues, and legendary heroes. Originating in the 19th century, corridos have served as aural chronicles, capturing and preserving stories from various epochs of Mexican history, thereby acting as a melodic bridge between the past and the present.
Traditionally, corridos are narrative ballads that utilize a straightforward musical format to tell tales, often of a socio-political nature. They have historically provided a means for ordinary people to communicate stories of struggle, resistance, and triumph in the face of adversity. Corridos have narrated various themes, from historical events like the Mexican Revolution to stories of famed bandits, rebels, and heroes, offering a musical lens through which to view the complexities and struggles of life. The language used is usually direct and unembellished, prioritizing the clear communication of the story and the values or messages it seeks to convey.
Corridos have not merely been a form of entertainment but have also served as a tool for cultural preservation and social commentary. During times when literacy rates were low and mass communication was limited, corridos acted as a medium through which stories, news, and messages could be disseminated among people. They were, and still are, a means of oral history, preserving tales of the past and reflecting the values, struggles, and aspirations of the communities from which they originated.
In contemporary times, the corrido has experienced a resurgence and evolution, giving birth to sub-genres like the "narcocorrido", which often tells tales of drug lords and illicit activities. Modern corridos have also integrated elements from other musical genres, adapting to the tastes of new generations while maintaining their narrative essence. Artists like Chalino Sánchez and groups like Los Tigres del Norte have played pivotal roles in maintaining the relevance of corridos, adapting them to reflect modern themes and issues.
The corrido genre has also transcended Mexican borders, finding audiences in the United States and other countries, particularly within Mexican immigrant communities. These ballads, telling tales of migration, struggle, and the pursuit of the American dream, have resonated with listeners, providing a melodic narrative that reflects their experiences and challenges.