Who is CJ McCollum?
CJ McCollum is a professional basketball player best known for his tenure with the Portland Trail Blazers in the National Basketball Association (NBA), alongside Damian Lillard. Since then, he's joined the New Orleans Pelicans.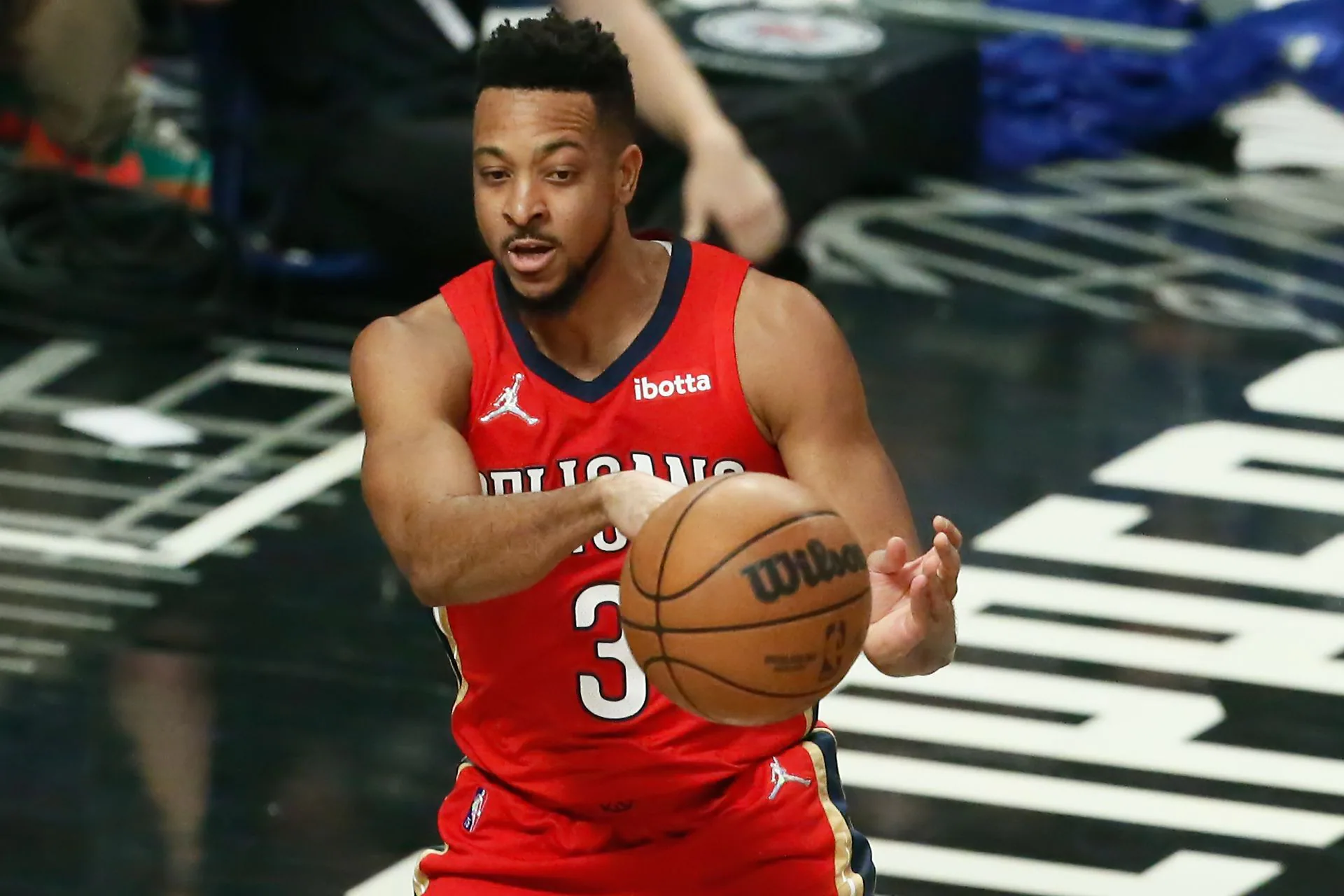 CJ McCollum Wiki: Age, Childhood, and Education
Christian James McCollum was born on 19 September 1991 in Canton, Ohio, USA, the second child born to Errick McCollum and his wife Kathy Andrews. His older brother is Errick McCollum, who also grew up to become a basketball player. Both brothers got into basketball at a young age – CJ attended GlenOak High School, where his basketball journey took off. Despite standing at just 5ft 2ins when he started, his exceptional athleticism and impressive shooting skills earned him a spot on the varsity basketball team. As he continued to play, he experienced a significant growth spurt, reaching a height of 6ft by the time he matriculated.
During his senior year at GlenOak High School, CJ McCollum truly shone. His hard work paid off, as he averaged an impressive 29.3 points per game, becoming the school's all-time leading scorer. Notably, in his first junior game, he stunned everyone by scoring a remarkable 54 points, setting both school and Stark County records. Thanks to his great performance, CJ was named the Gatorade Ohio Player of the Year for the 2008–09 season.
College Career
CJ McCollum played college basketball at Lehigh University for four years. Starting as a 6ft – 3ins, 165-pound freshman in 2009–10, he made a strong impact with averages of 19.1 points and five rebounds per game. McCollum was the nation's leading freshman scorer, and the first Patriot League player to be named both Player and Rookie of the Year, and helping Lehigh to the 2010 NCAA tournament.
During his sophomore year (2010–11), McCollum improved his averages to 21.8 points and 7.8 rebounds per game, and was named to First Team All-Conference despite Lehigh's dip in performance. In his junior year (2011–12), McCollum continued to excel, earning his third straight First Team All-Conference call, and leading Lehigh to an historic victory over Duke in the NCAA tournament.
McCollum added 30lbs, about 12kgs of muscle over his college years, and decided to stay for his senior year despite NBA prospects. He became Lehigh's all-time leading scorer, before graduating with a Bachelor of Arts in Journalism. However, his senior season was cut short due to a foot injury in January 2013. McCollum's college career showcased his basketball prowess and dedication to both academics and sports. He won a number of awards and honors during his college spell, including:
Patriot League Player of the Year (2010, 2012)
Patriot League Rookie of the Year (2010)
First Team All-Patriot League (2010-2012)
Patriot League's all-time leading scorer (2361 points)
Career Beginnings
McCollum kicked off his NBA journey as the first player ever drafted from Lehigh University, with the Portland Trail Blazers selecting him as the 10th overall pick in the 2013 NBA draft. McCollum signed up with the Blazers on 11 July and showcased his skills in the NBA Summer League, where he averaged an impressive 21 points and four rebounds per game.
In his rookie season, McCollum's fellow rookies recognized his talent by voting him as the co-winner of the 2013-14 Rookie of the Year award, sharing the honor with Victor Oladipo. The following season, McCollum's role expanded as he averaged 6.8 points per game compared to 5.3 points per game in his rookie season. However, the 2015-16 season was a turning point for McCollum. With several key players departing from the team, he stepped up as the starting shooting guard alongside Damian Lillard. This new responsibility saw McCollum's performance soar.
Averaging a noteworthy 20.8 points, 3.2 rebounds, and 4.3 assists per game, McCollum's impact on the court was undeniable. His outstanding progress was recognized when he earned the NBA Most Improved Player award for that season.
Rise to Stardom
McCollum continued to make his mark on the NBA with the Portland Trail Blazers. In July 2016, he secured a four-year contract extension with the team, consistently delivering strong performances on the court during this period,
In the 2016-17 season, McCollum's impact was evident as he started all 80 games he played. He showcased his scoring prowess by averaging 23 points per game, and his versatility shone through with 3.6 rebounds and assists each. Notable moments included a 37-point game against the Memphis Grizzlies and a 43-point performance against the Minnesota Timberwolves. The Blazers entered the playoffs as the eighth seed, but they faced challenges despite McCollum's 41-point effort in Game 1 against the Warriors.
The 2017-18 season saw McCollum's consistency persist as he played in all 80 games, maintaining his starting role, continuing to contribute with an average of 21.4 points, four rebounds, and 3.4 assists per game. McCollum's highlight reel included a franchise-record 28 points in a single quarter and a career-high 50-point game against the Chicago Bulls. However, play-off disappointments loomed, with the Trail Blazers eliminated in the first round by the New Orleans Pelicans in a four-game sweep, despite McCollum's 38-point effort in Game 4.
Continuing to dominate the court, CJ established himself as a scorer and reliable shooting guard. However, Portland just didn't have the means to make any significant impact on the league ,with only him and Lillard. During the 2018-19 season, McCollum's consistent performance shone through, averaging 21 points, four rebounds, and three assists per game. Noteworthy moments included a 40-point game against the Milwaukee Bucks, and a triple-double performance with 28 points, ten assists, and ten rebounds against the Atlanta Hawks. In the playoffs, he displayed his clutch abilities, scoring a career-high 41 points in a quadruple-overtime win against the Denver Nuggets in Game 3. McCollum's pivotal 37-point contribution in Game 7 propelled the Blazers to the Western Conference Finals for the first time in two decades, although they ultimately fell to eventual Champions Golden State Warriors.
In the following season, McCollum continued his impressive streak. He reached a season-high 41 points in a game against the Milwaukee Bucks and matched it in a victory over the Orlando Magic. On 26 December 2020, he showcased his skills with a season-high 44 points, including a game-winning three-pointer, in an overtime victory against the Houston Rockets.
Off the court, McCollum took on leadership roles, being elected president of the National Basketball Players Association in August 2021. However, challenges emerged, with McCollum being diagnosed with a pneumothorax in December 2021, but made a triumphant return in January 2022, scoring 16 points in a victory over the Orlando Magic.
New Orleans Pelicans
CJ McCollum, along with Larry Nance Jr. and Tony Snell, was traded from the Portland Trail Blazers to the New Orleans Pelicans on 8 February 2022, part of a major trade that saw the Blazers acquire Josh Hart, Nickeil Alexander-Walker, Tomáš Satoranský, Didi Louzada, a protected 2022 first-round draft pick, the superior selection between New Orleans' and Portland's 2026 second-round draft picks, and New Orleans' 2027 second-round draft pick. Just 48 hours following the trade, McCollum debuted for the Pelicans, immediately making his presence felt with a valuable performance against the Miami Heat. delivering 15 points, seven rebounds, and five assists. McCollum stood out with 40 points, eight rebounds, and nine assists, driving the New Orleans Pelicans to a 126–117 victory against the San Antonio Spurs; this accomplishment put him in the company of Pelicans legends Anthony Davis, DeMarcus Cousins, and Tyreke Evans as one of the few players to achieve at least 40 points, eight rebounds, and eight assists in a single game in the team's history. He continued his impressive run with 42 points, including a record-breaking 11 three-pointers, as the Pelicans secured a decisive 127–116 win over the Philadelphia 76ers.
Life off the Basketball Court
Beyond the basketball court, CJ McCollum hosts the "Pull Up with CJ McCollum" podcast alongside co-host Jordan Schultz, featuring prominent guests such as Kevin Durant. McCollum's media presence expanded when he signed a multiplatform deal with ESPN in 2022, becoming an NBA analyst.
His community involvement includes establishing the CJ McCollum Dream Center, a learning space for underserved youth, and an initiative called CJ's Press Pass, providing aspiring journalists with mentorship opportunities.
Away from his professional life, McCollum is a wine enthusiast, and even launched his own label, McCollum Heritage 91, reflecting his birth year and upbringing.
Net Worth
According to authoritative sources, CJ McCollum's net worth is estimated at $16 million, as of mid-2023.
Personal Life
CJ has been married to Elise Esposito, his college sweetheart, since 27 October 2020. The couple has one child together, a son named Jacobi, born on 10 January 2022.