Apple Martin
Born on 14th May 2004, in London, England, Apple Alison Blythe Martin is the firstborn daughter of A-list actress Gwyneth Paltrow and "Coldplay" frontman Chris Martin. Although some may still remember her as a newborn baby or young child, in February 2023, news outlets shared that the striking blonde had pledged to the Kappa Kappa Gamma sorority at Tennessee's Vanderbilt University.
Compared to other celebrity children, Apple is incredibly private, partly thanks to her parents allowing her as normal a childhood as possible. In January 2023, the teen made her fashion world debut by sitting front-row at one of the most exclusive events of the industry: the yearly Chanel Haute Couture Spring Summer show which was held during Paris Fashion Week. Even so, Apple has no public social media accounts, and has only given one brief interview to date.
Speaking to Vogue magazine during the Chanel show, Apple claimed that her style was "a mix of classic '90s and cool grandpa". Three years earlier, Gwyneth enlisted her daughter to model her G. Label Core Collection fashion line; according to the young Londoner, her closet staples include Levi jeans, oversized cardigans, and loafers.
For the time being, it looks like the most we'll be seeing of Apple is through her mother's social media posts. The Goop entrepreneur occasionally uploads selfies with her daughter and her son, Moses – father, Chris, has no personal social media accounts.
Although it's evident that the famous former couple have a great relationship with their children, that doesn't mean that Apple always approves of her parents' antics. In May 2023, the TikTok account of "Call Her Daddy" podcast jokingly uploaded a clip of Apple entitled: "When your literal mom goes on, call her daddy", in which the teen could be seen in the podcast's studio covering her ears and fake screaming while Gwyneth gave an interview about her sex life and past relationships.
In a previous appearance on "The Ellen DeGeneres Show", Chris recalled when his daughter got her first job at a clothing store at just 15 years old, and he decided to show up and surprise her. "I took a t-shirt from the rack and I lined up in the queue. And she was at the checkout… And she saw me," Chris explained. Apparently, when Apple saw her famous father, she immediately signaled for him to get out.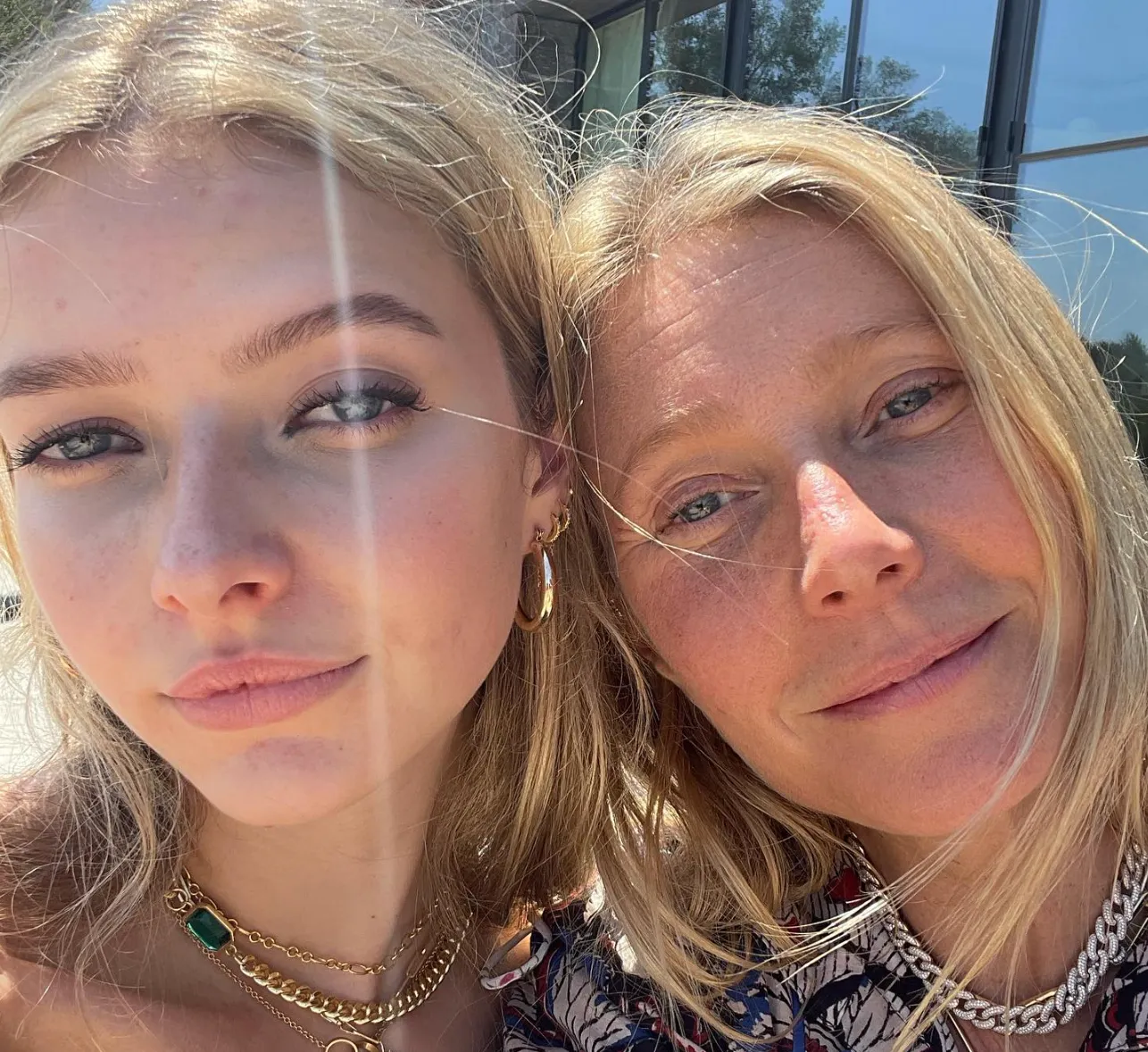 That wasn't the first time Chris or Gwyneth "embarrassed" their daughter – in 2020, the actress uploaded a nude photo in honor of her 48th birthday. Despite Gwyneth strategically posing to cover up, Apple clearly wasn't impressed and left a comment saying "MOM", to which the "Avengers: Endgame" star replied with three laughing emojis.
In a 2022 Goop newsletter, Gwyneth also mentioned that her children disapproved so much of her phone lock screen – a shirtless photo of her current husband, Brad Falchuk – that they quickly replaced it with a selfie of themselves. With that said, Gwyneth and Chris have both made sure to adapt to their new blended family: in June 2023, the "Iron Man" alum shared photos of her children with Chris and Brad, whom she described as a "great stepfather", for Father's Day. Similarly, Chris is currently in a steady relationship with actress Dakota Johnson, who has been seen on shopping trips and other outings with Apple and Moses over the years.
Family
Gwyneth and Chris were together for over a decade and became one of Hollywood's best-known power couples before they famously announced in 2014 that they were "consciously uncoupling". The pair's first meeting took place backstage at a Coldplay concert in late 2002; just a year later, they confirmed Gwyneth's pregnancy and married in a ceremony so secret that not even their family was present.
In January 2006, Gwyneth shared that she was expecting her second child after a Screen Actors Guild screening of her movie, "Proof". It took the A-listers a while to announce the birth of Moses, who they welcomed to the world just three months after the movie screening, but they did so via an official statement to PEOPLE magazine.
Just after Moses's first birthday, the Oscar winner praised the musician for realizing that she had postpartum depression. Four months after Moses's birth, Chris identified his then-wife's mental health struggles and helped her get the support she needed when she confessed that she was finding it difficult to bond with her second-born.
The first rumors of marital troubles came in April 2013, when Gwyneth spoke about marriage being hard work during an interview with Self magazine. "You're not learning anything unless you're having the difficult conversations," she shared. "Dealing with things directly changed my relationships… It's changed my marriage, too, but he's up for the challenge." Less than a year later, the couple announced their separation via a Goop post in which they asked for privacy.
Although the exes were spotted vacationing in the Bahamas and holding hands in July 2014, both parties maintained that they were still very much separated and had no plans of getting back together. Two months later, Gwyneth celebrated a lowkey 42nd birthday with her children and soon-to-be ex-husband.
The divorce was at last finalized in April 2015; four years later, the Goop founder admitted to podcaster Dax Shepard that divorce left her feeling "defeated". "It felt like such a failure to me. It was so hard and I was so worried about my kids," she reminisced. These days, the pair remain close, with Gwyneth describing her ex-husband as a "brother". The "Coldplay" star doesn't miss any of his children's milestone events, either, such as Apple's high school graduation in June 2022.
Regarding Gwyneth and Chris's net worths, the businesswoman has a vast $200 million fortune, $40 million more than the "Viva la Vida" singer. Chris's assets include a beautiful Malibu mansion worth $12.5 million, where he currently resides with Dakota; meanwhile, Gwyneth is the owner of a stunning Montecito guesthouse, and a New York townhouse amongst other properties.