Rebecca De Mornay
Rebecca De Mornay, birth name Rebecca Jane Pearch, was born on 29th August 1959, in Santa Rosa, California, USA, and is an actress and producer, perhaps still best known for her breakthrough role in the 1983 teen sex comedy drama "Risky Business". At just 24 years old, the blue-eyed beauty dazzled viewers, and became a household name after starring opposite Tom Cruise in the tongue-in-cheek movie, which made ten times its $6.2 million budget at the box office, and is also considered Tom's breakthrough role.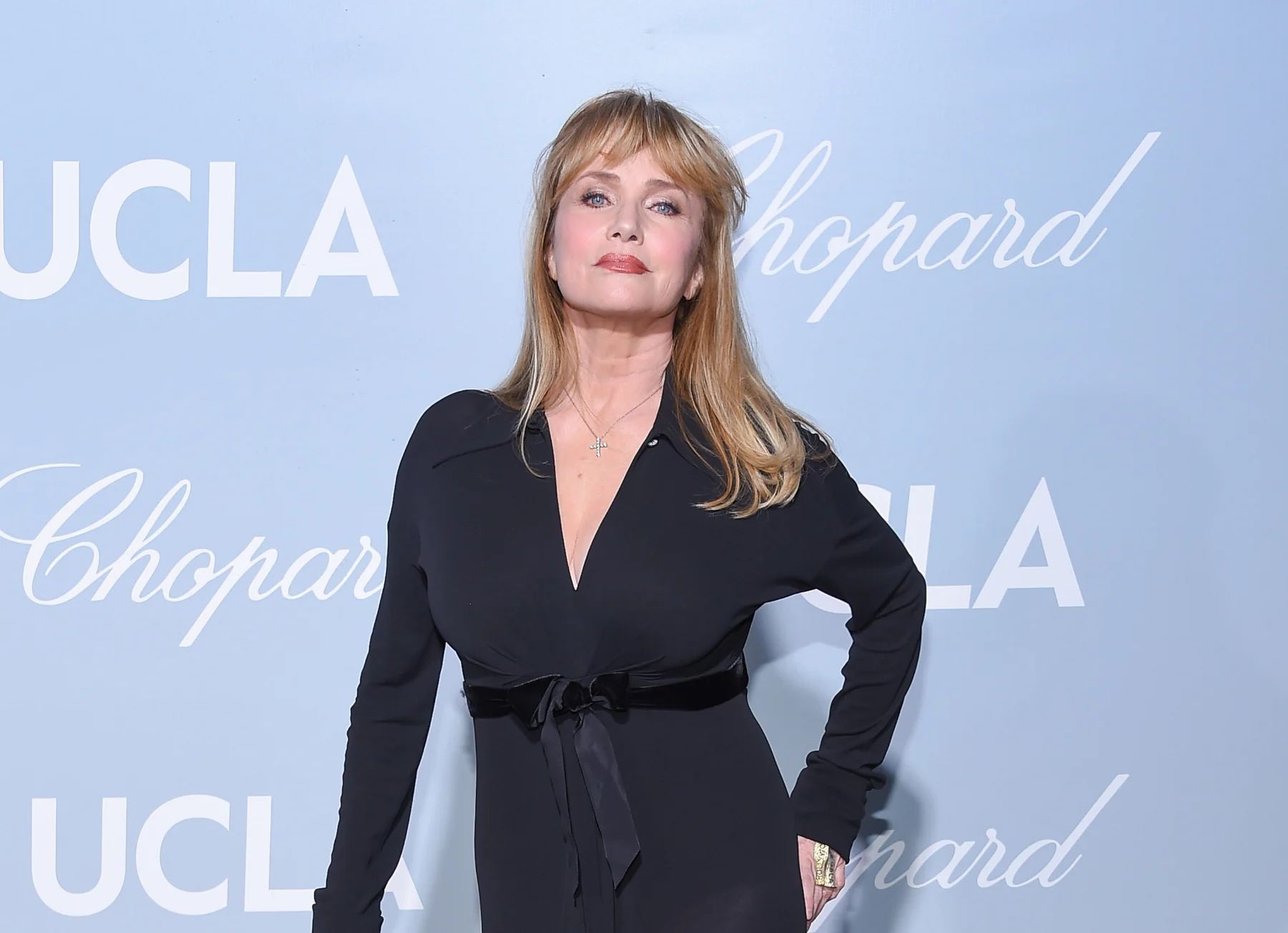 Rebecca was born to disc jockey and TV host Wally George and his then-wife Julie. Details of her early childhood are a mystery, with some sources claiming that she was actually born in 1962; however, this seems unlikely, as Wally and Julie divorced in 1960, and a local newspaper had congratulated them on the birth of their daughter a year prior. Wally is the son of child film actress and vaudeville performer Eugenia Clinchard.
When Julie remarried in 1961, Rebecca took on her stepfather, Richard De Mornay's surname. In March 1962, Richard died of a stroke and Julie and her children relocated from Pasadena to Europe, moving around every few years. Rebecca briefly attended Suffolk's Summerhill School, and later matriculated from a private high school in Germany.
Career
At just 16 years old, Rebecca had written the theme song for the 1975 kung fu movie "Goodbye Bruce Lee: His Last Game of Death". She was also signed to a musical agent who sold her songs to rock & roll musicians in Germany, where the then-teenager was living.
Aged 21, Rebecca returned to the States and studied acting at the Lee Strasberg Institute. A year later, she made her movie debut in the musical romantic drama "One from the Heart", starring her boyfriend at the time, Harry Dean Stanton. Two years later, she bewitched audiences – and Tom Cruise, who played a high-school student – as Lana, the vivacious call girl in "Risky Business"; she also had a small role as Cathy Pitkin in "Testament", which was largely overshadowed by the first movie.
Rebecca De Mornay in Risky Business (1983) #sexy #celebs #backintheday pic.twitter.com/IRxhX5qU1C

— Sluts and Guts (@sluts_guts) November 2, 2020
1985 saw Rebecca play Debby Palmer in "The Slugger's Wife", Thelma in "The Trip to Bountiful", and Sara in "Runaway Train". The last two movies were both nominated for Academy Awards and other meaningful accolades, and as the co-star of both productions, Rebecca saw her star rise at a dizzying pace. The beautiful blonde also starred in the music video for "Sara", a Starship single that claimed the top spot on Billboard's Hot 100 chart months later.
After a lead role as Beauty in a long-forgotten 1987 adaptation of "Beauty and the Beast", Rebecca was Kurt Russell's on-screen wife in "Backdraft" and starred in the 1988 remake of "And God Created Woman", playing a promiscuous inmate named Robin. Although the movie tanked at the box office and was lambasted by critics and viewers alike, Roger Ebert praised Rebecca's acting talents, saying: "You have to put the plot on hold, overlook the contrivances of the last half hour, and find a way to admire how De Mornay plays the big scene, even while despising the scene itself."
Although Rebecca's career has been full of hits and misses, she found commercial success yet again in the 1992 psychological thriller "The Hand That Rocks the Cradle", playing the wife of a sexual molester obstetrician, whose life is turned upside down when her husband commits suicide and she loses her home and unborn child as a consequence. The suspenseful movie raked in $140 million at the box office, with Rebeccas praised for playing the perfect villainess.
The following year, Rebecca starred opposite Don Johnson in the murder drama "Guilty as Sin". In 1995, she executive produced and had a role in the drama movie "Never Talk to Strangers", starring Antonio Banderas. Despite appearing in a myriad of projects, from dramatic TV movies to erotic thrillers, the rest of the 1990s – and the beginning of the 2000s – were tough times for Rebecca, as she failed to find a role that stuck.
In 2003, Rebecca played Liz in the pilot episode of "No Place Like Home", which failed to be picked up. In the same year, she was the primary antagonist in two episodes of "Boomtown" and had a starring role as Caroline Suzanne in the mystery thriller "Identity". 2004 brought with it another recurring role as Rebecca played attorney Hannah Rose in the last four episodes of "The Practice".
Following a minor role in the 2005 comedy "Wedding Crashers", Rebecca starred in "American Venus" as the main character's neurotic and demanding mother. She also played family matriarch Cissy Yost in "John from Cincinnati", a surfing series that showed promise, but was cancelled after ten episodes.
2007 to the early 2010s were a decidedly quiet few years for Rebecca, who appeared in a handful of movies, such as the psychological horror "Mother's Day". In 2012, the actress made an unexpected cameo in the "American Pie" franchise by playing Stifler's love interest in "American Reunion". From 2015 to 2019, Rebecca was part of the cast of "Jessica Jones", portraying a talent agent named Dorothy Walke,r who is abusive and controlling towards her daughter.
These days, Rebecca seems to have just one upcoming project: the Michael Zaiko Hall thriller "Peter Five Eight". Starring Jake Weber, Jet Jandreau, and Kevin Spacey – who has fallen out of favor in Hollywood despite recently being cleared of sexual assault allegations – the movie, which began filming in September 2021, has allegedly been completed since May 2022.
Although a release date was set for August 2023, the current actor's strike appears to have thrown a spanner in the works, as striking performers are forbidden from acting, singing, dancing, and even promoting their projects, be it at an awards show or a red-carpet event.
Personal Life
After meeting actor Harry Dean Stanton on the set of "One From the Heart", Rebecca soon embarked on a relationship with him which ended when she began an affair with Tom Cruise during the filming of "Risky Business". Tom and Rebecca reportedly broke up in 1985, although it must be said that the A-list actor has been linked to dozens of women, and there was probably an overlap of sorts in their relationship.
In December 1986, Rebecca married the writer Bruce Wagner. Shortly after their divorce in 1990, she began dating – and was even engaged to – singer Leonard Cohen, who dedicated her his 1992 album "The Future". After Rebecca and Leonard broke up for unspecified reasons, she began seeing sportscaster and former actor Patrick O'Neal, which whom she shares two daughters. Although Rebecca and Patrick split in 2003 following a serious nine-year relationship, they are believed to remain on good terms and have never spoken negatively about each other in the press.