Sal Valentinetti wowed the world on 14 June 2016, upon auditioning in episode 1103 in the 11th installment of "America's Got Talent." Unlike most great singers whose names are remembered from the extremely popular series, Sal didn't only have an outstanding voice, but also introduced the audience to a very rarely seen vocal technique.
He managed to win over everyone's heart in the hall with unshakable confidence and an astounding performance of Frank Sinatra's legendary "My Way," thereby earning a golden buzzer and placing himself directly in the quarterfinals.
The young singer's career skyrocketed after appearing in the series, and it became apparent that he got very busy afterwards, taking up numerous lucrative offers. His fans and competitors alike have thus been very curious about his earnings, seeing how they have been exponentially increasing ever since 2016.
The famous audition
Sal's introduction to the audience in the video of his audition was nothing short of iconic, showing him walking towards the building between two burly no-nonsense characters, both of whom are his cousins. Valentinetti also brought along his mother and three aunts, surprising the audience with just how deep his family roots go.
Sal explained that he rarely sang until a few years ago, and even then, it was only in the shower. However, he decided to pursue singing seriously, and wanted to bring back the old-style Dean Martin roasts. Valentinetti attributed his interest in this particular type of music to his late grandmother, who was a very important figure in his matriarchal Italian family.
He also reveals that he worked as a pizza delivery guy for his cousin's shop in Long Island, New York USA. Upon being asked whether he's married, due to his generally more mature appearance, Sal revealed to the judges that he's only 20 years old, but made a joke by saying 'Heidi Klum, how you doing?'
It became clear to everyone that they were looking at a future star, even before he started singing, since he told Simon Cowell that he isn't there to participate, but to win. It was evident that the young Italian had in store to back up such bold claims, and the crowd got excited to finally get a taste of what exactly that was.
Sal then gifted the crowd a jaw-dropping rendition of the aforementioned eternal hit, which had everyone cheering as soon as they heard the first notes. The judges were thoroughly amazed as well, especially Heidi Klum, which would become even more apparent as the show went on. All three of his aunts were overjoyed, screaming from the audience at the top of their lungs.
That said, there was visible uncertainty and anxiety on Sal's face in expectation of the judges' reactions, even right after they gave him a standing ovation. Simon started off strongly by saying that one can't fake wanting to sing the kind of music Sal chose to perform, as it's 'either in you, or it's not.'
Cowell also called the singer an old soul, adding that he guesses Sal's grandmother was watching him from above, and probably saying 'Yeah, he did it his way.' This statement caused young Valentinetti to almost choke up, at which point he covered his mouth and pressed his hand against his face to contain an emotional outburst.
Thursday, December 9 @ 7:30PM – Don't miss America's Got Talent Finalist and Grammy-nominated Sal "The Voice" Valentinetti LIVE! In 2016, Sal made his debut on Season 11 of the NBC hit show "America's Got Talent." That night, The 20-year-old college student went from delivering Pizzas for his cousin's restaurant, to delivering what's considered one of the best performances in AGT history.Since racking up over 350 million views worldwide with his captivating AGT audition, the celebrated charismatic crooner has been invited to appear in hundreds of sold out solo performances on stages around the world.From Madison Square Garden in NYC, to opening for Jay Leno in Las Vegas, to selling out the legendary NYCB Theater at Westbury like all of the greats before him; it's safe to say that Sal is only getting started.Sal was recently nominated for two Grammy Awards for best New Artist and Best Song!Kicking the night off will be will be American Idol Contestant Brianna Collichio.

Posted by Riviera Theatre and Performing Arts Center on Monday, November 22, 2021
Aside from Sal himself, this touching moment also deeply resonated with Heidi Klum, who immediately exclaimed that she'd like it best to just run up the stage and hug the now slightly bashful singer, which he had no objections to.
It seems that the future star only needed a kiss on the cheek from the former supermodel to get back to his regular self, since he descended from the stage right afterwards and approached the judges directly, asking them how they were feeling.
Mel B was astonished by the performance, calling it 'absolutely flawless.' She made sure to point out that the young singer's pitch and tone were immaculate, as well as that he exuded an air of excellence throughout his stage presence. Heidi followed this up by complimenting Sal's talking and singing, which he returned in kind by saying he loves the way she looks.
It was then Howie Mandel's turn to give his thoughts, and he didn't deviate from what the others had said. The germaphobe judge complimented the honest and kind demeanor of the young singer, calling him 'lovable' and stating that he has a real talent. With that sentence concluded, Valentinetti got his first resounding 'yes.'
It was Heidi's turn to vote after Mel B's quick and easy sign of approval, but she surprisingly remained quiet. Sal stood still as well, and insecurely asked the judge to weigh in with her final call. Klum stared back at him and asked whether he'd like to know how she really feels about him.
He was confused for a moment, so she repeated her question. Finally, Sal said 'Yeah, tell me,' to which Heidi replied 'I'll tell you right now,' thereby slamming the golden buzzer. Simon's opinion, consequently, was of no relevance whatsoever, since the contestant had been sent straight to the latter stages of the competition.
Valentinetti excitedly left the stage with the words 'Today is the first day of the rest of my life,' which meant to imply the fact that winning a golden buzzer provides the receiver with so much fame and admiration that they will likely never have to worry about finding a gig thereafter. This turned out to be true in every respect for the aspiring Italian, as his career took off.
The origins of Sal Valentinetti – Who is he really?
Sal's entourage during his intro video for "America's Got Talent" certainly raised some eyebrows, since the two men walking alongside him had a demeanor and dress style that was quite reminiscent of the stereotypical Italian gangster lifestyle.
Goin back to Cali!!! #AGT #SalTheVoice #BigTimeTommie #SemiFinals #GoldenBuzzer #DunkinSave pic.twitter.com/AaCJ6nTxFi

— Sal Valentinetti (@SalTheVoice) August 22, 2016
Along with his pizza delivery job for a cousin's business, which is most frequently used as a substitute for what one really does in Italian gangster circles, Sal initially gave off a contrasted vibe. The crowds were thankfully introduced to the singer's true nature soon after he showed up on the stage, and it became clear that his bubbly personality wasn't a façade for something ominous.
Salvatore Valentinetti was born and raised in Bethpage, New York State, on 26 August 1995. In spite of most believing that he is from Long Island, which he mentioned during the audition, Sal in fact used to commute there for work, while his main place of residence remained in his birth town.
He enjoyed a childhood full of love, spent around the many members of his vast family. Most importantly, just as he mentioned in the audition, the Valentinettis favor a matriarchal structure amongst themselves, meaning that his grandmother had arguably the biggest influence on him as a child.
It was through her that he discovered the almost-forgotten vocal art of crooning – a bygone manner of singing lost to the times of Frank Sinatra, Tony Bennett and Dean Martin. Young Sal loved the music so much that he decided to emulate the greats, and one day bring even more glory to the genre.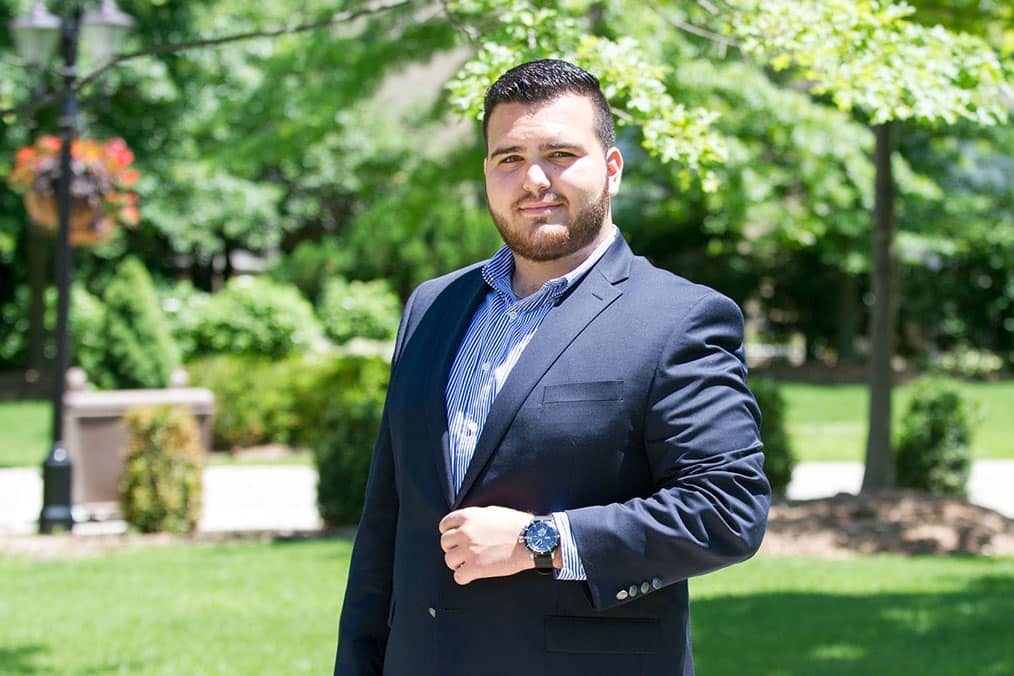 What really is crooning?
Crooning is a timeless vocal technique that captivated audiences across the earlier generations, while it's not very popular in 2023. The art form is defined by its smooth, velvety, and mellow vocal style, having emerged in the early 20th century.
The term 'crooning' originated from the verb 'to croon,' which denotes the gentle, intimate manner in which a singer delivers their lyrics. Crooners embrace a close and personal connection with their audience, drawing them in with their tender tones and heartfelt delivery. This vocal technique has been celebrated for its ability to evoke nostalgia and transport listeners to a world of romantic longing and introspection, as was the customary reaction in its heyday.
Crooning gained significant popularity in the 1920s and 1930s, thanks to the advent of radio and the rise of sound recordings. Pioneering crooners such as Bing Crosby, Rudy Vallee, and Russ Columbo became household names overnight, cementing the art form in the annals of music.
These singers crafted a style that stood in contrast to the operatic and theatrical vocal techniques of their predecessors, instead embracing a more natural, conversational approach, which effortlessly drew listeners into their stories through the sheer power of their emotive vocals.
Bing Crosby is often regarded as one of the greatest crooners of all time, having embodied the essence of this genre. His warm and inviting voice resonated with millions, and his smooth delivery made listeners feel as though he was singing directly to them.
Sal Valentinetti emulates this delivery quite well, which has garnered him massive success ever since appearing in "America's Got Talent." The young celebrity proudly carries the title of a crooner across all his social media profiles, being arguably one of the last famous singers who had set out to immortalize this craft.
This particularity gives Sal an aura of additional likability and makes him stand out as a performer, allowing for an even greater influence on the modern audience. His voice and demeanor also perfectly fit the crooner stereotype, and there's thus little else that the singer truly could've been born for.
Fame takes effort
Even though most people have come to know Sal through "America's Got Talent," he was primarily seen on TV in the 14th season of "American Idol" in 2015. He did what he knew best then as well, having auditioned with Frank Sinatra's "Fly Me to the Moon."
The judges there weren't thoroughly impressed with him, although the talent was undeniable. Judge Harry Connick voted against having Valentinetti pass, but Adam Lambert and Jennifer Lopez allowed him to move on in the competition.
He hadn't turned out to be as lucky in that one, however, since he was eliminated before the Hollywood round, singing along with Kelley Kime, Alexis Danielle Granville, and JAX, in a group known as 'Sal's Gals.'
A year later Sal came even better prepared, and that's when he shone through in front of Simon Cowell and Heidi Klum. It was straight to the quarterfinals from there on out, with many expecting the gifted Italian to take home the main prize.
For a while it looked like Valentinetti was indeed going to win, owing to his impeccable jazz rendition of "Story of My Life" by One Direction. Regardless of the overwhelmingly positive comments from every judge except Howie, Sal finished below the top five that week. He was returned to the show after receiving more of the public's votes than contestants ThroWings and Kadie Lynn in episode 1114 on 3 August 2016.
His performance of "That's Life" by Frank Sinatra in the semifinals left most viewers' mouths ajar, with all four judges showing their deepest admiration for the act that took place. Sal was the undoubted favorite that night, and easily secured a place in the last part of the competition.
The Italian graced the final stage with Bobby Darin's "Mack The Knife" – the ultimate tribute to his late grandmother, who took great pleasure in listening to this song during his upbringing. The performance's value notwithstanding, it proved impossible for Valentinetti to climb further, as he only finished fifth in the competition.
His final appearance in front of the judges took place when he was already cemented in the media as an icon in his own right, on 4 February 2019. Sal was invited to "America's Got Talent: The Champions" to honor his previous success in the series, which he did with another performance of "Mack The Knife," but ultimately failed to place among the top 3.
Sal's solo career – How rich is he now?
It didn't take long following his television success for Sal to establish a steady foothold in the music industry, with a dedicated website and numerous gigs to boot. He has been doing non-stop events for over six years, and continues full-steam in mid-2023.
Everyone who followed his journey through "America's Got Talent" saw a young man willing to give it all for his own moment of blazing glory, and this determination continued throughout the later years. For example, Sal even invested in his health over the initial half of 2016, as he said, just so that he could continue singing for much longer.
Sal's earnings have been on the constant rise as well, with the singer accumulating a net worth of approximately $5 million by early August 2023. The singer continues to make appearances in high-profile titles as well, which undoubtedly makes the second largest contribution to his wealth, just after prestigious crooner gigs. He was most recently seen hosting an episode of "Get in the Car" in 2022.