Who is Bitty Schram?
Before we tell you where Bitty Schram is today, let's first introduce her to you in brief. Bitty is a retired actress who achieved stardom as Sharona Fleming in the TV comedy-drama series "Monk" (2002-2009) and is also known for playing RF Evelyn Gardner in the film "A League of Their Own" in 1992.
Just a simple reminder that article is created and owned only by biographytribune.com. Article cannot be re-published in any other pages or documents. Copyright is protected by DMCA. All found copies will be reported.
Original source: https://biographytribune.com/where-is-bitty-schram-monk-today-net-worth-married-wiki/
So, do you want to find out more about Bitty Schram, from her childhood years, to where she is today, and what she is doing? If yes, then stay with us for a while, as we introduce you to this Golden Globe Award-nominated actress.
#NewProfilePic pic.twitter.com/EL9XLWBjwU

— Bitty Schram (@BittySchram) January 31, 2018
Where is Bitty Schram Today?
Well, Bitty left "Monk" back in 2004 over creative differences, which was later discovered to be a contract dispute between her and the producers of the show. Since then, she gradually started the retirement process, and aside from a guest appearance in the last season of "Monk", she hasn't had much success. In 2016, she tried to return to acting with the role of Officer Lori in the film "Moments of Clarity", but since then, hasn't made an appearance. So, what is Bitty doing today? Well, she has remained out of the spotlight, apparently living a peaceful life far away from the camera. However, she did make a public appearance at Cleveland Ballpark in June 2018, in a promotion at the Akron baseball stadium with the theme "A League of their Own".
Bitty Schram Wiki: Real Name, Age, Childhood, and Education
Born as Elizabeth Natalie Schram on the 17th July 1968, in Mountainside, New Jersey USA, along with three siblings, Bitty's childhood was tough; constant fights between her parents led to their divorce when she was ten, and the court ordered joint custody over Bitty and her siblings. This resulted in frequent moves from one place to another, but she managed to overcome those troubles and focus on her education and sports, playing tennis. After finishing high school, she enrolled at the University of Maryland, on a tennis scholarship, and graduated with a Bachelor's degree in advertising design. However, once out of college, she realized that she wasn't made for work in big corporations, and decided to pursue her true love, acting.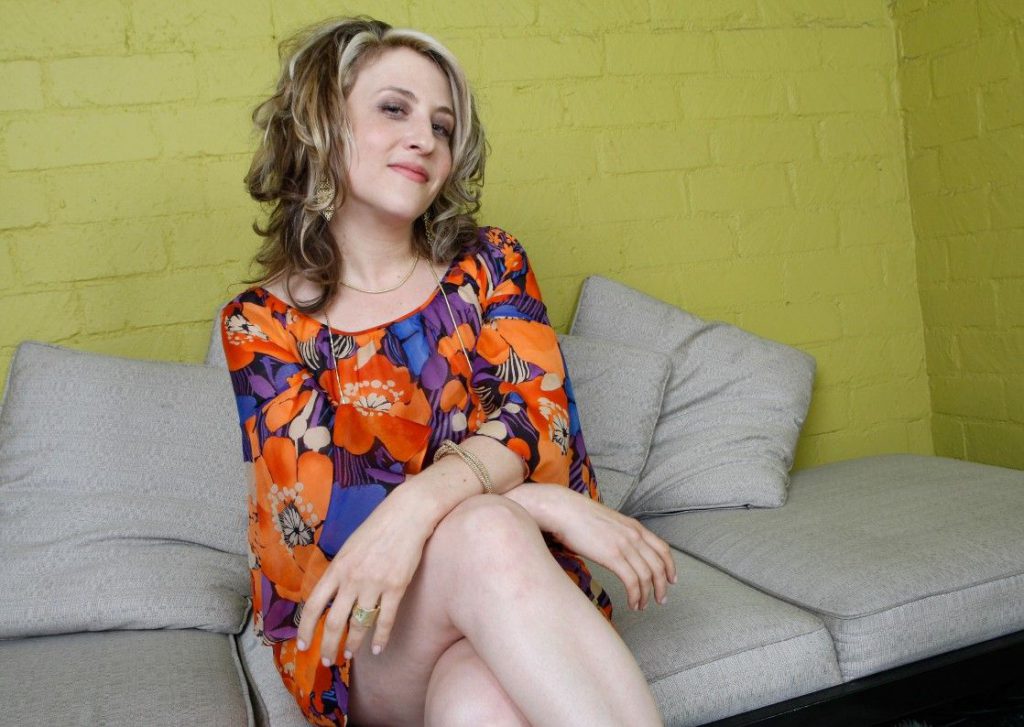 Career Beginnings
Bitty made her acting debut in the film "Fathers & Sons" in 1992, in the minor role of Terry, and the same year she made her breakthrough with the role of RF Evelyn Gardner in the comedy-drama film "A League of Their Own", starring Tom Hanks, Geena Davis and Lori Petty. She continued quite successfully in the next couple of years, first by starring in the film "My Family Treasure" (1993), and then from 1993 to 1995 starred in the Broadway play "Laughter on the 23rd Floor". In 1996 she had a supporting role in the Academy Award-nominated romantic comedy-drama film "One Fine Day", starring Michelle Pfeiffer, George Clooney and Mae Whitman, while in 1998 she starred in the drama film "Cleopatra's Second Husband" next to Paul Hipp and Jonathan Penner.
Rise to Prominence
Gradually Bitty was becoming more popular, and it was in 2002 that she reached stardom, when she was selected for the role of Sharona Fleming in the TV comedy-drama series "Monk"; she was the personal assistant to the main character Adrian Monk, a detective with an obsessive-compulsive disorder. She remained in the show until midway through the third season, when she left, returning as a guest star in the last season in the episode entitled "Mr. Monk and Sharona".
https://www.youtube.com/watch?v=KCJ4mTSLlOA
Career Decline and Retirement
After she left "Monk", her career began declining, and she didn't have much success in her further endeavors. She featured in minor roles in such TV series as "Thief" (2006), and "Ghost Whisperer", among others, and remained active in the entertainment world until 2016, when she decided to completely leave the entertainment world.
Bitty Schram Net Worth
Although not very active as an actress, Bitty has earned a decent amount of money from her engagements, especially "Monk", and "A League of their Own", among others. So, have you ever wondered how rich Bitty Schram is, as of mid- 2019? According to authoritative sources, it has been estimated that Schram's net worth is as high as $2.5 million, pretty decent don't you think?
Bitty Schram Personal Life, Marriage
What do you know about Bitty's personal life? Well, she hasn't been very open when it comes to sharing such details. She has done a wonderful job in keeping all things private for now, as we couldn't pry into anything that is connected to her love life and if she has children or not. Hopefully, Bitty changes her mind and starts sharing information about her life with the fans.
Bitty Schram Height, Weight, and Body Measurements
Do you know how tall Bitty Schram is, and how much she weighs? Well, Bitty stands at 5ft 9ins, which is equal to 1.73m, weighs approximately 128lbs or 58kg, and her vital statistics are 35-25-35 inches. She has blonde hair and brown eyes and is regarded as quite beautiful, which only helped her in her career.