Bill Carlton, a renowned car customizer and restorer, shot to fame thanks to the hit reality television show "Texas Metal." His prosperous career in the automotive industry caught the eye of TV producers, who recognized his charismatic personality and exceptional skills in attracting viewers. The show brilliantly showcased the inner workings of his thriving auto design and fabrication shop, Ekstensive Metal Works. Unfortunately, the show's filming was halted due to the Covid-19 pandemic and then later canceled, but Bill's TV career didn't stop there. In February 2023, a spinoff series, "Texas Metal's Loud and Lifted," was launched, and was as fascinating, if not better than the original series.
Meet Bill Carlton: A Name Synonymous with Automotive Excellence
Bill Carlton's journey is a remarkable tale of turning passion into a thriving career, one that has seen him transform vehicles into true works of art, captivating the hearts of car enthusiasts worldwide.
Bill's love affair with cars started at the tender age of 12. Hailing from a lineage of welders, greatly influenced by his father, who shared an equal interest in automobiles. The moment he acquired his driver's license, Bill embarked on a quest, pushing every car he drove to its limits, driven by an insatiable curiosity to uncover their flaws, and discover ways to enhance their performance. His skills were honed through countless hours spent assisting his father in their home garage, along with the things he learned from the auto mechanics program in school.
Built his first customized truck at 16
His automotive curiosity reached a pivotal moment when his father presented him with a silver Chevrolet Silverado at the age of 16. Armed with the knowledge he'd gained through his auto mechanics program, Bill fearlessly took the new truck to his school's shop, and made some bold modifications to it. Upon returning home and unveiling his creation to his father, he braced himself, thinking his father was going to kill him. However, what followed was an unexpected turn of events. His father, although initially astounded by his son's audacity, decided to seek professional help from a mechanic to revert the modifications. Little did they know, this was the inception of Bill's illustrious career in car customization. Soon requests from his friends poured in for him to work his magic on their vehicles.
Started a steel business for him
His father wanted a great future for his son, so he created a steel company tailored for Bill, a logical choice since they were a family of welders. The primary focus of this enterprise was the buying and selling of steel, a sound business concept. However, young Bill found himself disenchanted with this path; his heart yearned for something different. During the bustling hours of the steel shop, Bill found solace in a unique pursuit. In between the steel works, he dedicated his time to working on customers' cars. They recognized his talent, and rewarded him for the transformations he created. Word of his remarkable skills spread like wildfire, and soon clients were flocking to him. The side hustle became not just a hobby but a calling, and with each passing day, his enthusiasm grew.
Establishing Ekstensive Metal Works
At the age of 19, Bill Carlton took a leap of faith and turned his automotive passion into a full-fledged entrepreneurial endeavor, establishing Ekstensive Metal Works, a testament to his commitment to intricate and extensive metalwork. His distinctive style incorporated innovations like air ride suspension, precision body modifications, and awe-inspiring custom paint jobs. These bold choices set new standards in the realm of vehicle customization. Whenever people asked Bill how he embarked on his remarkable journey, he was quick to credit his father's pivotal role in it, openly acknowledging that his father set him up for success. This foundation included a substantial property in Texas, a legacy dating back to 1976, and the perfect layout in setting the stage for his dad and later Bill's American dream.
Bill found it surreal to think that the very house where he grew up was now the epicenter of his thriving enterprise. He pointed to a specific corner of the property and remarked, 'It was weird to think back that the house I grew up in was right here.' In the initial stages, the property housed a modest 30×40 shop at the rear of the house, but as demand and ambition grew, so did the shop. Bill and his friend from across the street, armed with a forklift and welding machine, built everything on the property as they needed more room. Piece by piece, they crafted the structure that now stands as a manifestation of his unwavering dedication to the world of automotive customization.
His Entry to the World of Reality Television
Bill Carlton's journey from a skilled automotive enthusiast to a reality TV star was a transformation that exceeded even his wildest dreams. What began as a simple interest had now evolved into a flourishing business, one that led him down a path he never could have anticipated.
"Texas Metal"
His extraordinary talent in customizing cars had garnered him a dedicated clientele who recognized the magnitude of his skills. It came as no surprise when a reality TV show, tailor-made for Bill, made its debut under the title "Texas Metal." The show was the brainchild of Patrick Myatt and Rita Su, producers from Brentwood Communications International Inc. (BCII), a renowned production company known for its expertise in crafting automotive and lifestyle programming. Bill's clients, friends and family couldn't contain their excitement when it was announced, for the team behind the show boasted a stellar portfolio featuring highly successful TV programs, including "Garage Squad," "Overhaulin'," and "Wheeler Dealers."
The show made its grand premiere on 7 November 2017, immersing viewers in the captivating world of Bill Carlton and his exceptional team at Ekstensive Metal Works. Nestled in the heart of Houston, Texas, this custom car and truck shop became the focal point of the show. From the meticulous restoration of classic vehicles to the creation of awe-inspiring designs for modern ones, the show left no stone unturned. It was not just about the cars; the producers aimed to capture the unique personalities of Bill and his team, the challenges they faced, and their interesting interactions with both customers and devoted fans.
Bill's creative process
Many wanted to know Bill's creative process and he said that his approach to car customization was not confined by the resources at hand. Whether he was handed a modest budget or given an unlimited one, his vision was consistently grandiose. His philosophy was clear – every project, whether it entailed a suspension upgrade or a fresh coat of paint, had to culminate in a jaw-dropping masterpiece. His goal was for clients to feel like a million bucks when they were reunited with their cars. Time and again, the reactions from clients spoke volumes – they were invariably pleasantly surprised, often unable to believe that their vehicles could look as well and perform as exceptionally as they did.
The moment Bill accepted a car build request, his mind leaped into action. His foremost objective was to ensure that each project surpassed the previous one, evolving into something wholly unique and unprecedented. It didn't matter what the starting point was; Bill's mission was to transform it into an automotive marvel that stood apart from the rest. This commitment to innovation and excellence has been the driving force behind Bill and his team at Ekstensive Metal Works since 1994. For nearly three decades, they've consistently pushed the boundaries of what's possible in the world of car customization, leaving an impressive mark on the automotive industry.
The stellar supporting cast
Bill's co-stars on the show were primarily composed of about 15 skilled people, including some family members. Among the shop's core group were Tim Donelson, the astute general manager of Ekstensive Metal Works; Heath Moore, a skilled mechanic/welder; John Villarreal-Vega, a highly talented fabricator; and John Burgess, an interior specialist. Their collective expertise added depth and authenticity to the show.
Airing on the Motor Trend network
The show found its ideal platform in the Motor Trend Network, a cable and digital network dedicated entirely to automotive content. It offers diverse viewing options, from traditional cable and satellite to contemporary streaming services and online platforms, ensuring that "Texas Metal" reaches audiences far and wide.
Chart-topping ratings
"Texas Metal" was a top-rated show on the Motor Trend Network. With six successful seasons with the latest concluding in March 2021, the show consistently garnered impressive viewership. IMDb ratings stand at an impressive 7.2 out of 10, supported by glowing reviews from both critics and fans alike. Awards, including the Best Reality Series at the Houston Film Critics Society Awards in 2019, underscore the show's quality.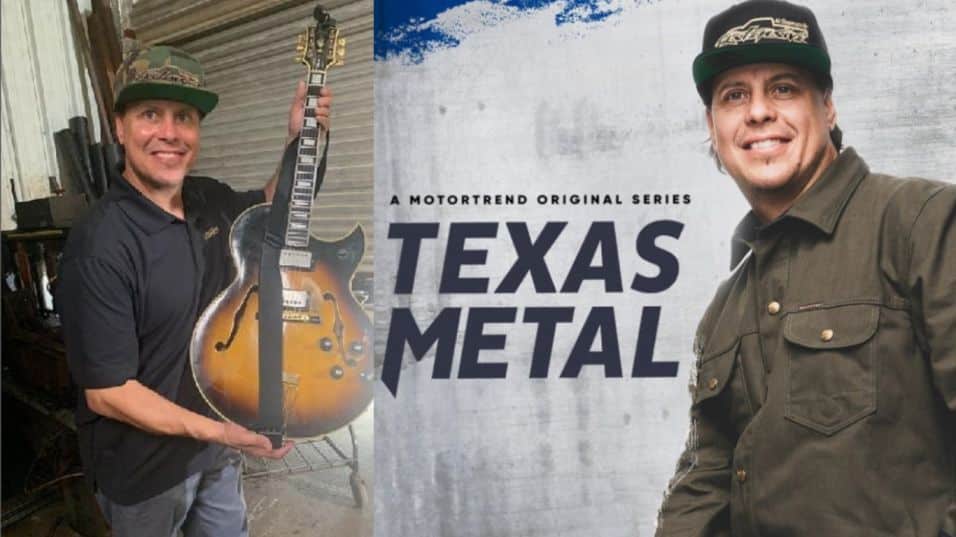 Bill's Notable Car Builds on "Texas Metal"
Across the six thrilling seasons of "Texas Metal," Bill and his dedicated team at Ekstensive Metal Works crafted an array of unforgettable projects. Here's a glimpse of some of the most remarkable vehicles that left an indelible mark in the show.
The premiere episode – the 2016 Ford Platinum F350
For any TV show, the premiere episode is the make-or-break moment, a chance to captivate the audience – "Texas Metal" knew this well, and didn't hold back. They introduced viewers to a brand new 2016 Ford Platinum F350, boasting a mere 600 miles on the odometer. Justin, the client, wanted a truck that could effortlessly blend work, play, and showmanship.
Initially, the client, aimed for a minimalistic design, contemplating a tire upgrade and modification to its headlights. However, Bill Carlton had a different plan. He believed in showing clients how to dream big. The magic moment arrived when Justin agreed to go all out, discarding the generic interior for customized seats and a touch of personalized excellence. The reveal was nothing short of extraordinary. Justin gazed upon a finished product that left him astounded, learning that most of the modifications were handcrafted, rendering his truck one of a kind. This transformation embodied the essence of "Texas Metal" – turning dreams into tangible, awe-inspiring realities.
NFL Legend's dream ride – Earl Campbell's 1949 Cadillac
NFL running back legend Earl Campbell had a vision for his 1949 Cadillac, a project that would become one of the show's defining moments. When the vehicle arrived at Ekstensive Metal Works, it was in disarray, with most of its parts tucked away in several crates, including the body and the frame; it was as if somebody took it apart but didn't know how to put it back together. Bill recognized the monumental task ahead. They needed to rebuild the car to see the whole picture, what was missing, and then take it apart again so they could customize it. The pressure was intense, but Bill's unwavering commitment and his crew's dedication were up for the challenge. They considered it an honor to work on a car for a football icon like Earl Campbell.
Earl offered creative freedom with just three stipulations – the car had to be black, adorned with lots of chrome, and packed with considerable power under the hood. The team exceeded these expectations, and produced a stunning, gleaming black masterpiece, unlike any other that had ever left their shop. Under the hood, a special personalized design paid tribute to Earl's status as an NFL Hall of Famer.
Bill CarltonTexas Metal built Hall of Famer Mr. Earl Campbell a sick Cadillac. pic.twitter.com/AnvRx0DDGQ

— J.R. Conrad (@JRConrad64) April 1, 2020
Interesting facts about Bill Carlton
Bill Carlton's life is filled with intriguing anecdotes that provide a glimpse into the man behind the legendary car customizer.
The rental car ban
His passion for cars extended beyond the confines of his workshop. In fact, it often led to him being essentially banned from most car rental agencies in Texas and the rest of the country. There were numerous incidents in which he treated rental cars as though they were on a race track, leaving them with bumps and bruises. Some even jokingly speculated that Tom Cruise might have taken inspiration from Bill's wild driving for his role in "Days of Thunder."
His wife's ever-evolving ride
A curious rumor circulated about Bill's relationship with his wife's car. Whenever his wife left town, he apparently saw it as an opportunity to introduce some upgrades and modifications to her vehicle, treating it as a blank canvas and experimenting with it. In the early years during the mid-'90s, she found them exciting and cool. However, as the years passed, their tastes diverged, and she became less enthusiastic about him tinkering with the car's design.
Trusting the specialists – Hands-off on interior work
Despite being a perfectionist in his craft, Bill maintained a hands-off approach when it came to the interior modifications, recognizing that his team could do a better job than he could. For example, John, who had been by his side for more than 20 years, was entrusted with interior projects because Bill knew John would deliver excellence; certain aspects of car customization fell outside his realm of expertise.
From Wrecks to Gems: A Shop with a Reputation
Bill's shop earned a reputation for taking on projects that other shops would refuse. They welcomed wrecks and transformed them into automotive gems. Every dilapidated car that crossed their path was viewed as an opportunity to showcase their skills, and demonstrate what their shop could achieve. His crew took immense pride in the fact that they were ready to take on any challenge, anywhere, anytime. A dedicated team of about 15 skilled individuals poured their time and expertise into each car build project.
His Mt. Rushmore of car builders
In Bill's eyes, the late Boyd Coddington stood as the pinnacle of car customization and restoration. He believed Boyd had set the standard for many aspects of the industry and considered him the most influential figure. His profound respect for Boyd was evident, and he placed him on a pedestal above numerous other prominent individuals in the field. Boyd's impact was immeasurable, and he remained an enduring source of inspiration for Bill.
Personal life
Beyond the grease and gears, Bill is a devoted family man. He's shared over two decades of wedded bliss with his wife, Jennifer, and together they have three children – Keegan, Presley and Corbin. Bill's love for his hometown sports teams, the Houston Texans, Rockets, and Astros, is equally matched by his passion for incorporating their colors and logos into his vehicular masterpieces. However, it's his philanthropic heart that truly shines, as he actively supports causes such as the Houston Food Bank, the American Cancer Society, and the Make-A-Wish Foundation.
Net worth
His financial triumph parallels his remarkable career achievements. With an conservatively estimated net worth of around $5 million, Bill stands as a thriving entrepreneur and prominent TV personality. His substantial car collection serves as a testament to his unwavering passion, boasting remarkable vehicles including a 1955 Chevrolet Pickup, a 2014 Porsche 911, a 1967 Lincoln Continental, and the iconic GMC Kodiak 6500. While the original TV show that catapulted him to fame ceased airing, which naturally impacted his earnings in 2022, Bill's financial fortunes received a boost in 2023, with the launch of the spin-off series called "Texas Metal Loud and Lifted."
Bill Carlton often reflects on his journey with gratitude, acknowledging the pivotal role his father played. He considers himself fortunate to have pursued a childhood dream without the burden of worrying about rent and utilities, thanks to his father's guidance and generosity.