Who is James Purefoy?
British actor James Brian Mark Purefoy was born under the zodiac sign Gemini on 3 June 1964, in Taunton, Somerset, England. He has 88 acting credits, and is perhaps still known best for starring as Mark Antony in all 22 episodes of the critically acclaimed romantic action series "Rome", which also starred Ray Stevenson and Kevin McKidd, and was created by William J. MacDonald and Bruno Heller. It follows the lives of Romans during the final days of the Roman Republic, the series aired from 2005 through 2007, and won 19 of its 55 award nominations.
James is currently shooting for the upcoming mini-series "The Veil".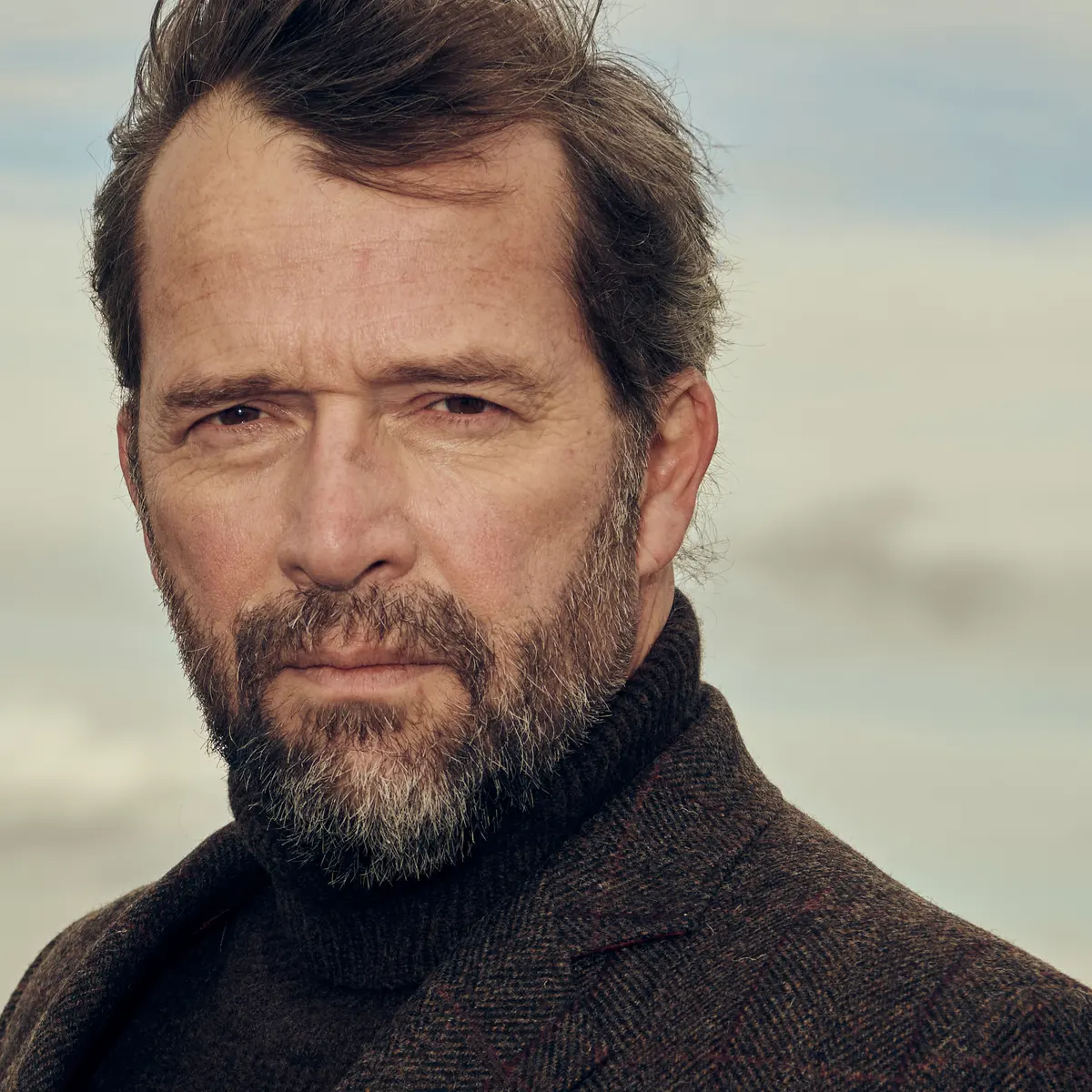 Education and early life
James was raised in Taunton by his mother Shirley (nee Taylor) and father Anthony Chetwynd Purefoy; it's known that he's the eldest amongst his siblings but it remains undisclosed how many brothers and/or sisters he has. The Purefoy family were once landed gentry of Shalstone, Buckinghamshire.
James studied at Sherborne School and eventually transferred to night school, completing his 12 O-levels in 1978. He went on to attend Brooklands College (high school) and it was while there that he fell in love with acting; James appeared in most of the plays performed at the school and was also into singing and dancing.
Upon matriculating in 1982, he enrolled at Central School of Speech and Drama, graduating with a Bachelor's degree in 1986.
Roles in TV series
James's debut TV series role was starring as Mike Baker in all seven episodes of the 1990 drama "Coasting", which also starred Sandy Hendrickse and Peter Howitt, and follows three brothers as they're running their family's theme park in Blackpool. The following year saw James appear in an episode of the crime mystery "The Case-Book of Sherlock Holmes", the crime comedy "Boon" and the science fiction mini-series "The Cloning of Joanna May".
In 1996, he portrayed Miles Hendon in five episodes of the family adventure mini-series "The Prince and the Pauper", which starred Peter Jeffrey and Philip Sarson, and follows Edward, Prince of Wales and poor boy Tom Canty who've exchanged identities; the mini-series was nominated for a BAFTA Children's Award for Best Drama. James was then cast to appear in the romantic drama "Have Your Cake and Eat It", the drama "A Dance to the Music and Time" and the drama "Metropolis".
James had only three TV series roles in the 2000s, including in "Rome"; he also played Thom Lightstone in both episodes of the 2008 thriller mini-series "The Summit" and Teddy Rist in all eight episodes of the 2009 action adventure "The Philanthropist".
From 2013 through 2015, he starred as Joe Carroll in all 45 episodes of the crime horror "The Following", which also starred Shawn Ashmore and Kevin Bacon, and was created by Kevin Williamson. It follows the life of a serial killer and the series won three of its 17 award nominations.
Some of James' most recent TV series roles have been playing Captain Gulliver Troy in 11 episodes of the crime action "Pennyworth" from 2020 through 2022, Louis XV in four episodes of the 2022 biographical mystery "Marie Antoinette" and Dr. Leo Harris in all five episodes of the 2023 crime thriller "Malpractice".
Roles in movies
James' debut film role was playing Victor in the 1992 comedy "Angels", and some of his following roles were in the 1992 comedy "Bye Bye Baby", the 1994 short drama "One Night Stand" and the 1995 crime mystery "Feast of July".
What marked the '90s for him was perhaps portraying Brendan in the 1998 romantic comedy "Bedrooms and Hallways", which starred Julie Graham and Kevin McKidd, and was directed by Rose Troche. It follows gay man Leo who's joined a men's group, and the film won one of its three award nominations.
James could then have been seen appearing in the 2001 drama "Domani", the 2001 romantic action adventure "A Knight's Tale" and the 2003 drama "The Mayor of Casterbridge". In 2004, he portrayed the lead character George in the action adventure comedy "George and the Dragon", which also starred Patrick Swayze and Piper Perabo, and was written and directed by Tom Reeve; it follows a knight who's become a legend for taking on a dragon. The remainder of the 2000s saw James appear in the 2004 drama "Vanity Fair", the 2007 short historical drama "Rome Season 2: Antony & Cleopatra" and the 2009 action adventure fantasy "Solomon Kane".
In 2015, he portrayed one of the main characters Mr. Washington in the popular action crime thriller "Momentum", which also starred Morgan Freeman and Olga Kurylenko, and was directed by Stephen S. Campanelli; it follows four criminals who've stolen diamonds from a safety deposit box, while they've also stolen a drive which contains the evil plans of a US senator.
James' three most recent film roles have been in the 2021 animated action adventure "Trollhunters: Rise of the Titans" (voice role), the 2021 drama "Everything I Ever Wanted to Tell My Daughter About Men" and the 2022 musical comedy "Fisherman's Friends: One and All".
Other credits
James received special thanks for the 2008 biographical romantic movie "The Edge of Love", the 2009 romantic comedy film "I Hate Valentine's Day" and the 2012 documentary movie "Inside the Following".
He produced the 2022 movie "Fisherman's Friends: One and All".
Some of James' most recent talk-show appearances have been in "Last Known Position", "Sunday Brunch" and "La Boite a Questions".
Awards and nominations
James won a 2004 Temecula Valley International Film Festival Jury Award for Best Actor, for his performance in "Photo Finish".
He was also nominated for a 2013 TV Guide Award for Favorite Villain and a 2014 Academy of Science Fiction, Fantasy & Horror Films Award for Best Supporting Actor on Television, both for his performance in "The Following".
Love life and wife
James rarely speaks about his love life in public but we know that he's married twice and has four children.His first wife was popular British actress Imogen Holly Aird; she has 51 acting credits and is perhaps known best for playing Dr. Frankie Wharton in 39 episodes of the popular crime mystery series "Waking the Dead". James and Holly married in 1996, she gave birth to their son Joseph in 1997, but they divorced in 2002.
Joseph married British art historian Jessica Adams in 2014, two years after she had given birth to their daughter Rose; in 2017, Jessica gave birth to their twin sons Kit and Ned.
There are no other women whom James has perhaps been with, that we know about; he's married to his second wife Jessica Adams as of September 2023 and they have three children together, while he also has a son with his first wife Imogen Holly Aird.
Interesting facts and hobbies
James was cast to star in the evergreen 2005 action science fiction movie "V for Vendetta" but quit halfway through the shooting because he had creative differences with the filmmakers.
His last name 'Purefoy' comes from Norman French and stands for 'my word or bond is in good faith'.
A British television magazine named James 'Hunk of the Year' in 1997.
He enjoys creating things and once built a treehouse for his eldest son in Somerset, England.
James is followed by only a few over 4,000 people on Instagram, although he's posted close to 1,700 pictures and videos onto the network; most of his content is about the movies and TV series in which he's appeared.
One of James' favorite actors is the late Sean Connery, and some of his favorite movies include "Indiana Jones and the Last Crusade", "From Russia with Love" and "Dr. No".
Appearance and net worth
James' age is 59. He has brown hair and eyes, weighs around 185lbs (84kgs) and is 6ft 1in (1.86m) tall.
James' net worth's been estimated at over $6 million, as of September 2023.