Who is Tony Jaa?
Thai actor, martial artist and stuntman Tatchakorn Yeerum, probably known better by his professional name Tony Jaa, was born under the zodiac sign Aquarius in Surin, Thailand on 5 February 1976. He's appeared in 26 movies but no TV series, and is perhaps still known best for portraying the lead character Tien in the 2010 action movie "Ong Bak 3", which also starred Dan Chupong and Sarunyu Wongkrachang, while Tony also wrote and directed the film, together with Panna Rittikrai. It follows Prince Tien who's failed to avenge his parents' murder; the movie was nominated for three awards. Tony portrayed the same character in the prequels "Ong Bak 2" (2008) and "Ong-Bak: The Thai Warrior" (2003).
He's currently shooting for the upcoming movie "Expend4bles".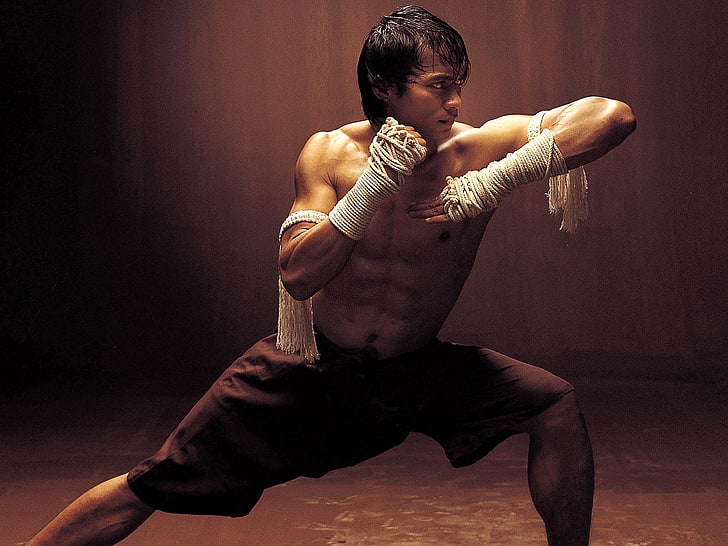 Education and early life
Tony was raised in Surin Province alongside his siblings Waew, Taweesak and Hatthaya, by their parents Thongdee Yeerum and Rin Saipetch.
Tony grew up watching Jet Li, Jackie Chan and Bruce Lee movies at temple fairs, and thus became interested in both martial arts and acting; he initially practiced on his own in his family's rice paddy, and was 10 when he began going to the local temple to practice Muay Thai. When Tony was 15, the late Thai martial arts action choreographer, actor and screenwriter Panna Rittikrai took him under his wing, and instructed him to study at Maha Sarakham College of Physical Education; Tony enrolled at college upon matriculating in 1994, and graduated with a Bachelor's degree in 1998.
Although initially focused on Muay Thai, he soon also began training Krabi-Krabong, Muay Boran and Taekwondo; the movies that he's appeared in have also showcased his skills in Jiu Jitsu, Silat and Kung Fu.
Acting career
Tony's debut film role was playing a supporting character in the 1992 action sports drama "Singh Siam", and some of his following roles were in the 1994 action "Plook Mun Kuen Ma Kah 4", and in 1996 the action adventure comedy "Hard Gun" and the action adventure horror "Mission Hunter 2", all lead roles.
The year 2001 saw him star in the action "Nuk Leng Klong Yao", co-starring Paothai Pornpisit and directed by Panna Rittikrai. It follows a Muay Thai warrior who's defending his land from a clan of assassins trained in traditional techniques of Muay Thai. A couple of Tony's following roles were in the 2004 action comedy "The Bodyguard", the 2005 crime action "The Protector", and the 2007 action comedy "The Bodyguard 2".
The year 2013 saw him star as Kham in the action "The Protector 2", which also starred RZA and Phetthai Vongkumlao, and was directed by Prachya Pinkaew. It follows Khan who's running away from the police because he's the main suspect in the case of a murdered major elephant camp owner; the movie won four awards.
Its #ThrowbackThursday again#Furious7 pic.twitter.com/DDcHgsMcBu

— Tony Jaa (@tonyjaaofficial) July 29, 2015
In 2015, Tony portrayed Kiet in the hit crime action thriller "Furious 7", which starred Dwayne Johnson, Paul Walker and Vin Diesel, and was directed by James Wan. It follows Deckard Shaw who's seeking revenge against Dominic Toretto for his brother who's in a coma, and the movie won 37 of its 73 award nominations.
Tony's also known for playing Talon in the 2017 action adventure thriller "xXx: The Return of Xander Cage", which starred Donnie Yen and Vin Diesel, and was directed by D. J. Caruso. It follows Xander Cage who's embarked on a new secret mission; the movie won one of its seven award nominations.
Some of Tony's most recent roles have been in the 2020 action adventure fantasy "Monster Hunter", the 2020 action science fiction thriller "Jiu Jitsu", and the 2021 action adventure comedy "Detective Chinatown 3".
Other credits
Tony voiced Kham in the 2005 video game "Tom Yum Goong: The Game".
He produced the 2008 movie "Ong Bak 2", and its 2010 sequel "Ong Bak 3", while he also performed all his own stunts in them; Tony had also previously performed stunts in the 1997 action adventure fantasy movie "Mortal Kombat: Annihilation", and the 2005 crime action movie "The Protector".
Tony received special thanks for the 2007 short action comedy movie "Gordo Master vs. Twin Snakes" and the 2013 short action film "Micro SD".
Some of his most recent talk-show appearances have been in "Buenafuente", "The Art of Action" and "Hollywood Insider".
Awards and nominations
Tony's been nominated for four awards.
He was nominated for a 2006 Online Film Critics Society Award for Best Breakthrough Performance, for "Ong-Bak: The Thai Warrior", two Thailand National Film Association Awards for Best Actor in 2004 and 2009, for his performance in "Ong-Bak: The Thai Warrior" and "Ong Bak 2", respectively, and a 2011 Deauville Asian Film Festival Award for "Ong Bak 3" (shared with Panna Rittikrai).
Love life and relationships
Tony prefers to keep his family away from media, but we still know that he's today a married man and a father of two. He and his long-term girlfriend, Thai non-celebrity Piyarat Chotiwattananont exchanged vows in a private ceremony on 29 December 2011 (some sources state on 3 May 2012); Piyarat can occasionally be seen keeping Tony company during red carpet events, and he's also featured her in some of his Instagram pictures and videos.
Piyarat gave birth to their first daughter Hathaipavee Yeerum not long after they married, and their second daughter Narinrat Yeerum followed two years later; the girls' exact birthdates remain undisclosed, as their parents prefer to keep them away from media.
There are no other women whom Tony's perhaps been with, that we know about; he's married to Piyarat Chotiwattananont as of August 2023, and they have two daughters together.
Interesting facts and hobbies
Tony enjoys learning languages, and is fluent in English, Thai, Northern Khmer and Kuy.
He works out eight hours every day, and this routine includes Muay Thai, gymnastics and various sports exercises. Tony's also an avid swordsman.
He's revealed that his biggest influence is Bruce Lee, although he also looks up to Jackie Chan. He holds a black belt in both Wushu and Taekwondo.
Tony trained to be able to perform complex gymnastics and jump extremely high, wanting to pull off the same stunts which Jet Li and Jackie Chan had performed, however, he then learned that they actually used wires and mats; he's nevertheless learned to jump 12ft high (3.6m) without mats and wires.
Tony doesn't use CG effects and wire work in his stunts.
Tony's followed by over 1.3 million people on Instagram, on which he's posted more than 1,300 pictures and videos, most of these being about the movies and TV series in which he's appeared.
Bruce Lee's his favorite actor, and some of Tony's favorite movies include "Enter the Dragon", "The Big Boss" and "The Way of the Dragon".
Appearance and net worth
Tony's age is 47. He has brown eyes and black hair, weighs about 145lbs (65kgs) and is 5ft 8ins (1.72m) tall.
Tony's net worth's been estimated at over $12 million, as of August 2023.