Jeffrey Michael Jordan
As the son of National Basketball Association (NBA) legend Michael Jordan, Jeffrey Jordan had some pretty big shoes to fill during his basketball days. The former point guard was born on 18th November 1988 in Chicago, Illinois, USA, and is the eldest of Michael's five children from two marriages.
Although it's been over a decade since Jeffrey played basketball, he's been keeping himself busy with new business ventures, such as the holding company Heir Inc., an ambitious entertainment- and technology-based project which he co-founded in 2021 alongside marketing executive Daniel George, and Jeron Smith. According to Jeffrey's Wikipedia page, he and his younger brother Marcus are also the co-founders of philanthropic foundation Heir Jordan; however, there's no evidence of the foundation currently existing.
Basketball Career
After high school, Jeffrey gained local and national media attention thanks to being considered the heir to the Jordan legacy. Articles were written about him, some of his high school games were broadcast nationally on ESPN, and an expectant buzz surrounded his name, as fans of the sport waited to see how Jeffrey would measure up compared to his famous father.
Jeffrey studied at Loyola Academy in Wilmette, Illinois, and played starter for three years as well as briefly dabbling in football. In 2007, he was chosen to play in the annual Jordan Brand Classic, a high school All-Star basketball game featuring the very best senior year players from different schools. As one can imagine, the game was named after its chief organizer Jordan Brand, which is itself named after Michael Jordan; Kyrie Irving, Carmelo Anthony and Chris Paul previously participated in the event.
Upon graduating from Loyola in 2007, Jeffrey received scholarship offers from Loyola University Chicago and Valparaiso. He was also recruited as a preferred walk-on by Penn State, the University of Illinois, Northwestern, and Davidson. Ultimately, the second-generation basketball player chose to play as a preferred walk-on at the University of Illinois, and enrolled into a psychology major on an academic scholarship, but less than a year and a half later, the university announced that Jeffrey would be receiving a full athletic scholarship.
In June 2009, Jeffrey took fans by surprise when announcing that he would be leaving the college basketball team to focus on school and future career options. It became obvious that the point guard would not be pursuing a full-time basketball career after graduation, but shortly after his announcement, he began interning at Nike.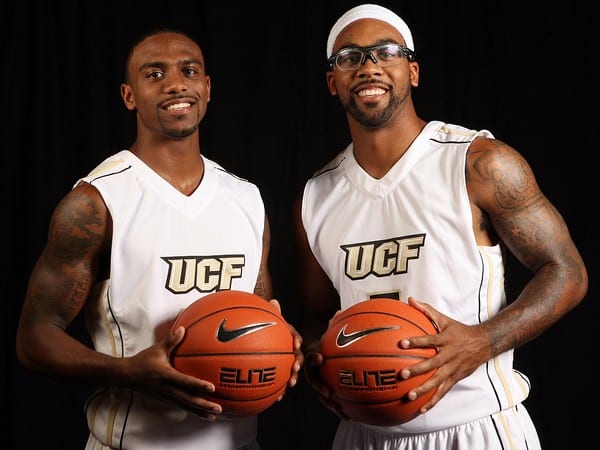 However, the Illinois native just as suddenly decided to return to the team. In 2010, he and his brother Marcus were released to transfer to the University of Central Florida (UCF), but in January 2012 he announced that he would be leaving the team for personal reasons. Although some speculated that the point guard would soon be snatched up by another college, others were less optimistic, and the sports blog Bleacher Report said what many were thinking when they wrote: "It's tough to imagine [Jeffrey] Jordan finding much of a career in basketball elsewhere… he's unlikely to find any takers."
Over the next few years, Jeffrey and Marcus – who left UFC in August 2012 – were gradually forgotten about. While Marcus graduated from the university with a hospitality management degree, Jeffrey joined Nike's management-training program after college, married his long-time girlfriend, and was barely heard from again until September 2021, when he was accused of assaulting a hospital worker in Arizona, while being treated for an injury he sustained on a night out.
According to reports, Jeffrey was with friends at the Casa Amigos bar in Scottsdale, Arizona, when he slipped and hit his head. When security attempted to escort the former basketball player out of the bar to receive medical attention, Jeffrey allegedly became combative, and Scottsdale PD were summoned to the scene.
After interviewing staff at Casa Amigos, police deemed that the incident was "medical in nature", insinuating that Jeffrey was disorientated from hitting his head. An ambulance was called to transport Jeffrey to the hospital, where he assaulted a healthcare professional, and was booked the following evening. However, he was released hours later, and the unfortunate incident was soon swept under the carpet.
Michael Jordan and his son, Jeffrey, have announced the launch of Heir Inc., an athlete-focused tech venture.

Heir Inc.'s first product, Heir, will be a personalized community platform for athletes. Investors include:

➖ Alexis Ohanian
➖ Lonzo Ball
➖ Knicks EVP William Wesley pic.twitter.com/XSSRT3cZBU

— Front Office Sports (@FOS) December 15, 2021
These days, Jeffrey is working alongside his father on Heir Inc., which aims to build a community platform for athletes to communicate with fans via the Heir app, which raised over $10 million in seed funding. Nonfungible tokens (NFTS) featured heavily in the initial plans for the Heir platform, but as the cryptographic tokens have lost public interest – Google searches of "NFT" halved between January and March 2022 – and since then, the NFT market has collapsed altogether, so Jeffrey and the rest of the team will have to get creative if they want to turn a profit.
Family
Jeffrey's parents married when he was just an infant, and divorced during his high school days; his mother, Juanita Vanoy, was rewarded a generous $168 million settlement and a seven-acre mansion in Chicago to ensure that she could live more than comfortably without worrying about money. At the time, it was the most expensive divorce settlement in the history of the entertainment industry.
Over the next few years, Michael and Juanita shared custody of Jeffrey, Marcus, and younger daughter Jasmine. Although the NBA champion was rumored to have fathered a child with former lover Karla Knafel in 1991 or 1992, a DNA test showed that he wasn't the father; he did, however, go on to have twin daughters Victoria and Ysabel in February 2014, less than a year after marrying his model girlfriend Yvette Prieto.
Meanwhile, the rest of the Jordans have been staying out of headlines lately, apart from Marcus, who's been in a controversial relationship with Larsa Pippen since mid-to-late 2022. Although the general public has no idea who Larsa is, basketball fans know her as the ex-wife of former basketball player Scottie Pippen – who, to say the least, has had a complicated relationship with Michael after they played together for the Chicago Bulls.
The 16-year-age gap between Larsa and Marcus, as well as the long-time beef between Scottie and Michael, has set tongues wagging in the sports and gossip circuits for months. In any case, Marcus and Larsa recently launched their own podcast, and appear to be happier than ever.
Back to Michael – the spokesman and media figure is reportedly worth $2 billion as of 2023, and is often listed as one of the most influential celebrities in the world, mostly thanks to his Air Jordan shoe line which is worn by millions around the globe.