• Julian Henry De Niro is a model and actor born in Los Angeles, California in 1995.
• He is the son of Robert Anthony De Niro Jr., a famous American actor, film producer and director.
• Julian's career includes two acting credits, and he is signed to modelling agency Directions USA.
• He is physically active and enjoys playing sports, swimming, and yachting.
• His father Robert has won 67 awards, including two Oscars, and has appeared in over 120 movies and TV series.
 
Who is Julian Henry De Niro?
Julian was born in Los Angeles, California USA, on 20 October 1995 – his zodiac sign is Libra, and he holds American nationality. He's a model and an actor, with just two acting credits to his name; he's probably known best for being a son of Robert Anthony De Niro Jr., a famous American actor, film producer and director.
Early life and education
Julian was raised in Los Angeles alongside his twin brother Aaron, by their father and their mother Toukie Smith, an American actress and model; the boys were conceived by in vitro fertilization. Their parents were in a relationship from 1988 to 1996, and didn't marry; the boys have four paternal half-siblings.
Julian was physically highly active during his teenage years, as he played a couple of sports while attending a local high school, excelling in soccer, also enjoying playing football and basketball.
You may know Robert De Niro as an actor and producer who has starred in over 90 films, but did you know that he is also…

Posted by Yayani A&G on Thursday, June 4, 2015
He became interested in acting mostly because of his father, who had occasionally taken him to his movie and TV series sets; Julian appeared in a couple of school plays as a member of his school's drama club.
He matriculated in 2014, and because he hasn't spoken of his further education, it's believed that he hasn't attended college.
Julian's career
Julian made his debut film appearance with his portrayal of Billy in the 2016 historical crime drama "In Dubious Battle", directed by James Franco, who also starred in it alongside Nat Wolff and Vincent D'Onofrio. It follows the lives of several people during the Californian labor movement for farm workers in the 1930s; the movie won two awards.
Julian's only other acting credit has been his portrayal of Young Barack Obama in the 2022 episode "Please Allow Me" of the biographical historical series "The First Lady".
It was created by Aaron Cooley, stars Viola Davis, Michelle Pfeiffer and Gillian Anderson, and follows the lives of first ladies during their time in the White House.
Julian's today focused on his modelling career, and is signed to the modelling agency Directions USA.
Love life and girlfriend
Julian's highly secretive when it comes to sharing the details of his love life with his fans, which is mostly why there are rumors circulating the internet claiming that Julian is perhaps gay.
Some of his fans have pointed out that Julian hasn't been seen spending time in public with any girl who could perhaps be his girlfriend, while he's been seen with his male friends on numerous occasions; a fan has claimed that one of his friends is actually his boyfriend, and that he had seen them kissing at a party in Los Angeles, however, no evidence has been provided to support these claims, nor has Julian addressed this.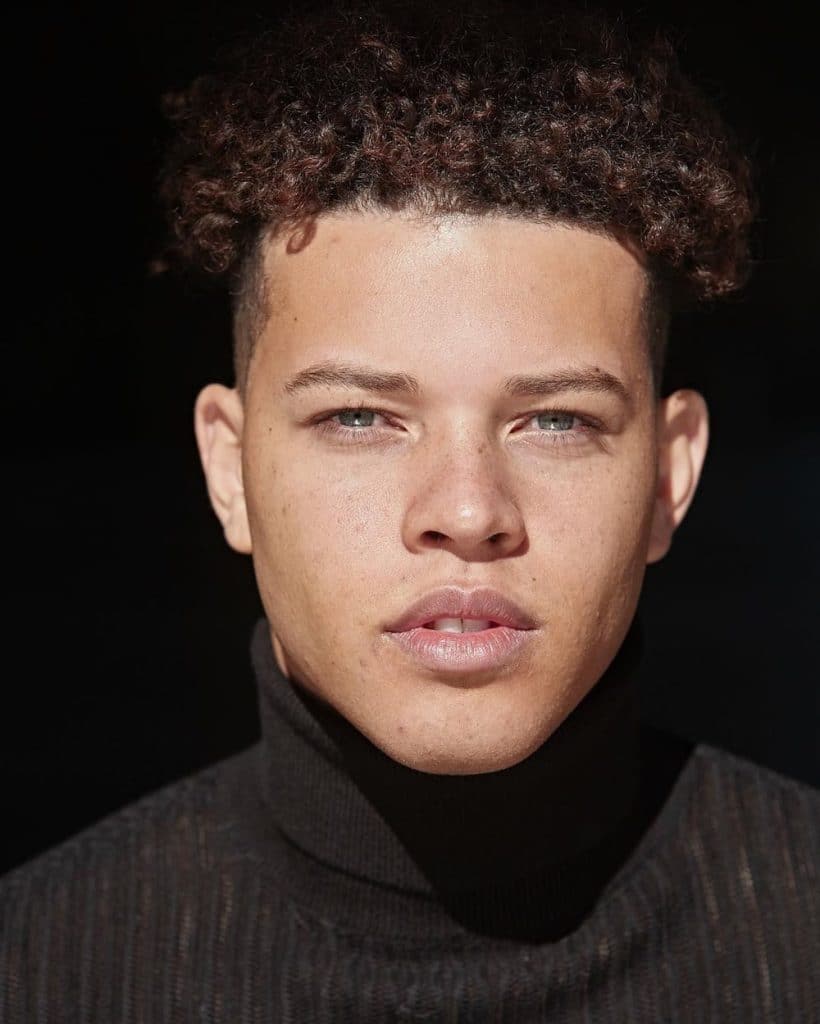 There are also those who believe that he's today in a relationship with a non-celebrity American girl, but that he prefers to keep her away from the media's attention, because of how his popularity could affect the relationship; this hasn't been confirmed either.
As of May 2022, Julian seems to be single, hasn't married and doesn't have children.
Hobbies and other interests
He's quite active on Instagram, and seems to be enjoying the attention which he's receiving from his close to 7,000 followers; Julian's uploaded nearly 250 pictures onto the network, most of which feature him spending time with his friends.
Julian's physically highly active, and has five to six sessions at the gym every week, thus his muscular body; he's uploaded many pictures featuring him shirtless, onto his Instagram account.
Summer's his favorite season, as he enjoys swimming in the ocean and going yachting.
He's a dog-lover, and his German Shepherd dog can be seen featured in some of his Instagram pictures.
Julian has his own favorite actors and actresses, some of whom are Eddie Redmayne, Bruce Willis and Milla Jovovich, while a couple of his favorite movies are "Fantastic Beasts and Where to Find Them", "The Fifth Element" and "Pulp Fiction".
Age, height and net worth
Julian's age is 26. He has short curly brown hair and light blue eyes, his height is 5ft 9ins (1.75m) and he weighs around 155lbs (70kgs).
As of May 2022, Julian's net worth stands at more than $100,000, while his father Robert's wealth has been estimated at over $500 million.
Who is his father Robert?
Robert was born in New York City, USA on 17 August 1943 – his zodiac sign is Leo, and he holds American nationality. He's appeared in more than 120 movies and TV series, while he's perhaps still known best for his portrayal of the main character Vito Corleone in the 1974 crime movie "The Godfather: Part II". It was written and directed by Francis Ford Coppola, also starred Al Pacino and Robert Duvall, and follows the early life of the mafia boss Vito Corleone in New York City in the 1920s; the movie won 23 awards, including six Oscars, while it was nominated for 20 other awards.
Robert was raised an only child in Manhattan, New York City, by his father Robert De Niro Sr. who was an American abstract expressionist painter, and mother Virginia Admiral who was a poet and painter; Robert's parents split when he was two years old, as his father revealed that he was gay, however, he was still involved in Robert's upbringing. Robert Jr. studied at elementary school PS 41, and appeared in his first school play "The Wizard of Oz" when he was 10; Robert continued his education at Elisabeth Irwin High School, and then transferred to High School of Music and Art, and transferred three more times before dropping out aged 16, wanting to pursue a career in the film industry.
His debut film appearance was in the 1965 drama "Three Rooms in Manhattan", while a couple of his following roles were in the 1968 drama "Les Jeunes Loups", the 1969 comedy "The Wedding Party", and the 1971 comedy "Jennifer on My Mind". Robert became famous following his portrayal of Johnny Boy in the 1973 crime thriller movie "Mean Streets", which won five of the 10 awards for which it was nominated, and in 1976, he starred as Travis Bickle in the evergreen crime movie "Taxi Driver". It was directed by Martin Scorsese, also starred Jodie Foster and Cybill Shepherd, and follows a mentally unstable war veteran who's now working in New York City as a taxi driver; the movie won 22 of the 46 awards for which it was nominated, including four Oscar nominations.
Robert went on to play lead characters in many critically acclaimed movies, such as the 1980 biographical sports drama "Raging Bull", the 1984 crime drama "Once Upon a Time in America" and the 1990 biographical crime drama "Goodfellas". He starred alongside Al Pacino in the 1995 action crime movie "Heat", and then played the supporting character Father Bobby in the 1996 crime thriller movie "Sleepers", which starred Kevin Bacon and Brad Pitt.
A couple of Robert's most notable film performances in the 2000s and 2010s were perhaps in the 2006 historical thriller drama "The Good Shepherd", the 2010 action crime thriller "Machete", and the 2016 comedy "Dirty Grandpa".
His most recent role has been his portrayal of Max Barber in the 2020 crime comedy movie "The Comeback Trail", while he's currently shooting for six upcoming movies, including "Amsterdam", "Wash Me in the River", and "Killers of the Flower Moon".
Robert has won 67 awards, including two Oscars: one in 1975 for Best Actor in a Supporting Role for his performance in "The Godfather: Part II", and the other in 1981, for Best Actor in a Leading Role for "Raging Bull". He has been nominated for 133 other awards.
Robert married his first wife, American actress and singer Diahnne Eugenia Abbott in 1976, and she gave birth to their son Raphael De Niro on 9 November of the same year; the two divorced in 1988. He married his second wife, American actress and philanthropist Grace Hightower in 1997, and their son Elliott was born in the following year – Robert and Grace split in 1999, but reconciled in 2004, and their daughter was born via surrogacy in December 2011. They split again in 2018, and as of mid-2022 are going through a divorce.