What would you do if your estranged half-sister started dating a prince and was set to become a member of the most powerful royal family in the world? Most people would be happy that their sister found love and cheer her on as she prepares for her new role as a wife and duchess. Others would milk the attention directed at their sister for every dollar and use it to court fame, not caring how their actions reflected on their sister. Samantha chose the second path. According to Meghan Markle, her half-sister Samantha, quickly changed her last name as soon as news of Meghan's relationship with Prince Harry leaked. Samantha did not stop at sharing the same last name with the Duchess. She gave press interviews left right and center, wrote a book calling her half-sister, now the Duchess of Sussex, pushy, and created made a public spectacle of the duchess when she sued Meghan for refusing to acknowledge their close relationship as siblings. For over a year, the world watched the lawsuit play out in court until the judge dismissed it only for Samantha to file another suit weeks later. Here is everything you need to know about the lawsuit between Meghan Markle and her half-sister Samantha Markle.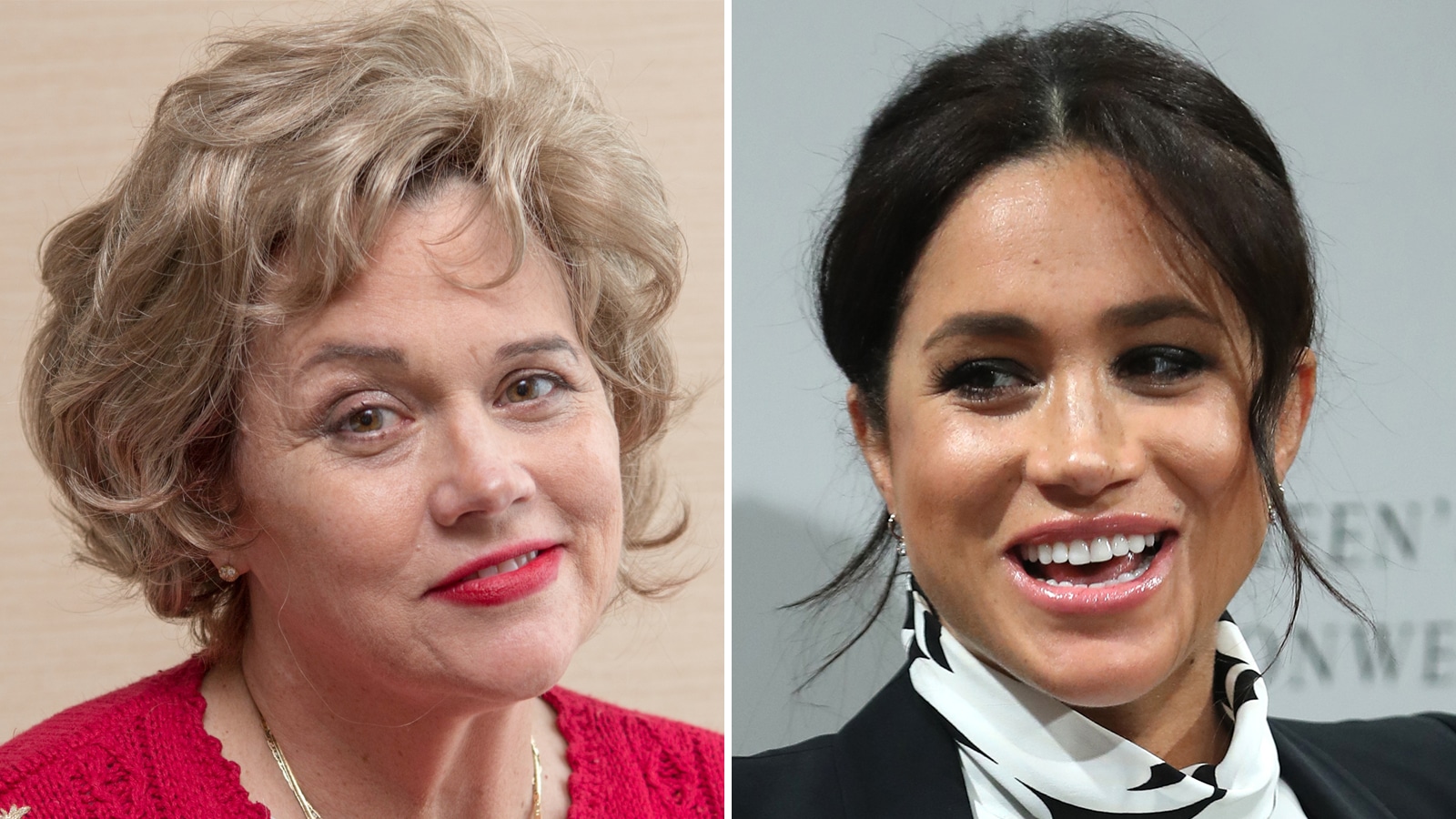 The Making of a Princess
In 2018, the whole world witnessed a real-life Cinderella story, when the king of the United Kingdom, who was the Prince of Wales at the time, walked Meghan Markle down the aisle where a beaming Prince Harry waited to make her a princess. Only this time, Cinderella was not an orphaned teenager with a cruel stepmother, although she had a wicked half-sister. Rather, she was a millionaire actress who had made empowering women and helping them learn how to use their voices her life's mission. Her cause had taken her all over the world and had her giving speeches in front of dignitaries from all over the world at United Nations summits long before she met Prince Harry.
Meghan's journey to that defining moment in 2018 started in Los Angeles, where she was born to Doria and Thomas Markle. In an interview with Elle, Meghan revealed that she was two years old when her parents got divorced but several outlets have claimed that she was four years older when Doria left her and Thomas's home in the Valley and moved to an apartment in L.A with Meghan. For the entire length of Doria's marriage to Thomas, Meghan's half-siblings Samantha and Thomas Jr. lived with the family (This fact will become important later). After her parents' divorce, Meghan split her time between Doria's apartment and her father's house until she turned 18.
Growing up, Meghan was the model confident daughter who was not afraid to use her voice to champion women's causes. When she was in the sixth grade, she saw a sexist commercial and wrote a letter to Hillary Clinton, the then-first lady of the United States, asking for help to bring it down. She single-handedly ran a campaign against the advert and had the company change the offensive insinuation in the commercial. After learning that her voice could change the world, Meghan committed to using it to bring positive change. She has used her education, acting career, and fame to amplify women's issues on powerful platforms such as the United Nations and the media.
Prince Harry and Ms. Meghan Markle, December 2017. pic.twitter.com/HrAc9FeN51

— The Prince and Princess of Wales (@KensingtonRoyal) December 21, 2017
The Deeper the Love, the Deeper the Hate
Meghan Markle did not fit the profile of the women who have married into the royal family in the past. She was mixed race, divorced, American, and an actress. To British conservatives and Monarchy purists, she compared poorly to other women in the royal family, particularly Kate Middleton, the English rose who had all the qualities purists seek in a princess and queen. However, when the news of Meghan's relationship, and later engagement to Prince Harry leaked, she received overwhelming support from all over the world, overcoming the skepticism that surrounded the thought of a black woman marrying into the British Royal family. Opinion polls conducted across the United Kingdom in the months leading up to the wedding showed that the public embraced Meghan and Harry as the face of a modern monarchy.
After the wedding, a gradual shift in how Meghan was perceived in relation to her new family started. It started with a few negative opinion pieces in the media. Before long, the headlines of most British tabloids were running pieces with unsubstantiated claims about her attitude and behavior. It did not take long for the public to shift their opinion on the duchess. The once-beloved woman who was hailed as the future of the monarchy became the object of unwarranted hate and harassment from the same people who had lined the streets of London to catch a glimpse of her on the magical day when she married her prince. With the support of the public by their side, the tabloids have continued their smear campaign on Meghan even after she and Harry resigned from their duties as working royals and settled down in California with their children.
Wood for Your Fire?
While Meghan was fielding attacks from the British tabloids, her half-sister was adding more wood to the fire and pouring lighter fluid all over it. Samantha started her own smear campaign against Meghan long before the wedding when she rained public insults on the duchess after Meghan failed to invite her to the royal wedding of the decade. Samantha apologized later but pulled a public stunt by flying to the UK seeking an audience with Meghan. After the wedding, Samantha became the go-to person for tabloids who needed sound bites and quotes for their anti-Meghan articles.
In 2021, Samantha published a memoir entitled "The Diary of Princess Pushy's Sister." The release of the memoir coincided with the tabloids' use of words such as narcissistic, manipulative, and difficult to describe Meghan. In the book, Samantha alleged that Meghan had been a demanding person throughout her childhood, adding that she belittled their father's contribution to her education. Samantha talked about Meghan's first wedding, which she did not attend, and revealed that the two sisters had lost contact and had not talked in nearly three years before the royal wedding. Naturally, the tabloids picked Samantha's revelations apart and used them to attack Meghan further. Eventually, the constant attacks from the media and some internal disagreements with the Royal Family drove Harry and Meghan away.
The First Legal Battle
Harry and Meghan's exit from the royal family, which was infamously dubbed "Megxit," was the hot topic of 2021. Everyone who knew of the couple's departure was itching to find out why they stepped down from their royal duties. Initially, Meghan and Harry refrained from talking about their decision but tabloids and social media users' speculations ran too wild that the couple had to share their reasons for leaving Harry's family with the public. The couple sat down with Oprah Winfrey on March 2021 in an interview that attracted over 50 million users. In the interview, Meghan spoke about her family, including her step-siblings, inadvertently giving Samantha fodder for a lawsuit against Meghan.
One year after the interview, Samantha filed a defamation suit against Meghan. In the lawsuit, Samantha claimed that Meghan had shared some injurious falsehoods in her interview with Oprah by saying that she was an only child. Samantha's second claim was that Meghan had misrepresented their relationship by referring to her as a "virtual stranger" with whom she had no relationship whatsoever. To anyone who had watched the interview, Samantha's claims, and basis for the lawsuit, were flimsy at best, since Meghan had not claimed to be an only child but clarified that she grew up as one. Besides, Samantha had confirmed Meghan's statement that they were practically strangers herself in prior interviews when she revealed that the two had not spoken in years.
The irony of Samantha suing Meghan for defamation was not lost on anyone who had heard her in interviews about Meghan, during which Samantha had made more profoundly defamatory comments about Meghan, such as that time when she called Meghan a social climber. The third claim in Samantha's lawsuit was drawn in a chapter of a book about Meghan. The book, "Finding Freedom," had a chapter titled "A Problem Like Samantha." However, as the judge pointed out, Meghan did not write the book and could not be held accountable for defamatory statements in a book she did not publish. With all her claims deconstructed, Samantha's defamation suit was thrown out in March 2023.
The Second Lawsuit
Samantha was back in court to add new claims to her defamation suit barely two weeks after her first case against Meghan was dismissed. This time, she built on her previous claims using new claims drawn exclusively from Harry and Meghan's tell-all documentary that premiered on Netflix late last year. In the documentary, the couple called out the British press for harassment, the royal family for unconscious biases and racism, and part of Meghan's family for spreading lies about her. One of the featured speakers was Samantha's daughter, Ashleigh, who revealed that she had cut tied with her mother, who acted out on her resentment and anger towards Meghan. As soon as the documentary aired, Samantha was back on the tabloids proving Ashleigh right by claiming that Meghan was using the platform to peddle fake news. Samantha claimed that Meghan was lying about her relationship with the late Queen Elizabeth II and using the deceased monarch for publicity.
Samantha followed up her critique of the documentary with a second lawsuit alleging that her half-sister told malicious and damaging lies about her, claiming injury and harm to her reputation as a result. In the court documents, Samantha highlights the statement of one of the people who spoke in the documentary, who claimed that Samantha was one of the people who were spreading disinformation about Meghan online. She alleges that Meghan paid the person who made the statement to malign Samantha. The man denies having any motive to malign Samantha. It is now up to the court to decide whether Samantha's new claims are as baseless as the previous ones or whether she is owed the $75,000 she is demanding from Meghan in damages for her stained reputation.