• Lindsey Kraft is an American actress, model and national star
• Born on 23rd January 1983 in Manhasset, New York State USA
• Gained prominence with roles in "Getting On" (2013-15), "Grace and Frankie" (2017-19), and "Why Women Kill" (2019)
• Net worth estimated at $1 million
• Height of 5ft 3in (1.6m) with black hair and hazel eyes
 
Who is Lindsey Kraft?
Lindsey Kraft is an American actress, who gained popularity as Marguerite Macaw in the TV series "Getting On" (2013-2015), and from then on continued her rise to prominence with the roles of Allison in the TV series "Grace and Frankie" (2017-2019), and as Claire in the TV series "Why Women Kill" (2019).
Lindsey Kraft Wiki: Age, Childhood, and Education
Lindsey Kraft was born on the 23rd January 1983, in Manhasset, New York State USA, and when a child lived in Long Island, New York.
She hasn't revealed anything about her parents, such as their names and profession; we have learned that she has a sister, but not her name. For her education, after finishing high school, Lindsey enrolled at the University of Maryland, from which she obtained her degree.
Career Beginnings
Lindsey started her career as a model, but after only a couple of minor gigs, she transferred to acting and made her debut in 2005 in the TV series "Law & Order: Trial by Jury". She continued with minor roles, such as the part of Penelope in the TV series "Third Watch", also in 2005, while in 2006 she was Nadia in an episode of "The Sopranos".
The following year, she made her film debut with a minor role in the adventure comedy film "Epic Movie", starring Kal Penn, Jennifer Coolidge, and Fred Willard, among others, while in 2008 she also had a role in the romantic drama-comedy film "The Accidental Husband".
Rise to Prominence
Lindsey's experience improved, and she started getting more important and popular roles, which resulted in increase in her personal popularity. In 2010 she was selected for the role of Phoebe in the TV series "Backwash" (2010-2011), while in 2011 she was Susan Cromwell in the television film "Tagged".
In 2012 she had yet another notable role, as Tara Reed in the TV series "Dating Rules from My Future Self", while in 2013 she landed one of the most prominent roles in her career, as Marguerite Macaw in the TV comedy series "Getting On" (2013-2015). The show became quite popular and also made Lindsey a star.
She continued her career quite successfully, first by guest-starring in several TV series, such as "2 Broke Girls" (2014), "Veep" (2014), "Chasing Life" (2015), and others, but then in 2017 she was selected for the role of Allison in the TV comedy series "Grace and Frankie" (2017-2019).
In 2018 she played Gwyneth Cravens in the film "A Futile and Stupid Gesture", while most recently she started portraying Claire in the TV comedy crime-drama series "Why Women Kill" (2019-), and is working on the TV horror series "Them: Covenant".
Lindsey Kraft Net Worth
Since she started her career, Lindsey has become a successful actress and a national star. Some of her projects have added a considerable amount to her wealth, so let's just see how rich Lindsey Kraft is, as of early 2020.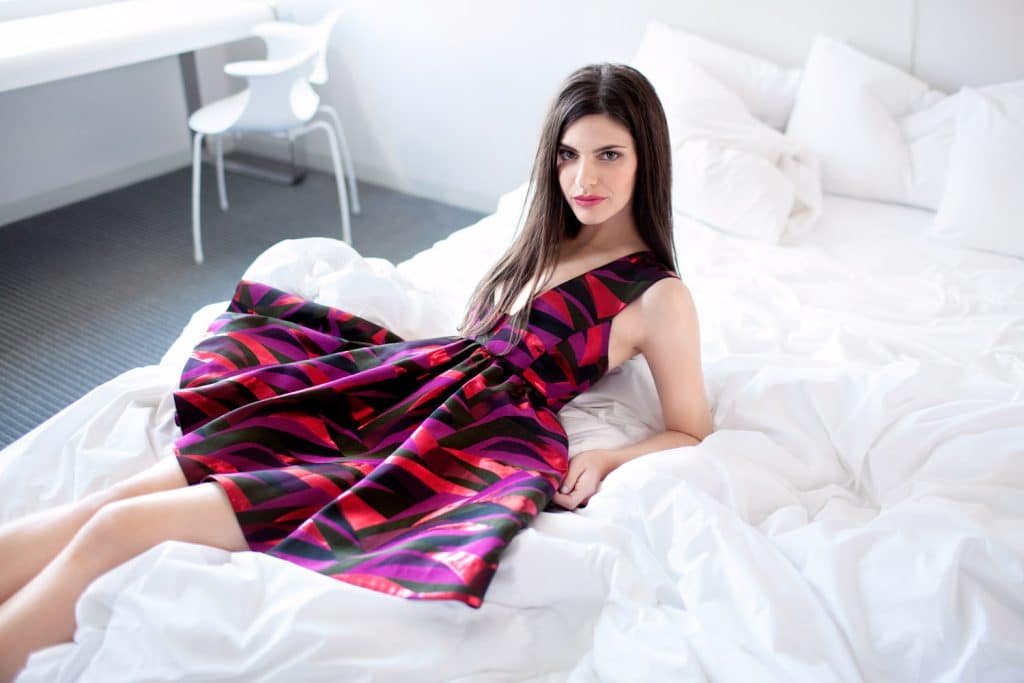 According to authoritative sources, it has been estimated that Kraft's wealth is as high as $1 million, which is quite impressive, don't you agree?
Lindsey Kraft Personal Life, Dating, Boyfriend, Husband
When it comes to speak about her personal life, Lindsey hasn't shared very much information, however, a few facts have been made available. Lindsey is in a relationship with actor Andrew Leeds, but hasn't shared anything else about their relationship, from how they met and when the romance started.
Hopefully, she changes her mind and starts sharing more information about her private life with the fans.
Lindsey Kraft Internet Fame
Lindsey, like numerous other celebrities has started using social media platform to her own benefit and has built a decent fan base on popular networks. Her official Instagram page has her most recent career endeavors, including her role in "Why Women Kill", among numerous other posts.
Look! @GraceandFrankie 's Allison walkin into season 5 in a @reformationx jumper! Thank you @AllysonFanger for dressing her in cute things! I love #graceandfrankie and I love allison and all of her neurosis. ?uhh. Duh… #smalldreams4linz pic.twitter.com/vryQG0SLkb

— lindsey kraft (@linzkraft) April 19, 2018
You can find her on Twitter too, and on this social media platform she's updated fans with her future plans. So, if you aren't already a fan of this prominent actress and model, then this is a perfect opportunity for you to become one, just skip over to her official pages and see what she is up to next, both personally and professionally.
Lindsey Kraft Height, Weight, Body Measurements, Appearance
Do you know how tall Lindsey Kraft is, and how much she weighs? Well, Lindsey stands at 5ft 3ins, which is equal to 1.6m, while she weighs approximately 115lbs or 52kgs. Her vital statistics are unknown for now, though she has a fit figure. Her eyes are hazel and she has black hair.