Who is Margarita Munoz?
Colombian actress and model Maria Margarita Munoz Parra was born in Pitalito, Huila, Colombia, on 18 September 1987, making Virgo her zodiac sign. She has 24 acting credits, and is perhaps known best for starring as Gina Bianchi in 53 episodes of the 2015 crime action series "Duenos del Paraiso", which also starred Jorge Zabaleta and Kate del Castillo, and follows the life of crime boss Anastasia Cardona.
Margarita's currently shooting for the upcoming series "Dejemonos de Vargas".
Education and early life
Margarita was raised on her family's farm in Pitalito, alongside her brother Juan Camilo Munoz and sister Maria del Mar Munoz, by their mother Clara Parra and father Miller Munoz Ibarra; few other details have been shared about Margarita's family, because she respects their privacy.
She was mostly passionate about acting and dancing while growing up, appearing in a number of plays performed at her school, Julio Cesar Luna. Margarita was 15 when she made her debut TV series appearance, portraying Valentina Mansur in four episodes of the 2003 drama "El Autentico Rodrigo Leal", which starred Carolina Gomez and Salvatore Cassandro, and follows Rodrigo Leal who's pretending to be gay when he's in fact in love with TV presenter Carmen Morena.
Margarita matriculated in 2005, and then focused on acting and modelling rather than pursuing a college degree.
Roles in TV series
Margarita played Pilar 'Pilarica' Valenzuela in three episodes of the 2005 comedy "Los Reyes", and a supporting character in the 2007 episode "Amor Padrastro" of the romantic drama "Decisiones".
She went on to appear in an episode of the romantic drama "La Quiero a Morir", the romantic action "Generation Y", and the crime action horror "El Cartel 2 – La Guerra Total". In 2010, Margarita played the lead character Victoria Hidalgo San Miguel in all 99 episodes of the romantic drama "Secretos de Familia", which also starred Maria Cecilia Botero and Marcela Carvajal, and follows the lives of five women.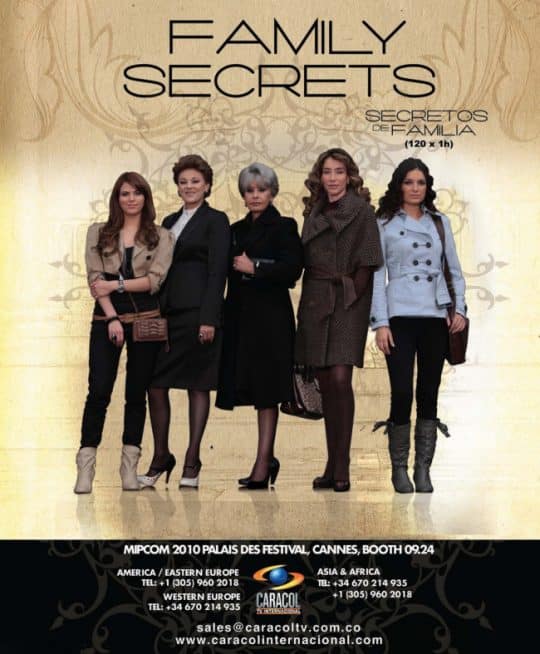 In 2011, Margarita portrayed Julieta Millan, one of the main characters in all 126 episodes of the drama "Los Heredos del Monte", which co-starred Marlene Favela and Mario Cimarro, and follows a group of people working on a ranch. She could then have been seen playing supporting characters in the romantic drama "Gossip Girl: Acapulco", the romantic drama "Amor Sin Reserva", and the crime action "Sr. Avila".
The year 2017 saw Margarita star as Emilia Rivera in all 124 episodes of the drama "Venganza", which also starred Jason Day and Paulina Davila, and follows Emilia Rivera who wants to have her revenge on those responsible for her father's death.
In 2018, she starred as Andrea Pulido in 82 episodes of the drama "La Piloto", which also starred Arap Bethke and Livia Brito, and was created by Carlos Bardasano. It follows the life of a Mexican stewardess – the series was nominated for six awards.
Some of Margarita's most recent TV series roles have been playing Magdalena Arbelaez in 60 episodes of the 2022 crime action thriller "Entre Sombras", Valeria Duque in 18 episodes of the 2023 thriller "The Marked Heart", and Valentina Restrepo in 39 episodes of the comedy "Dejemonos de Vargas".
Roles in movies
Margarita's appeared in only two movies. Her debut was portraying Nina Lobato in the 2018 historical drama "Rubirosa", which starred Manolo Cardona and Damian Alcazar, directed by Hugo Rodriguez and Carlos Moreno. It follows the life of Dominican playboy and suspected spy Porfirio Rubirosa, and the movie won three of its 15 award nominations.
Margarita's second film role was playing Esdras in the 2019 historical drama "Juan Apostol, El Mas Amado", which starred Jorge Alberti and Sissi Fleitas, and was directed by Conrado Martinez; it follows the life of John the Apostle.
Other credits
Margarita's appeared in a number of Colombian talk-shows, as well as several American; one of the most popular amongst these is "Noches con Platanito".
Love life and husband
Margarita prefers to keep the details of her love life to herself, and we know only about a single man whom she's been with. She and Argentine actor Michel Brown exchanged vows in a private ceremony on 13 February 2013, in the Archipelago of San Bernando, Colombia. Michel has 37 acting credits and is perhaps known best for starring as Franco Reyes in all 196 episodes of the romantic drama "Pasion de Gavilanes", which also starred Danna Garcia and Paola Rey, and which Julio Jimenez directed. It follows the three Reyes brothers who are after vengeance now that a powerful hacendado has ruined their family, but they've now fallen for the man's three daughters; the series won two of the five awards for which it was nominated.
Margarita and Michel don't have children together, and this is widely believed to be because they are both currently focused on their careers; there are also some of Margarita's fans who believe that she's perhaps infertile, but this remains unconfirmed.
Interesting facts and hobbies
Margarita's an Instagram star, as over 1.4 million people are following her on the network today, while she's posted more than 1,400 pictures and videos; most of these show her during her everyday life, whether she's shopping for clothes, drinking cocktails at the beach or travelling around the world. Travelling's one of her favorite hobbies, and she's been to more than 60 countries.
Margarita's following a strict diet, and works out at the gym nearly every day, mostly because staying in shape is important for her career.
She's a fan of tattoos, and has a writing on her left arm.
Margarita's volunteered with a couple of charity organizations.
One of her favorite actresses is Sofia Vergara, and some of her favorite movies include "The Smurfs", "Wild Card" and "Madea Goes to Jail".
Appearance and net worth
Margarita's age is 35. She has brown eyes and blonde hair, is 5ft 6ins (1.68m) tall and weighs around 135lbs (61kgs).
Margarita's net worth's been estimated at over $500,000, as of August 2023.