Who is Natsu Dragneel?
Natsu 'Salamander' Dragneel's the fictional lead character of the manga series "Fairy Tail", authored by Hiro Mashima; Hiro's revealed that Natsu's his favorite character, and that he's given him many of his own characteristics, while most of the manga's fans have also claimed that Natsu's their favorite character.
The manga was initially published in the Japanese magazine "Weekly Shonen", with its first publication having been released on 2 August 2006; Natsu was introduced in the first chapter of the manga, and it was instantly revealed that he was a member of the wizards guild Natsu which were kind of hated in the fictional Kingdom of Fiore because of their magic often causing property damage. Natsu's a dragon slayer and can control fire, the same as his foster father, the wizard Igneel, who disappeared seven years prior to the events in the first chapter of the manga, so Natsu's constantly searching for him.
Japanese voice actor and singer Tetsuya Kakihara voices Natsu in the "Fairy Tail" animated series, movies and video games, while American voice actor and director Todd Haberkorn's voicing him in English dubs.
JP Voice Actor: Tetsuya Kakihara pic.twitter.com/bJIwlc1vg5

— Zeniet (@Zeniiet) November 22, 2020
The creation of Natsu
Hiro created the character Haru Glory for his manga series "Rave Master" as an 'angsty hard-working man', and after he began working on "Fairy Tail", decided to make Natsu calmer and wiser; he was also one of the first characters that he developed for the manga, and Hiro gave him motion sickness, which is a detail that most of his fans love. Hiro's also revealed that one of his best friends is suffering from motion sickness.
Natsu's a character who gives his best at everything, as Hiro also thinks this way about himself; his name means 'summer' in Japanese, and Hiro named him this way because he wanted to avoid standard Western fantasy names. It's interesting to note that the above-mentioned character Haru's name means 'spring'.
Natsu's age remains undisclosed, but it's known that he's younger than 80.
Hiro's revealed that he's satisfied with the anime adaption of his manga, as well as with both actors voicing Natsu.
Natsu's powers and behaviour
Natsu was introduced to the fans in the very first chapter of "Fairy Tale", and it was revealed that, besides controlling fire, he's resilient to various lethal attacks, has an extremely strong sense of smell and hearing, and immense strength.
He only became a member of the wizards guild after his foster father went missing, and Natsu's the main reason why the people in manga dislike the wizards guild, as he's caused most of the collateral damage; the manga follows Natsu, Happy and Lucy Heartfilia as they're going on adventures together, all the while searching for Igneel, and later joined by Natsu's former rivals Erza Scarlet and Gray Fullbuster.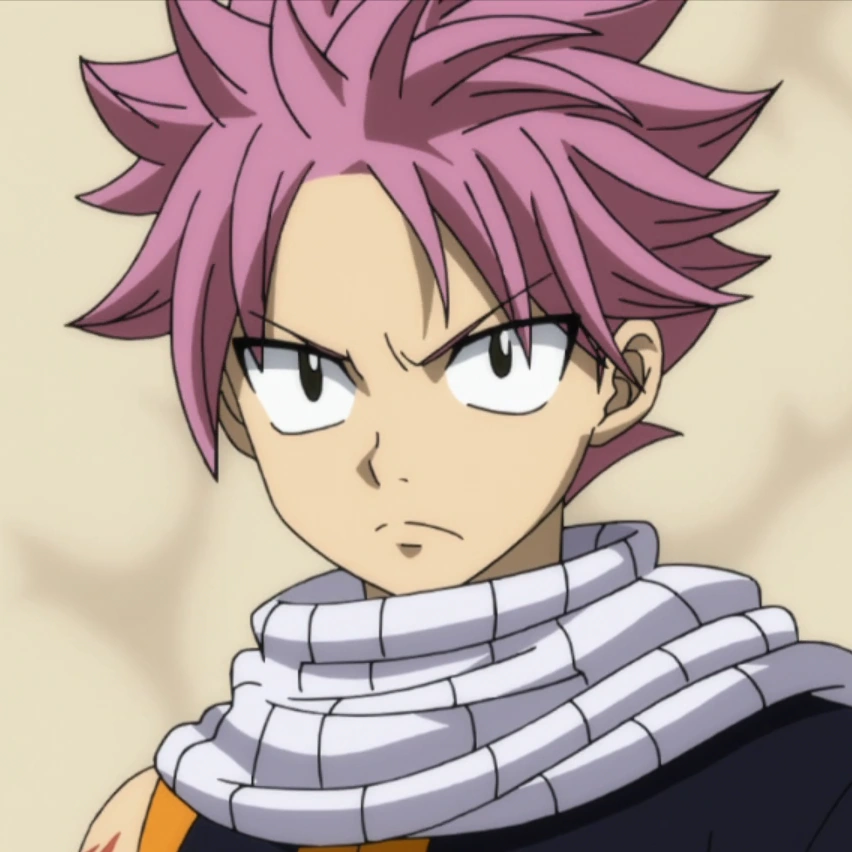 Other appearances
Seven "Fairy Tail" movies have been released as of August 2023, and the most popular amongst these is perhaps the 2012 "Fairy Tail the Movie: Phoenix Priestess", which starred Aya Endo, Aya Hirano and Tetsuya Kakihara, and was directed by Masaya Fujimori. It follows Natsu and his team as they're helping a girl who's lost her memory, but does remember that she hates wizards – the movie won one of its six award nominations.
Natsu was also the protagonist in the 2017 movie "Fairy Tail: Dragon Cry", which starred Makoto Furukawa, Wataru Hatano and Aya Hirano, and was directed by Tatsuma Minamikawa. It follows Natsu and his friends as they're travelling to the Kingdom of Stella, where they will be battling new enemies in order to save the world from being destroyed; the film was nominated for two awards.
Natsu's the star of all nine "Fairy Tail" original video animations; the first features him swimming with his friends, while the second shows him as a college student. In the third animation, Natsu can be seen sent to the past by a strange book, and the fourth features him preparing for the Grand Magic Games; the following animation shows Natsu having fun at a water park, and he's meeting Hiro's other character Haru Glory in the sixth animation. He's competing in a penalty game in the seventh, and is cheering Mavis Vermillion up in the eight; the ninth and final animation features Natsu attending a Christmas Party.
Natsu's the star of numerous light novels based on the manga; one of these features him as a samurai, while another has him living in a world similar to that in "Alice in Wonderland"; he also appears in the "Fairy Tail" manga sequel "Fairy Tail: 100 Years Quest".
Fans can play as Natsu in a number of "Fairy Tail" video games; the first, "Fairy Tail: Portable Guild" was released in 2010, and its two sequels followed in 2011 and 2012. Natsu's also a playable character in the cross-over video game "Sunday vs Magazine: Shuketsu! Chojo Daikessen", released in 2009.
Most popular YouTube videos
Numerous videos about Natsu have been uploaded onto YouTube by various users, and while most are scenes taken from the animated series and movies, others aim to provide more details about Natsu's life. We're going to cover three of the most popular YouTube videos about Natsu.
The #1 video "Natsu vs Dovahkiin. Épicas Batallas de Rap del Frikismo | Keyblade ft. Maydawa" was uploaded by Keyblade on 31 July 2014, and has since been watched over 16 million times; it's a rap song about Natsu's fight against Dovahkiin.
The second most popular video "Fairy Tail AMV – My Demons" was posted by Hammergeddon on 4 April 2015 and has since been watched more than 10 million times; the video is a compilation of scenes from the episodes 151 through 175.
The #3 video "Rap do Natsu (Fairy Tail) | Tauz RapTributo 07", was uploaded by Tauz Oficial on 16 September 2014, and has since been viewed more than 9.6 million times; it's another rap song about Natsu.
There are numerous "Natsu Dragneel" channels on YouTube today, but none of these are official channels; the most popular numbers over 1,400 subscribers.