Parker Schnabel and Tony "King of the Klondike" Beets had an ongoing dispute since Tony leased some land to Parker around season four of "Gold Rush." Both were exceptionally talented and essential parts of the gold-mining reality TV series on Discovery Channel; Tony acknowledged Parker as a young prodigy, despite his near-constant criticism. Parker was somewhat experienced before he officially entered the industry. From age five, his grandfather, legendary gold miner John Schnabel, taught Parker during their summers together.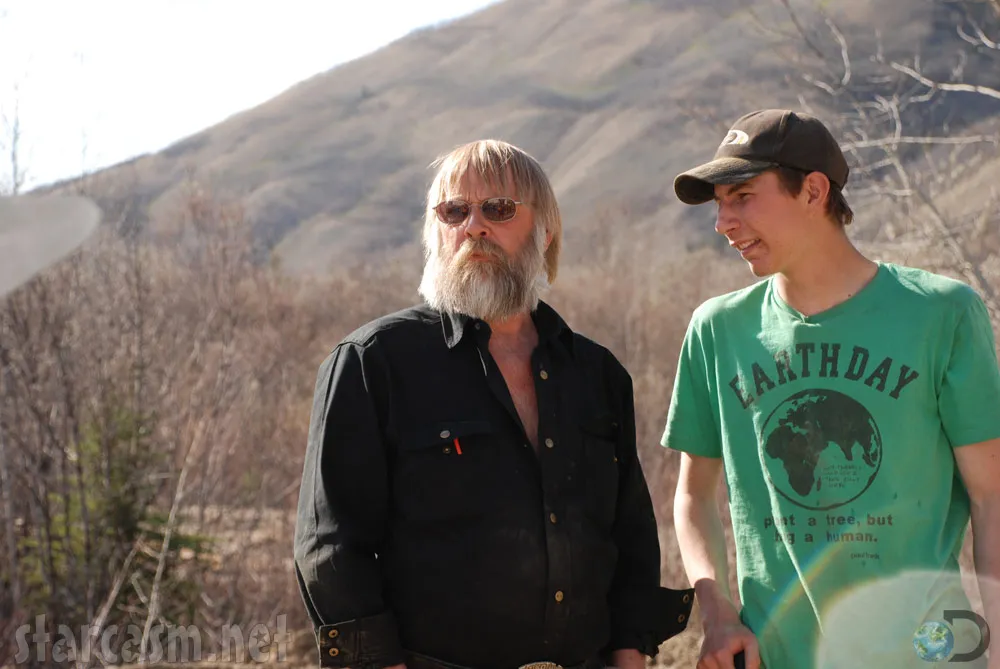 John was best known for his Big Nugget Mine in the Haines area of Alaska, USA, and its three gold-digging claims, Smith Creek Hill, Porcupine Creek, and Emmerson Trench. He entrusted the family business operations to Parker in 2011, shortly before he had a heart attack towards the end of season two. John was diagnosed with prostate cancer in 2013, but remained the Big Nugget Mine boss until the end of season six in mid-2016, when he died aged 96.
Parker also worked independently since the show's fourth season. Most viewers still commend his brave move of using his college fund at 18 to start a separate mining operation. He moved from Alaska to Klondike, Canada, and leased land from Tony Beets. That's where Parker's inexperience and Tony's need to retain power came into play. Here's what happened.
Competitiveness and greed caused it
Their problems developed slowly; many people saw Tony as Parker's unofficial mentor, although they weren't too friendly. However, the chance for an excellent business relationship was lost when Tony tried to use Parker's youth for profit. He leased land to Parker, and the younger miner exceeded all expectations during his first season. However, Tony predicted that and included high royalties in the agreement's fine print.
Parker understood that Tony offered him a chance at independence, but only later realized how big of a cut of the profits he wanted. Tony refused to budge after Parker's complaints, and the lease terms are the same. That started a feud between the two ambitious gold miners, and their conflict unfolded in front of the cameras for years. However, Parker couldn't let his feelings cloud his judgment, as he had gold to find, equipment to maintain, and employees to pay. He will continue working next to and potentially with Tony in the 14th "Gold Rush" season, but has presumably renegotiated the predatory stipulations of all other business deals.
Issues started almost immediately
Although the conflict between the two marked recent seasons, viewers who tuned in early remember that Parker and Tony initially had a cordial relationship. Tony debuted in the second season as the advisor to Todd Hoffman. He quickly rose through the ranks with his knowledge, and Discovery Channel promoted him to a full-time cast member in season four. While he wasn't as charismatic, and even came off as intimidating and unreserved, he had the expertise to back his authority. Parker was eager to learn more, and Tony became his unofficial counselor as the youngster operated his family business at Big Nugget Mine.
The first sign of real trouble started around 2012 or 2013 when Parker became an adult and used the money intended for his college education to move to Canada and lease a mining claim from Tony in The Klondike. Parker dug 1,029 ounces or 29 kilograms of gold in the first season at the leased airstrip, earning $1.4 million. Unfortunately, the first signs of conflict temporarily overshadowed the excitement: Tony shut down Parker's entire operation for breaking the contract rules a week into the dig in season four.
Also, as mentioned above, the excellent result did not translate to massive wealth because the lease agreement prevented Parker from holding onto most of his earnings. Parker knew that he would have to reimburse Tony for the mining claim, but not reading the fine print made him overlook how much. Consequently, when he started making big profits, he realized that his ambition only made Tony richer.
However, the resentment didn't go beyond minor complaints and curses under his breath. After all, Parker was cast in the increasingly successful TV show, stayed busy doing what he loved, and was independent and seemingly unstoppable. Most importantly, he wasn't digging extraordinarily high quantities of dirt or gold. Viewers would later learn that was the reason for absurd royalties.
Things escalated in season eight
Although it was evident in hindsight, Parker confused some viewers when he stopped digging at the leased claim at the 6,000-ounce or 170-kilogram mark during the eighth season. Luckily, he could no longer keep his irritation bottled up and spilled the beans. Parker explained to the media, 'The royalty rates [in Tony's leasing agreement] have to change. After 6,000 ounces, we are paying 25% royalties; at 8,000 ounces, we give Tony almost $2 million. Frankly, I'd go broke doing that.'
Parker confronted Tony shortly, but the older gold miner refused to acknowledge the responsibility. He reiterated that Parker agreed to the terms and refused to rework the leasing terms. Parker realized that his efforts were fruitless and said that he was tired of talking. However, Parker had invested much money into the ongoing season, so he devised a clever workaround. Parker told the cameras that he pays 15% in royalties for the first 1,500 ounces or 680 kilograms, then 5% extra for every 1,500 ounces afterwards. Consequently, Parker told his mining team to exchange the wash plants whenever they dug up 1,500 ounces of debris.
A wash plant is a machine that extracts ores from paydirt through water and sedimentation processing, i.e., separates raw gold from the rubble. That ingenious trick seemingly allowed Parker's team to pay royalties on the net weight haul, meaning that they mostly paid for the weight of the gold instead of the weight of gold and dirt. The team took it further, and apparently began hauling the payload from their other claim to Tony's land. That allowed them to get rid of the earth and debris on Tony's ground and meet their daily quotas. They gloated; Parker said that it was a big moment for the team, while his foreman, Mitch Blaschke, noted that 'it was a small step for them but a giant middle finger to Tony Beets.' Mitch added that Tony knew the trick was possible but felt that the crew wouldn't risk trying to screw him over.
Tony quickly confronted Parker
Unfortunately, with such a public display of resistance, the word reached Tony, and he promptly arrived at the wash plant and immediately shut their machines off. Tony then yelled at Parker, 'All week, you have been sneaking through the yard with rock trucks, and now you're sluicing over here. The contract states that while you're leasing the ground from us, that's the only material you'll sluice!'
Parker was caught red-handed, so he did not deny the accusation. Instead, he turned the table on Tony and accused him of greed, telling him that 'he will get a million bucks from him this year and that he only has to sit back and make money.' Tony was furious and told him that this wasn't good enough, to which Parker responded that he can go f*ck himself. He initially told Tony to cancel the lease and that he would leave the claim. Parker proudly declared that 'he always wanted to buy a piece of town for his operation to be independent of a landlord and that he finally has that opportunity to try that out.'
Regrettably, things didn't go as planned, as the nearby land he bought for $500,000 didn't have clean water, and Tony didn't permit him to lay pipes on his ground. Getting water would require a long, expensive permitting process, and the most straightforward resolution would be for Tony to share his water access. Unsurprisingly, he did not allow that, and the inspectors forbid Parker's crew to taking Tony's water, threatening legal repercussions. Simultaneously, Parker's $1.5 million bulldozer caught on fire, and his crew needed work. All this forced Parker's hand, so he continued mining under the old leasing terms.
What's your favorite Tony Beets quote? http://t.co/opvZNTiSeF #TonyBeetsSays pic.twitter.com/FhbAjBDT34

— Gold Rush (@Gold_Rush) November 22, 2014
Parker adjusted his goals in 2022
Parker knew that he would be miserable if he suffered in silence and relied on the old mining claim. Therefore, he presented a new approach in the ninth episode of the show's 12th season. He was 26 and wanted a new challenge, so he recently invested $2.5 million into the nearby Mud Mountain mining claim.
He said that he wanted to shatter previous records and dig 8,000 ounces or 227 kilograms of gold during that season. He broke the plan down, saying that he hoped 5,000 ounces would come from the Mud Mountain and expected roughly 3,000 ounces or 85 kilograms to originate from Tony's predatory airstrip ground lease. While he still had to pay exorbitant royalties, at least they would be 15% for the first 1,500 ounces and 20% for the second half, and he could keep the majority of profits from 5,000 ounces.
He had difficulties executing that plan because he initially planned on Brennan Ruault's help and determination. Unfortunately, Brennan left during that season to work for Rick Ness, a former Parker crew member.
They might collaborate
Tony and Parker butted heads because they were strong personalities with big plans. Parker was inexperienced and signed a lease when he had no leverage, while Tony wanted to remain in power even if Parker exceeded all expectations. Tony knew that he had the upper hand; the younger miner eventually realized what a legal and practical nightmare starting an independent town would be. He saw that their agreement made things more convenient and profitable, and their feud over that claim ceased.
Parker refocused his energy into signing better deals. For instance, he leased a portion of Tony's claim during the 13th season debut. Tony had no desire to get a license to dig at the Indian River part of the land, as his operations were presumably stretched too thin. His move let Parker's team kickstart the season, as the ground was lucrative, so everyone reaped benefits.
Tony and Parker are returning for season 14, expected to premiere on 29 September 2023. Its description mentions that Parker is at a crossroads, and must decide whether to scale his operations and play it safe, or go all out and acquire gold-rich new ground, which could be part of another deal with Tony. It's also his 10th year in Klondike, so he might be interested in pushing his boundaries. Contrastingly, Tony is determined to dig 6,000 ounces of gold, topping his all-time best haul of 5,300 ounces or 150 kilograms valued at $9 million. More importantly, he has his eye on the Indian River portion this time, which Parker has experience with. Simultaneously, one of Tony's children chose not to return for the season, so Tony might need Parker's help.