Who is Paulina Gaitán?
Paulina is a Mexican actress born on 19 February 1992, in Villahermosa, Tabasco, Mexico. She began her acting career at a young age, making her debut in the film "Innocent Voices" in 2004. Over the years, she's taken on various roles in both films and television series – one of her most notable roles is as Tata Escobar in the popular Netflix series "Narcos". Her talent and versatility have established her as a prominent figure in the Latin American entertainment industry.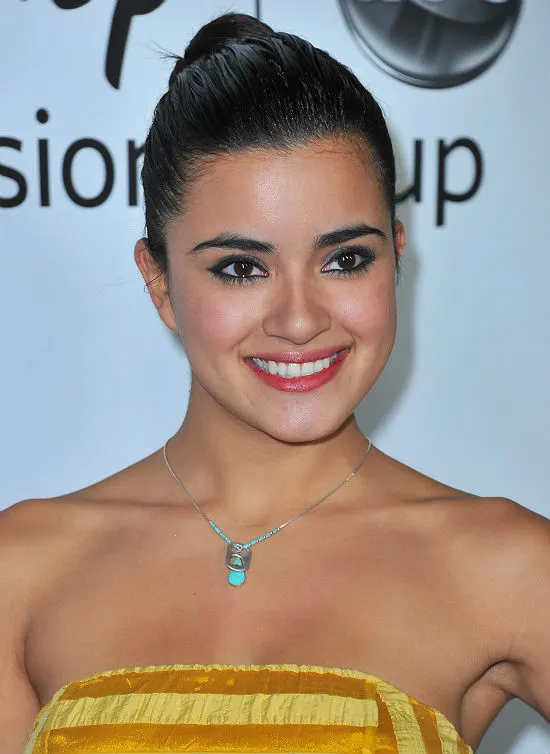 Early Life
Paulina displayed a keen interest in the arts from a young age, particularly acting. Encouraged by her family, she pursued her passion, enrolling in acting classes and workshops in her hometown. She began her acting career when she was only nine years old, making her movie debut four years later.
Roles in Movies
Paulina's introduction to the cinematic world was through the 2004 drama "Innocent Voices", directed by Luis Mandoki. Set against the backdrop of the Salvadoran Civil War, the movie delves into the life of a young boy conscripted to fight for the army. Despite being in a supporting role, Paulina left an indelible mark with her heartfelt performance; her debut set the stage for her future endeavors, showcasing her potential as a young actress.
In the following years, Paulina appeared in movies such as "Trade" (2007), "Cielo" (2007), and "Cosas Insignificantes" (2008).
In Cary Fukunaga's "Sin Nombre" (2009), Paulina took on the role of Sayra, a young Honduran woman journeying to the US with her family, and which centers on the lives of Central American migrants, with Paulina delivering a strong performance, earning her accolades and recognition in international film festivals.
Paulina took a darker turn in the 2010 horror film "We Are What We Are", in which she played Sabina, a member of a cannibalistic family. The film, a commentary on societal norms and family dynamics, allowed Paulina to explore the negative aspects of human nature.
In the 2010s, Paulina continued appearing in critically acclaimed movies, such as "Dias de Gracia" (2011), "Las Paredes Hablan" (2012), and "Eddy Reynolds y Los Angeles de Acero" (2014).
In 2018, she played one of the leads in the comedy drama "The Good Girls", which starred Ilse Salas as a well off socialite woman navigating the Mexican 1982 economic crisis. In the following year, Paulina delivered a powerful performance in the drama "Souvenir", in which she played the lead role of a pregnant surrogate woman.
Most recently, in 2023, she starred alongside Ilse Salas and Regin Blandon in the comedy "Making It Up".
Roles in TV Series
Paulina made her TV series debut in 2005, when she appeared in two episodes of the telenovela "Mujer, Casos de la Vida Real".
However, her true foray into television began in 2010, with the HBO Latin America series "Capadocia". Set in a women's prison, the series delved deep into the lives of its inmates, exploring themes of power, corruption and redemption. Paulina played the role of a young inmate, showcasing a powerful performance that set her apart from her contemporaries.
In the same year, Paulina played a supporting role in the telenovela "Las Aparicio", a lighthearted comedy following the family of six women.
After achieving success in her home country, Paulina began to focus on appearing in international productions. In 2012, she played the role of Jahel in the Emmy-nominated mini-series "The River", which follows a crew of researchers looking for a reporter who went missing in the Amazon forest.
However, it was Paulina's role as Tata Escobar in the Netflix series "Narcos" (2015-2016) that catapulted her to international fame. "Narcos" chronicles the rise and fall of the infamous drug lord Pablo Escobar and the Medellín Cartel; Paulina's portrayal of Tata, Pablo's wife, was nuanced and layered. During the series, Paulina's character evolves from a supportive spouse to a resilient woman who must navigate the world of drug cartels while protecting her children. Paulina's performance not only earned her critical acclaim, but also solidified her position as a global star.
Paulina Gaitan, Pablo Escobar's Wife In 'Narcos', Just … pic.twitter.com/NavBbvBPNH

— Prizes And Contests (@PrizesContests) June 17, 2018
After the success of "Narcos", Paulina took on another challenging role in the series "Diablo Guardián" (2018-2019) based on the novel by Xavier Velasco. She played Violetta, a young woman who escapes her life in Mexico to start anew in New York City, only to find herself entangled in a web of deceit, crime and passion.
In 2021, she starred opposite Damian Alcazar in the HBO thriller drama "Before I Forget", in the role of a police officer investigating the murders committed by a vengeful retired man.
Most recently, in 2023, Paulina played one of the lead roles in the first season of the Mexican sitcom "P#t@s Redes Sociales", which follows the lives of two social media stars struggling to remain relevant.
Love Life and Relationships
Paulina has always been private about her personal life, mostly choosing to keep her relationships away from the prying eyes of the media. However, it's known that she's in a long-term relationship with the Mexican filmmaker and producer Daniel Blanco. Daniel is known for his work on critically acclaimed movies such as "Yo Necesitio Amor" (2019), "Uzi" (2020), and "Yo Fausto" (2021). The two started dating in 2019, celebrating their fourth anniversary in July 2023.
Interesting Facts and Hobbies
Beyond the camera, Paulina is a woman of varied interests. She's an avid traveler, often sharing snippets of her adventures on her social media profiles.
Paulina also has a penchant for reading, with a particular fondness for classic literature, with some of her favorite books being "100 Years of Solitude" by Gabriel Garcia Marquez, and "Pride and Prejudice" by Jane Austen.
Additionally, she is a trained singer, often incorporating her skills into her roles when required.
Net Worth
With a career spanning nearly two decades, and roles both on television and in films, Paulina has established herself as a force to be reckoned with in the entertainment industry. While exact figures regarding her net worth vary, it's estimated to be more than $3 million, with her success in "Narcos" and various film projects undoubtedly contributing to her financial standing. Additionally, endorsements, brand collaborations and other ventures have added to her wealth.