• Rebecca Berg is now known as Rebecca Buck after marrying in 2018
• She has a sister named Emily and a step-father named Manuel B. Gomez
• Rebecca holds a BA in Political Science and is a Political Analyst for CNN
• She and her husband, Brendan Buck, share a passion for traveling and hiking
• Rebecca has an estimated net worth of $700,000 and an annual salary of $200,000
 
Rebecca Berg, a famous political analyst and correspondent, is now known as Rebecca Buck, as she married in 2018 and changed her surname. However, the name change didn't influence her successful career, so let's find out more about her current and future projects, net worth, wedding details, etc.
Early life and family
Rebecca Genelle Berg was born 17 January 1990, in San Diego, California USA, so under the sign of Capricorn and holding American nationality. Her mother's name is Kris M. Gomez (nee Koube) – she is a real estate agent and the founder of her own real estate brokerage as of 2019, San Diego Castles Realty based in Poway, California. Rebecca's father name was Steven Ira Berg – his earlier occupation was city planning, though later he changed his job to work at his wife's company as a real estate agent.
Rebecca has a sister named Emily; she once shared their child photo and called Emily her 'partner in crime since '92', expressing appreciation and love to her sibling. Rebecca often shared photos of her family members, and doesn't keep her private life low-key, however, she still has some secrets she hides for sure from the large audience. Rebecca also admitted she inherited her passion for hiking from her father, as he liked to take his daughters with him to hike, with big backpacks. Steven Berg died a couple of years ago, not even seeing his older daughter getting married. Rebecca now has a step-father, Manuel B. Gomez, as her mother married for the second time on 11 March 2017, and Rebecca posted several photos from the ceremony on her Instagram account, congratulating the newlyweds: 'My mom found love again and I gained a new family. Limitless joy', she wrote under the photo.
Educational background
Rebecca matriculated her local high school in 2008, then entered the University of Missouri to study political science, as she was strongly impressed by such events in the modern history of the US as the terrorists' attack on 11 September 2001, and the presidential election in 2008. In 2012 Rebecca graduated from her university with a BA in political science.
Career
Right afterwards Rebecca accepted the offer from The New York Times and The New Yorker, getting the position of a political reporting fellow; she later admitted that she couldn't even dream about a better start of her career. The same year she also started working as a journalist and writer for BuzzFeed, one of the biggest American online media sources, entertainment and news company.
From 2013 to 2015 she wrote for the Washington Examiner as a political correspondent, joining the team of 40 new hires, such as David Drucker, Susan Crabtree, Justin Green and many other talented writers, reporters, designers and correspondents.In 2015 Rebecca quit the Washington Examiner to work for RealClearPolitics, the polling data and political news aggregator founded in 2000 and based in Chicago. Rebecca held the position of a national political reporter, and was honored to cover the US presidential election of 2016. That year she was hired as a political analyst for CNN, though she also made appearances on other channels such as C-SPAN, MSNBC, Fox News and CBS with her political reviews. In November 2017 she got the position of a political reporter for CNN, which made her very happy, and shared her brightest mood with a photo with a very emotional caption on her Instagram account. She is currently assigned to cover Cory Booker's 2020 presidential campaign.
Personal life, husband Brendan Buck
Rebecca met her future husband in 2013, dated from then on, shared a large number of mutual photos on their Instagram accounts, and married on 17 November 2018. The couple shared many photos from their wedding ceremony; Rebecca was wearing an unusual silver dress decorated with elegant fabric flowers. It is known that Brendan Buck was married once before Rebecca, though he officially divorced right before his second wedding ceremony. Rebecca changed her surname from Berg to Buck and even corrected her login on her social media accounts, announcing the changes in one of her tweets. They enjoy travelling together as they share this passion, and have visited many countries, such as Greece, Turkey, France, Great Britain among others. They also share their love for hiking, as they once hiked barefoot to the top of a hidden Cycladic cove on the Mílos island of Kikladhes, Greece.
Who is Brendan Buck?
Former top advisor to Paul Ryan, Brendan Buck continues conquering new peaks as a communications counselor, and a partner of "Blue Engine + JDA Message & Media". Born on 15 March 1982, Brendan has a BA in Business Administration, and worked in such positions as National Republican Congressional Committee Spokesman (2006-2010), Press Secretary and Director of Communications to Mitt Romney during his presidential campaign of 2012, Vice-President for Communications (2010-2015) at the US House of Representatives, and the Counselor to House Speaker Paul Ryan (2015-2019).
From February 2019, Brendan holds the position of a partner of Seven Letters company, which provides strategic communications and solutions.
Hobbies and interesting facts
Rebecca's biggest hobby is hiking, along with travelling. Her favorite food is sushi, and she much enjoys seafood in general. She tries to stick to a healthy diet, and often buys local products at the farmers' market. She enjoys attending baseball matches with her husband, as well as polo championships and events, such as the Veuve Clicquot Polo Classic. It is worth saying that Rebecca interviewed Donald Trump in 2015, and was helped to find the photo from this interview; when she posted it on her Instagram account, she instantly gained dozens of comments with words of hatred against the current US President.
Lol yes but I only have this one ??‍♀️ pic.twitter.com/SdScOJDjsS

— Rebecca Buck (@RebeccaBuck) August 10, 2019
Social media presence
Rebecca is very active on various social media platform, as she is a journalist, and any media platform is a source of valuable information for her. Thus, her Instagram account has over 11,000 subscribers, and she's posted her photos there quite often since 2011. Rebecca's photos can also be often seen on her husband's Instagram account, which has only 1,000 subscribers. Rebecca's Twitter is read by almost 70,000 people, and she also has a Facebook page which is 'liked' and followed by almost 7,000 fans.
Appearance, clothing style
Rebecca has very long light brown hair which she likes to loosely curl and dye blonde; she has blue eyes. Rebecca is 5ft 7ins (1.70m) tall and weighs around 138lbs (63kgs); her vital statistics are not available at the moment. As to her clothing style, Rebecca chooses smart and elegant looks, often wearing formal dresses, suits and blazers. She also likes wearing high heels.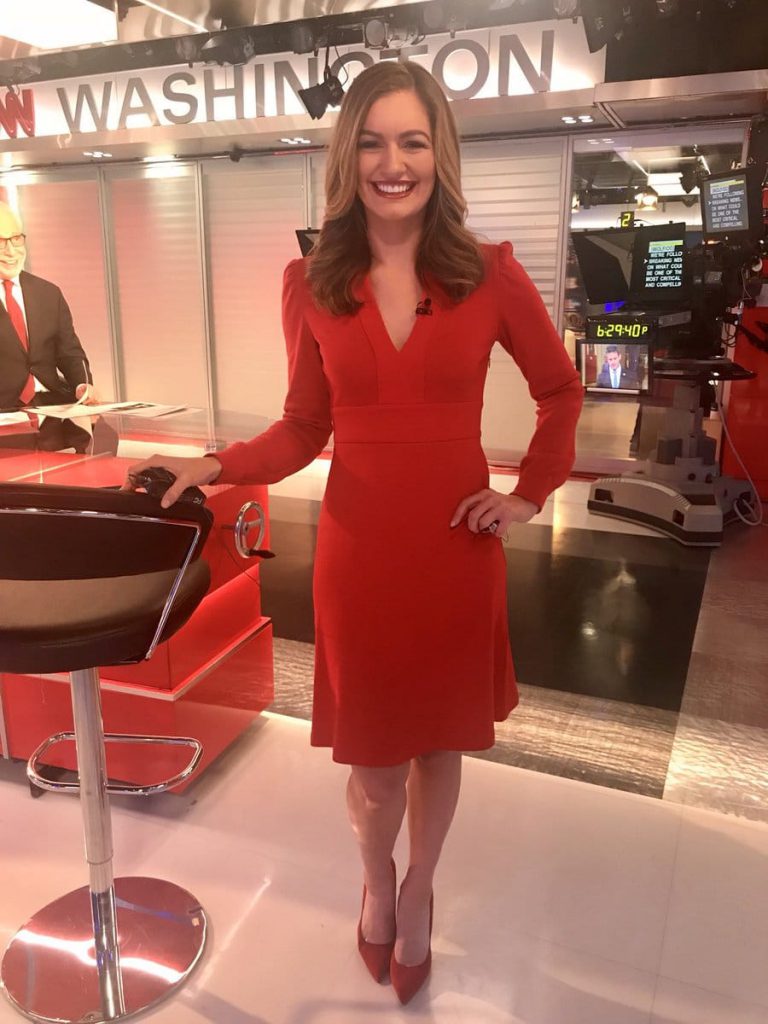 Net worth and salary
According to authoritative sources, Rebecca's current net worth is estimated to be around $700,000, and her annual salary during her latest appointment is close to $200,000. A political correspondent enjoys a very high salary, especially in such a respected company as CNN, so Rebecca's net worth is only going to grow in future, as she is already signed to several new projects, and the presidential campaign of Cory Booker for 2020 is only one of them.
Source:
IMDb
,
Wikipedia