Who is Richard Ayoade?
Richard is a British comedian, actor, writer and director, probably best known for his role as Maurice Moss in the TV series "The IT Crowd". Ayoade has also gained recognition as a director, with films such as "Submarine" and "The Double".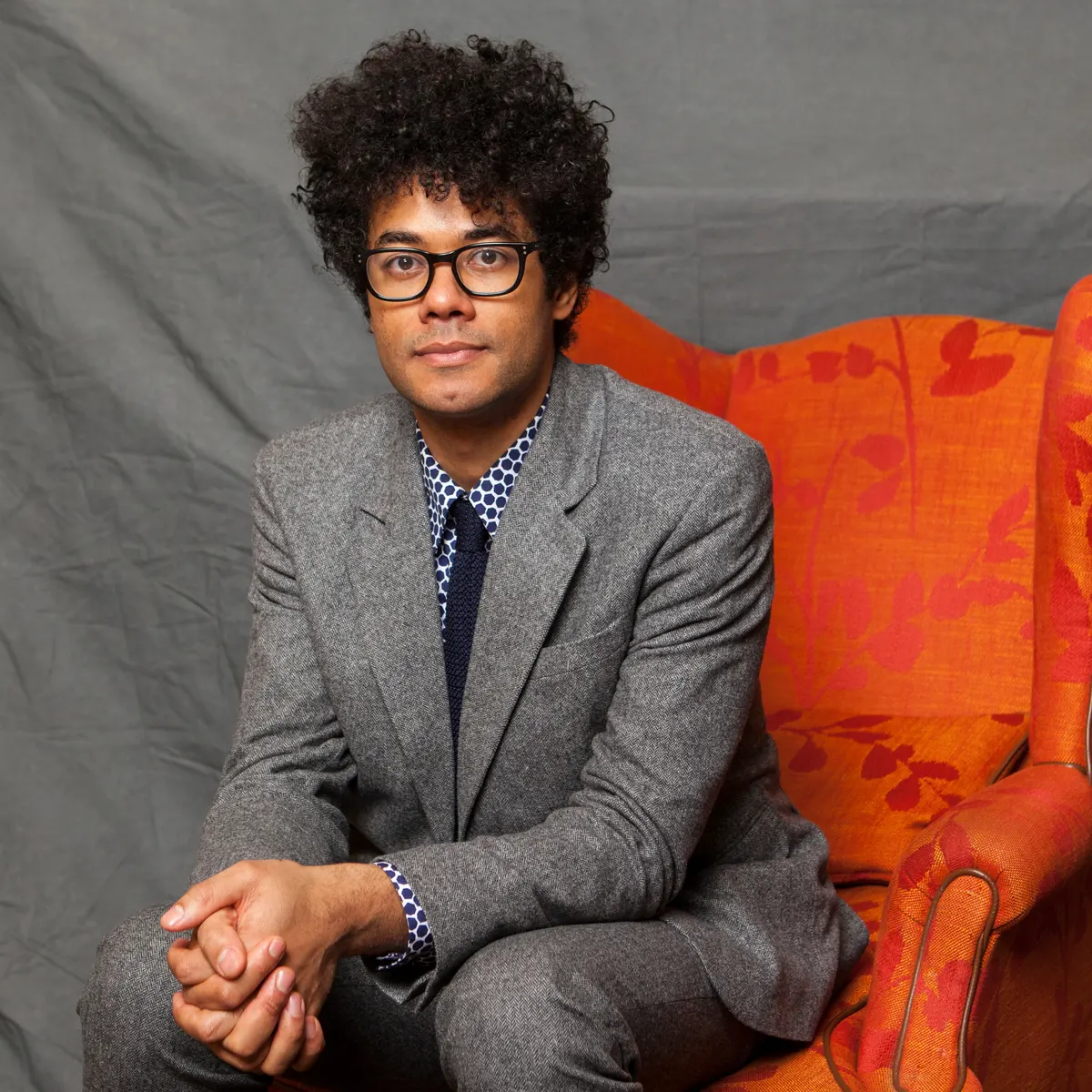 Wiki: Age, Childhood, and Education
Richard Ellef Ayoade was born on 23 May 1977, in Hammersmith, London England, the son of a Norwegian mother and a Nigerian father; the family later moved to Ipswich during his youth. At 15, he developed a passion for cinema beyond blockbusters such as "Back to the Future" and "Star Wars", and delving into works by directors Woody Allen, Federico Fellini and Ingmar Bergman. Ayoade studied at St Joseph's College in Ipswich, where he was engrossed in J.D. Salinger's "The Catcher in the Rye", and even adopted the clothing style of the book's protagonist, Holden Caulfield.
From 1995 to 1998, Ayoade pursued law at St Catharine's College, Cambridge; during this time, he also served as president of the amateur theatrical club Footlights, collaborating with John Oliver on various productions, and excelled, winning the Martin Steele Prize for play production. Ayoade's parents were hesitant about his choice of studies, deeming non-vocational degrees extravagant. Despite completing his law degree, he realized it wasn't his desired path, and would need to start anew.
Career Beginnings
After his involvement with Footlights, Richard Ayoade's career took off. Teaming up with Matthew Holness, another Footlights member, he co-wrote the stage show "Garth Marenghi's Fright Knight"; the show introduced characters such as Garth Marenghi and Dean Learner, which earned them a Perrier Award nomination at the 2000 Edinburgh Fringe. This led to "Garth Marenghi's Netherhead" in 2001, winning Ayoade the Perrier Comedy Award.
In 2004, Ayoade and Holness brought their Marenghi characters to Channel 4, crafting the satirical horror-comedy series "Garth Marenghi's Darkplace". Ayoade not only wrote and directed the series, but also portrayed Thornton Reed, a hospital administrator. Collaborating with Matt Berry, he co-directed, co-wrote, and co-starred in "AD/BC: A Rock Opera", a humorous parody of Christ-centered rock operas, which aired on BBC Three in December 2004.
Continuing his successful career, Richard Ayoade appeared in "The Life and Death of Peter Sellers" (2004) as a Wedding Photographer, alongside main star Geoffrey Rush. The film follows the tumultuous life of the iconic British comic actor Peter Sellers.
In January, @GoldTVChannel will show Garth Marenghi's Darkplace, Nathan Barley, Jam, & The Armando Iannucci Shows. pic.twitter.com/TCXfWGWzhu

— British Comedy Guide (@BritishComedy) November 18, 2015
During his time on "The Mighty Boosh" (2004–2007), Ayoade portrayed Saboo in five episodes. The show's main stars included Julian Barratt and Noel Fielding, who play eccentric characters in a series of surreal and comedic adventures.
In "Nathan Barley" (2005), Ayoade's character Ned Smanks interacted with main stars Julian Barratt and Charlie Brooker; the series satirizes hipster culture and the media industry in a humorous and exaggerated manner. Ayoade then took on the role of Dean Learner in "Man to Man with Dean Learner" (2006), a series he co-created, wrote, directed and produced, spanning six episodes.
Rise to Stardom
Richard Ayoade gained widespread recognition and stardom for his role as Maurice Moss in the popular British comedy "The IT Crowd", which aired from 2006 to 2010, and then in 2013. Ayoade portrayed the quirky and socially awkward IT technician with precision. His co-stars in the show included Chris O'Dowd, who played Roy, and Katherine Parkinson, who portrayed Jen. "The IT Crowd" revolves around the hilarious misadventures of the IT department at the fictional Reynholm Industries. Moss, Roy, and Jen navigate absurd workplace situations, and interact with their eccentric boss.
The series achieved remarkable success, captivating audiences with its witty humor and relatable workplace scenarios. Ayoade's portrayal of Moss earned him the prestigious British Academy Television Award for Best Male Comedy Performance in 2014, cementing his status as a comedic talent in the entertainment industry.
In 2010, Richard Ayoade demonstrated his talents as a director and writer with the film "Submarine". The movie marked his directing debut, and received acclaim for its unique storytelling style, garnering recognition for Ayoade's skills, earning him the British Independent Film Award for Best Screenplay, the Palm Springs International Film Festival Directors to Watch Award and the Giffoni Film Festival Award for Best Film. The film was also nominated for several prestigious awards, including a BAFTA for Outstanding Debut by a British Writer, Director or Producer, as well as nominations from the London Film Critics Circle Award, Evening Standard British Film Award, and Writers' Guild of Great Britain Award.
In 2012, Richard Ayoade appeared in the film "The Watch", portraying the character Jamarcus. The movie follows a group of suburban men who form a neighborhood watch to uncover an alien invasion.
In 2013, Ayoade continued his journey as a director and writer with the film "The Double", which showcased his distinct visual style and storytelling prowess. It received critical recognition, and was nominated for awards including the London Film Festival Award for Best Film, the Black Reel Award for Best Foreign Film, the Tallinn Black Nights Film Festival Grand Prize, and the Tokyo International Film Festival Grand Prix.
Voice Actor and TV Host
Richard Ayoade has made a significant impact as a voice actor and television host.
In the animated series "Strange Hill High" (2013–2014), he voiced the character Templeton across 26 episodes.
As the host of "Gadget Man" (2013–2015), Ayoade explored innovative gadgets in 19 episodes, sharing insights and reviews.
"Travel Man" (2015–2019) displayed Ayoade as the host, embarking on short city breaks and offering his distinctive take on travel in 39 episodes.
He lent his voice to the character Herbert Sims in "Neo Yokio" (2017–2018), appearing in four episodes of the animated series.
Guiding contestants through challenges on "The Crystal Maze" (2017–2020), Ayoade hosted 45 episodes of the game show.
His appearances as a guest host on "Have I Got News for You" (2017–present) added a humorous touch to the panel in nine episodes.
In "Apple & Onion" (2018–2021), he lent his voice to multiple characters, including Onion, Soda Can, and Eclair, contributing his talent to 76 episodes of the series.
In "Moominvalley" (2019), Ayoade provided the voice of The Ghost, leaving his mark on two episodes of the show.
In "The Mandalorian" (2019–2020), he portrayed Q9-0, adding his voice to two episodes of the popular series set in the Star Wars universe. He also hosted his own show, "Question Team" (2021–2022), in which he guided contestants through trivia challenges in 16 episodes.
In "Disenchantment" (2021–2022), Ayoade lent his voice to characters Gordy and Alva Gunderson, adding his unique flair to five episodes.
He voiced B.R.I.A.N. in the series "Code 404" (2021) across 3 episodes.
Ayoade joined the cast of the revived "Rugrats" (2022–present), voicing Duffy in six episodes of the animated classic.
In "Kung Fu Panda: The Dragon Knight" (2023), he gave life to the character Kyle, contributing his voice to two episodes of the animated adventure.
He is set to feature in the video game "Fable 4".
Net Worth
According to authoritative sources, Richard Ayoade's net worth is estimated at over $2 million, as of mid-2023.
Personal Life, Married, Wife, Children
Richard Ayoade has been married to Lydia Fox since 2007. The couple has three children and resides in East Dulwich.
In 2020, Richard Ayoade and his brother-in-law, actor Laurence Fox, became embroiled in a public feud, which arose when Fox asked Ayoade to publicly support him on Twitter after a controversial appearance on Question Time. During the episode, Fox made remarks that were criticized, including dismissing discussions about racism as "boring". Ayoade reportedly told Fox that he'd never experienced racism, prompting Fox to mention instances from his work in Kenya, and his belief that racism can be subtle. This disagreement led to a clash between the two.
Appearance and Body Measurements
Richard Ayoade is known for his black curly hair, and he has brown eyes. He stands at a height of 6ft 2ins (1.88m), while he weighs approximately 175lbs (79kgs).