Who is Sarah Rafferty?
Sarah is an American actress, probably still best known for her role as Donna Paulsen in the popular TV series "Suits", in addition to several other roles she has had in her career.
Sarah Rafferty Wiki: Age, Childhood, and Education
Sarah Gray Rafferty was born on 6 December 1972 ,in New Canaan, Connecticut, USA. Growing up in the Riverside neighborhood of Greenwich, she was the youngest of four sisters. Her parents, Mary Lee Rafferty and Michael Griffin Rafferty Jr. played significant roles in her life. Her mother, the Chairwoman of the English Department at Convent of the Sacred Heart school, and her father, who excelled in both finance and oil painting, nurtured her passion for the arts.
Sarah attended Phillips Academy in Andover, Massachusetts, and matriculated in 1989. Later, she pursued a major in English and Theatre at Hamilton College, where she studied theatre abroad in the UK and at the University of Oxford during her junior year. Graduating with magna cum laude honors in 1993, she further honed her acting skills at the prestigious Yale School of Drama, receiving a Master of Fine Arts degree.
Career Beginnings
Sarah Rafferty began her acting journey In the late '90s, starting with minor roles. In 1998, she appeared in the television film "Trinity", and the following year, she played Jennifer Shaliga in an episode entitled "Ambitious" in the popular TV series "Law & Order".
Throughout the early 2000s, Sarah Rafferty's acting career flourished as she took on a variety of guest roles in several popular television shows. In 2001, she showcased her talent as Laura Pope in "Walker, Texas Ranger", then in 2003, Rafferty's talent continued to shine as she took on the role of Dr. Patty Morrison in the thrilling series "Without a Trace". In the critically acclaimed "Six Feet Under", Sarah portrayed Rachel Mortimer, delivering a memorable performance that left a lasting impact on audiences. Additionally, she played Judy Wilson on "The Practice".
Notably, she had a recurring role as Dr. Casey Matthews in several episodes of "Tremors", in which she left fans mesmerized by her looks and talent. Furthermore, Sarah took on the character of Lila in "Good Morning, Miami", proving her ability to bring both charm and depth to her performances.
• Terry Minden:
↳ CSI: Crime Scene Investigation (2004 – 4×11 "Eleven Angry Jurors") pic.twitter.com/LFgwks3vBS

— Beatriz (@raffertymacht) November 24, 2019
The year 2004 saw Sarah Rafferty continue her impressive streak with more captivating guest roles. She portrayed Terry Minden in "CSI: Crime Scene Investigation", adding her talents to the show's suspenseful storyline. In the witching world of "Charmed", Sarah played the role of Carol, displaying her skills as she furthered the supernatural elements of the show, co-starring alongside Alyssa Milano and other stars of the critically acclaimed fantasy series. Additionally, she portrayed Daphne Fitzgerald in "Second Time Around". Her appearance as Danielle in the episode "A Very C.J. Christmas" in "8 Simple Rules" is not to be overlooked.
In 2007, Sarah Rafferty continued to make her mark in the television industry with roles in two captivating television films. In "Football Wives", she took on the role of Kelly Cooper alongside main stars Kiele Sanchez, Lucy Lawless, Holly Robinson Peete, Gabrielle Union, and Eddie Cibrian. Based on the British series "Footballers' Wives", the drama, delves into the glamorous and often scandalous lives of the wives of professional football players as they navigate fame, wealth, and temptation.
In another television film entitled "What If God Were the Sun?", Sarah portrayed Rachel, starring alongside main stars Lacey Chabert and Gena Rowlands. The heartfelt drama follows Jamie Spagnoletti, played by Lacey Chabert, as she struggles to cope with the death of her father.
Rise to Stardom
Before landing her iconic role as Donna Paulsen in "Suits", Sarah Rafferty continued to impress with guest roles in various TV projects, working alongside talented casts of co-stars.
In 2008, she appeared in the popular comedy series "Samantha Who?" as Kayla Kaminski in the episode entitled "So I Think I Can Dance", sharing the screen with Christina Applegate and Jennifer Esposito, among others, in the hit show.
In 2009, Sarah had a notable double role in "Law & Order: Criminal Intent" as Sandra Dunbar/Sandra O'Bannon in the episode "Passion", acting alongside Vincent D'Onofrio and Kathryn Erbe. She also portrayed Margo in the episode of "Numb3rs" entitled "7 Men Out", sharing scenes with David Krumholtz and Rob Morrow, among others.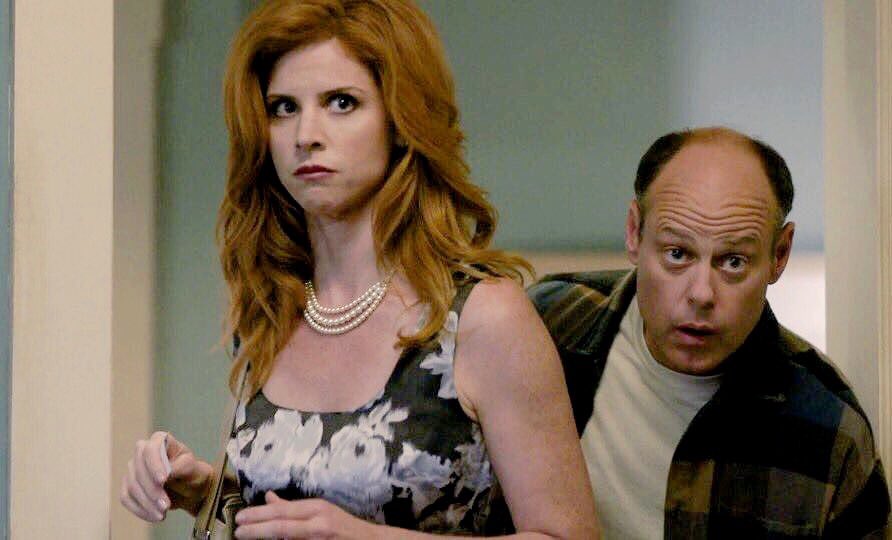 Continuing her guest appearances, in 2009, she played Katie Selnick in the crime procedural series "Bones" in the episode "The Foot in the Foreclosure", acting alongside Emily Deschanel and David Boreanaz, adding depth to her acting resume.
In 2010, Sarah landed the role of Gloria Pierson-Davenport in "Brothers & Sisters" in the episode "A Righteous Kiss", sharing the screen with an ensemble that included Sally Field, Calista Flockhart and Dave Annable, among others.
Success as Donna Paulsen
From 2011 to 2019, Sarah Rafferty skyrocketed to stardom with her portrayal of the witty and sharp-witted Donna Paulsen in the legal drama series "Suits". In the series, Sarah played the essential role of Donna Paulsen, the fiercely loyal and highly skilled legal secretary at Pearson Hardman, later Pearson Specter Litt. Donna was known for her impeccable organizational abilities, quick wit, and an uncanny ability to read people. As the indispensable assistant to Harvey Specter, portrayed by Gabriel Macht, Donna was an integral part of the legal team, helping Harvey navigate the troubles of high-stakes corporate law.
One of the defining aspects of "Suits" was the dynamic and engaging chemistry between the characters, and Sarah Rafferty's on-screen rapport with Gabriel Macht's Harvey Specter was a standout element of the show. Their unbreakable bond and undeniable chemistry created some of the series' most memorable moments. The success of the "Darvey" (Donna and Harvey) pairing played a significant role in the show's popularity and longevity as well.
Sarah's portrayal of Donna earned her widespread acclaim and recognition in the industry. She earned praise for her sharp comedic timing, emotional depth, and the way she embodied her character. Alongside the show's main stars, Gabriel Macht and Patrick J. Adams, as well as co-stars such as Meghan Markle, Rick Hoffman and Gina Torres, Sarah's contribution to "Suits" helped create the long legacy of the show, and proved to be a pivotal point in Sarah Rafferty's career, catapulting her to international fame and earning her a devoted fan base.
Continued Success
After the conclusion of "Suits", Sarah continued to build on her successful acting career with notable roles in other popular television series.
In 2020, she joined the cast of the long-running medical drama "Grey's Anatomy" in the recurring role as Suzanne. The series, created by Shonda Rhimes, revolves around the personal and professional lives of doctors and interns at Grey Sloan Memorial Hospital. As Suzanne, Sarah portrayed a character whose presence had an impact on the lives of the hospital staff, exploring intriguing storylines that kept fans engaged.
Following her stint on "Grey's Anatomy", Sarah Rafferty landed another recurring role in 2021, this time in the medical drama "Chicago Med", portraying Dr. Pamela Blake, a skilled and determined physician. "Chicago Med" is part of the successful "Chicago" franchise, created by Dick Wolf, and follows the lives of doctors and nurses at Gaffney Chicago Medical Center. As Dr. Pamela Blake, Sarah shared the screen with stars such as Nick Gehlfuss, Torrey DeVitto and Yaya DaCosta, among others.
Sarah is currently working on the upcoming TV series "My Life with the Walter Boys", created by Melanie Halsall. The show revolves around Jackie Howard, who moves to a ranch in Colorado with her guardian and a family of 12 boys after a freak accident. Sarah stars as Dr. Katherine Walter alongside Nikki Rodriguez and Marc Blucas.
Net Worth
According to authoritative sources, Sarah Rafferty's net worth is estimated at $5 million as of mid-2023.
Personal Life, Married, Husband, Children
Sarah Rafferty has been married to Aleksanteri Olli-Pekka Seppälä since 23 June 2001. The wedding ceremony was held at the Roman Catholic church of St. Mary in Greenwich, Connecticut. Her husband is of Finnish ancestry, but lives and works in the USA and is an equity research analyst in the asset management of Lazard Frères & Company. The couple has two daughters, Oona Gray, and Iris Friday.
Sarah has remained on good terms with her "Suits" co-stars, including Meghan Markle and was in attendance at the royal wedding.
Appearance and Body Measurements
Sarah Rafferty has brown eyes and red hair. She stands at a height of 5ft 9ins (1.75m), weighs approximately 125lbs (56kgs), with vital statistics of 35-25-35, bra size 40C.