• Sean Dwyer is a 27-year-old commercial fisherman, engineer and reality TV personality.
• He is the youngest captain ever to join the famous crews of Discovery's "Deadliest Catch".
• He began to take charge of the family business when his father was diagnosed with ALS.
• He is married to Brianna Brending and the couple have no children.
• He has a net worth of approximately $900,000 and is active on various social media platforms.

Known for movies

Who is Sean Dwyer?
Born under the sign of Pisces on the 8th of March 1992 in Kenmore, Washington State USA, Sean Dwyer is a 27-year-old commercial fisherman, engineer and reality TV personality. He is perhaps best known to the world for his significant presence on the television screen for being the youngest captain ever to join the famous crews of Discovery's "Deadliest Catch". He has also had a number of other successes over the course of his sometimes lucrative commercial fishing career since 2012, and potentially earlier, since he spent a good part of his childhood engaged in the craft.
Early Life and Education: Growing up in Washington
Sean was raised in his birthplace by his father Patrick 'Pat' Ford Dwyer, a commercial fisherman, and his mother Jenny Gore Dwyer of an unknown profession. He has a sister named Brenna Adele of an unspecified age. When it comes to his earliest interests, there isn't much information across the authoritative sources that could clarify specifics about this part of his life, though he is believed to have harbored a passion for his father's profession. As for his education, he first attended Inglemoor High School in his birthplace, from where he matriculated in 2010. He then decided to further his studies by enrolling into South Seattle Community College, where he studied heavy equipment and diesel technology, and from where he graduated with a degree in diesel engine maintenance in 2014.
Career: Leading the Family
According to what is stated on his own crew's profile page, Sean began to take charge of the family business when his father was diagnosed with the neurodegenerative disease known as ALS. At this point, the family purchased a fishing vessel named "Shishaldin", which they later changed into "F/V Brenna A", which stands for "Fishing Vessel Brenna Adele", after Sean's sister. Along with their old vessel named "The Jennifer A", after Sean's mother, his father planned on seeing his ships fish crab together. Sean worked tirelessly to bring this dream to fruition, but his father unfortunately passed away on the 4th of June 2013, mere months before this was possible.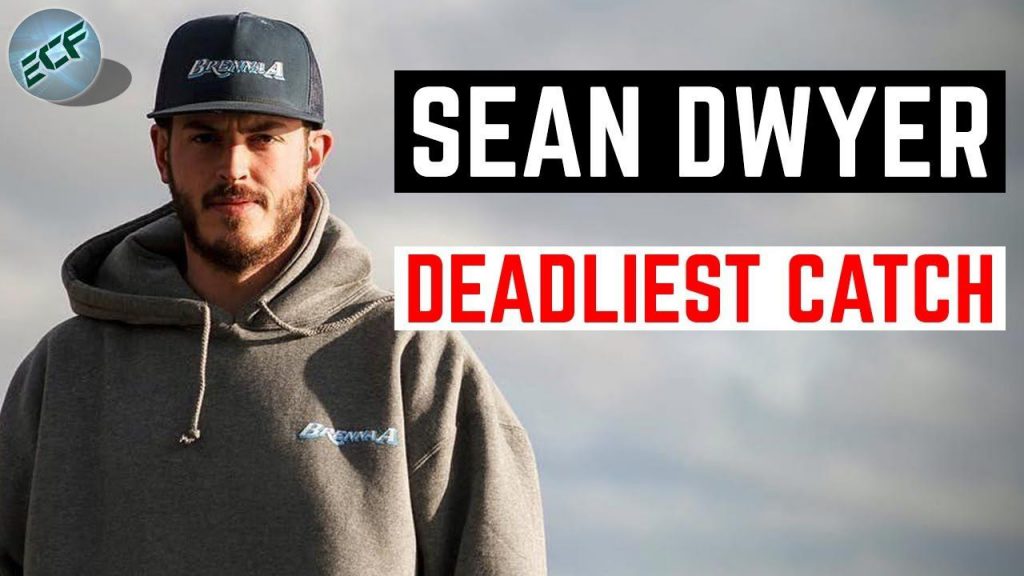 Joining "Deadliest Catch"
Three years after the loss of his father, at the age of 24, Sean joined Discovery's reality documentary TV show entitled "Deadliest Catch", along with his crew of mostly inexperienced misfit fishermen, whom he likes to call 'the lost boys'. He therein became the youngest captain ever to join the show, and has been steadily increasing his popularity and net worth ever since. This is the position he maintains nowadays, and thus his income source is split between selling caught crab by the tons, and his portion of the show's earnings per season. At the moment, he has been in "Deadliest Catch" for a total of three seasons, having joined in the 12th one.
Love Life: Does he have a Wife?
As for his romantic involvements prior to the current one, there is almost no information across all of the credible sources that could accurately describe this part of his life. Sean himself tends to keep news about his partners completely private, and has not yet come forward to address these fan inquiries. Still, it is known to regular viewers of "Deadliest Catch" that Sean is married to Brianna Brending – the two are thought to have dated for a few years before marrying in a private ceremony on the 15th of September 2018. They haven't any children, and there has been no controversy surrounding their union.
Tragedy Strikes
According to an article by The Sydney Morning Herald, a fishing vessel called "Destination" was lost under the waves along with its six crewmen on June 1st 2017. Sean Dwyer was one of the first celebrities to comment on the disaster, since he was a friend to most of the deceased men. Such occurrences, however, are not rare in Sean's line of work, and according to Discovery's own statistics regarding the death rates of Alaskan crab fishermen, one man loses his life almost every week performing this job. That said, the danger of this profession is most likely the main attraction of "Deadliest Catch", and the fact that Dwyer is the youngest captain among the bunch earns him an enviable amount of respect and recognition for his near-flawless effort on the open seas, since his crew is yet to sustain a single casualty or serious injury. Nevertheless, there is unfortunately no guarantee that this streak will remain unbroken, and that fact puts an immense amount of pressure on Sean daily.
What is "Deadliest Catch"?
Created by Thom Beers and debuting on the 12th of April 2005, "Deadliest Catch" is a reality TV series by Original Productions that airs on the Discovery Channel, featuring everyday tribulations of Alaskan king crab, bairdi crab and opilio crab fishermen in the Bering Sea. The main gathering spot for most of the crews is the Aleutian Islands port of Dutch Harbor, Alaska, where the majority of crab trade and vessel repairs and re-supplying takes place. Thus far, there have been a total of 15 seasons, with 242 regular episodes and 86 specials, the average running time of a casual episode ranging between 40 and 45 minutes. The show is still ongoing, and no end date has yet been set, as its constantly high ratings suggest that the audience is quite entertained by the unending dangers of fishing crab in the open sea.
What is Sean Dwyer's Net Worth?
Have you ever wondered how rich Sean Dwyer is, as of early 2019? According to various authoritative sources, it has been estimated that the total of Sean's accumulated wealth is close to $900,000. He made his fortune by captaining a king crab fishing crew for over four years at this point, most prominently as the youngest captain in Discovery's reality documentary TV show entitled "Deadliest Catch", which adds to his net worth. As his career continues to develop, the said amount is bound to increase.
Social Media Presence
Thanks to the ever expanding grasp that social media has on worldwide audiences, it is in the best interests of most celebrities to keep their fans informed about their activities and thus maintain and potentially increase their rating and profit. Sean himself is no stranger to this popular trend, as his dedication to posting updates on his public profiles and engaging with his fans is at an all-time high. His Facebook page has over 30,000 followers, his Twitter account almost 15,000, and his Instagram account over 20,000 fans.
Pictures
Movies
Assistant Director
| Title | Year | Status | Character |
| --- | --- | --- | --- |
| The Gracefield Incident | 2016 | first assistant director | |
| Quantico | 2015-2016 | TV Series first assistant director - 6 episodes | |
| Mohawk Girls | 2015 | TV Series first assistant director - 6 episodes | |
| Every Thing Will Be Fine | 2015 | first assistant director | |
| Ascension | 2014 | TV Mini-Series first assistant director - 1 episode | |
| Brick Mansions | 2014 | first assistant director | |
| Riddick | 2013 | first assistant director: second unit | |
| The Smurfs 2 | 2013 | first assistant director: second unit | |
| The Perfect Boss | 2013 | TV Movie first assistant director | |
| Erased | 2012 | first assistant director | |
| Upside Down | 2012/I | first assistant director: second unit | |
| The Wife He Met Online | 2012 | TV Movie first assistant director | |
| Blue Mountain State | 2011 | TV Series first assistant director - 7 episodes | |
| The Howling: Reborn | 2011 | Video first assistant director | |
| Secrets from Her Past | 2011 | TV Movie first assistant director | |
| The Perfect Roommate | 2011 | TV Movie first assistant director | |
| Whiteout | 2009 | first assistant director: second unit | |
| Journey to the Center of the Earth | 2008 | first assistant director | |
| The Terrorist Next Door | 2008 | TV Movie first assistant director | |
| The Covenant | 2006 | second unit director | |
| 10.5: Apocalypse | 2006 | TV Mini-Series first assistant director - 2 episodes | |
| Hunt for Justice | 2005 | TV Movie first assistant director | |
| 15/Love | 2004 | TV Series first assistant director / second unit director | |
| Decoys | 2004 | first assistant director | |
| One Way Out | 2002 | Video first assistant director | |
| Swindle | 2002 | first assistant director | |
| Federal Protection | 2002 | TV Movie first assistant director | |
| Galidor: Defenders of the Outer Dimension | 2002 | TV Series first assistant director | |
| Live Through This | 2000 | TV Series first assistant director | |
| Where the Money Is | 2000 | first assistant director: second unit | |
| The Legend of Sleepy Hollow | 1999 | TV Movie first assistant director | |
| Barney's Great Adventure | 1998 | first assistant director | |
| Owd Bob | 1998 | first assistant director | |
| The Mystery Files of Shelby Woo | 1998 | TV Series first assistant director - 10 episodes | |
| The Peacekeeper | 1997 | first assistant director | |
| Dead Innocent | 1997 | first assistant director | |
| Laserhawk | 1997 | first assistant director | |
| Rowing Through | 1996 | first assistant director | |
| Are You Afraid of the Dark? | | TV Series second assistant director - 8 episodes, 1992 - 1994 first assistant director - 1 episode, 1994 | |
| La Florida | 1993 | second assistant director | |
| I Won't Dance | 1992 | assistant director | |
| If Looks Could Kill | 1991 | second assistant director | |
| Day One | 1989 | TV Movie second assistant director | |
| Midnight Magic | 1988 | TV Movie second assistant director | |
| Shades of Love: The Emerald Tear | 1988 | TV Movie second assistant director | |
| Shades of Love: The Man Who Guards the Greenhouse | 1988 | TV Movie second assistant director | |
| State Park | 1988 | third assistant director | |
| April Morning | 1988 | TV Movie assistant director | |
| Shades of Love: Moonlight Flight | 1988 | TV Movie second assistant director | |
| Ford: The Man and the Machine | 1987 | TV Movie third assistant director | |
Director
| Title | Year | Status | Character |
| --- | --- | --- | --- |
| La farfadette montréalaise vient du Brésil | 2009 | Short | |
| Lava Storm | 2008 | TV Movie | |
| 15/Love | 2005 | TV Series 1 episode | |
| Fries with That | 2004 | TV Series 1 episode | |
| Mental Block | 2003 | TV Series | |
| Galidor: Defenders of the Outer Dimension | 2002 | TV Series | |
Miscellaneous
| Title | Year | Status | Character |
| --- | --- | --- | --- |
| Lava Storm | 2008 | TV Movie script editor | |
| The Amityville Curse | 1990 | Video assistant to producer | |
| Breaking All the Rules | 1985 | production assistant | |
Writer
| Title | Year | Status | Character |
| --- | --- | --- | --- |
| La farfadette montréalaise vient du Brésil | 2009 | Short story / writer | |
Production Manager
| Title | Year | Status | Character |
| --- | --- | --- | --- |
| Remembering Mel | 1984 | assistant production manager | |
Source:
IMDb
,
Wikipedia