Being the child of a sports star inevitably attracts lots of attention, especially if your father was Black Mamba himself. As the third daughter of basketball legend Kobe Bryant, the young Bianka Bella Bryant has been at the center of attention since she was born in 2016.
Following the tragic death of Kobe, his daughter Gigi, and seven other people in a helicopter crash in 2020, many fans try to keep up to date with the rest of the Bryant family's whereabouts. Keep reading to learn more about Bianka, her hobbies, her parents, her sisters, and a lot more!
Happy birthday Bianka Bella Bryant your already 4! I hope you had an amazing birthday🎉 pic.twitter.com/vlzkbABjTw

— Savannah (@Savanna09524428) December 6, 2020
Bianka Bella's Life
Bianka Bella Bryant was born on 5 December 2016, in California USA. She's the third daughter of Kobe and Vanessa Bryant, who had been married from 2001 to 2020 when sadly he was killed.
Bianka is the younger sister of Natalia born in 2003, and of Gianna born in 2006. Bianka is also the older sister of Capri, who was born in April 2019.
Being born into such a high-profile family, Bianka inevitably became the focus of attention even before her birth. Her parents first announced they were expecting in July 2016, stating they were 'blessed and excited' to have a third baby girl on the way, though they refrained from revealing what her name would be.
Just a couple of days later, the Bryant family attended that year's Kids Choice Awards, during which Vanessa showed the world her baby bump while wearing a gorgeous red dress. Curiously enough, Bianka was born in the same year that her father Kobe played his last game in the National Basketball Association (NBA), an event which also marked his 20th anniversary in the professional league.
Bianka's Hobbies
Given how young Bianka Bella Bryant is, it's still early to assume what she'll do in the future career-wise. However, the six-year-old girl has become viral on the internet more than once, thanks to her sisters and mother, who often share tidbits about her childlike adventures.
Back in mid-2020, a video of Bianka driving her pink Land Rover toy car conquered the internet, leaving everyone in awe as she acquiesced to her mother's request to drive the car by answering 'Okay, I guess'. As well, Vanessa Bryant has shared some precious moments of Bianka playing basketball at home, seemingly following her father's steps.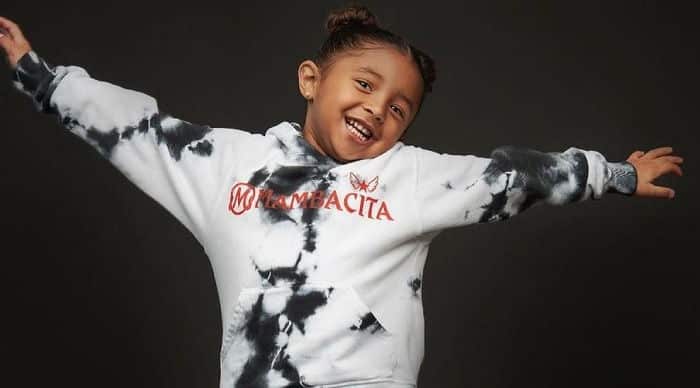 Bianka also seems to enjoy dancing, especially if it's alongside her sister Natalia. More than once, Bianka has interrupted her older sister's dancing routines for TikTok by taking the spotlight, drawing smiles on both the audience's and her family's faces.
Bianka and her sisters have also got to hang out with top-tier celebrities, posing alongside the likes of Beyonce and Taylor Swift, always seemingly having a happy time.
How Did Her Parents Meet?
The story of Vanessa and Kobe Bryant is one of those rarely seen, especially when it comes to high-profile celebrities. When meeting each other in the late 1990s, Vanessa was a 17-year-old student at Marina High School in California, while Kobe was 21 years old and had already been playing in the NBA for a couple of seasons with the Lakers at the time.
The first time Kobe and Vanessa stumbled upon each other was in November 1999, when she had been hired to appear in the video of his song "K.O.B.E". While Kobe's music career didn't go far, the encounter between the pair resulted in their engagement less than half a year after meeting. At that point, Vanessa's career was in its early stages, as she'd appeared in just a couple of hip-hop music videos as a back-up dancer and model, always under the supervision of her mother.
As the media extensively reported, the relationship took the attention of everyone around Vanessa's circle, including her school.
Her relationship with Kobe had Vanessa adjusting her lifestyle for privacy reasons, not attending her high school ceremony, and studying her senior year independently because of it. She matriculated in 2000, and tied the knot with Kobe in April of the next year.
Kobe and Vanessa Bryant on the Oscars red carpet. 'Dear Basketball' is nominated tonight for Best Animated Short Film. 🐍

Posted by NBA Buzz on Sunday, March 4, 2018
Almost Divorce
After marrying, Vanessa and Kobe Bryant became one of the most prolific couples in the entertainment world, but their marriage didn't come scandal-free. Throughout the years the couple faced several controversies related to issues within their marriage, Kobe's career, and lawsuits against them.
One of the lowest points in the couple's relationship was in 2011, when Vanessa filed for divorce from Kobe due to 'irreconcilable differences'. Both parties announced that they had solved any issues related to their marriage, and were agreeing to joint custody of Natalia and Gianna, who were both younger than 10 years old at the time.
As reported at the time, Kobe and Vanessa hadn't signed a prenuptial agreement, thus leaving the financial details to be settled during their divorce process. However, during the year which passed in negotiations, the couple reconciled. The announcement of their canceled divorce came in April 2016, just a couple of months before they told the world that their third daughter Bianka was on the way.
Appearance & Net Worth
It's unclear how tall Bianka Bella Bryant is these days, but according to reports, girls her age are around 3ft 4ins (1.05m) in height; her weight is unknown.
Given her young age, Bianka Bella Bryant hasn't accumulated a fortune of her own, but her father Kobe Bryant had an estimated net worth of $600 million at the time of his death, earned thanks to his impressive career as a professional basketball player, and the sponsorships obtained through it with international brands such as Mercedes-Benz and McDonald's.
Details about the finances of the Bryant family are unclear following the unfortunate passing of Kobe and his daughter Gianna. However, it's safe to assume that their fortune is in good hands, as the Bryants have built an impressive legacy for their philanthropic missions, helping young people in need through the Mamba and Mambacita Sports Foundation.
The organization was founded in 2007 as the Kobe and Vanessa Bryant Foundation, but she renamed it in honor of her late husband and daughter's memory.