Who is Gabriella Pizzolo?
American actress and singer Gabriella Grace Pizzolo was born in Schenectady, New York State USA, on 10 March 2003, making Pisces her zodiac sign. So far she has seven acting credits, and is perhaps known best for playing Young Laurel in the 2016 episode "What Happens When Democracies Fail: A Brief Synopsis – The End of All We Hold Dear:" of the popular horror comedy series "BrainDead", which starred Danny Pino and Mary Elizabeth Winstead, and was created by Robert King and Michelle King; it follows a government employee who's discovered that alien insects have begun eating the brains of politicians. This was also Gabriella's debut TV series role.
She's currently shooting for the upcoming podcast series "Nightingale".
Education and early life
Gabriella was raised in Schenectady alongside her younger sister Gillian, by their mother Natalie who's a high school teacher, and who homeschooled her daughters, and father whose name hasn't been revealed, but who's believed to be a businessman.
Gabriella grew up being passionate about acting, and appeared in a number of local productions when she was around ten, including "Miracle on 34th Street", "Ragtime" and "Les Miserables". She went on to attend an audition for the lead role in a Broadway production of "Matilda the Musical", didn't win it, but did win the role after she auditioned again, making her Broadway debut on 22 December 2013. Her final performance in "Matilda the Musical" was on 13 September 2014.
She took and passed her GED tests aged 16, and then continued acting rather than enrolling at college.
Roles in movies
Gabriella's debut film role was voicing a supporting character in the 2016 short musical "Broadway Kids Against Bullying: I Have a Voice", which starred Eliza Holland Madore and Nicky Torchia, and was written and directed by Jason Milstein; it follows more than 75 Broadway children as they're singing a song against bullying.
Gabriella's only other film role has been portraying Young CC in the 2017 drama "Beaches", which starred Sanai Victoria, Nia Long and Idina Menzel, and was directed by Allison Anders. It follows the friendship between two women, and the film was nominated for three awards.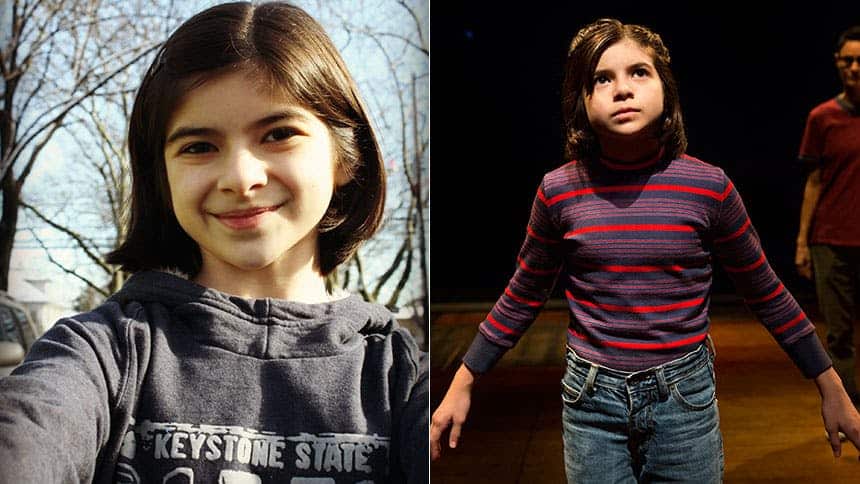 Roles in TV series
From 2018 through 2020, Gabriella's voiced Cricket in 18 episodes of the animated family fantasy "Butterbean's Café", which starred Koda Gursoy and Margaret Ying Drake, and was created by Robert Scull and Johnny Belt. The series follows a fairy as she's running a café together with her friends, and it was nominated for just a single award.
From 2019 through 2022, Gabriella played Suzie Bingham in three episodes of the fantasy horror "Stranger Things", which has been airing since 2016 and stars Finn Wolfhard, Winona Ryder and Millie Bobby Brown. It follows a strange young girl with supernatural powers, who seems to be the only one capable of protecting her friends against supernatural entities; the series has won 107 of its 411 award nominations, while the website IMDb has ranked "Stranger Things" #101 best TV series of all time.
Gabriella's only other role has been portraying Angela Waters in eight episodes of the romantic mystery "Pretty Little Liars: Original Sin", which stars Jordan Gonzalez and Bailee Madison, and was created by Lindsay Calhoon Bring and Robert Aguirre-Sacasa. It follows a group of girls as they're being tormented by an unknown assailant, the series has been airing since 2022, and won a 2023 ReFrame Stamp for TV.
Other credits
Gabriella sang the song "The Never Ending Story" in the 2019 episode "Chapter Eight: The Battle of Starcourt" of the series "Stranger Things".
She made a guest appearance in a 2022 episode of the talk-show "Steve Varley Show".
Gabriella Pizzolo…❤️📸 #StrangerThings #Suzie pic.twitter.com/cSXTdZjFSB

— Stranger News (@StrangerNews11) June 22, 2020
Gabriella's an Instagram star as over 920,000 people are following her on the network today, and she's posted exactly 100 pictures and videos; most of these show her during her everyday life, whether she's taking her pet dog for a walk, attending various events or spending time with her friends.
She launched her Twitter account in June 2020 but it's followed by only about 150 people, as Gabriella's tweeted jus 18 times, most recently on 9 June 2020.
Although she has a Facebook profile, Gabriella seems to be using the network only to chat with her closest friends and family members.
She's a TikTok star, as more than four million people are following her on the network today; all of Gabriella's videos combined have amassed nearly 50 million likes – most feature her dancing, telling jokes and lip syncing.
Love life and boyfriend
Gabriella shies away from speaking about her love life in public, but she's stated on multiple occasions that she's non-binary and pansexual, and uses both 'she' and 'they' pronouns.
Some of Gabriella's fans believe that she's attracted to both boys and girls and is today in a relationship with a non-celebrity American girl; a fan has claimed to have seen Gabriella and her girlfriend spending time together in public, but hasn't uploaded evidence to support his claims, nor has Gabriella commented on the matter.
There are also those who believe that the popular actress is focused on her career and isn't pursuing love, but this hasn't been addressed by Gabriella either.
She seems to be unattached as of September 2023, hasn't married and doesn't have children.
Interesting facts and hobbies
Gabriella's a huge lover of animals – her favorites are giraffes and horses; she dreamed of becoming a veterinarian prior to falling in love with acting.
She's become passionate about acting, and her career's already taken her to a couple of US states and several European countries; Gabriella's dream travel destination is Kyoto, Japan.
She's a huge fan of animated movies, and some of her favorites include "Megamind", "The Little Mermaid" and "Howl's Moving Castle". Gabriella's favorite actress is Julia Roberts, and her favorite live-action movie is "Notting Hill".
She likes to play board games with her friends in her spare time – her favorite is "The Settlers of Catan".
Appearance and net worth
Gabriella's age is 20. She has brown hair and eyes, weighs around 110lbs (51kgs) and is 5ft 1in (1.55m) tall.
Gabriella's net worth's been estimated at over $200,000, as of September 2023.