Indiana Evans
The Australian actress Indiana Rose Evans was born on 27th July 1990 in Sydney, New South Wales, and is best-known for her portrayal of Matilda Hunter in "Home and Away". The blue-eyed blonde discovered her passion for performing at five years old, when she began putting on shows for family and friends. Two years later, her parents enrolled her in ballet lessons which would give way to jazz and tap training.
Prior to her "Home and Away" role, Indiana studied at Newton High School of the Performing Arts for just two weeks before dropping out to focus on the exciting career opportunities coming her way. She then studied a correspondence course for two years.
Career
Indiana's first credited role was guest-starring as Milly Roberts in an episode of the gripping Australian medical drama "All Saints". In the same year, she was cast as Abby Oakley in the children's series "Snobs", following two friends from different worlds who have more in common than they initially thought; she also landed a leading role in a Kool-Aid commercial campaign which aired in millions of American households.
Although "Snobs" only lasted one season, Indiana had nothing to worry about, as she was immediately cast as Matilda Hunter in the Australian soap opera "Home and Away", which is responsible for forging dozens of long-lasting acting careers thanks to its widespread reach since its premier in 1987. Speaking of her experience in later years, the actress said: "At first it was overwhelming, but at the same time [it] was quite laid back."
The character had two major storylines, the first being when she was kidnapped and locked into a ramshackle shed by Terry Rawlings (played by Laurence Coy). The incident occurred when a drowsy and drunk Matilda – who had been hit by a car during a prior night out and escaped hospital to go partying – got into Terry's vehicle without realizing.
In 2006, Matilda was seen binge eating and making herself vomit. Her bulimia battle was a long drawn-out one, and the writing department of "Home and Away" worked with eating disorder experts to write more accurately about the sensitive topic. In one harrowing episode, Matilda's mother called the Eating Disorders Foundation of Victoria's helpline, which subsequently received an influx of calls from younger viewers of the soap opera. This wasn't entirely positive – although some viewers genuinely needed help with their eating disorder, others were calling because they found the scenes triggering, and wanted to mimic Matilda's behavior.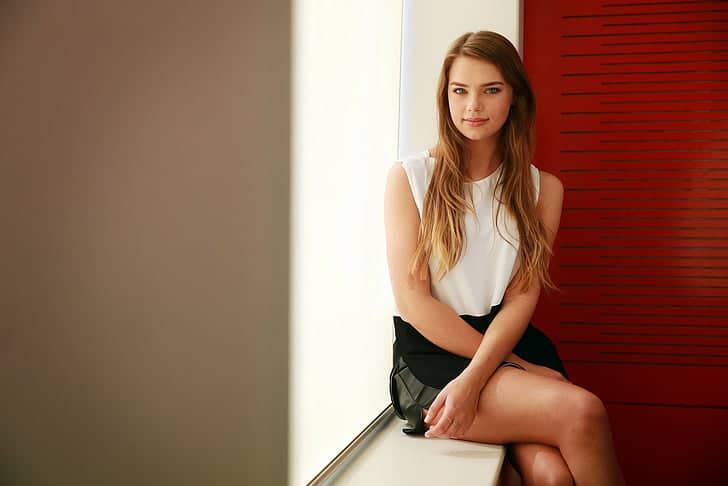 Over the years, Matilda became an integral part of the show, and viewers were heartbroken to see her leave Summer Bay, after being accepted into the University of Perth. Indiana was nominated for two big awards for her role: one in the 2007 Inside Soap "Best Young Actor" category, and another in "Best Couple" along with co-star Mark Furze. She also won the "Queen of Teen" accolade at the 2008 Dolly Teen Choice Awards, an important ceremony amongst adolescent demographics.
Despite Indiana achieving mainstream success with "Home and Away", being somewhat typecast, she found it hard to maintain the momentum in her career, and soon went back to guest-starring appearances, also trying her hand at independent short films and TV movies. Although the actress perhaps regretted leaving the series, despite producers offering her a contract extension, she soon joined the cast of the Network Ten Children show "H2O: Just Add Water", replacing Claire Holt as one of the leads.
For her role as Isabella Hartley in "H2O", Indiana performed a number of tracks including the show's theme song, "No Ordinary Girl". She also completed a solo soundtrack album of the same name as the show, which was released in March 2011. However, the series was cancelled after three seasons due to low ratings, and the main cast outgrowing their roles.
Indiana's career moved along at a steady pace, as she made her feature-film debut in "Arctic Blast", a 2010 Australian disaster film about a solar eclipse that could cause a possible new ice age in the world. The movie was shot in Tasmania with a $5 million budget, but still made a loss and received poor reviews from critics and dissatisfied audiences.
#30daysofIndianaEvans Day 20 – Favourite OTP #Crownies pic.twitter.com/bQnoUJAMPR

— Indiana Evans World (@indianaevansw) August 25, 2016
Next up was a regular role as Tatum Novak in "Crownies", a legal drama series which lasted for just one season. Despite a promising line-up that included Todd Lasance, Hamish Michael, and other Australian stars, the series – which faced budget problems from the beginning – was cancelled after 22 episodes. A spin-off show, "Janet King", aired in 2013 and lasted three seasons: however, Indiana's character was only present in season one.
Between "Crownies" and "Janet King", Indiana played Emmaline Robinson in "Blue Lagoon: The Awakening", starring alongside her "Home and Away" co-star Brenton Thwaites. The Lifetime TV film was a major departure from previous "Blue Lagoon" movies, as it was set in the present day and took place in the Caribbean. Critics had mixed reviews about the movie, with some praising its lack of sex scenes and others claiming that it was one of the production's weak points.
In 2015, Indiana guest-starred in two episodes of "House Husbands" and "Ash vs Evil Dead" and was cast as a main character in season one of "Secrets and Lies", an ABC mystery anthology series that aired from March 2015 to December 2016. Indiana played Natalie, a 16-year-old whose father is accused of murdering the neighbor's five-year-old son.
Following a seven-year hiatus, Indiana returned to screens in 2022 with a minor role in "Thor: Love and Thunder", the Taika Waititi blockbuster set in the Marvel Comics multiverse. Chris Hemsworth, Christian Bale, and Jaimie Alexander were just some of the leads in a star-studded line-up; Indiana, who played one of the Zeusettes, didn't get much screentime, but still managed to steal the show when the cameras were on her.
Still, her estimated net worth as of late 2023, has grown to over $1 million.
Indiana, who hasn't posted on Instagram since early 2018, has no known active social media profiles. As such, we are unable to share any news about possible upcoming projects.