Who is Suzy Cortes?
Brazilian social media star, fitness coach and businesswoman Suzy Cortez, was born in Campinas, State of Sao Paulo, Brazil, on 16 May 1990, making her zodiac sign Taurus. She's known for a couple of things, including being an OnlyFans star, and for having won the contest Miss Bum Bum World, but she's perhaps attracted most attention by being a huge fan of famous Argentine-Spanish professional soccer player Lionel Messi.
Suzy's also posed naked for the magazine "Playboy" four times.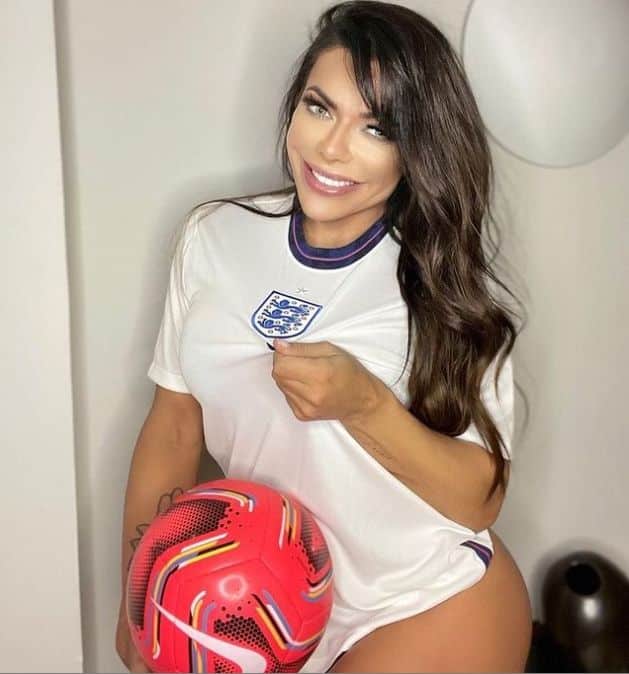 Education and early life
Suzy was raised in Campinas by her parents, about whom she prefers not to speak in public as they want to be left out of media; it's believed that her mother's a homemaker and her father a businessman, while it's also believed that Suzy rarely speaks to her parents because they're not supportive of her career on the internet. She's yet to speak about having siblings, and most of Suzy's fans believe her to be an only child.
Suzy fell in love with dancing and singing while growing up, and it was only while attending a local high school in Campinas that she became interested in modelling; she was spotted by a scout aged 17, and then signed her first contract.
Suzy matriculated in 2008, and having already launched her modelling career, she chose to focus on modelling rather than to enroll at college.
Suzy's career
Suzy's career revolves around her social media accounts, although she's also modeled for a number of fashion brands and companies, and has appeared on the cover page of multiple magazines.
She exercises on a daily basis, as it's important for her career to continue working on her physique; Suzy practices Muay Thai, and goes to the gym thrice a week.
She has two tattoos of Messi; his face on her crotch and a larger one on her back which has him kissing a trophy. Suzy loves tattoos, and has several others on various parts of her body.
Model: Suzy Cortez / Twitter: @SuzyCortez_
IG: https://t.co/m6Xk0XHHk7
FB: https://t.co/06pxMFgBKp
OF: https://t.co/ECO83WzF83
Youtube: https://t.co/vHN5DbiGGO pic.twitter.com/MBELB0X0Aa

— PlaceforModels (@PlaceforModels) October 3, 2019
Most popular YouTube videos
Suzy's popular on YouTube even though she doesn't have her own channel; numerous videos featuring her have been uploaded by other users, and most of these have her large breasts and buttocks in focus, while others tend to provide more details about her obsession with Messi. We're going to write about Suzy's three most viewed YouTube videos, which've contributed to her internet popularity.
Her #1 video "Miss Bum Bum World 2019 Ceremonia Premiación – 1: Suzy Cortez 2: Rayane Laura Souza 3: Jessica Lopez" was uploaded by Angels Y Devils on 29 October 2019 and has since been watched over 2.7 million times; it features Suzy winning the 'beauty' contest Miss Bum Bum World.
Suzy's second most popular video "SE TATUÓ Y BESÓ AL CRACK – ANTONELLA FURIOSA HACE ESTO CON MODELO OBSESIONADA CON MESSI" was posted by Universial Camera on 27 October 2019, and has since been watched over 2.7 million times; it covers Suzy's obsession with Messi.
Her #3 video "Suzy Cortez, la musa del Sao Paulo con el mejor trasero de Brasil" was uploaded by AGENCIA EFE on 10 November 2015, and has since been watched close to two million times; it aims to cover Suzy's professional life.
Suzy's active on various social media networks, and is an Instagram star; more than 2.4 million people are following her today, and she's posted nearly 1,000 pictures and videos, most of her pictures feature her working out at the gym, showing off her buttocks, and travelling.
Suzy launched her Twitter account in July 2011 and has since tweeted more than 20,000 times; she's followed by over 22,000 people on this network, and most of her tweets are pictures and videos which feature her nude.
Only a few more than 6,800 people are following Suzy on Facebook today – she mostly uploads pictures of her buttocks; her most recent update was on 16 August 2023.
Suzy's also a TikTok star, as more than 800,000 people are following her on this network, while she's amassed nearly four million likes of all her videos combined; most feature her showing off her breasts and buttocks, while she can be seen working out at the gym in others.
Suzy's posted 20 videos and 175 pictures onto her OnlyFans account, and all these combined have amassed more than 150,000 likes.
Love life and relationships
Suzy shies away from speaking about her love life in public, and this is widely believed to be because this might have a negative impact on her career.
Some of her fans believe that she's today in a relationship with Brazilian model and social media star Rafael Muniz, as she's featured him in a number of her Instagram pictures, and has also referred to him as 'my love'; Rafael's today followed by close to 150,000 people on Instagram and has posted close to 400 pictures and videos onto the network.
There are no other men whom Suzy's perhaps been with, that we know about; she seems to be in a relationship with Rafael Muniz as of August 2023, hasn't married and doesn't have children.
Interesting facts and hobbies
Suzy spends most of her time making pictures and videos to upload onto her social media accounts, while she usually works out at the gym in her spare time; she also stays fit by taking part in various activities, including playing tennis and swimming.
She's into travelling and has been to a number of European countries, mostly to watch Messi play; she's also been to a couple of US states, mostly for work.
Suzy often uses her popularity on the internet to give her fans advice on working out and dieting.
One of her favorite singers is Jennifer Lopez.
One of Suzy's favorite actresses is Bruna Marquezine, and some of her favorite movies include "I Love Paraisopolis", "Em Familia" and "Blue Beetle".
Appearance and wealth
Suzy's age is 33. She has blue eyes and brown hair, is 5ft 7ins (1.7m) tall and weighs around 135lbs (62kgs).
Suzy's net worth's been estimated at over $4 million, as of August 2023.