Gary Wayne Coleman was an American actor and comedian, who sadly passed away in 2010, though will forever be remembered for his celebrated career as an award-winning child actor. Coleman is perhaps known most famously for his role as Arnold Jackson, a character that would appear in a number of sitcoms, including "Diff'rent Strokes", "Hello, Larry", "Facts About Life", and "The Fresh Prince of Bel-Air".
Coleman was also known for being the highest-paid child actor of the late seventies and 1980s and earned five accolades and seven nominations for his spectacular acting performances. This includes awards for categories such as Best Young Actor and Best Young Comedian.
However, while Coleman was a celebrated actor, his life would begin and end tragically, as he was plagued by health concerns and severe mental illness. Sadly, there may be many people who never knew about Coleman, perhaps especially among younger audiences, and as such, it's only befitting to recount the sad life Gary lived, dotted with many achievements, but also tragedy.
For those familiar with the late comedian, come along as we dive into Gary Coleman's childhood, career, and personal life, discussing all the ups and downs Coleman experienced.
What To Expect?
As we take an in-depth look at the life and death of Gary Coleman, we will begin by recounting the actor's early childhood, explaining the medical condition Gary was born with. Following this, we will embark on reliving Gary's career, before taking a look at all the drama that unfolded in his personal life, including his romance and marriage to Shannon Price.
Finally, we will discuss the last days of Gary's life, driving the narrative towards revealing Coleman's cause of death, and the final events leading up to his unfortunate passing.
A Sickly Orphan
Born on 8 February 1986 in Zion, Illinois, as Gary Wayne Coleman, the brilliant actor was orphaned at birth, with no known information available about his biological parents. In good fortune, Coleman did not spend his youth at an orphanage, or under guardianship, as he was adopted by W.G. Coleman, who formerly worked as a forklift operator, and Edmonia Sue, who worked as a practising nurse.
At a young age, Coleman was diagnosed with Focal Segmental Glomerulosclerosis (FSGC), a congenital condition that causes scar tissue to form in the kidneys and renal system. The debilitating disease is known to be fatal if left untreated, and caused Gary to undergo medical treatment with specialised steroid medication.
As a result of the treatment, Coleman's growth was inhibited, with doctors determining that his height would be stunted at four feet and three inches, and his facial features would retain its childlike appearance. While perhaps concerning to some, Coleman's condition is what earned him a chance to become the actor he is celebrated as, for he grew famous because of his unique appearance.
In 1973, and again in 1984, Coleman underwent kidney transplant surgeries, though unfortunately the procedures would fail, as Coleman's body rejected the new organs. Ultimately, doctors and medicine failed Coleman, and he would suffer from FSGC his whole life, and would be subjected to regular dialysis treatment.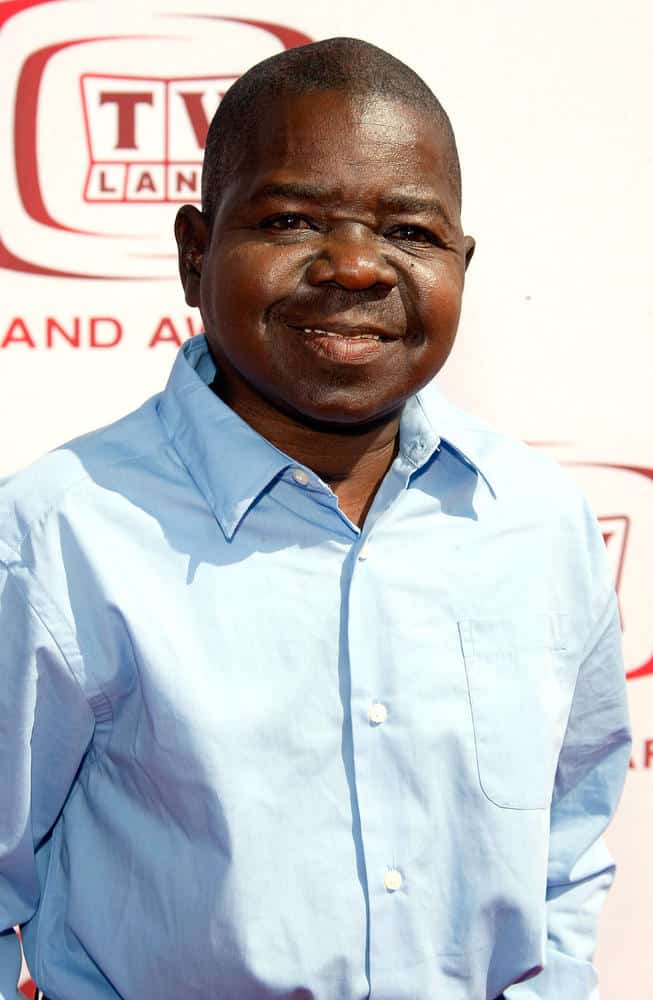 However, despite being an orphan, and suffering from a medical condition, Coleman didn't allow his circumstances to keep him down. As a result of spending so much time at home, Coleman developed an interest in acting, as well as his famous hobby of collecting model trains. In fact, later in life, Coleman worked part-time at hobby stores so he could have closer access to his pastime passion.
Today, one of Coleman's favourite locomotive models is preserved in a museum in Colorado Springs, Colorado, where his fans and followers could feel free to visit and view it.
Other than suffering from the physical symptoms of FSCG, the disease also took a toll on Coleman's mental health. In 1993, during a candid television interview, Gary admitted that he attempted suicide twice during his youth by consuming an overdose of unnamed medications. Of course, both attempts failed, and Coleman would continue his life, even becoming a famous child actor.
Coleman's Rise To Glory
Gary began his career as an actor in 1974 after appearing in a Harris Bank commercial promoting the stuffed animal lion, Hubert, that was the bank's mascot. As part of promoting the bank's services, they would offer their clients a plushy of Hubert as a gift. Following this, Gary made his television acting debut in "Medical Centre", marking the true beginning of his career.
In 1977, Gary played the role of Stymie in a pilot episode of a "Little Rascals" revival show, though the series never made it on air. Regardless, Gary's talent as an actor earned recognition from his failed role, earning him an invitation to star in "Diff'rent Strokes".
Thus, Coleman's career took off, as he reprised the role of Arnold Jackson for a total of eight seasons until the finale in 1986. During his time on the set of "Diff'rent Strokes", despite his age and health condition, Coleman had to work hard, which resulted in him distancing himself from the rest of the crew.
His role earned him several nominations, and he walked away with accolades for his performance, which included a People's Choice Award for Favourite Young Performer On Television. He earned the accolade a total of four consecutive times between 1980 and 1984. It was also reported at the time that Coleman became the highest-paid child actor, as he allegedly earned an estimated $100,000 per episode.
Despite earning an extravagant fortune on the set of "Diff'rent Strokes", it was reported years later that Coleman was left with a fraction of his wealth after he paid his adoptive parents, legal teams, financial advisors, and medical expenses.
As a result of his misfortune, Coleman filed a lawsuit during the 1990s  against his adoptive parents and financial manager for mismanaging his fortune. In 1993, a court awarded Coleman a $1.28 million judgement in his favour when the trial concluded.
Naturally, this created a rift between Coleman and his adoptive guardians, and according to biographical documentaries based on Coleman's life, their relationship never recovered from the ordeal. Regardless of what would later happen, Coleman continued his career.
In 1978, Coleman earned a role in "The Jeffersons" as Raymond Jefferson, George Jefferson's nephew, and appeared in the sitcom "Good Times" in a guest role as Gary, a friend of the leading character Penny.
In 1979, Coleman embarked on the beginning of his acting career in films, starting with a role in the television comedy film, "The Kid From Left Field". Around the same time, Gary made a guest appearance in the science-fiction series "Buck Rogers In The 25th Century", and in 1980, Coleman reprised in a guest role for the show's second season.
Following this, Coleman made his silver screen debut in the 1981 film "On The Right Track", playing the role of a talented kid with a knack for horse derby gambling. The film did not earn a positive review, as critics claimed the only reason the film succeeded was because of Coleman's brilliance that held up the film's plot.
In 1982, Gary appeared in the movie "Jimmy The Kid", as well as the television film "The Kid With The Broken Halo", which would eventually become an animated series entitled "The Gary Coleman Show", in which Coleman played a voice acting role. Coleman also voiced Kevin in "Waynehead" between 1996 to 97.
Following this, Coleman became recognised as the first A-list actor to accept a voice role in a video game, specifically as the character Kenny Falmouth in the iconic 1997 puzzle-based video game, "The Curse Of Monkey Island".
In 2003, Gary decided to try his hand at politics, campaigning for the position of Mayor during the California recall election, but when Arnold Schwarzenegger became a candidate, Coleman stated that he would rather vote for the action film star instead.
While campaigning in politics, Gary voiced another role in a video game, this time a character based on himself in the Running With Scissors' classic video game, "Postal 2". In 2005, Coleman appeared in WWE Wrestler, John Cena's music video for "Bad, Bad Man", playing the role of a villain who took Madonna and the late Pop King, Micheal Jackson, hostage.
Around this time, Gary approached the end of his illustrious career, with his final roles on record including a voice role in the animated film "Robot Chicken", "Church Ball" in 2006, "An American Carol" in 2008, and in 2009 he starred in the comedy film "Midgets vs Mascots", which would become his final credit.
Gary Coleman's Tragic Romance
Because Coleman kept his personal life strictly private, so much so that his legal dramas would earn public attention only after his death in 2010, very little was known about his romantic interests, and the other aspects of his personal life. However, it was publicly known that Gary resided in the quiet little town of Santaquin, Utah, and that he had a relationship with actress Shannon Price.
Before divulging the history between Price and Coleman, it should be noted that Coleman was prosecuted in 1998 on one count of assault. According to reports about the incident, Coleman stood accused of assault by Tracy Fields, who stated that Coleman refused to present her with an autograph following her request for such, and it resulted in a heated argument. Fields continued to insult Coleman's career as an actor, to which Gary responded with a violent outburst.
Coleman received a suspended jail sentence, was ordered to undergo anger management treatment, and was fined just over a thousand dollars to compensate for Fields' medical bills. Coleman pleaded guilty but defended himself by stating that Tracy Fields harassed him, and wouldn't leave him alone. Regardless, Coleman accepted the judgement, and continued with his life.
In 2007, Gary met his future wife and later ex-wife, Shannon Price, while on the set of the sports film "Church Ball", who at the time was 22 years old. After dating for only a couple of months, Coleman and Price tied the knot, but would later make an appearance on the show "Divorce Court", detailing his later divorce from Price in August of 2008. However, the couple didn't just give up on their relationship, as they tried to work out their differences, and continued living together until his passing, under a common-law marital agreement.
Sadly, though, it was Price who assumed the role of the villain in their romance, as she was known for having extra-marital affairs, and publicly abusing Coleman, treating him like a child who needed to be led by hand, and would show no affection towards him. Many people believed that Price simply used Coleman to gain fame, and of course his fortune.
In 2009, as Coleman's health began to decline due to heart disease, Price was investigated under suspicion of domestic violence following a public row between the couple. Both Price and Coleman were charged with misdemeanour offences, accused of disturbing the peace.
In 2009, Coleman underwent heart surgery, and in 2010, shortly before he would pass away, Coleman was arrested in the state of Utah on an outstanding warrant issued for domestic assault. After spending the night in a county prison cell, Coleman was released, and the charges against him were later dropped.
Coleman's Final Days
In 2010, Coleman was admitted to a local hospital in Provo, Utah, after sustaining a head injury from falling down the stairs of his home in Santaquin. It was reported that Coleman was admitted in critical condition, and according to the statements of the hospital spokesperson, Gary suffered an Epidural Hematoma, an injury similar to a concussion in which bleeding occurs on the brain.
The spokesperson added that Coleman slipped in and out of consciousness, and the following day after his admission was awake, but acted confused, as was expected of his injury. Unfortunately, his condition worsened, and Coleman was placed on life support.
Following his admittance to the hospital, it was believed that Coleman may have slipped down the stairs after suffering a seizure related to the health issues Gary experienced during the final months of his life, including kidney problems and heart disease.
Coleman passed away on 28 May 2010 at the age of 42, though in the wake of his death, Coleman's passing caused a controversial upset after it was believed that his partner, Price, who approved the decision to terminate Coleman's life support, did so without the correct authority. In an article published by Globe magazine, the act was referred to as murder. However, the hospital later defended Price, stating that Coleman previously completed a medical program that allowed Price to make medical decisions on Coleman's behalf.
Gary Coleman, who was the child star of TV show "Diff'rent Strokes," has died at age 42, a publicist says.

— The Washington Post (@washingtonpost) May 28, 2010
Despite the controversy, Price was never tried for murder, but unsurprisingly was denied Coleman's fortune. In his final will and testament, Coleman insisted that his remaining wealth be given to a former business partner, Anna Gray.
Naturally, this resulted in a legal contest, but ultimately, Gray walked away as the executor of Coleman's estate. As a result of the legal disputes, Coleman's funeral was postponed, but it was later revealed that Gary requested that no funeral service or memorial be dedicated to celebrate his legacy.
Conclusion
Undoubtedly, the late actor and comedian Gary Coleman will be dearly missed, if perhaps only by his adoring fans and public, as it appeared that throughout his sad life, Coleman was betrayed by those considered to be loved ones.
May Coleman rest peacefully, and his remaining family finds condolence and closure, though they will be remembered for their lack of love. At least, there were many fans who appreciated Coleman for his talent as an actor, and his contribution to the entertainment industry.