Dave Kindig, an American car designer and entrepreneur, gained popularity in the automobile industry through the reality television series entitled "Bitchin' Rides." His success was attributed to the stunning and unique vehicles that he designed and fabricated with his crew at his company, Kindig-It Design. His innovative style captured the imagination of other designers and builders, which later became the focus of his copyright lawsuit. Fans wondered if it made a significant impact on his business and net worth.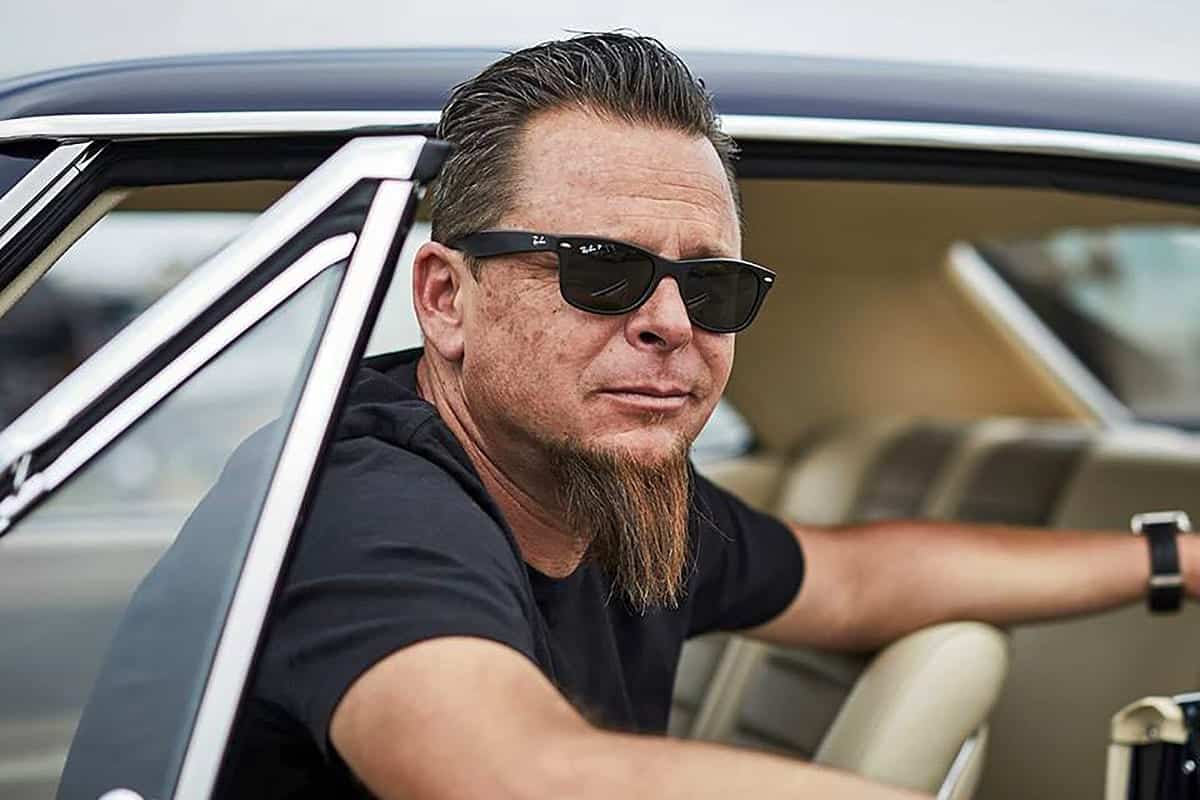 Get to know Dave Kindig
The auto builder and designer has been an inspiring example of someone who followed his passion, and turned it into a successful career.
Early Life and Education
Dave Kindig was born on 6 February 1961, in Salt Lake City, Utah. Having been raised by a single mother with the help of his grandparents, he knew that he should be creative enough to find alternatives to pursue his dreams. He started drawing and customizing cars as a hobby when he was a child, then after matriculating from West High School, attending an auto mechanics class was the only formal education that he had about the automotive industry. With no extra money for further education, he never had an opportunity to earn a college degree.
His living situation took a downturn due to his problems with his mother's boyfriend at that time, which led to his departure from home. Despite the adversities of living in a crime-ridden area and with his father leaving him at a very young age, Dave was determined to make something of himself. Having a library near his grandparents' home was a blessing as he spent countless hours poring over automotive encyclopedias, familiarizing himself with car body lines and construction details. This was an invaluable foundation for what lay ahead. He ventured into the working world, tirelessly earning money to buy his own car. He also saved whatever extra money he had to purchase automotive magazines such as Hot Rod Magazine and Motor Trend so he could stay updated on the latest developments in the automotive industry. Having his own car served as an eye-opener, revealing the high costs associated with his passion. However, he didn't let that deter him; instead, he persisted, saving diligently to finance car upgrades, and eventually trading up for better models. His determination and financial discipline enabled him to continue fueling his love for cars and achieving his automotive dreams.
One revelation was clear to David from the outset: he could never be satisfied with a generic car – he yearned to leave his impressive and lasting mark on each vehicle he owned. Realizing that customization and repairs were beyond his financial means, he sought a different path. By hanging out at auto shops, he keenly observed the work being done on several types of vehicles, absorbing the mechanics' expertise like a sponge.
Became an expert through experience
Working at High Performance Coatings for eight years, he was given an opportunity to travel around the US, where he met many prominent car designers and builders from whom he learned so much. Through experience, immense hard work, and inherent talent, he developed skills in designing, fabricating, and building vehicles.
The Birth of Kindig-It Designs: Triumph through Perseverance
By 1999, he was already married, and his wife, Charity, who shared his passion for cars, inspired and encouraged him to establish his own business. With a small amount of money, they opened up Kindig-It Design, an automotive shop widely known for its restoration and modification services for all kinds of vehicles. His path into the world of automotive construction was a grueling one, characterized by years of steadfast dedication and a relentless pursuit of perfection. His hard work paid off because by word of mouth from satisfied and impressed clientele, his company based in Salt Lake City, Utah, became known for innovative designs, attention to detail, and high-quality workmanship.
One of his biggest breaks happened when, on one fateful day, an individual was captivated by the awe-inspiring drawings adorning his office wall. Impressed with his work, Dave was then commissioned to draw a 1969 Camaro for prestigious magazines such as Super Chevy and Chevy High-Performance. This brought the spotlight onto his extraordinary talent, and as more requests for his artistic prowess poured in, he found himself earning tenfold what he made during his arduous 60-hour-per-week salary job.
Through the years, Kindig-It Design hired a team of talented and experienced craftsmen who worked with Dave to bring his designs to life. They have worked on hundreds of projects since it opened, ranging from classic cars to modern supercars, and have won several awards and recognitions for their work, such as the GM Design Award, the Master Builder Award, and the Ford Design Excellence Award. Some of the famous projects that Kindig-It Design has worked on include a 1933 Ford Tudor, an Audi R8 Spyder, a 1969 Chevrolet Camaro, and GM Futurliner.
"Bitchin' Rides," his own reality TV series
Dave's remarkable talent for designing and building amazing vehicles propelled him to become a reality TV star. There was a buzz in the automotive community that his auto shop was planning to restore a vintage 1939 GM Futurliner. It caught the attention of TV executives at the Velocity Channel, which was later rebranded as Motor Trend Network by its parent company, Discovery Channel. Impressed by the sheer craftsmanship, David Lee and Bob Scanlon saw the potential to turn Dave Kindig and his team into TV stars and so "Bitchin' Rides" was created.
The reality TV series premiered on 2 September 2014, on MotorTrend TV and has become one of the most-viewed automotive shows on the network. It has aired nine seasons so far, with the latest season finished airing in January 2023. It has also spawned a spin-off show in 2015 called "Beyond Bitchin' Rides," which provides a behind-the-scenes look at the shop, the crew, and delves into details about their favorite and craziest builds.
The cast of "Bitchin' Rides" consists of Dave Kindig as the designer and owner of Kindig-It Design; his wife, Charity, as the co-owner; Kevin Schiele as the shop foreman; and Bryce Green as the body shop manager. Other members of his original crew included Will Lockwood as the engineer, Eric Larsen as the fabricator, and Justin Stephens as the upholsterer. They would hire other experts if their projects needed more skilled workers to finish them.
Dave's most challenging project
According to Dave Kindig himself, one of the most challenging projects that he has worked on in "Bitchin' Rides" was the GM Futurliner #3, a massive vehicle that was used by General Motors in their Parade of Progress in the 1940s and 1950s. This ambitious restoration project ultimately gave rise to his own reality series. Taking two years to complete, the Futurliner proved to be an overwhelming and significant undertaking for Dave and his team. They had to deal with many issues and obstacles along the way, including finding the original parts and blueprint, rebuilding the original Hydra-Matic automatic transmission, repainting the exterior, and refurbishing the interior to match the theme and style of the Futurliner. Transporting it became difficult, as it weighed over 12 tons and measured over 33 feet long and 11 feet tall, about 10 x 3 meters
Despite all these challenges, the Kindig-It Design crew restored the Futurliner to its former glory and made it look brand new. The Futurliner was a stunning piece of automotive history that impressed everyone who saw it. In 2015, it was sold at an auction for $4 million.
Futurliner in early form. #3 of 12
Parade of Progress. #bitchinrides #staybitchin #teamkindigit #davekindig #gm pic.twitter.com/uekNyO58xD

— Kindig-it Design (@Kindigitdesigns) May 10, 2016
Most popular episode as per IMDB
According to IMDb, an online global authoritative source for movie, TV, and celebrity content, the most popular episode of "Bitchin' Rides" was the seventh episode of the third season, entitled "The F Five OHHHHHHH" aired in November 2016 on MotorTrend TV. In this episode, Dave and his crew worked on Otto Vega's Ford 150. It was described as a super car farm truck with upgraded features including a Bowler 4R70w transmission and a Roush supercharged Ford Coyote 5.0L. The episode showed the restoration process from the bodywork to the paint and the refurbishing of the interior. Otto is an actor, producer, and car enthusiast who worked on Hollywood projects including "The Expendables 3," "Hitman's Bodyguard," and "The Last Stand." It was given a user rating of 9.2 out of 10 on IMDb. It generated positive feedback from critics and loyal fans, who praised the workmanship, creativity, and passion of the Kindig-It Designs crew.
Criticisms and controversies through the years
Despite his success and popularity, Dave Kindig has also faced some criticisms in his career; one was the lack of drama or conflict in his show. Unlike many other reality shows that focus on personal issues and arguments among the crew or with clients, "Bitchin' Rides" primarily revolved around the cars and their transformation. Some critics have said that the show is too boring or predictable, and needs more drama or challenges to spice things up. However, many fans appreciate the show's positive and professional vibe, and enjoy watching Dave and his team work together harmoniously to create amazing cars.
Another area of controversy that Dave Kindig has been involved in is his participation in charitable causes or political issues. For instance, he supported the Ronald McDonald House Charities and the Make-A-Wish Foundation by donating cars or money to help children in need. He also expressed his views on gun rights and the Second Amendment by posting a picture of himself holding a rifle on his social media page. These actions have earned him praise from some fans and criticism from others, who hold different opinions or preferences on these matters.
Dave Kindig vs Creative Controls Lawsuit
Dave Kindig built a reputation for being a straight-up, no-nonsense businessman and TV personality, so it was quite controversial when he became embroiled in a lawsuit.
Background of the case
In 2014, Kindig-It Design, Inc. (Plaintiff) sued Creative Controls Inc. based in Michigan (Defendant), for infringement on its copyrights and patents. The case was filed in the District Court of Utah seeking damages. Allegedly, the defendant unlawfully used, copied, or reproduced their copyrighted works or patented inventions without permission. Creative Controls moved to dismiss the case on several grounds, including lack of personal jurisdiction and failure to state a claim.
Court proceedings
In September 2015, the Utah district court held a hearing on Creative Controls' motion, subsequently requesting additional legal arguments from both parties, which were duly submitted the following month.
The Arguments
Creative Controls, a Michigan corporation, argued that it did not have a substantial presence in Utah, as it had neither conducted regular business, registered, nor employed anyone within the state. Kindig-It Designs had failed to present evidence countering these assertions. The defendant contended that the court lacked jurisdiction in this case, and sought the transfer of the proceedings to Michigan. Additionally, Creative Controls requested the dismissal of certain claims for 'failing to state a claim' under Rule 12(b)(6) of the Federal Rules of Civil Procedure. This rule allowed for dismissal if the plaintiff's legal claim against the defendant lacked sufficient supporting facts.
Kindig-It Design's Claims
Kindig-It Design asserted that Creative Controls had specific connections to Utah, which according to Kindig, supported the court's jurisdiction. First, Creative Controls owned a website through which customers, including those from Utah, could place orders at their Michigan shop. Second, they donated a custom parking brake to Kindig-It Design in Utah. Third, a single sale was made to a Utah customer using Creative Controls' website. However, during the proceedings, both parties acknowledged that this particular sale should not be a basis for establishing personal jurisdiction. Lastly, Kindig alleged that Creative Controls used photographs and content taken from Kindig's Utah-based website.
The District Court Ruling
In January 2016, the court rendered its ruling, concluding that the plaintiff had not met the burden of demonstrating personal jurisdiction over the defendant for all claims. Kindig-It Design successfully established that Creative Controls had sufficient contacts with Utah, warranting personal jurisdiction for the 'non-patent claims,' but not for the 'patent claims.' The court observed that while the defendant's website facilitated orders, there was no evidence of it specifically targeting Utah customers. Regarding the custom parking brake donation, the court noted that this contact occurred five years ago when Creative Controls sent the brake to Kindig's Utah location and in return received photographs for promotional purposes provided by the plaintiff. As for the single sale to a Utah customer, all parties, including the court, agreed that this contact should not be considered for establishing personal jurisdiction since it was made at Kindig's request solely for the purpose of litigation. The court granted the defendant's motion to dismiss in part and denied it in part, resulting in the dismissal of some claims, but not all.
Court Proceedings and Denial of Motion to Compel
Throughout the case, several motions and hearings took place, including Kindig-It Designs' motion to compel, which District Court Judge Jill Parrish denied in April 2017. The court's decision rested on two primary reasons. Firstly, the motion was deemed untimely since it was filed a month after the close of discovery, making it undoubtedly late. Secondly, even if the motion had been timely, Judge Parrish asserted that the additional information sought by the defendant was not 'proportional to the needs of the case.'
Out-of-court settlement
Subsequently, the case was referred to a magistrate judge to facilitate settlement discussions between the parties. An online legal docket indicated that the parties engaged in a settlement conference in June 2017, but unfortunately, an agreement wasn't reached. However, a month later, the case was closed when both parties jointly filed a stipulation of dismissal with prejudice.
The specifics of the settlement were not made public. Nevertheless, both parties mutually agreed to dismiss their respective claims and counterclaims. This decision signified a resolution to the litigation, with both sides opting to forego any future lawsuits based on the same claims. By doing so, they effectively waived their right to sue each other again for identical reasons, bringing a definitive end to the legal dispute.
Dave Kindig's net worth
As of 2023, Dave Kindig boasts an estimated net worth of approximately $3 million. His primary sources of income revolve around his successful ventures: Kindig-It Design, his custom car shop, and his reality TV show, "Bitchin' Rides," which airs on MotorTrend TV. Dave's adept financial management and smart investments have been instrumental in navigating the costs and risks associated with running both a business and a TV program. He exercises discretion when spending or saving his earnings, aligning his financial choices with personal needs and preferences. Together with his wife, Charity, and their two children, Baylee and Drew, Dave resides in a comfortable residence in Salt Lake City. His love for automobiles is evident, as he owns several cars, some of which have been featured in his show or website.
The lawsuit had positive and negative effects on Dave Kindig and his company, as he spent a lot of time, money, and resources on it. Beyond the legalities, the case sparked discussions on intellectual property rights protection and enforcement within the automotive industry. The lawsuit also generated a lot of attention and publicity for Dave Kindig and his products, inadvertently exposing them to an even wider audience and market.
To this day, he's considered an innovator, designer, and respected figure in the car community. Despite the challenges, Dave's automotive shop and TV series continue to thrive, impressing both his clients and viewers alike.