One of the most amazing things about "America's Got Talent" is how big of a platform it has become for artists to accomplish their dreams. While some let that opportunity go and are left forgotten, others keep relevant throughout the years for many reasons.
The latter can describe Grace VanderWaal, the very young singer who once conquered the hearts of millions with her audition and subsequent impeccable performances during the 11th season of "America's Got Talent" aired in 2016. Her charismatic personality and top-notch talent were the biggest factors to crown her the victor of that season, marking the beginning of an extraordinary career in the entertainment world.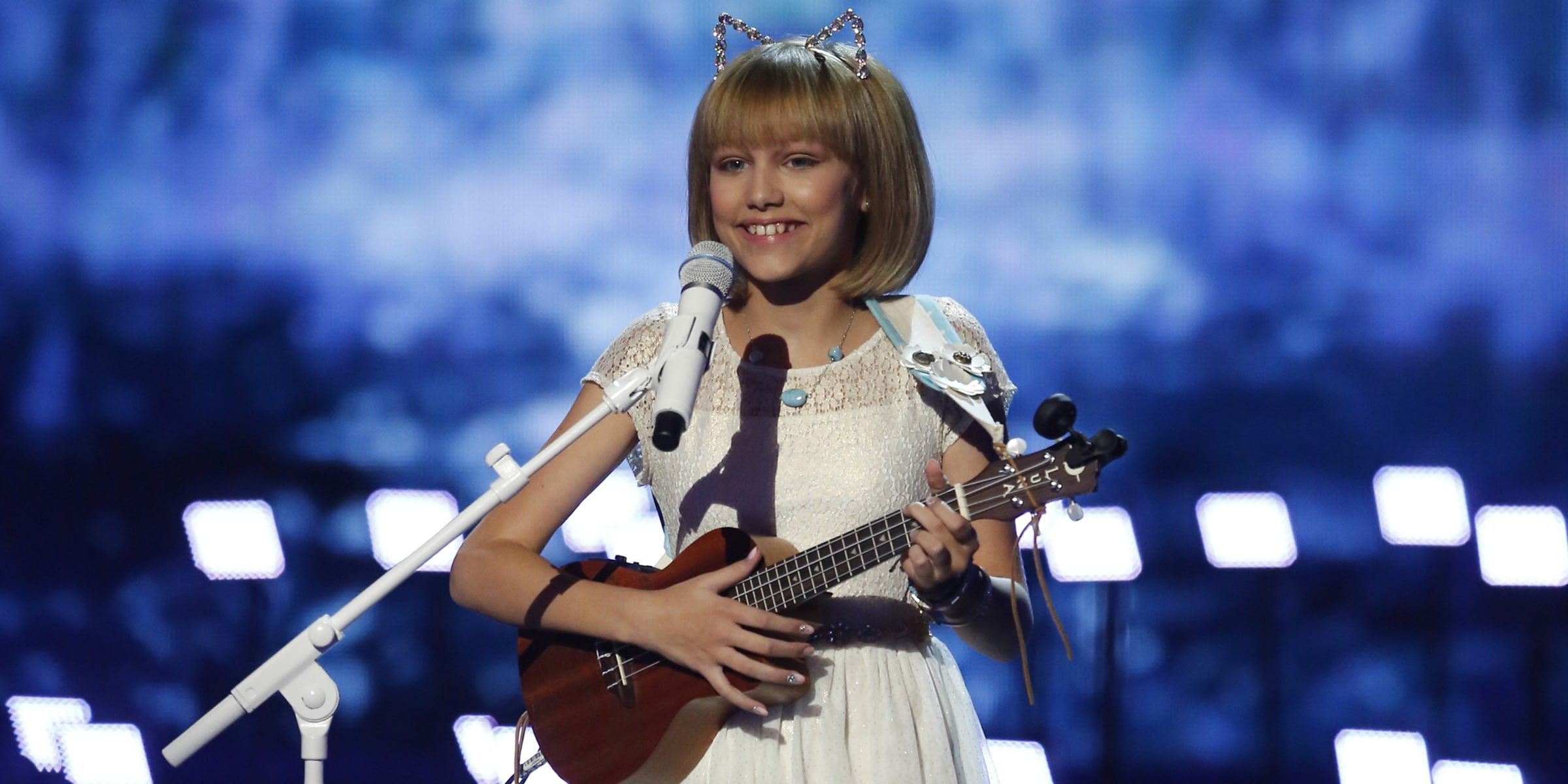 Nevertheless, it's fair to ask ourselves if Grace's personal life is also as bright as her career is and whether something else is behind the glamour of the stage lights. Stay here to know all about the highs and lows of Grace VanderWaal!
The Downside Of Fame
At only 12 years old, Grace VanderWaal took the winning spot of "America's Got Talent" and her life changed forever. Nonetheless, while being signed under an acclaimed music label, releasing original and powerful music, and on top of that, starting a side career as an actress and model, Grace has also had to face the ugly side of fame in more than one way.
One of those downsides of being a star on the rise is being observed left and right by the general public, but not all the criticism coming her way has been well-meant or has good intentions. In an interview with E! News from 2022, Grace opened up about this issue which has been haunting her since the early days when she won "America's Got Talent": 'Looking back, I have definitely faced the mental repercussions of that growing up,' she said, referring to hateful comments she has been receiving online for years.
Though facing the consequences of fame might not be easy, Grace also admitted that the hate she received so early on in her career somehow 'prepared' her for the future, to the point it 'desensitized' her to the bad opinions. Ultimately, she doesn't let those downsides overshadow all the great things she has experienced and created so far.
Evolving On The Face Of Hardship
Although becoming the winner of "America's Got Talent" in 2016 was a huge stepping stone for Grace VanderWaal, she had been planning to enter the music world for long before that.
Born in Kansas in 2004, Grace first showed her interest in music at only three years old and it didn't take her long to ask her family to act as her public. At some point in her childhood, she took piano and saxophone lessons, yet her hobby became serious when she developed an interest in songwriting and playing the ukulele, even though her mom didn't want to buy her a new instrument.
Hey guys, it's Grace VanderWaal! I hope you enjoy my original song RIGHT NOW on #AGT! pic.twitter.com/v1mNzCyrpY

— Grace VanderWaal (@GraceVanderWaal) June 8, 2016
However, Grace wouldn't let that interest go away that easily, buying her first ukulele with $50 she got as a birthday gift, and learned to play it by herself not long after.
Her approach of tirelessly pursuing the things she wants is something that Grace still does nowadays. Just as she revealed to Untitled Magazine in 2023, music production is her most recent passion, though she only discovered her interest in it when she was forced to stay at home during the pandemic, which was a period she describes as 'hard' and 'introspective' both professionally and personally. That makes it evident how despite the circumstances, Grace always goes after her dreams.
It's Not Easy To Be A Star
Becoming a public figure so early in life brings up many opportunities, but it's not always easy to deal with the pressure that ensues. Grace VanderWaal knows this better than anyone else, as the pressure she felt over her shoulders after winning "America's Got Talent" was so overwhelming, that she almost turned down the opportunity to be signed under Simon Cowell's label Syco Music due to it.
As she revealed to USA Today in 2017, she told Simon 'If it's like this, I don't want to do it. If this was my life, I would hate my life,' when he offered her a contract right after being signed to Columbia Records, one of the prizes she received after winning the competition. Nonetheless, Simon was quite encouraging back then, making her realize how the 'hardest part' had already passed.
After that, Grace went on to release her debut album "Just The Beginning" and the hit "Perfectly Imperfect" under Simon's label, demonstrating that she made the right decision.
With that being said, not everyone has approved of Grace's musical choices. As she once recalled during an interview with J-14.com, she has been the laughing subject of rude music teachers and industry experts since debuting, but those discouraging words only made her realize how she needed to start surrounding herself with 'positive' people, which also means she doesn't hesitate to block haters online.
Art, Depression & Anxiety
Right from the time Grace VanderWaal set foot on that "America's Got Talent" audition back in 2016 and proudly announced that she was going to sing a song about herself, it was evident that art was something she took seriously. That original song entitled "I Don't Know My Name" was the first one to shed some light on Grace's thoughts, but it wasn't the last one to do so.
Just one year after her TV victory, Grace's 2017 debut album "Just the Beginning" not only showcased her songwriting abilities but also let her fans see how she approached deep subjects. As she affirmed in an interview with USA Today her song "Moonlight" was inspired by one of her friend's struggles with depression: 'I never thought I would write this to build awareness, or anything like that, I was just writing from my own personal heart, to get it out'.
Grace's choice to talk about the events happening in her life hasn't changed a lot throughout the years, as her 2022 song "Lion's Den" also expressed her thoughts about anxiety and how it had affected her since her debut: 'I was just chasing happiness instead of finding it within myself,' she described her situation to V Magazine at the time, showing once again how music is her very personal route to express her ideas and feelings.
Beauty Standards Issues
Spending most of her teens under the public spotlight is not always a positive experience for everyone, especially when it comes to the high beauty standards of the entertainment industry. Grace knows this well and hasn't shied away from sharing her thoughts about it, such as the time she posted an Instagram pic of herself without makeup while showing her forehead pimples alongside a caption about self-acceptance.
When asked about that post by Teen Vogue in 2017, Grace affirmed she felt sad that teen girls were pressured to follow 'unreachable standards', so her message was to tell other girls that it was okay to not look fit those expectations. Grace also revealed she and her older sister had been dealing with body image issues, hence why she decided to unfollow accounts which she considered influenced her to compare herself to other people.
Some of Grace's thoughts about this issue were portrayed in "So Much More Than This", her 2017's song written partially about wanting which 'don't matter at all', as she said in the same interview.
A Misunderstood Artist
Always open to reflecting on the industry, Grace doesn't shy away from criticizing the perception that society has about women and young artists. One of those times she went against the current took place in late 2020 when Grace shaved her head and openly showed the outcome on social media.
Her unexpected move shocked and worried her fans, as many theorized she had been going through a hard time mentally and some others assumed she had fallen into an addiction, but leading people to believe those things wasn't Grace's intention to begin with.
Just as she revealed to Nylon.com in 2021, she had been thinking about shaving her head for quite some time back then, yet she was completely surprised at the assumptions made out of it, describing these as 'sexist' as wearing the same hairstyle wasn't a problem for men as it was for young women.
Despite the misunderstanding, Grace admitted that the experience was also 'exhilarating' and brought up the need to shock people even more, especially by exploring genres such as punk and rock in her music.
Acting & New Projects
Grace VanderWaal is a great musician, but her artistic skills go beyond that. In 2020, she debuted as an actress by starring in the musical film "Stargirl", in which she also showcased her singing skills on screen. The movie and Grace's acting received positive reviews, leading her to reprise her role in the 2022 sequel "Hollywood Stargirl".
Those movies opened professional doors for Grace, as she is set to appear in the Francis Ford Coppola-directed "Megapolis", starring Adan Driver and Nathalie Emmanuel. As well, Grace has been working non-stop on music, releasing the candid yet personal "Boyfriends" in July 2023. Also in that year, she moved to New York City, where she plans to perform her music more often and is also taking part in music camps with fellow artists, as she revealed to The New Yorker.
All in all, it's not only evident that the career of Grace VanderWaal keeps moving forward, but also that she has avidly sorted out the inconveniences thrown her way, getting closer to accomplishing her dreams.