Who is Victoria De Angelis?
Victoria is the bassist and backing vocalist for the Italian rock band Måneskin, which gained international fame after winning the Eurovision Song Contest in 2021. Victoria formed Måneskin in 2016, along with Damiano David, Thomas Raggi and Ethan Torchio. The band initially gained attention in 2017, after their participation in the Italian talent show "X Factor". Victoria is known for her distinctive style, both in terms of fashion and her bass playing. She's become an influential figure in the music industry, inspiring many young musicians with her talent and charisma.
📷 | Victoria de Angelis performing on the Lollapalooza Paris stage, in France (17.07.2022).

• Find more HQ pictures at: https://t.co/kEF2ZJHXnb pic.twitter.com/qGtvePBkDQ

— Gallery Måneskin (@gallerymaneskin) July 18, 2022
Early Life and Education
Victoria was born on 28 April 2000, in Rome, Italy, to an Italian father and a Danish mother. Growing up in a city steeped in history and culture, she was also exposed to a myriad of musical influences. Her passion for music was evident from a young age. She picked up the bass guitar during her teenage years, and quickly mastered the instrument. Victoria's formal education details remain relatively private, but it's clear that her schooling in life was deeply intertwined with her musical journey. The streets of Rome, with their vibrant music scene, served as her classroom, in which she honed her skills and shaped her artistic vision.
At only 15 years old, Victoria lost her mother to cancer, which had a profound effect on her mental health during her teenage years. In recent interviews, she opened up about suffering from anxiety and panic attacks following her mother's passing, and has become a mental health advocate.
Måneskin
Måneskin was formed in Rome in 2016, with Damiano lead vocalist, Victoria on bass, Thomas on guitar, and Ethan on drums. Damiano and Thomas met in school and began playing music together, soon after joined by Victoria, bringing her bass skills to the mix. Ethan, with his drumming prowess, was the last to join the group, completing the quartet.
The name 'Måneskin', meaning 'moonlight' in Danish, was inspired by Victoria's Danish heritage. The band's journey to stardom began with their participation in the 11th season of the Italian "X Factor" in 2017. While they finished in second place, their performances left a mark on the audience – their rendition of popular songs, combined with their original compositions, showcased their versatility and talent.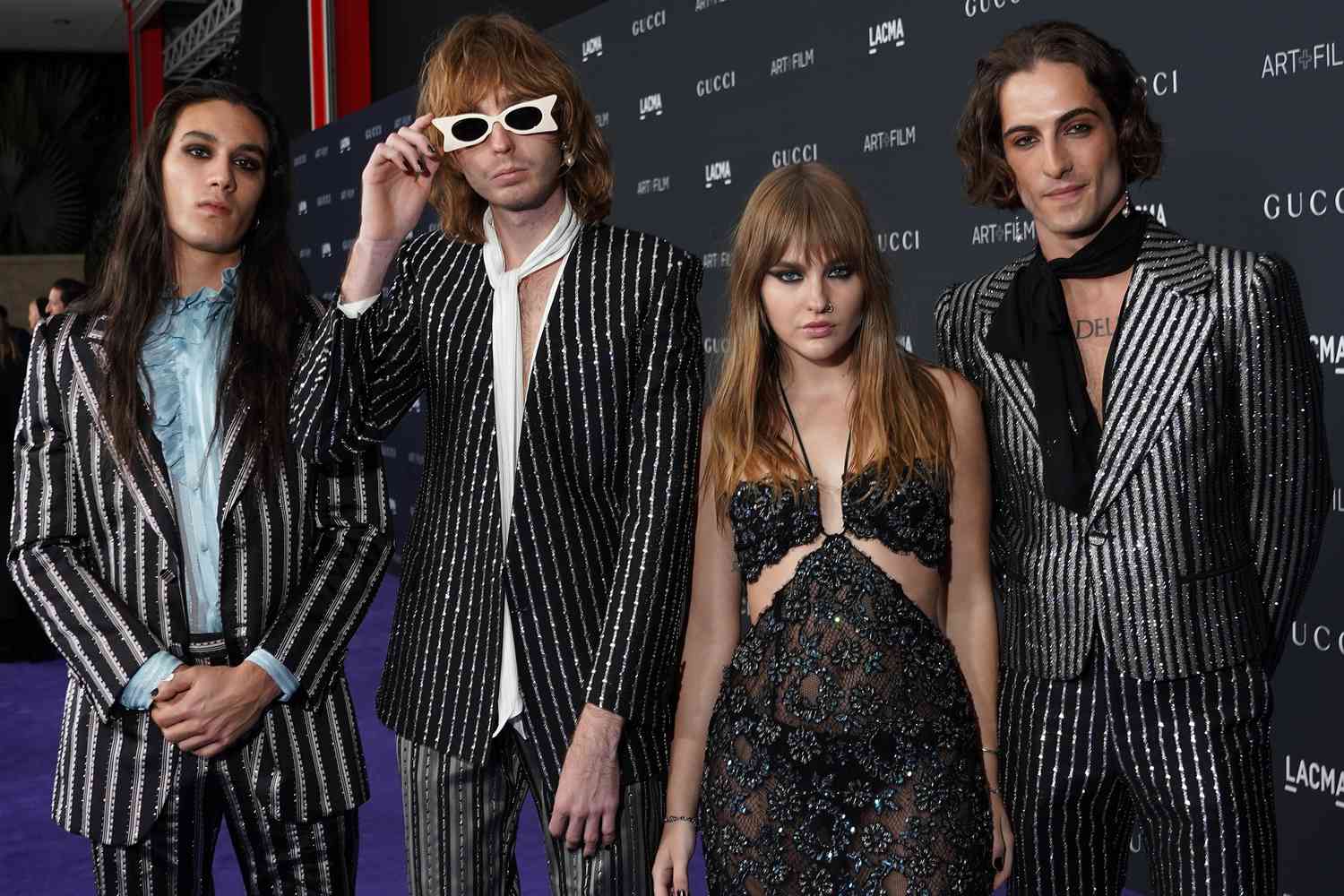 Following "X Factor", Måneskin released their debut single "Chosen", which quickly climbed the Italian charts. Their subsequent extended play (EP), also entitled "Chosen", solidified their position as one of Italy's most promising new bands. In March 2018, they released their first Italian-language single, entitled "Moriro da re", followed by "Torna a casa". In October the same year, they released their first full-length album "Il ballo della vita", topping the Italian charts.
In March 2021, the band released their second album "Tetro d'ira", which featured hit songs such as "Vent'anni" and "Zitti e buoni", less than a month after Måneskin won the prestigious Italian music competition Sanremo, as the winners of which, they went on to represent Italy at the 65th edition of the Eurovision Song Contest in Rotterdam, Netherlands. In the weeks leading up to the finale, they climbed the betting odds, surpassing Switzerland, France and Malta, who were previously deemed to be the favorites to win. Following their energetic performance of "Zittie e buoni", they earned a total of 524 points in the finale, securing first place.
The Eurovision win catapulted Måneskin to global fame. "Zitti e buoni" topped charts across Europe, and they became the first Eurovision winners since Celine Dion in 1988 – representing Switzerland –  to have a top 10 hit in the UK.
In June of the same year, their cover of the song "Beggin'" (originally by Gnarls Barkley) went viral on TikTok, earning the band recognition outside of Europe. In the span of only few weeks, they were invited to perform on American late-night TV shows such as "The Tonight Show With Jimmy Fallon" and "The Ellen DeGeneres Show", and also opened for the Rolling Stones in Las Vegas, Nevada.
Their third album "Rush!" came out in January 2023. Despite receiving mixed reviews from the critics, it was a commercial success, featuring hit songs such as "Supermodel" and "Gossip".
In the following months, the band performed as one of the headliners at Glastonbury 2023. They also announced their first world tour, which is set to visit North and South America, Europe and Asia, from September through December 2023.
The band cites a diverse range of artists as their influences, from classic rock bands such as Led Zeppelin and The Rolling Stones, to modern alternative bands including Franz Ferdinand and Arctic Monkeys.
They're often cited as one of the biggest artists to come from Eurovision, along with ABBA and Celine Dion. They've also been credited for revitalizing rock music, with the "Variety" magazine referring to them as 'the biggest rock band to emerge in years'.
The Italian media reports that Victoria's father is the Chief Executive Officer (CEO) of Måneskin Empire, the company that manages the band's revenue.
Personal life
Victoria has always been relatively private about her personal life, ensuring that her music remains the focal point of public attention. While there's been speculation and rumor about her relationships, she's chosen to keep her love life away from the limelight.
Victoria is openly bisexual, and has had relationships with both men and women. Some fans have been speculating that she's romantically linked with her bandmate Damiano, although both of them have denied these rumors, saying that they're nothing more than close platonic friends.
Hobbies and Interesting Facts
Beyond the bass guitar and the roar of the crowd, Victoria has a range of interests. She's a polyglot, speaking multiple languages including Italian, English, and Danish. This linguistic prowess not only reflects her intellectual curiosity, but also plays a role in Måneskin's diverse lyrical influences.
Victoria is also a fashion icon. Her distinctive style, a blend of vintage and contemporary, has made her a trendsetter. From high-fashion events to casual outings, her sartorial choices often make headlines. In 2021, she appeared in a commercial for the French high-fashion and make-up brand Yves Saint Laurent.
Additionally, she's an advocate for animal rights, and has often used her platform to raise awareness about various environmental and social issues. She has a pet dog called Chili.
Net Worth
With Måneskin's meteoric rise to fame, it's no surprise that the band members have seen a significant increase in their net worth. As of October 2023, Victoria's net worth has been estimated at more than $5 million.