Michaela Dietz
The voice actress Michaela Dietz was born on 1st November 1982, in Incheon, South Korea, and is known for bringing many unforgettable characters to life over the course of her long and illustrious career.
At three months old, Michaela was adopted in Cooperstown, New York, USA, where she spent the rest of her childhood and adolescence. After obtaining an International Studies degree from Middlesbury College, she began her movie acting career with a role as Ellie in "Discover Me".
Film Roles
Following her first movie role, four years passed until Michaela's next acting project, although, of course, the New Yorker worked as a voice artist in between jobs. After playing an auditioning dancer in the short movie "Red, Black, and Blonde", Michaela had a minor role in "K-Town" as half of an inter-racial couple.
In 2012, Michaela appeared in the short film "Totally Smooth" as Sherry. This would be her last movie acting role; these projects didn't gain much traction, as they were low-budget productions which received little to no promo.
As for movie voiceover roles, Michaela played Dolly in the 2017 anime film "SuperMarioPierce: The Movie", and two years later, she reprised her most famous role, that of Amethyst in the "Steven Universe" franchise, for the show's official feature film. Last but not least, in 2021, Michaela voiced Tomas in "The Witcher: Nightmare of the Wolf".
TV Voice Roles
From 2006 to 2010, Michaela voiced Riff in the children's show "Barney & Friends" – according to online sources, she flew to another state to audition for the show. Three years later, she began voicing several characters in the animated TV series "Steven Universe", such as Amethyst, Percy and Obsidian.
The show's creator, Rebecca Sugar, was informed in 2016 that the series would be cancelled at the end of season five, but convinced Cartoon Network to extend season five in order to complete the story, and order for the follow-up TV film "Steven Universe: The Movie". Cartoon Network later ordered a further 20 episodes, which became the foundations of "Steven Universe Future", the follow-up series which takes place after the events of the movie.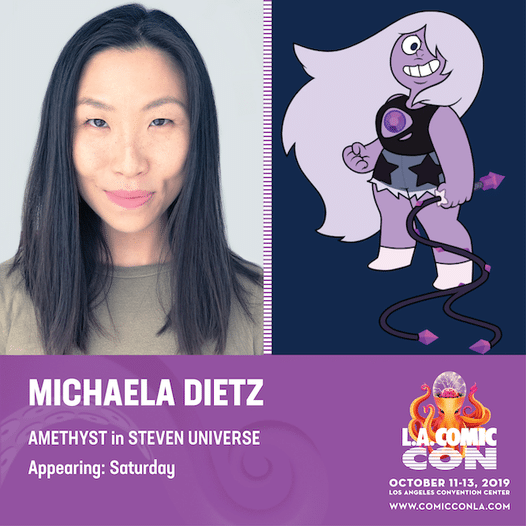 Although Michaela has brought many amazing characters to life, she will always be best-known for her portrayal of Amethyst. In an interview, the South Korea native discussed how her experiences as an adoptee influenced her depiction of the character. The carefree and fun-loving protagonist is a fan favorite, who has been a constant presence in the "Steven Universe" franchise almost since its inception.
Between 2017 and 2018, Michaela portrayed Danelda in two episodes of the animated series "Mighty Magiswords". Then in "Steven Universe Future", Michaela not only depicted Amethyst, but a whole slew of characters including Chert and Ocean Jasper. The follow-up series premiered in December 2019 and finished in March 2020.
"The show had been an emotional rollercoaster for us, and crew members were moving on," Rebecca explained in August 2020, when it was confirmed that there would be no season two. Although fans were heartbroken to see the series come to an end, the creator felt that the story had run its course.
The 2020s are shaping up to be a busy decade for Michaela, as she's voiced characters in "Adventure Time: Distant Lands", "Craig of the Creek", "Kid Cosmic", and a dozen other series. Between 2021 and 2023, she depicted Vee and Mrs Smith in episodes of the Disney animated fantasy series "The Owl House".
2021 was also the year Michaela joined the casts of "Monsters at Work" and "The Ghosts and Molly McGee", in which she voices Snore, Darryl McGee, and additional characters. Most recently, the New Yorker voiced the Scorpion Queen in an episode of "Lego Monkie Kid", and Wallace in "Baby Shark's Big Show!".
Happy 39th Birthday to Michaela Dietz! The voice of Riff on Barney & Friends, Amethyst on Steven Universe, Dolly on 101 Dalmatian Street, Maggie "Pita" Stern in Fallout 76, and Snore in the Monsters at Work episode, The Damaged Room. #MichaelaDietz pic.twitter.com/hwcI2ebHa0

— Jake with the Ob (@mnralphie) November 1, 2021
Video Games
Players of the "Grand Theft Auto" franchise are more than familiar with Michaela, as she voices the general population – that is to say, the non-playable characters – in the fifth installment of the video game series.
In 2014 and 2015, Michaela brought Amethyst to life yet again in the mobile games "Cartoon Network Superstar Soccer: Goal" and "Steven Universe: Attack the Light". Between 2017 and 2019, she yet again reprised the beloved role in "Steven Universe: Save the Light" and "Steven Universe: Unleash the Light".
Since then, Michaela has portrayed Dorothea Dias and other characters in "Fallout 76: Wastelanders", and reprised her role of Dolly in "Super Mario Bros. Wonder".
Personal Life
Details of Michaela's personal life are uncertain; although some online biographies confirm that she's married, others state that she's single – for now, Michaela has yet to speak on the matter. The TV star clearly likes to keep herself active, as her hobbies include swimming, surfing and dancing.
The voiceover artist has previously described herself as a sensitive person, saying: "I love joking around and laughing at myself, but I'm capable of crying about injustice in the world and especially over sentimental content."
In late March 2021, Michaela posed for a portrait for photographer and art director Diana Albrecht's project "Placed", in which she explored how adoption shapes the identity of Korean-American citizens. Michaela was one of ten Korean adoptees interviewed; although BuzzFeed News reported the story, none of the voice artist's quotes ended up in the article.
Michaela first referenced the project in a May 2020 Instagram post, saying: "I talked with @dalbrecht3 about the influence of physical place on my Korean adoptee identity. Of course I chose a K-Town grocery store as my place."
According to reputable sources, Michaela's estimated net worth is close to $5 million, thanks to her role of Amethyst and other lucrative projects; it's important to note that exact figures are unavailable. "Steven Universe" is known to hire expensive voice actors or celebrities for guest-starring appearances, such as Nicki Minaj, but the salary for regular cast members such as Michaela is unknown.
Michaela currently lives in Venice, California. The voiceover star is 5ft 5in (165cm) tall.