Angelica Marciano joined the family-run fishing crew in the seventh season of the reality TV show, "Wicked Tuna," which follows commercial fishermen looking for bluefin tuna in the North Atlantic Ocean. That species, also known as the northern bluefin tuna, tunny, and giant bluefin tuna if the specimen exceeds 330lbs or 150kgs, is scarce. Consequently, the government controls each vessel's quotas and tuna size limits based on its size and the number of crew members aboard, preventing overfishing and unfair competition.
Over 20 fishing vessels based in and around Gloucester, Massachusetts, have vied to profit the most in the show. The results were tallied up and presented in every episode, with a scoreboard in the finale. The FV-Tuna.com fishing vessel holds the record for earning $126,403 in season three. National Geographic Channel premiered the show on 1 April 2012, and has followed several ships, typically eight per season. FV-Tuna.com, with Dave Carraro as the captain, is the only vessel that's appeared in all seasons of "Wicked Tuna." Pinwheel, led by Captain Tyler McLaughlin, is the runner-up, as she never left the camera's sights after the second season.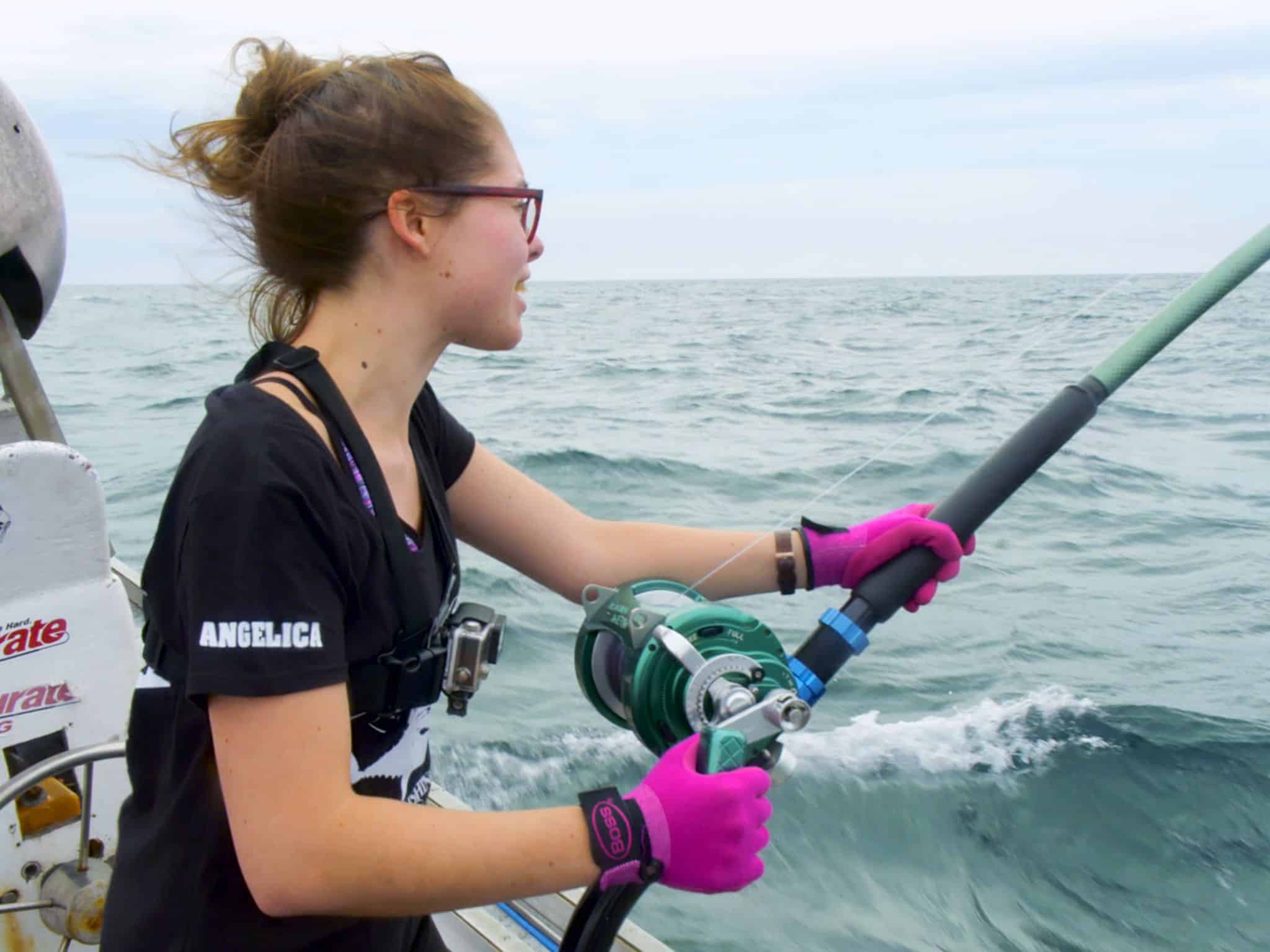 Hard Merchandise, the boat captained by Angelica's father, David "Dave" Marciano, appeared in the show from seasons one to seven. Dave replaced it with Falcon for seasons eight and nine, using the time to retrofit his old boat in time for its glorious return in the 10th season. Angelica served as the deckhand on the two ships between 2018 and 2021, so here's what Angelica went through working for her father, before she quit in season 10.
Angelica lasted three years
Angelica helped her father, brother, and cousin aboard Hard Merchandise and Falcon for three seasons of "Wicked Tuna" as a deckhand. She kept the boat going in the right direction, cooked, and provided emotional support and an extra pair of eyes for spotting tuna, while the men were reeling the tunas in,. However, she occasionally started winding the wire around the fishing reel when they were preoccupied or needed a break, proving her strength.
Angelica had fun surrounded by family members, and celebrated three birthdays in August before the cameras. However, the fishing during seasons seven, eight and nine was unlucky for the crew, and they mainly occupied the bottom spots on the final scoreboard.
However, that wasn't why Angelica left the show in 2021, quite the opposite; her father's boat surprised everyone with its efficiency when they took the runner-up spot in season 10. The declining economy caused by the COVID-19 pandemic and a decreased interest reduced her on-screen time, so Angelica eventually started to pursue work on sets in the entertainment industry again, resided in Albuquerque, New Mexico, and worked on becoming a filmmaker. She was also involved with the seafood delivery business that her father started in September 2022, Angelica Seafoods.
She joined in season seven
Angelica joined the F/V Hard Merchandise crew in the first episode of the seventh season, "Worst to First," aired on 11 March 2018. She is the elder daughter of Dave and his wife Nancy, and has a brother, Joseph "Joe," and a sister, Eva or Eve Rose. She filled the spot of the previous deckhand, her cousin Jay, while her brother became the ship's first mate.
Angelica said that her family couldn't pay the bills from fishing while she was young. Consequently, she fished for pleasure, and focused on her education. She matriculated from Gloucester High School, and in 2014  graduated with a Bachelor of Arts in communications and a minor in psychology from Newbury College in Brookline, Massachusetts.
Before Angelica debuted in the show, she was an assistant and marketing advisor for Let's Get Creative, John Guilfol Public Relations LLC's social media campaign manager, and worked for Ralph Lauren's customer support team. Angelica was also a location assistant and stage assistant for the 2019 Oscar-winning coming-of-age drama movie "Little Women," and had that role in several other projects.
Angelica's first season was rocky
Her TV show introduction didn't go as planned, as her father's boat became the only vessel that hadn't caught a bluefin tuna by episode three. Interestingly, her father's first boat, Angelica Joseph, named after his two children at the time, sank 20 miles or 32 kilometers out at sea on 13 January 2003.
Luckily, her ship wasn't the only one struggling; FV-Tuna.com was the defending champion and one of the leaders for the last six years, but had equally bad luck. When other ships seized the opportunity, the two Daves partnered and began sharing information. Angelica agreed with the decision, 'FV-Tuna.com is obviously very good. The boat catches many fish, so who wouldn't want to work with its captain?'
By the end of the sixth episode, FV-Tuna.com jumped from the bottom at $27,333 of profit from four tunas to $44,741, earning first place, while Hard Merchandise only made $16,717 from two tunas. Shortly afterwards, other captains also partnered, including Tyler McLaughlin of Pinwheel and Brad Krasowski, leading Fish Hawk. Contrarily, TJ Ott of Hot Tuna and Paul Hebert of Wicked Pissah didn't have a smooth working relationship, as Ott overshared, risking their haul.
Hard Merchandise pulled through
The 12th episode of "Wicked Tuna," which showed the 12th week into the journey, started positively, as Angelica pulled her weight and more. Sadly, the scoreboard showed a grim result, as her boat was at the bottom with six tunas worth $50,867, while the leader, Fish Hawk, had 12 and had earned $78,522. Consequently, Angelica's father reached breaking point and began cursing and throwing things around, calling the fishing season awful. Angelica agreed, saying that she felt disappointed that they did everything right, yet the tuna avoided their hooks, and they saw no results for three weeks.
They even lost a tuna, an anchor, and accidentally caught a shark, an extra slap in the face. Angelica said that her father had never been this upset, and that she was worried. Joe understood his father's anger, but the two children could only wait for their father to vent his frustrations.
Things improved a bit before the season finale. Sadly, Hard Merchandise was still at the bottom with 10 tunas worth $69,224, while the leader, Fish Hawk, caught 17 tunas and earned $100,731. However, they saw an opportunity when one of the top leaders, Pinwheel, pulled out when its captain almost cut-off his middle finger in an accident. Additionally, three days before the finale, their old partner, Captain Dave Carraro, had to go to the hospital for a severe fever from a suspected infection from fish poison. They brought Nancy onboard for extra luck, as the Marcianos wanted to catch a tuna to celebrate Angelica's birthday. She broke down in tears when that didn't happen, and Hard Merchandise ended the season with an unchanged score.
🎉🎉🎉🎉 it's my dad's birthday today!!! happy bday @CaptMarciano :') thanks for all you've taught me and all the experiences we've had together. excited to experience more. throwback to when we caught a swordfish in the outer banks together!!! #obx #wickedtuna pic.twitter.com/1DJtrM6JqY

— Angelica Marciano (@ae_marciano) December 5, 2018
Angelica served on Falcon afterwards
Angelica's father decided Hard Merchandise needed an overhaul in the eighth season. Consequently, the crew, Angelica included, switched to another vessel, Falcon, hoping the previous season's bad luck wouldn't follow them. They failed to catch anything in the first episode. Thus, Angelica, whose short nickname "Gel" they started using in place of her name, fell asleep from boredom until the radar began beeping and the reel rapidly unspooled. She jumped up and started reeling-in the fish, but got tired because the tuna was gigantic. When others realized this, her brother took over while she drove the boat. Dave commented, 'Angelica has been doing a lot of driving. She's a smart kid and a fast learner. Thank God she doesn't take after me.' They dedicated this tuna, their first, 90 inches or 228 centimeters in length, to Angelica's late maternal grandfather Bill, who they felt watching over them.
Season eight showed improvement
Her cousin Jay rejoined the crew as a deckhand in the fifth episode, bringing luck and energy to the team. Sadly, they lost a big tuna in the sixth episode after a tense battle, but ended fifth out of seven vessels with three tunas and $21,383 of earnings. Consequently, the Marciano family teamed with Hot Tuna's captain. Angelica initially focused on reeling in fish, but eventually switched to driving while her brother and cousin stood by the fishing rod. That was the right decision, as they quickly pulled out a specimen 85 inches or 216 centimeters long.
Storm plagued all boats afterwards, but Falcon spotted a massive tuna weighing approximately 500lbs or 227kgs. Sadly, the fish was too powerful and snapped their line – the restrictions of one daily bluefin tuna catch troubled all captains for the rest of the season.
Angelica wanted to feel better after such a significant failure, so she caught her first squid and found the process more complicated than expected. That somehow did the trick, as they pulled out a gigantic 96-inch or 231-centimeter-long tuna and sold it for $9,531.
Falcon didn't catch anything the following week, but entered the 12th week paired with Hot Tuna and with another decent-sized tuna in their storage. Angelica had fun chasing flies around the boat and cleaning the dead ones that she sprayed with a bug-killing solution. An even bigger catch, a gigantic tuna 94 inches or 239 centimeters long, boosted everyone's mood. Everyone agreed that another enormous specimen might improve their score. They failed to catch any, but the proud father praised his children and Jay for their efforts; they caught eight tunas worth $60,314, and were excited to return.
The ninth season was dismal
The season nine of "Wicked Tuna" premiered on 1 March 2020, marked with the new crew aboard Fat Tuna. The vessel's captain, Bob Cook, swore to dethrone Dave Carraro, and the energy was infectious. Falcon started on the right foot, earning fourth place with one specimen worth $4,280. That was significant since the restrictions of one bluefin tuna per day remained. The veterans vowed to beat the newcomers, so they partnered. Simultaneously, Marissa McLaughlin, the sister of Pinwheel captain Tyler, allegedly began dating TJ Ott of Hot Tuna, so the focus shifted to their potential romance. Angelica mostly joked that her crew members should start doing pilates to help them stay strong and flexible.
Once again, her antics brought them luck; they caught a bluefin tuna that earned them a $6,764 paycheck. In the fourth episode, Angelica and Jay spotted a tuna estimated to weigh over 1000lbs or 453kgs, but it swam away. Although they were upbeat, Angelica and her crew learned the unfortunate news halfway through the season. The buyers informed all captains that the market was flooded. That meant the fishermen caught fish faster than the buyers could sell them, forcing them to pause all purchases for 48 hours. Regardless, Falcon had only caught three fish worth $14,870 by that point. In the ninth episode, during the pause, the crew collaborated with the researchers and released one bluefin tuna back. They did so after attaching a GPS tag, allowing researchers to follow their migration.
The markets re-opened in the 10th episode, motivating the Falcon crew, but the weather worsened rapidly in the 11th episode. Thus, after the anchor chain somehow touched the propeller and risked destroying the vesse, Dave decided to get his two children and nephew to safety l. They hooked two fish in the next episode, but one escaped, so they only received $7,480. Falcon ran into bad luck and only caught one more tuna, squid, and small fish for sustenance the following week. Thus, Falcon ended the season in last place with only five tunas worth $29,297. Fat Tuna did not beat FV-Tuna.com; they ended sixth, while Dave Carraro's crew retook the top spot.
She was briefly aboard Hard Merchandise
After many failures, Dave and his crew adjusted their goals. Dave upgraded Hard Merchandise with a new cabin, a better deck, a powerful 500-horsepower engine, and better fuel tanks. That was the right decision; during the first-day show in the 10th season of "Wicked Tuna," the crew earned $2,000 from tuna weighing about 200lbs or 90kgs. Angelica's brother Joe was promoted to Captain of Hard Merchandise, with Jay as his first mate whenever Dave operated Falcon as a captain. Another reason for having two boats, the new family company's creation, became evident a year and a half later.
Angelica barely appeared in season 10, and seemingly had the most air time in the first episode, which recapitulated the previous season and explained the problems the COVID-19 pandemic caused to commercial fishing. The slow market, mechanical issues, reduced quota, and poor yields marked the 10th season. However, Angelica made her brief appearance memorable. She told her father that she craved peanut butter, producing laughter and offers of fish-based alternatives. Also, she was trying to reel tunas once again, instead of driving.
The crew eventually caught a tuna 88 inches or 223 centimeters long disappeared from the camera's view around the third episode, presumably because the producers had to cut costs and focused on captains and first mates. Moreover, the fish market also paid $1 to $10 per pound or about half a kilogram. For comparison, the prices ranged from $17 to $25 for the same weight in season nine. Hard Merchandise ended the season in second place with 14 tunas worth $48,541, making a much-needed comeback.
Angelica left unceremoniously
After her departure, Angelica remained active on her social media accounts, Facebook, @aemarciano, and Instagram, @aemarc. She urged her followers to get vaccinated, revealing that she received two doses of the Moderna vaccine. Angelica also explained that she'd switched careers and began working in the entertainment industry in Albuquerque, New Mexico, in 2022. When the year ended, she proudly announced her industry had record-breaking spending of $855 million despite the pandemic. Moreover, Angelica continued sharing posts from two family businesses, indicating no family discord.
Dave runs two other companies
After losing his first boat, Angelica's father named at least two more things after her. Angelica Fisheries is a company that offers fishing charters, allowing people to book a boat, a crew, and a guide for their fishing experiences. It officially employs Dave, Joe, Jay, and another person. Dave also started Angelica Seafoods on 1 September 2022; the business sells fresh seafood, including monkfish, haddock, bluefin tuna steaks, and lobsters, to consumers and companies with overnight shipping nationwide.
Angelica's aunt, Christine Marciano Sciola, handles the economics. Dave said that his bookkeeping skills weren't commendable, as he 'was a fisherman for 40 years and only deals with cold, dead fish.' In contrast, Angelica's aunt is experienced, has a master of business administration (MBA), and started Dave's t-shirt business. Besides turning a profit, Dave wanted a place to point hungry fans to. Moreover, he sought to increase demand for local Gloucester seafood and help the food shipping industry. Dave organized a meet and greet event a few days before the business launched, and Angelica likely attended