Just a simple reminder that article is created and owned only by biographytribune.com. Article cannot be re-published in any other pages or documents. Copyright is protected by DMCA. All found copies will be reported.
Original source: https://biographytribune.com/what-happened-to-beverly-dangelo-her-bio-children-net-worth-ex-husband-al-pacino-affair-plastic-surgery/
Who is Beverly D'Angelo?
Born Beverly Heather D'Angelo on the 15th November 1951, in Upper Arlington, Ohio USA, she is a Golden Globe Award-nominated actress, best known to the world for her leading roles in the '80s films such as "Coal Miner's Daughter" (1980), "National Lampoon's Vacation" series from 1983 until 2015, and "A Streetcar Named Desire" (1984), among many other differing roles she has secured so far in her career.
What Happened to Beverly D'Angelo? Did She Have Plastic Surgery?
This stunning beauty has enjoyed a fair share of success in a three-decade-long career, but her glory days are now over. However, she has managed to stun the world again, this time not with a new role, but with a string of plastic surgeries. She is still an actress, and has most recently appeared in the TV series "Shooter" (2017-2018), as National Security Advisor Gregson, and as Stella Rose Buckley in the TV series "Insatiable" in 2018.
Beverly D'Angelo Bio: Early Life, Family, and Education
Beverly, of Italian, English, Irish, Scottish, and German ancestry, is the daughter of artistic parents, Priscilla Ruth a violinist, and Eugene Constantino D'Angelo a bass player and television station manager. She is a granddaughter of Howard Dwight Smith, who architectural designer of the Ohio Stadion, the popular "Horseshoe" at Ohio State University. Beverly grew up in her hometown with brothers, Jeff, Tim and Tony, and went to Upper Arlington High School, from which years later she received the Upper Arlington Alumni Association (UAAA) Distinguished Alumnus Award, for achievements in her career. Before she set her mind on acting, Beverly was an illustrator at Hanna-Barbera Studios, while also pursued a singing career, most notably serving as a backup vocalist for the rockabilly singer Ronnie Hawkins and his band The Hawks, which became The Band, following Hawkins' departure.
Career Beginnings
Beverly's acting career started in the mid- '70s, with parts in stage plays including an on-Broadway appearance in "Rockabye Hamlet", a musical based on Shakespeare's "Hamlet". She soon transferred to screen, and in 1976 portrayed Miss Emmy in the TV mini-series "Captains and the Kings". She continued with minor roles in such films as "Annie Hall", directed by and starring Woody Allen, and "Hair" (1979), in which she had a co-starring role next to John Savage and Treat Williams.
Rise to Prominence
Beverly was quickly improving, which soon resulted in notable roles, and it was in 1980 that she felt the rays of glory for the first time when she was cast as Patsy Cline in the biopic about Loretta Lynn, entitled "Coal Miner's Daughter", for which she earned a Golden Globe Award nomination in the category for Best Actress in a Supporting Role – Motion Picture. She continued rather successfully throughout the '80s, starring in a number of roles, such as Ellen Griswold in the adventure comedy film "National Lampoon's Vacation" in 1983, and then repeated her role in its sequels, "National Lampoon's European Vacation"  (1985), "National Lampoon's Christmas Vacation" (1989), "Vegas Vacation" (1997), and most recently in the new installment, though
only a cameo role
alongside Chevy Chase in "Vacation" in 2015, while she also starred in the romantic comedy film "In the Mood", and in "Maid to Order" both in 1987, among other successful films that made Beverly a national acting star.
Continual Success
Beverly never stopped impressing the public and casting directors, showcasing her acting skills in a number of successful films in the '90s, such as the romantic comedy film "Man Trouble" in 1992, co-starring Jack Nicholson, and Harvey Dean Stanton, then the television film "Judgment Day: The John List Story" in 1993, "Lightning Jack" in 1994, and the lead female role in the crime-drama film "American History X", next to Edward Norton and Edward Furlong.

Career Decline
Once she entered the fifth decade of life, Beverly's career started declining, as she secured only minor parts in B production films, however, she managed to bounce back with the part of Barbara Miller in the TV comedy series "Entourage" (2005-2011) and with a supporting role in the sci-fi action thriller film "Bounty Killer" in 2013. Most recently, she started portraying National Security Advisor Gregson in the action drama series "Shooter" (2017-2018).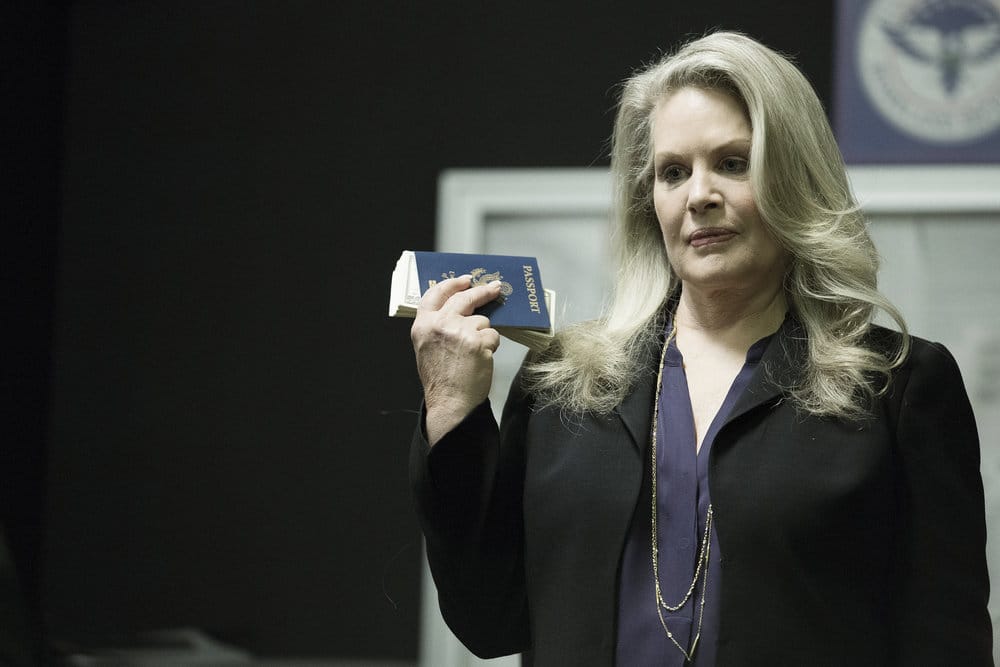 Do You Know How Rich Beverly D'Angelo Is?
Beverly has been credited with more than 110 film and TV titles, some of which became a total success, but all adding to her bank account. With the lead roles in "National Lampoon's" films, Beverly not only benefited commercially, but her name also became known around the world. She continued to build on her fame, and even today she is one of the most praised actresses in Hollywood. So, have you ever wondered how rich Beverly D'Angelo is, as of mid- 2018? According to authoritative sources, it has been estimated that D'Angelo's net worth is as high as $20 million. Pretty impressive don't you think?
Do You Know About Beverly's Personal Life, Affairs, Relationship with Al Pacino, Marriage, Children?
Beverly has been quite open about her personal life, sharing almost every important detail with her loyal fans. She had a trouble-filled relationship with the famous actor Al Pacino – the two were together from 1997 until 2003, during which time she gave birth to twins, daughter Olivia Rose and Anton James, but then the couple broke up and started a fight for custody of the twins. Before Pacino, Beverly was married to the heir of Don  Forese Salviati, 5th Duke Salviati, Marchese di Montieri and Boccheggiano, Nobile Romano Coscritto – Don Lorenzo Salviati – from 1981 to 1995, The couple didn't have children.