Who is Deryck Whibley?
Deryck is a Canadian musician, singer, songwriter and producer, best known as the lead vocalist, rhythm guitarist, and primary songwriter for the rock band Sum 41, having co-founded the group in 1996 along with drummer Steve Jocz and bassist Richard Roy. Deryck has also been involved in various side projects, including producing music for other artists, and a solo album. Despite facing several health issues, including a near-fatal alcohol addiction, he has continued to make music and tour with Sum 41.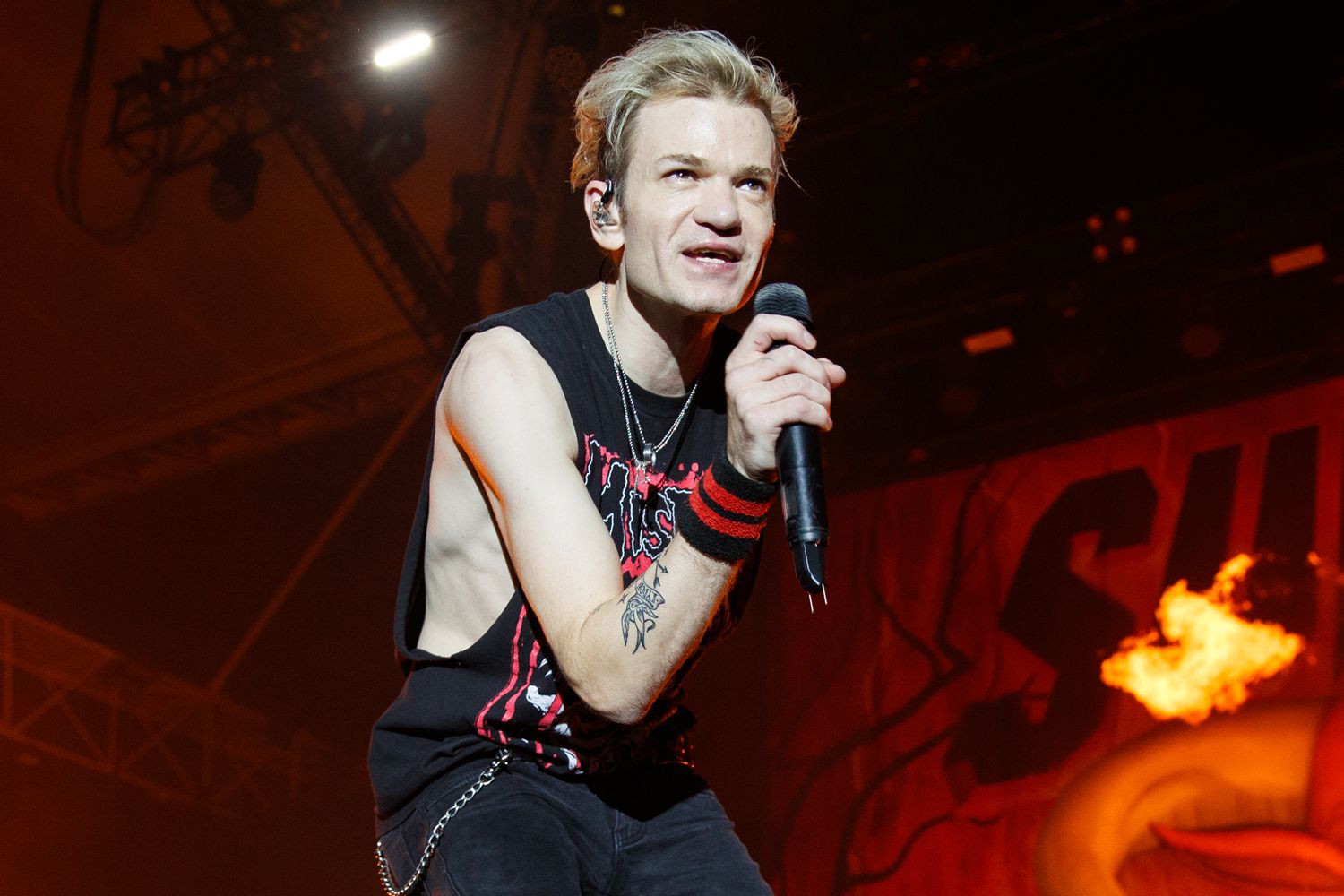 Early Life and Education
Deryck was born on 21 March 1980, in Scarborough, Ontario, Canada. He was raised by his mother, Michelle, as his father left the family when Deryck was just a baby. Growing up in a single-parent household was challenging, but it also instilled in him a strong sense of determination and resilience. Deryck developed an interest in music at a very young age and started playing the guitar when he was 14 years old. He attended Exeter High School, where he met future Sum 41 bandmates Steve Jocz and Richard Roy.
Sum 41
Deryck's musical journey began in the mid-90s when he formed the band Sum 41 with drummer Steve Jocz, bassist Richard Roy, and later, lead guitarist Dave Baksh. The band was formed in 1996 and initially started as a NOFX cover band, playing at local venues in Ajax, Ontario. The band's name, Sum 41, was derived from the fact that their formation occurred 41 days into the summer.
Sum 41's breakthrough came in 1999, when they signed with Island Records. They released their debut Extended Play (EP), "Half Hour of Power", in 2000, which included the single "Makes No Difference"; the EP was well-received and helped the band gain a following. In 2001, they released their debut full-length album, "All Killer No Filler", which included the hit single "Fat Lip". The song became an anthem for the pop-punk generation, and propelled the band to international stardom. The album was a commercial success, achieving platinum status in multiple countries.
Following the success of "All Killer No Filler", Sum 41 released several more successful albums, including "Does This Look Infected?" (2002) and "Chuck" (2004). "Does This Look Infected?" featured a heavier sound compared to their debut album and included hits such as "Still Waiting" and "The Hell Song". "Chuck", named after a United Nations peacekeeper who helped the band during a dangerous situation in the Democratic Republic of Congo, showcased a more mature and serious side of the band. The album also included the singles "We're All To Blame" and "Pieces".
.@Sum41 en couverture du prochain numéro de @MYROCKMAG (en kiosque dès demain) 🎶 pic.twitter.com/0cM1ZSXXPp

— Sum 41 France 🇫🇷 (@Sum41France) July 5, 2019
In 2006, Dave Baksh left the band to pursue a career with his own band, Brown Brigade, and was replaced by Tom Thacker, guitarist of Gob. Despite the line-up change, Sum 41 continued to produce music and tour. In 2007, they released "Underclass Hero", their first album without Baksh. The album featured a more pop-oriented sound, and included the singles "Underclass Hero" and "With Me".
In 2011, Sum 41 released "Screaming Bloody Murder", which included the single "Blood In My Eyes". The album received mixed reviews, but earned the band a Grammy nomination for Best Hard Rock/Metal Performance. However, the band faced several challenges during this period; Deryck suffered from back problems, which forced the band to cancel several shows, andnDeryck's struggles with alcohol addiction took a toll on his health and the band's productivity.
In 2013, Steve Jocz left the band, leaving Deryck as the only original member. Despite these challenges, Sum 41 made a comeback with the release of "13 Voices" in 2016. The album marked the return of Dave Baksh, and featured a heavier sound compared to their previous work. The album was well-received by fans and critics alike, and marked a new chapter for the band.
In 2019, Sum 41 released their seventh studio album, "Order In Decline", which featured a mix of punk rock, heavy metal, and pop-punk, and included the singles "Out For Blood" and "Never There". The band embarked on a worldwide tour to promote the album, and celebrated the 15th anniversary of "Chuck" by playing the album in its entirety at several shows.
Simple Plan- Ruin My Life feat. Deryck Whibley

Skumfuks! Simple Plan's new single "Ruin My Life" is out now – ft. our very own Deryck Whibley! Listen + watch the official music video now at https://orcd.co/ruinmylife.

Posted by Sum 41 on Friday, February 18, 2022
Sum 41's musical style has evolved over the years, incorporating elements of punk rock, pop-punk, heavy metal, and alternative rock. The band's early work was heavily influenced by punk rock bands such as NOFX and Blink-182, while their later work featured heavier guitar riffs and more serious lyrical themes. Despite the evolution of their sound, Sum 41 has maintained a loyal fan base, and continues to be prominent in the rock music scene.
Sum 41 is considered to be one of the most influential bands of the pop-punk genre. Their catchy melodies, energetic performances, and relatable lyrics have earned them a devoted following worldwide.
In May 2023, the band announced their plans to release one more studio album, followed by a world tour, before they officially disband.
Solo Projects
In addition to his work with Sum 41, Deryck has been involved in various solo projects and collaborations with other artists. In 2007, he released a solo album under the pseudonym Bizzy D, which included collaborations with several other musicians. Deryck's solo work allowed him to explore different musical styles and showcase his versatility as an artist.
He worked with Tommy Lee on his 2005 album "Tommyland: The Ride", and with Ludacris and Joel Madden on the song "Get Back – Rock Remix". He also collaborated with Iggy Pop on the song "Little Know It All", which was featured on Pop's album "Skull Ring".
Deryck has also worked as a producer for other musicians. He produced for bands such as No Warning, for their album "Suffer, Survive", and Permanent Me, for their album "After The Room Clears".
Marriage with Avril Lavigne
Deryck's personal life has also been in the spotlight, particularly his marriage to fellow Canadian musician Avril Lavigne. The two met in the early 2000s and started dating in 2004. They engaged in 2005 and were married on 15 July 2006, in a private ceremony in Montecito, California. However, the marriage was short-lived, and the couple announced their separation in 2009. The divorce was finalized in 2010. Despite the split, Deryck and Avril have remained friends and have even collaborated on music after their divorce.
Where Is He Now?
In recent years, Deryck has continued to make music and tour with Sum 41; he's also been open about his struggles with alcohol addiction and the toll it took on his health. In 2014, he was hospitalized for a month due to liver and kidney failure caused by excessive alcohol consumption. This health scare forced him to reevaluate his lifestyle and make significant changes. Since then, he's been sober, and become an advocate for mental health and addiction awareness. Deryck has also been working on new music, both with Sum 41 and as a solo artist.
Since 2015, Deryck has been married to the American model Ariana Cooper. The couple reside in Los Angeles, California, and have two children together, born in 2020 and 2023. Beyond that, little is known about their personal lives, as they both prefer to lay low and raise their children away from the media spotlight.
Net Worth
Deryck has had a successful career in the music industry, spanning over two decades. His net worth is estimated to be around $6 million, which he's accumulated through album sales, touring, and other business ventures. Despite facing several challenges, both personally and professionally, Deryck has managed to build a successful career, and maintain a loyal fan base.