Kyle Jenkins Abbott has had a long and sometimes controversial run in "The Young and the Restless" — "Y&R," one of the longest-running soap operas on the CBS network. He was introduced to the audience on 8 January 2001 as an infant, then a toddler born to businessman Jack Abbott, who joined the cast in 1980, and his romantic interest, Diane Jenkins. She is a drama-loving character who debuted in 1982 and initially hid who Kyle's father was, seeking to use Jack to advance her modeling career. That caused Jack to be absent from Kyle's life, leading to many conflicts, mainly when he remarried and wanted custody. Diane also faked her death with the help of Deacon Sharpe before she revealed herself to everyone in 2022. Thankfully, their story ended well, and Kyle's parents rekindled their love and married in 2023.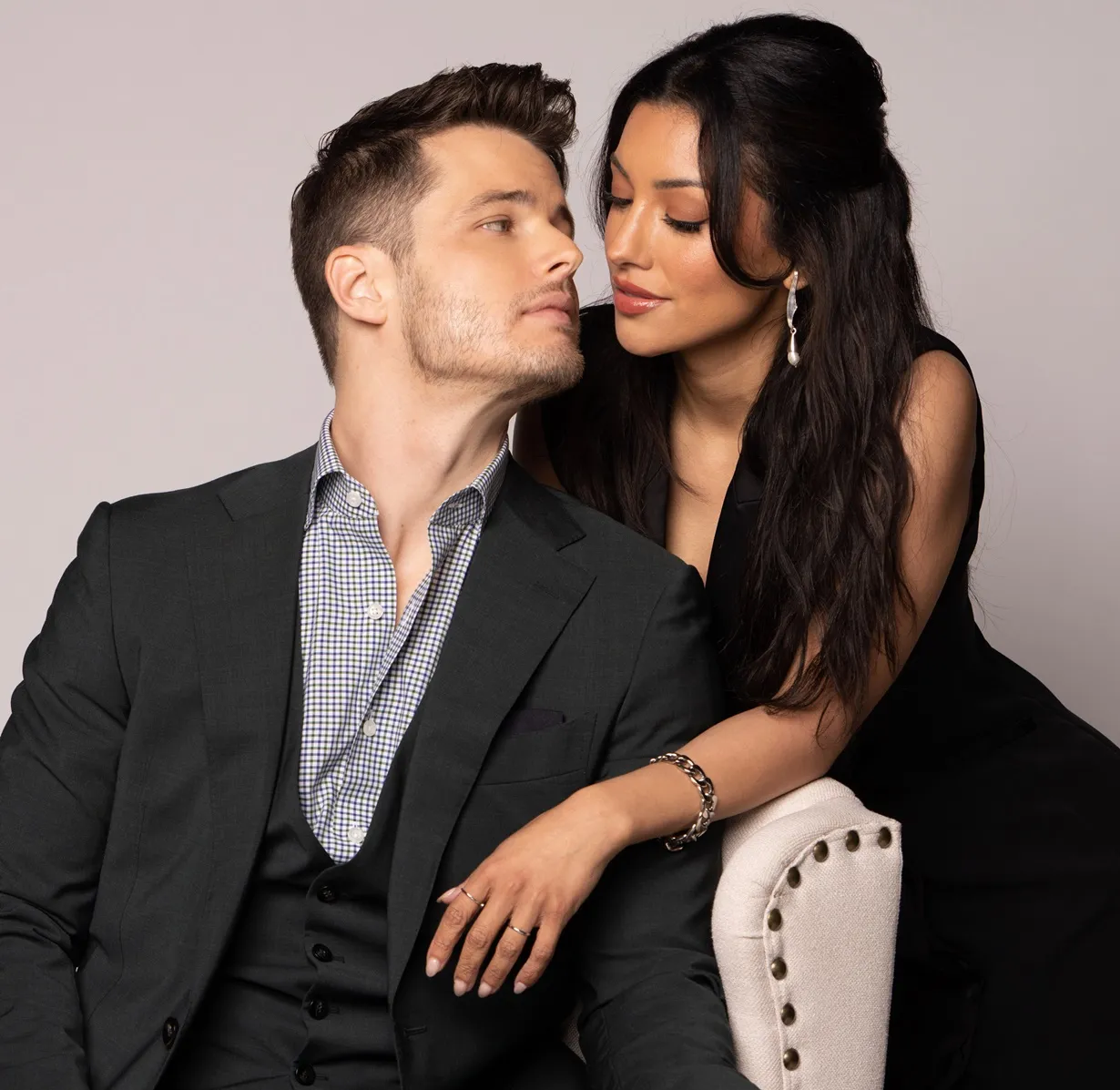 Kyle found many new fans in 2018, when actor and model Michael Mealor took over after a two-year absence. He departed the role in 2021 but returned on a long-term contract the following year. That contrasted the previous problems with time skips that prevented viewers from getting too attached. Kyle was missing between 2004 and 2010, then was nearly eliminated upon return because audiences disliked the age jump. Thankfully, Blake Hood, Hartley Sawyer and Lachlan Buchanan made the viewers fall in love with the character between 2012 and 2016.
Michael's acting chops, good looks, intrinsic bad-boy charisma, and marriage to Summer Newman kept "The Young and the Restless" viewers glued to the screen, awaiting the next dramatic moment. Audra Charles, a character played by Zuleyka Silver and introduced in September 2022, with whom he had an affair, provided probably the most exciting storyline yet. Here's how their love developed.
A hookup started it all
CBS introduced Audra as 'a successful businesswoman and artist who arrives in Genoa City with a secret agenda and a mysterious past.' Other publications focused on the romance between her and Kyle in standard hype-building speculations of whether a hook-up, a moment of passion, would lead to a serious relationship. However, "Y&R" wouldn't be so popular without drama, and there are rumors that she would chew Kyle up and spit him out, meaning that she is using him to further her goals in the city, leaving him stunned and heartbroken.
That would be problematic because he had been pushing Summer away and distancing his son with Tara Locke, Harrison Locke, from her. Simultaneously, Kyle lost his job so that Summer could stay, and when things looked ideal between him and Audra, he learned that she had kept a significant secret from him; she had a son with an influential man, yet lied to him when saying that she'd miscarried.
Zuleyka expected a romance with Tucker
Audra is introduced to the audience through Jill Foster Abbott, who hired her as an Initial Public Offering (IPO) advisor, because the Chancellor-Winters company was going public. Nate Hastings was the first to meet her at Crimson Lights, the most popular Genoa City coffee shop. Audra then met the CEOs Devon Hamilton, Lilly Winters, and Billy Abbott. They agreed with her plans, but Tucker McCall, who secretly slept with Kyle's mother, Diane, inserted himself, stopping the business move, and his and Audra's lives became intertwined afterwards.
Audra met her ex-boyfriend, Noah Newman, at the nightclub that he'd opened and where he was spending time with his new girlfriend, Allie Nguyen. She began sharing information about the Chancellor-Winters launch with Tucker and became affiliated with Wild Beauty, an artistic company with ties to him. Nikki, Noah's grandmother, simultaneously wanted to gather evidence about Tucker's links to Diane. Nate then interrupted the public launch as he began working with a secret CEO to amass company shares before it went public, making them both instantly wealthy when it did.
Things become complicated when Tucker reveals that he suspects that the undercover CEO is most likely Victoria Newman, the daughter of Victor Newman, the business magnate who leads the Newman family enterprise. For those reasons, Zuleyka was surprised when writers informed her that she would film an intimate scene with Kyle Abbott because they only had one brief interaction, and the chemistry between Audra and Tucker escalated significantly. At one point, she slept with him in frustration, after being rejected by Noah Newman, and Ashley Abbott nearly caught them.
Audra has an affair with Kyle
Audra was eventually fired from working on Chancellor-Winters' launch and almost immediately found a new job as Newman Enterprises' COO (chief operating officer). She then worked as a double agent, extracting information from Tucker for Nate Newman, who employed her. Audra met Kyle when he forgot his phone at a gala, perhaps intentionally, prompting Audra to return it personally after a long search. He looked enchanted and even studied her silhouette when she turned around to leave, despite being accompanied by his wife, Summer.
Shortly after, Audra learned that Kyle was troubled by the feud between his and his wife's mothers, Diane and Phyllis. His wife, whom he married in 2021, knew that his mother was innocent of her murder charges against Phyllis, as Phyllis secretly survived the alleged killing.
Kyle was furious when he found out and saw no path forward with Summer, so he threw her out of the house. Simultaneously, Audra was single, hot, and eager to listen to his woes. Hence, a sympathetic ear turned into the ideal situation when he inquired about the best burger in town, and they started drinking at the bar. When Audra asked Kyle to work for Newman Media, an innocent situation shifted into a night of slow dancing followed by passionate lovemaking. She even dismissed that Kyle admitted to cheating with a married woman, and that his son Harrison resulted from it.
Behind the scenes, Zuleyka was relieved that the love scene was with Kyle, as the actor had played the character for four and a half years at that point and starred in other TV shows and one movie. She said that he calmed her and was sweet, respectful, protective, and professional. Michael also made her fall in love with the dynamic between Kyle and Audra. Zuleyka realized that their characters were opposites who briefly attracted each other, so they might not have otherwise stayed together.
The passion remained
Although their first night together was through-the-roof exciting, instead of relishing the experience, Kyle offers to make her dinner. Audra tells him that she has a busy day tomorrow and wants him to leave. He agrees and playfully teases her about getting kicked out, but she suggests showering together before he dresses to go, an idea Kyle loves and decides to do. They kiss at the door, but he runs into his parents in the lobby, forcing him to lie that 'he needed a break from the tension with Summer but realized that staying away from home wouldn't solve the problem.' Audra snickers at a photo of Kyle and Summer depicting a recent vow renewal ceremony.
She later approached Summer at the Athletic Club, secretly gloating that she had been with her husband behind her back. Moreover, Audra started running Newman Media because Nate was busy filling in for Nick and acted as if she became the CEO in front of Lily when she thanked her for letting her go from Chancellor-Winters. Concurrently, Kyle resigns from the          Marchetti company because his father thinks that he can no longer work in unison with Summer, and Kyle refuses to work at Jabot. Summer moves out, and they inform the son they raised together, Harrison, about their separation.
Kyle meets Audra again at Crimson Lights and informs her of the situation, reassuring her that their sleeping together did not cause his marriage to crumble. The two are still into each other despite all the tumultuous events.
She meets Tucker again
In the next episode, viewers see that Summer is hopeful that the separation is temporary, as she had always gotten back together with Kyle. Concurrently, Victor confronts her about becoming a substitute CEO. Still, Audra assures him that Newman Media would be safe in her hands, and he instructs her to observe Adam Newman's actions, as he does not want him to be the leader. Summer later spots Audra at the Athletic Club and witnesses her receive a bouquet and the jewelry box. She recognizes them as gifts from Victoria and makes snarky comments that 'her stay at the club would be temporary, like her position of an interim CEO.'
Tucker walks in shortly after and seems in an excellent mood, proclaiming that the stars have aligned and that he wants a drink to celebrate. He forgives her for all the negativity that they have had and laughs enthusiastically but refuses to reveal the reason. She proudly says that her future looks promising when she receives a text from Kyle, which Tucker reads and exclaims, 'Kyle Abbott?! That's what you consider a promising future?!' He tells her not to expect too much from him and bets her a trip to Las Vegas that he would disappoint her.
Audra denies the bet, saying that she had hired him as her right-hand man in Newman Media before they had sex. Simultaneously, Nate gets his position back as COO of Newman Enterprises under Victoria. Nick will help Adam run Adustus, another business, until it grows enough to be incorporated into the parent company.
Kyle loves every moment with Audra
Summer visits Jack's mansion next, hoping to catch Kyle there and perhaps apologize for her mother's arrest, and tells Diane that the war between her and Phyllis is over because her mother turned herself in. Diane tells her that Kyle left home agitated, advising her to get on with life, together or apart from Kyle. Concurrently, Audra opens her suite door and kisses Kyle passionately. They don't mind that their first day together at work would be exhausting and make love immediately afterwards.
After Kyle scolds her for almost immediately shifting into work mode, Audra explains that she knows how to separate work time and playtime. Summer checks her phone, sees no missed calls or texts, and concludes that Kyle isn't out looking for her. Simultaneously, Kyle agrees not to spend the night because he wants to put Harrison to bed, and Audra concludes that his son is probably cute and celebrates that Kyle isn't clingy.
She advises him to be more covert with his texts, avoid Tucker, and ignore his provocations. Nate catches them together as Kyle leaves and promises not to tell anyone about them being together, and Audra promises that it won't ruin their working relationship.
Summer confronted them
Summer sees Audra the next day, awaiting lunch at the Athletic Club, and accuses her of being a gold digger. Audra defends herself, saying that Kyle has free will and chose her over Summer and that they both have a job, so he isn't using him for money. Summer says that she blames Kyle, is disgusted with the damage they have done, and will do her best to shield Harrison from them.
When Kyle arrives, Summer informs him of their conversation and brings Audra down, saying, 'Change your perfume. It smells cheap. I think Kyle can still get you a discount at Jabot if you want.' Kyle is speechless and tells her that Summer is having a hard time. Audra calls him out on his indecision to leave the marriage. She confidently tells him she can handle it if he has second thoughts about them before leaving.
Summer recounts the entire marriage and its consequent breakdown to Chelsea Lawson at Crimson Lights. Chelsea advises her that sometimes things are too far gone and that people should close that chapter and stop torturing themselves.
Audra and Summer clash
Much drama follows when Summer and Audra run into each other afterwards. Summer thinks that Audra is taking advantage of Kyle's compromised state and hopes that Kyle will see through her agenda because she loves him. He admits to Kyle that she has hurt him but tells him that he was better than this. Kyle is forced to play referee between two women and warns Summer that it's no longer her business who he sees. Summer feels uplifted when Chelsea tells her that she has hit all her goals working at Marchetti, as Audra and Kyle make love while Kyle has a blindfold.
A bit later, Audra invites Nate to her apartment and tells him a secret that Tucker wanted her to convince Victor to get rid of Newman Media. He would expose her business connections if she refused, leaving her jobless and unemployable for a while. He later apologizes for his behavior, and Diane eventually questions Audra about her intentions with Kyle.
Summer's got a reminder for Audra! 👏 #YR is new this week on @CBS. Watch the latest episodes on @paramountplus. pic.twitter.com/sghtwQlvGd

— Young and Restless (@YandR_CBS) July 16, 2023
Audra's secret is exposed
Summer then discovers Audra's biggest secret: she has an infant from the relationship with Noah Newman; he did not die as she claimed. Instead, he is staying with a nanny at the Grand Phoenix hotel. When Summer tells Kyle the dirt excitedly, he confidently replies, 'Yeah, Audra has a kid. What of it? I know. I love kids. I even have one.' However, he is genuinely shocked internally, as this is news to him. He feigned ignorance to prevent his wife from exposing Audra, drawing satisfaction from her position.
When Kyle asks about the kid, Audra tells him that she faked her miscarriage. She wanted her son to grow up close to Noah, who dumped her because she hurt him, but without him knowing that he was a father as a way of hurting him. Furthermore, she feared that Victor would influence her son negatively if he knew of his existence.
After some deliberation, Kyle responds that the only way to protect them from Victor and Noah would be for Audra to marry him. We have yet to see what happens; Kyle is smitten with Audra but has a long history with Summer. If Summer digs into the story and tells her grandfather, Victor will end Audra's career and oust her from Genoa City, likely forcing her to leave her son in his or Noah's care. Summer and Kyle and Audra and Noah could also choose the logical path and rekindle their romances, as both couples now have children.