Who is Sam Hyde?
Sam is an American comedian, writer and internet personality, best known for his involvement in various online comedy sketches and projects. Hyde gained particular attention through his work with the comedy group Million Dollar Extreme, which produced the Adult Swim television show "World Peace".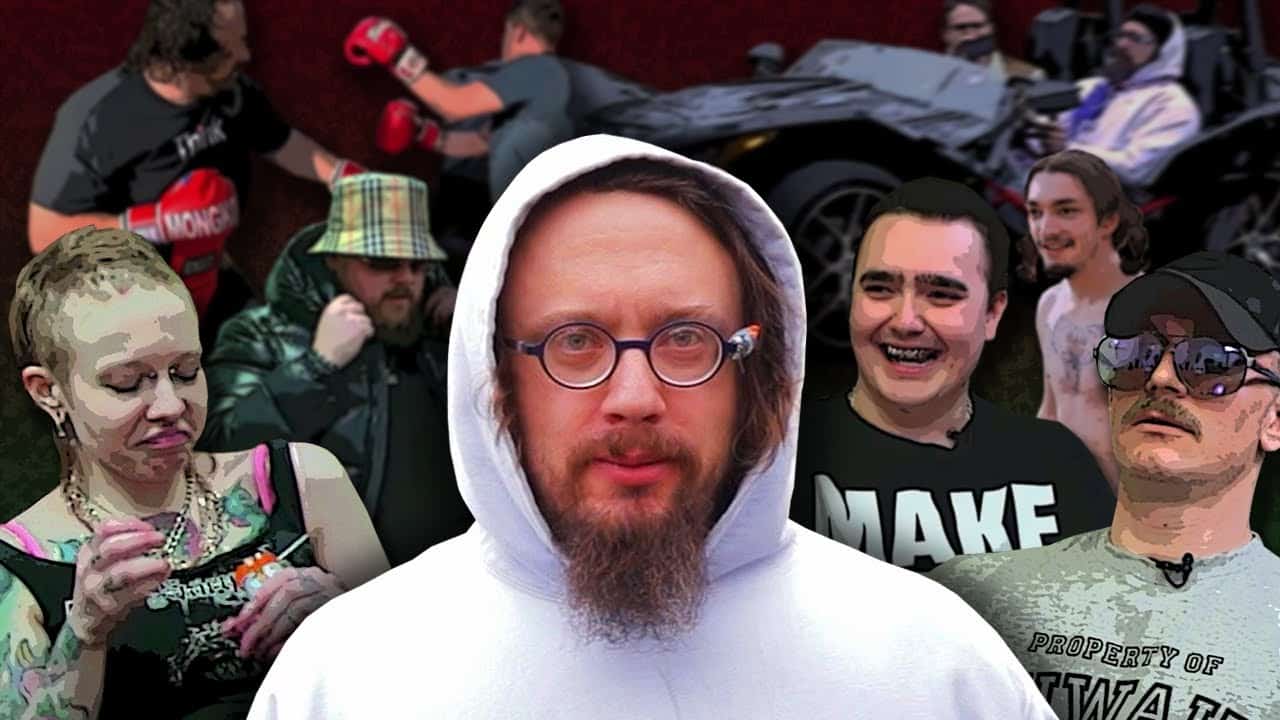 What Happened to Sam Hyde?
In recent years, Sam has been involved in the "influencer boxing" trend, gaining attention for his victory over social media star Jake Thompson (iamthmpsn) at London's O2 arena in August. This event streamed on DAZN, has boosted Hyde's profile and allowed him to display his eccentric behavior. He also launched a live reality TV web show called "Fishtank" in April 2023, featuring eight contestants interacting with viewers in real time. This is his first high-profile project, following the cancellation of his popular show in 2016.
Wiki: Age, Childhood, and Education
Samuel Whitcomb Hyde was born on 15 April 1985, in Fall River, Massachusetts USA. Hyde grew up in Bristol, Rhode Island; he completed his high school education at Wilton High School, and later enrolled at Carnegie Mellon University, but after a year, he transferred to the Rhode Island School of Design, from where he graduated in 2007 with a BA in Film, Animation and Video. It was during his time in college that he developed a strong interest in comedy, and began doing stand-up.
Career Beginnings
Hyde's career started in 2007, when along with Nick Rochefort and Charls Carroll, he founded Million Dollar Extreme (MDE). The group initially gained recognition by producing sketch comedy videos on their YouTube channel. Their fame rapidly grew due to their unique absurdist and ironic humor, often characterized as anti-comedy. Notably, Sam Hyde's iPhone-recorded monologues and public pranks became integral to their content.
One of their memorable pranks includes when Hyde dressed in a maroon sweatsuit and hoplite-style armor, delivered a satirical TEDx talk entitled "2070 Paradigm Shift" at Drexel University. Forbes described it as a mockery of a "Brooklyn tech hipster", and the media, including The Washington Post, highlighted the stunt. Hyde explained that he intended to lampoon TED talks, which he found overly self-congratulatory.
"Most of the major cities will be replaced with vast pleasure domes, used exclusively by the excelceites."

– Sam Hyde (2070 Paradigm Shift) pic.twitter.com/eRICQzEFxj

— Conscious Caracal 🇿🇦 (@ConCaracal) June 7, 2018
This event further amplified their online presence. Despite their popularity, MDE faced challenges with online terms of service violations due to their content and fanbase.
Their success culminated in the creation of their own show. In May 2015, MDE received news that they were set to have their own 15-minute sketch show, "Million Dollar Extreme Presents: World Peace", on Adult Swim. The show premiered on 5 August 2016, and was designed to satirize the political climate in a post-apocalyptic setting. However, just three weeks later, the show faced internal controversy at Adult Swim due to Sam Hyde's associations with the alternative-right.
Amid this controversy, Adult Swim announced that "World Peace" would not be renewed for a second season. While it wasn't explicitly stated, the cancellation was widely linked to the backlash surrounding Hyde's alt-right connections. Hyde himself alleged that his vocal support for Donald Trump played a role in the show's cancellation.
In the aftermath of the series' cancellation, Hyde addressed questions about his views on minorities in a December 2016 interview with The Hollywood Reporter, saying that he believed his biases were on par with those of an average white or black individual.
Popular Pranks
In 2012, Sam Hyde orchestrated a prank that targeted the American anime fandom. He posed as "Master Kenchiro Ichiimada" and delivered a fictitious presentation entitled "Samurai Swordplay in a Digital Age" at a Vermont convention. During the hour-long performance, an MDE associate blocked the exit, trapping attendees.
In 2014, Hyde initiated a fake Kickstarter campaign aimed at crowdfunding a "pony dating simulator" for adult male fans of the show My Little Pony: Friendship is Magic, known as bronies. The campaign promised a journey spanning continents and deep RPG elements. Although some supporters took the project seriously, pledging a total of $4,161, Hyde eventually canceled the fundraiser, revealing the prank.
Since 2015, Sam Hyde has been consistently misreported as the perpetrator of various mass shootings and terrorist attacks by online trolls on platforms like 4chan and Twitter. This trend gained momentum, and the phrase "Sam Hyde is the shooter" became a recognizable meme due to its widespread use.
This prank began with the 2015 Umpqua Community College shooting, where Hyde's image was mistakenly included in CNN's coverage of the event. Subsequently, he was falsely associated with several high-profile shootings, including the Orlando Night Club shooting, the Sutherland Springs church shooting (misidentified by Representative Vicente Gonzalez), and the Las Vegas shooting in 2017. Hyde's image was also erroneously linked to numerous other shootings, both small-scale and large.
The manipulation of Hyde's image extended beyond shootings. He was wrongly identified as the driver of a car that drove into a Christmas parade in Waukesha, Wisconsin, in November 2021. In February 2022, an edited image of Hyde was falsely identified as the "Ghost of Kyiv", a Ukrainian fighter pilot who claimed to have shot down several Russian planes; the image was even used in the manifesto of the 2022 Buffalo shooter. Additionally, social media posts falsely labeled Hyde as the perpetrator of the assassination of former Japanese Prime Minister Shinzo Abe in July 2022.
In a disturbing twist, an edited image portraying Hyde as a woman was employed to falsely connect him to the pseudonymous "Samantha Hyde", the supposed mass shooter in the 2023 Covenant School shooting. This ongoing trend underscores the power of misinformation in the digital age.
Net Worth
According to authoritative sources, Sam Hyde's net worth is estimated at $3 million, as of mid-2023.
Personal Life, Married, Wife, Children
Sam Hyde is rather low-key when it comes to personal life. According to reports, he's currently single and focused on his career.
Appearance and Body Measurements
Sam Hyde has light brown hair and green eyes. He stands at a height of 6ft 4ins (1.93m), while he weighs approximately 190lbs (86kgs); his vital statistics are unknown, but he has average figure.