Who was Donna Douglas?
Donna Douglas was an American actress best known for her role as Ellie May Clampett in the popular TV series "The Beverly Hillbillies". She portrayed the charming and naive daughter of a hillbilly family who struck it rich and moved to Beverly Hills.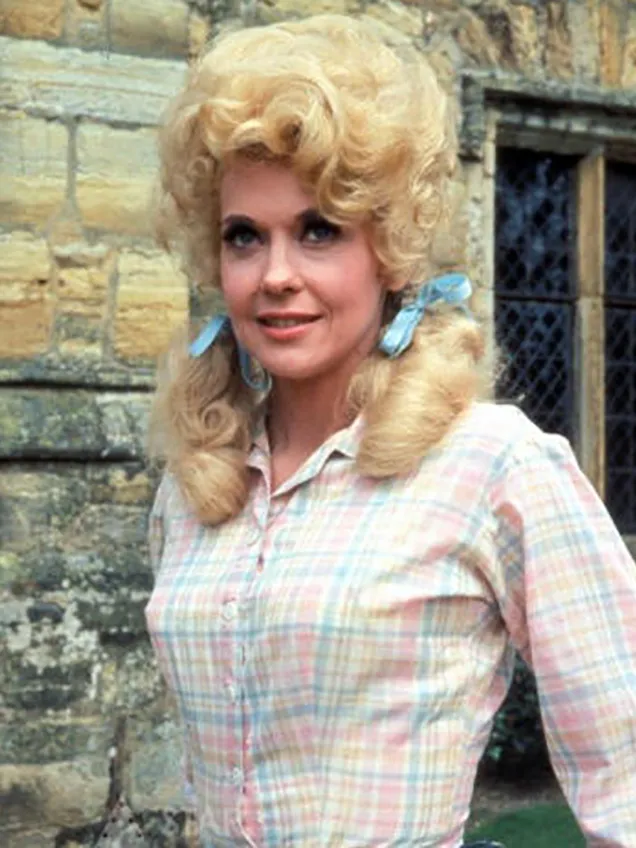 What Happened to The Beverly Hillbillies?
"The Beverly Hillbillies" concluded its successful run in 1971 after nine seasons. After its cancellation, cast members pursued various projects. Donna Douglas continued her career appearing in both film and TV.
Donna Douglas Wiki: Age, Childhood, and Education
Donna was born as Doris Ione Smith on 26 September 1932 in Pride, Louisiana USA. She was the daughter of Emmett Ratcliff Smith Sr. and his wife Elma. She had an older brother Emmett R. Smith Jr.
She went to St. Gerard Catholic High School, and during her time there played basketball and softball. Before pursuing an acting career, Donna competed in several beauty pageants and was named Miss Baton Rouge and Miss New Orleans in 1957.
Career Beginnings
Donna Douglas embarked on her show business journey in New York City, initially finding work as a print model for toothpaste adds. Her career began to gain traction when she appeared as the "Letters Girl" on NBC's "The Perry Como Show" in 1957 and later as the "Billboard Girl" on NBC's "The Steve Allen Show" in 1959.
Recognition followed as New York photographers and reporters from various newspapers awarded her the title of "Miss By-line", a distinction she proudly showcased on "The Ed Sullivan Show" aired on CBS.
This early exposure set the stage for her subsequent appearances on television and in films, eventually leading to her breakout role in the film "Career" (1959), which starred Dean Martin, Anthony Franciosa and Shirley MacLaine.
She also secured a minor role in the musical comedy "Li'l Abner" (1959), but her career continued to flourish, with a role as a secretary in the romantic comedy "Lover Come Back" (1961), featuring Doris Day and Rock Hudson.
Donna Douglas, The Twilight Zone, Eye of the Beholder… (this one freaked me out) 🙂

Posted by Classic Movie Hub on Monday, September 26, 2022
Donna Douglas continued her career with a series of minor but significant television roles, steadily expanding her acting portfolio. One notable highlight was her appearance in the iconic series "The Twilight Zone", in which she took on the role of Janet Tyler in the episode entitled "Eye of the Beholder". She returned to the show on May 25, 1962, as Woman #1 in the episode "Cavender Is Coming".
In Lock-Up (1960), Donna portrayed Gloria Larkey in an episode entitled "The Case of Dan Gray".
"The Detectives", with Robert Taylor in the lead role, featured her as Sandra Hoyle in the episode "Alibis". Additionally, Donna appeared as a Model in the TV series "Route 66".
Donna Douglas's career continued to flourish with a series of one-time television appearances. Her journey included an episode of "Thriller" entitled "The Hungry Glass", which aired on January 3, 1961, adding to her growing list of television credits.
In April of the same year, she made her mark as Rhoda Sheridan in the episode "The Celluloid Cowboy" of the internationally popular "77 Sunset Strip"
Donna's presence extended to the aquatic adventures of "The Aquanauts" in an episode entitled "The Stakeout Adventure".
She continued to make her mark in the crime drama genre, appearing as Dusa Quick in an episode of "Michael Shayne" entitled "Murder Is a Fine Art".
The medical drama "Dr. Kildare" featured her as Jenny in an episode titled "Second Chance", while Donna's charming portrayal of Jane Parker in three episodes of "Mister Ed" between 1961 and 1962 garnered huge attention.
Success with the "Beverly Hillbillies"
"The Beverly Hillbillies" a classic TV series that aired from 1962 to 1971, played a pivotal role in launching Donna Douglas to stardom. Created by Paul Henning, the show featured a stellar cast including Buddy Ebsen, Max Baer Jr. and Irene Ryan, and its unique premise and entertaining storyline captivated audiences.
RIP Donna Douglas, who played Ellie Mae on the Beverly Hillbillies & starred with Elvis Presley in "Frankie & Johnny" pic.twitter.com/ogx1vId2Vp

— Stephen Bates (@Teddypossum) January 2, 2015
The series revolved around the Clampett family, a nouveau riche hillbilly clan from the Ozarks who struck it rich when they discovered oil on their land. After their sudden wealth, they decided to move from their rural home to the upscale and glamorous Beverly Hills. The Clampetts, led by Jed Clampett (Buddy Ebsen), brought their "hayseed ways" to the privileged society of Beverly Hills, creating humorous clashes of culture and values. Donna Douglas played Ellie May Clampett, the charming and naive daughter of the family.
One of the central storylines of the show was the Clampetts' attempts to adapt to their new, opulent surroundings while maintaining their down-to-earth, hillbilly lifestyle.
The show's humor was often derived from the stark differences between the Clampetts' rural upbringing and the high society of Beverly Hills.
Donna Douglas's portrayal of Ellie May contributed significantly to the show's success, and she became a beloved character in American television.
In 1963, Donna was named Miss Golden Globe for her contributions to TV.
Other Projects
At the peak of her career, Donna Douglas starred as Frankie in the film "Frankie and Johnny" (1966). In this musical romantic comedy, she shared the screen with Elvis Presley, who played Johnny. The film tells the story of Frankie and Johnny, a couple working at a riverboat casino. Frankie, portrayed by Donna Douglas, is a riverboat entertainer, and Johnny, played by Elvis Presley, is a riverboat gambler and singer. Their relationship faces challenges when Johnny is accused of cheating on cards and is thrown off the riverboat.
Donna Douglas made appearances in the TV series "Love, American Style", featuring in two episodes between 1970 and 1973.
In 1973, Donna Douglas made a guest appearance in the TV series "Adam-12". She played Nina Draper in one episode of the police procedural series that followed the daily activities of two police officers in Los Angeles, with Martin Milner and Kent McCord in the lead roles.
In the TV series "Project U.F.O." (1978–1979), Donna Douglas appeared in two episodes, portraying two different characters, Mrs Ferrell and Wendy. The series, known for its intrigue and mystery, revolved around the investigations of the US Air Force into reported UFO sightings and encounters.
In 1981, Donna Douglas reprised her iconic role as Elly May Clampett in the TV movie "The Return of the Beverly Hillbillies". This television movie brought back the beloved characters and humor of the original "Beverly Hillbillies" series.
To speak further of her accomplishments as an actress, Donna, made a guest appearance as herself in the popular comedy series "The Nanny" in 1999. The show, starring Fran Drescher, followed the comedic adventures of Fran Fine, a nanny hired by a wealthy widower to take care of his children. Donna Douglas's cameo as herself added a touch of celebrity humor to the series.
Before her death, Donna appeared in two short films, "Chronicles of Life Starfish" and "Chronicles of Life Trials" which were directed by Donna Dodge and featured the collaborative writing of Donna Dodge and Misty Lockheart, starring Misty and Naomi Lockheart, alongside Douglas.
Music Career
In addition to her acting career, Donna Douglas ventured into the world of music, specifically gospel singing. She released her first gospel album, titled "Donna Douglas Sings Gospel", in 1982. Following this debut, she continued to pursue her passion for music with the release of "Here Come the Critters" in 1983.
Other Interests
Following her time on "The Beverly Hillbillies", Donna Douglas briefly pursued a career in real estate, obtaining her real estate license. However, her passion for show business called her back, leading her to re-enter the entertainment industry and explore new projects.
In addition to her acting career, Donna Douglas also dedicated her time to a career as a public speaker. Her speaking engagements spanned various settings, including youth groups, church groups, schools, and colleges throughout the USA. Furthermore, Donna Douglas extended her influence by participating in trade fairs and conventions throughout the country.
She authored and published children's book entitled "Donna's Critters and Kids: Children's Stories with a Bible Touch", which brought religion to the younger audience.
In November 2011, she expanded her literary contributions with the release of "Miss Donna's Mulberry Acres Farm".
In 2013, Donna Douglas ventured into the world of cooking and publishing with her cookbook titled "Southern Favorites with a Taste of Hollywood". This cookbook served as a collection of Southern recipes, showcasing culinary delights from Southern cuisine. What made it unique was its collaborative nature, as it featured recipes contributed by her friends and fellow actors from Hollywood, including notable figures such as Buddy Ebsen, Valerie Harper, Phyllis Diller and Debbie Reynolds. Additionally, the book included a section on good manners titled "Hollywood Social Graces".
Net Worth
According to authoritative sources, Donna Douglas's net worth was estimated at $500,000 at the time of her death.
Personal Life, Marriage, Husband, Children
Donna married when she was just 16 years old to a man named Roland Bourgeois Jr. Their marriage lasted from 1951 until 1954 during which time she gave birth to her only child, Danny.
She was married to Robert M. Leeds, "The Beverly Hillbillies" director from 1971 until 1980.
Controversy and Lawsuits
Back in 1993, Donna Douglas and her associate Curt Wilson from Associated Artists Entertainment, Inc., initiated a legal action worth $200 million against The Walt Disney Company, along with Whoopi Goldberg, Bette Midler, their respective production firms, and the Creative Artists Agency. They asserted that the "Sister Act" was plagiarized from a book titled "A Nun in the Closet", which they had turned into a screenplay in 1985. In the lawsuit Donna and her partner stated that there was more than 100 similarities between the movie and their work. Despite a $1 million settlement offer, the judge ruled in favor of Whoopi, the Walt Disney Company and others involved in the lawsuit.
In 2011, Donna Douglas initiated a federal legal action against Mattel and CBS Consumer Products. Her claim was that her identity and image were used for a Barbie doll belonging to the Classic TV Collection, a move made without her consent. She sought $75,000 in damages, arguing that she had never endorsed the doll nor given permission for her name to be used in its promotion. The lawsuit was settled in December 2011, with confidential details, but both parties expressed satisfaction with the outcome. CBS and Mattel maintained that they had exclusive rights to the character and didn't need her consent or approval for the doll.
Illness and Death
She lived in East Baton Rouge Parish from 2005 until her death. In her free time, she enjoyed spending time with friends and family, and gardening.
She was diagnosed with pancreatic cancer a few months before she died. Douglas died at Baton Rouge General Hospital on 1 January 2015, aged 82.
Donna was interred in East Feliciana Parish, Louisiana's Bluff Creek Cemetery.