Gabrielle Anwar is an English-American actress, who is possibly best known for her performances in the TV series' "The Tudor" and "Burn Notice", and the films "Scent of a Woman" and "Wild Hearts Can't Be Broken."
Age, Early Life, and Education Background
Gabrielle Anwar was born under the Aquarius zodiac sign on 4 February 1970, in Laleham, Surrey, England, and so is 53 years old as of 2023. She's the daughter of the Academy Award-nominated – and two-time BAFTA Award-winning – film editor and producer, Tariq Anwar, who is known for "The Good Shepherd" and "Center Stage", and the actress, Shirley Hills. Anwar is the younger sister of Dominic Anwar.
Anwar was educated at Laleham Church of England Primary and Middle School (best known as Laleham C of E Primary School) from 1975-1982. She later attended theater and dancing classes at the London-based Italia Conti Academy of Theater Arts.
Career Beginnings and TV Appearances
In1986, Anwar appeared in the music video for the song "Pretty Little Head" by the English singer-songwriter, Paul McCartney. In the same year, she landed the main role of Tracy Wright in the miniseries "Hideaway." In the late '80s, she appeared in an episode or two of four TV series including the British drama "Summer's Lease." Anwar caught the public's attention with her starring role as Sam Black in the TV comedy-drama "Press Gang" (1990), which follows a group of children who make a newspaper for other kids, and focuses on their lives both in private and on the job. The show also starred Julia Sawalha, Kelda Holmes, and Dexter Fletcher. 1991 saw Anwar appear as Eddie's girlfriend in the music video for the song "Into the Great Wide Open" by the rock band Tom Petty and the Heartbreakers.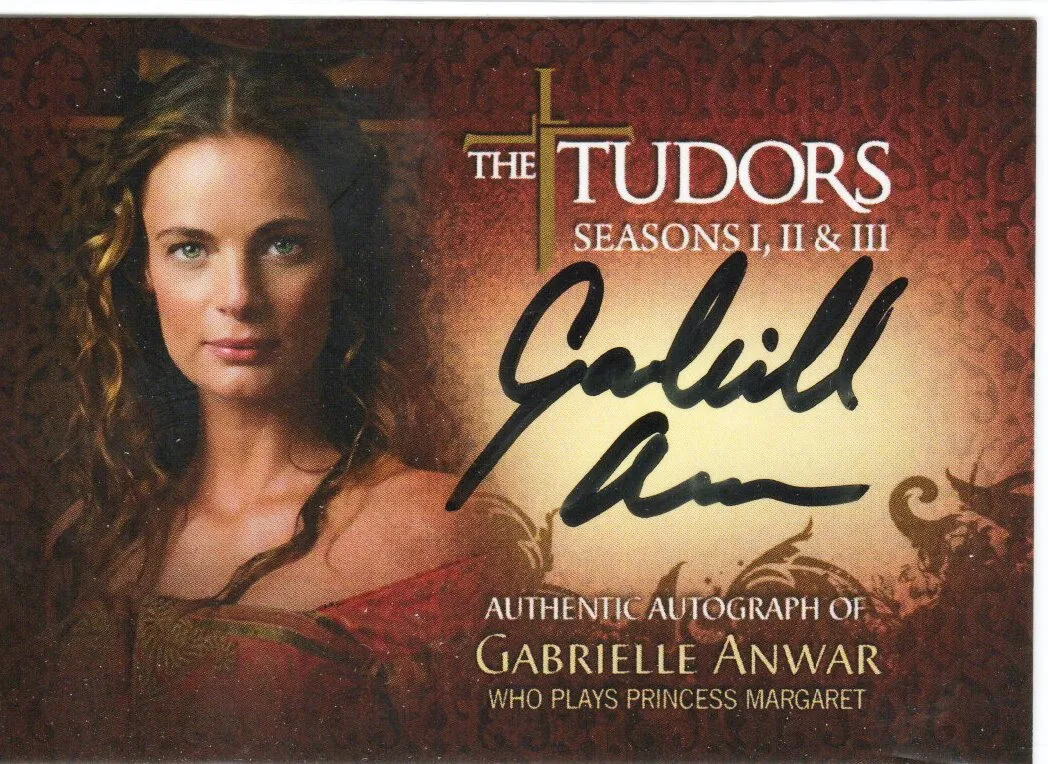 In 2007, Anwar was cast for the starring role of Princess Margaret, the favorite sister of King Henry VIII, who is first married to Portugal's King, in the first season of the historical fiction series, "The Tudors." The Showtime TV series is set predominantly in the 16th-century England. It was created by Michael Hirst and starred Jonathan Rhys Meyers, Natalie Dormer, Sarah Bolger and Henry Cavill. 2007 also saw Anwar land the starring role of Fiona Glenanne in Matt Nix's espionage TV series "Burn Notice." In her six-year stint in the USA Network series, Anwar shared the screen with Jeffrey Donovan, Coby Bell and Sharon Gless. In 2017 and 2018, Anwar starred in the seventh season of the American fantasy adventure drama "Once Upon a Time."
Film Appearances
Anwar made her film debut as Tina in the 1988 comedy-drama "Manifesto." Her fame skyrocketed for her portrayal of Sonora Webster in the Steve Miner-directed 1991 drama film "Wild Hearts Can't Be Broken." In the year that followed, she starred alongside Al Pacino, Chris O'Donnell, and Philip Seymour Hoffman in the Academy Award-nominated drama "Scent of a Woman." Before the 2000s, Anwar starred in the sci-fi horror, "Body Snatchers" and the romantic comedy, "For Love or Money" both in 1993 and the thrillers "Innocent Lies" and "The Grave" in 1995 and 1996 respectively.
The 2000s saw Anwar star as Sophie Lennon in the 2000 crime film "The Guilty," the 2006 horror "The Marsh" and the 2008 horror "iMurders." She was next seen in the 2011 romantic sports drama "A Warrior's Heart," in which she starred as Claire Sullivan, and her most recent appearance was in the 2019 romantic comedy "The Last Summer."
Awards and Nominations
Gabrielle has been nominated for five awards as of September 2023. In 1994, she received a Fangoria Chainsaw Award nomination for Best Actress for her performance in "Body Snatchers." She was nominated for a Saturn Award for Best Supporting Actress on Television for her works in "The Librarian: Return to King Solomon's Mines" in 2008, and in the year that followed, she was nominated for a Gemini Award for Best Performance by an Actress in a Guest Role, Dramatic Series, for her performance in "The Tudors." Moreover, Gabrielle is a two-time nominee for the Teen Choice Award for her performances in "Burn Notice" and "Once Upon a Time", in 2010 and 2018 respectively.
Social Media Presence
Anwar joined Twitter (@GabrielleAnwar) in November 2010, and is currently followed by around 38,000 fans, on which She describes herself as a 'Mother, Lover, Artist, Inward Explorer, Outer Creator, Thirsty for Life'. The actress is active on Instagram (@gabrielleanwar) with over 62,000 followers.
Gabrielle Anwar was hotter than hot in 'Burn Notice' wasn't she, trusty followers? pic.twitter.com/R3u279rWhy

— Jari the Hutt (@kurri_jari) January 26, 2023
Personal Life
Gabrielle is a married woman. In 2010, she began seeing the Miami-based Restauranter and Financier Shareef Malnik. They exchanged vows on 6 September 2015 in a highly publicized wedding ceremony that was held in Montana. Anward's children, Willow, Hugo and Paisley were the maid of honor, ring bearer, and flower girl respectively. On the other hand, Shareef's father, Al Malnik, son,Yaseen, and grandson Shams, were his best man, groomsman, and banner designer respectively. Speaking about their wedding day to "People" during an interview, Anwar said 'Hearts were cracked open, in a ritual of love among family and friends in wild Western 1800's style beneath big sky Montana. A truly magical weekend.' The couple hasn't welcomed any children together.
Gabrielle was previously married to the American producer and actor, John Verea, who is known for the films "The Vivero Letter" and "My Little Assassin" and the TV series "Charlie's Angels." They exchanged vows in 2000 and went on to welcome son Hugo Christian Verea, and daughter Paisley Rose Vere, in March 2001 and October 2003 respectively. Gabrielle's union with Verea culminated in a divorce in 2005.
In 1989, Gabrielle began dating the American TV and film actor Craig Sheffer, known for his appearances in the TV series "One Tree Hill", and the films "A River Runs Through It," "The Program," and "Nightbreed" – Anwar and Sheffer starred together in the thriller movie "Long Lost Son." They welcomed a daughter, Willow Anwar, on 8 November 1993, but the two parted ways in 1996, and Craig went on to marry the American actress, Leigh Taylor-Young, in 2003. Their union was short-lived and culminated in a divorce in the year that followed. Anwar and Craig continued being friends after their separation and he's the godfather of her children.
Anwar currently lives in Palm Island, Florida, with her husband Malnik.
Height, Weight, and Physical Appearance
Anwar is of White ethnicity, and has a pair of gray eyes and light brown hair. She is slim, weighs around 120lbs (54kgs), is 5ft 2ins (1.57m) tall, with vital statistics of 34-24-33.
Net Worth
Gabrielle has carved a niche for herself in the showbiz industry, and accumulated a decent net worth, thanks to her successful acting career, of approximately $20 million as of 2023.