Who is James Nesbitt?
Irish actor William James Nesbitt was born under the zodiac sign Capricorn in Broughshane, County Antrim, Northern Ireland on 15 January 1965. He has 77 acting credits and is perhaps known best for portraying Bofur in the 2012 adventure fantasy movie "The Hobbit: An Unexpected Journey", which starred Martin Freeman and Ian McKellen, and was directed by Peter Jackson. It follows Hobbit Bilbo Baggins as he's travelling with a group of dwarves to help them reclaim their home of the Lonely Mountain, and the film won 11 of its 86 award nominations, including Oscar nominations for Best Achievement in Production Design, Best Achievement in Visual Effects and Best Achievement in Makeup and Hairstyling.
James is currently shooting for the upcoming movie "Joy to the World" and the series "Bloodlands".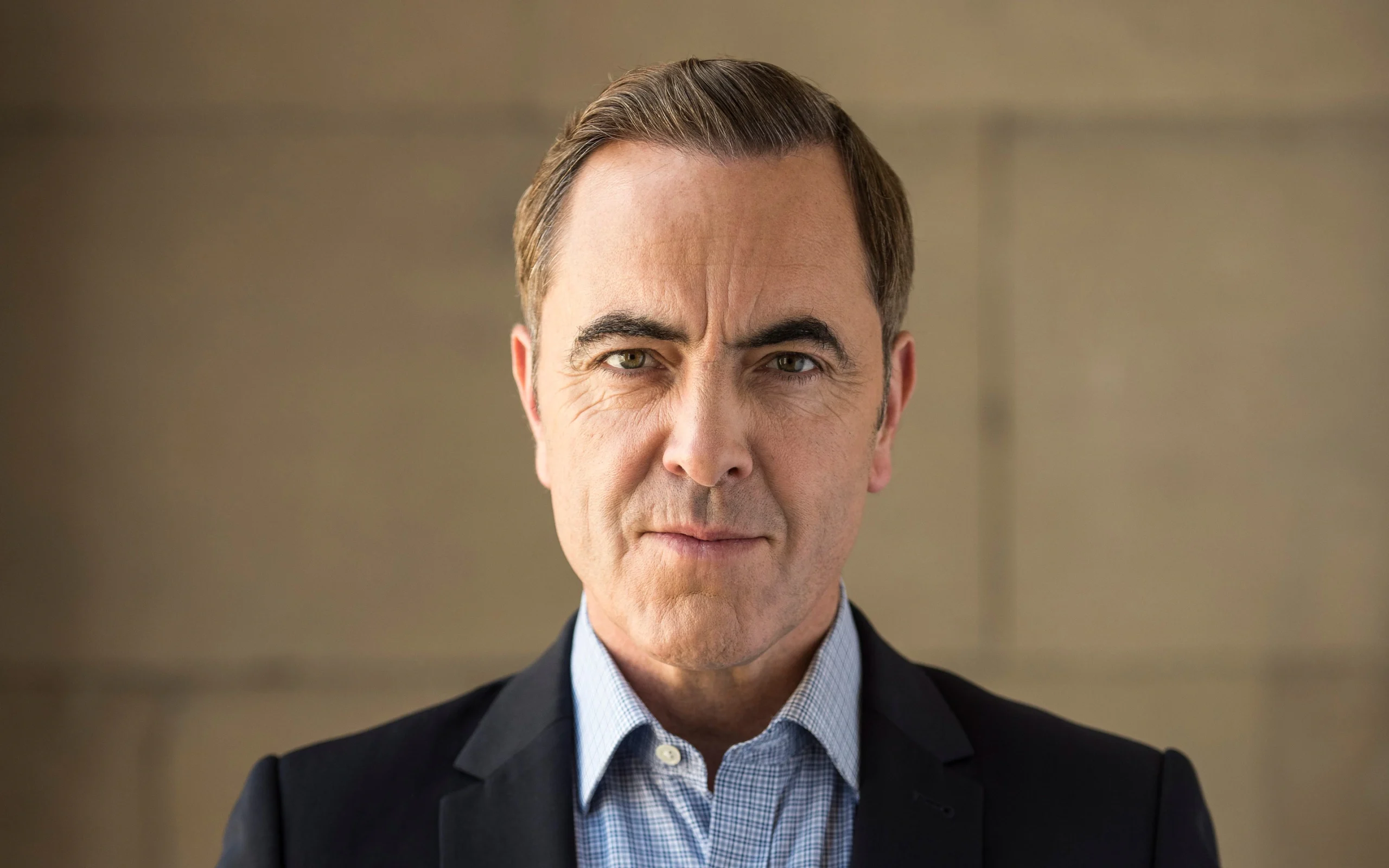 Education and early life
James was raised in Ballymena, County Antrim alongside three older sisters Andrea, Kathryn and Margaret, all of whom have become teachers, by their mother May Nesbitt who was a civil servant, and father James Nesbitt who was the headmaster of a local elementary school.
James grew up dreaming about becoming a famous soccer player and joining Manchester United, while his other dream was to become a teacher. He was raised during the Troubles, an ethno-nationalist conflict in Northern Ireland which lasted for three decades from the second half of the '60s through 1998, and he and his sisters narrowly escaped a car bomb explosion in 1971.
The Nesbitts moved to Coleraine, County Londonderry when James was 11, and he studied at Blagh primary school prior to progressing to Coleraine Academical Institution. He was 13 when he appeared in his first theatre play, portraying Artful Dodger in a production of "Oliver!"
He matriculated in 1983 and then enrolled at Ulster Polytechnic, but James dropped out a year into his studies wanting to pursue acting; taking his father's advice, he moved to London, England and enrolled at Central School of Speech and Drama, graduating with a Bachelor's degree in acting in 1987.
Roles in TV series
James' debut TV series role was playing 'B' Special in the 1984 episode "The Cry" of the comedy "Play for Today", and the remainder of the decade saw him appear in an episode of the drama mini-series "Ties of Blood", the family drama "Jonny Briggs" and the drama "Screen Two".
The year 1994 saw him play various characters in the comedy "The All New Alexei Sayle Show", which starred Alexei Sayle, John Sparkes and Peter Capaldi, and follows a group of comedians in their short comedy films. What also marked the '90s for James was playing John Dolan in 13 episodes of the 1998 romantic sports drama "Playing the Field", which starred Ralph Ineson and Jo McInnes, and follows the lives of members of a female soccer team; the series was nominated for four awards.
The year 2003 saw James play Nick Zakian in the episode "The Miller's Tale" of the drama mini-series "Canterbury Tales", and from 2003 through 2007, he starred as Tommy Murphy in all 23 episodes of the crime mystery "Murphy's Law", which also starred Del Synnott and Claudia Harrison, and was created by Colin Bateman. It follows a maverick police officer who's gone undercover, and the series was nominated for six awards. The remainder of the 2000s saw James appear in the fantasy comedy mini-series "Fairy Tales", the historical mini-series "The Passion" and the 2008 thriller mini-series "Midnight Man".
Suspect. Coming soon to Channel 4. @RichardEGrant pic.twitter.com/RWQZfhVMdy

— James Nesbitt (@JNesbittTV) April 29, 2022
In 2011 and 2012, he played the lead character Gabriel Monroe in all 12 episodes of the drama "Monroe", which also starred Tom Riley and Sarah Parish, and follows the life of brilliant neurosurgeon Gabriel Monroe; it was nominated for only a single award.
Some of James' most recent TV series roles have been playing DS Michael Broome in all eight episodes of the 2021 crime mystery mini-series "Stay Close", all eight episodes of the 2022 crime mystery mini-series "Suspect" and 10 episodes of the 2022 crime thriller "Bloodlands", all lead roles.
Roles in movies
James' debut film role was playing Policeman in the 1986 family drama "The End of the World Man", while some of his following roles were in the 1991 musical comedy "Hear My Song", the 1995 romantic sports drama "Go Now" and the 1996 romantic drama "Jude".
In 1997, he played Gregg in the popular war drama "Welcome to Sarajevo", which starred Woody Harrelson and Stephen Dillane, and was directed by Michael Winterbottom. It follows British and American journalists Michael and Flynn Henderson who've come to Sarajevo, Bosnia at the beginning of the Bosnian war, and the movie won one of its three award nominations. The remainder of the '90s saw James appear in the 1997 crime comedy "The James Gang", the 1998 comedy "Waking Ned Devine" and the comedy "The Most Fertile Man in Ireland".
In 2003, he portrayed a supporting character in the romantic musical comedy "The Boys & Girl from County Clare", which starred Bernard Hill and Colm Meaney, and was directed by John Irvin. Set in 1965, the film follows Jimmy McMahon and his group as they're trying to win an annual music competition, and the film won two of its four award nominations. James could then have been seen appearing in the 2005 romantic thriller "Match Point", the 2009 thriller "Five Minutes of Heaven" and the 2009 romantic action "Cherrybomb".
His three most recent movie roles have been in the 2013 fantasy adventure "The Hobbit: The Desolation of Smaug", the 2014 family comedy "Gold" and the 2014 fantasy adventure "The Hobbit: The Battle of the Five Armies".
Other credits
James received special thanks for the 2005 short documentary comedy movie "One Hundred and Eighty: The Tour Documentary".
He produced the 2017 short movie "Guard" and two episodes of the 2018 crime action series "Lucky Man".
Some of James' recent talk-show and game-show appearances have been in "Celebrity Chase", "UTV Up Close" and "The John Bishop Show".
Awards and nominations
James has won 10 of his 36 award nominations. Some of his wins include a 2000 British Comedy Award for Best TV Comedy Actor, for "Cold Feet", a 2002 British Independent Film Award for Best Actor, for "Bloody Sunday" and a 2010 New York City Horror Film Festival Award for Best Actor, for "Outcast".
James was also nominated for a 2003 BAFTA TV Award for Best Actor, for "Bloody Sunday" and a 2015 BAFTA TV Award for Best Leading Actor, for "The Missing".
Love life and wife
James can rarely be heard talking about his love life in interviews, but it's known that he has been a married man.
He met Sonia Forbes-Adam, daughter of Reverend Sir Timothy Forbes Adam while starring in a production of "Hamlet" in 1989, and they dated for around a year prior to breaking up; the two eventually got back together and exchanged vows in a large ceremony in 1993. Sonia gave birth to their first daughter Peggy Nesbitt on 4 September 1997, and their second daughter Mary Nesbitt followed on 9 March 2001; both girls, as well as Sonia appeared in the 2012 movie "The Hobbit: An Unexpected Journey".
It was announced in October 2013 that James and Sonia had separated, but their divorce was only finalized in 2016.
There are no other women whom James has perhaps been with, that we know about; he seems to be unattached as of August 2023, was once married to Sonia Forbes-Adam and has two daughters with her.
Interesting facts and hobbies
James is a huge fan of soccer and cheers for Manchester United, Glasgow Rangers and Coleraine; he also cheers for the Northern Ireland national team.
He became Chancellor of Ulster University in March 2010.
In 2016, James was appointed Officer of the Order of the British Empire for his contribution to drama.
He has both a British and an Irish passport.
James was invited to star in the first renewed season (2005) of the critically acclaimed science fiction adventure series "Doctor Who", but had to refuse because of conflicting schedules.
One of his best friends is British actor and producer Jerome Flynn, and the two occasionally play soccer together.
One of James' favorite actors is Brendan Gleeson, and some of his favorite movies include "The Banshees of Inisherin", "Paddington 2" and "In Bruges".
Appearance and net worth
James' age is 58. He has brown hair and eyes, weighs around 170lbs (76kgs) and is 5ft 11ins (1.82m) tall.
James' net worth's been estimated at over £5.2m (around $6.6 million) as of August 2023.