Who is Juan Luis Guerra?
Dominican singer-songwriter, composer and producer Juan Luis Guerra Seijas was born in Santo Domingo, Dominican Republic, on 7 June 1957, making his zodiac sign Gemini. He's sold more than 15 million records worldwide, and is thus today one of the best-selling Latin music artists; Juan's been honored with numerous awards and accolades, including a Latin Billboard Music Award, three Grammies and 23 Latin Grammies.
Juan's also credited with making bachata music popular in Latin countries, but it's widely known that his music doesn't stick to one style, as he incorporates a number of rhythms, including reggae, rock 'n' roll and bolero.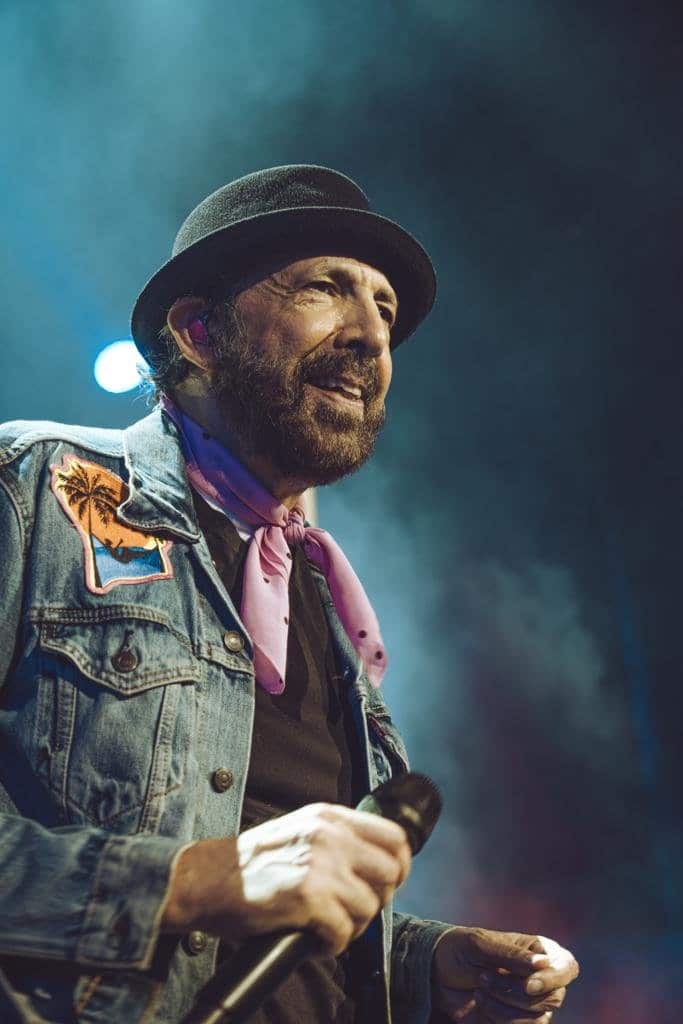 Education and early life
Juan was raised in Santo Domingo alongside his brothers Jose Gilberto Guerra Seijas and Diego Esteban Guerra Seijas, by their mother Olga Seijas Herrero and father Gilberto Guerra Pacheco; his brother Diego's today an economist, while his other brother Jose's a plastic surgeon.
Juan studied at a local elementary school in Santo Domingo and fell in love with music at the age of nine; he often performed at various school events, and also appeared in a couple of school plays. He matriculated from a local high school in 1975, and then enrolled at Universidad Autonoma de Santo Domingo, at which he studied literature and philosophy.
Juan transferred to the El Conservatorio Nacional de Musica de Santo Domingo after a year, and eventually to Berklee College of Music in Boston, Massachusetts from which he graduated with a Bachelor's degree in jazz composition in 1982.
Juan's career
It was in 1984 that Juan released his debut studio album "Soplando", after returning to Santo Domingo from Boston; he didn't release it with the intention of it becoming a hit, but rather to launch his career and experiment with jazz.
He and his band Juan Luis Guerra y 440 were signed to Karen Records in 1983, and two years later they released their album "Mudanza y Acarreo", while the year 1987 saw them release their third album "Mientras Mas lo Pienso… Tu". Their fourth album "Ojala Que Llueva Café" was released in 1989, and it was followed by their fifth "Bachata Rosa" in 1990; which was the breakthrough that the band was waiting for, as it won them their first Grammy. It also saw the band tour around the USA, Europe and Latin America, singing the album's hit songs "Rosalia", "Bachata Rosa" and "Burbujas de Amor".
Their sixth album "Areito" followed in 1992, seventh "Fogarate!" in 1994, and eighth "Ni es lo Mismo ni es Igual" in 1998, with the latter winning three Latin Grammies.
The band didn't release any studio albums in the following six years; they signed with Vene Music in 2004 and under them released their ninth album "Para Ti", which comprised Christian songs; the album topped the US Top Latin Albums, and peaked at #110 on US Billboard 200.
Berklee College of Music presented Juan with an honorary doctorate on 9 May 2009, for his contribution to music.
He released his new single "Bachata en Fukuoka" on 5 April 2010, and his and his band's 11th studio album "A Son de Guerra" was released on 8 June 2010, comprising eight music styles, including jazz, rock 'n' roll and mambo; it spawned several hit songs, including "Bachata en Fukuoka", "La Calle" and "La Guagua", with the first amongst these topping the Latin Pop Airplay Songs Chart, Tropical Songs Chart, and Hot Latin Tracks Album.
Juan went on to release his new album "Coleccion Cristiana", and its music videos were uploaded onto the band's YouTube channel, which today is subscribed to by nearly two million people, and all its 44 videos combined have been watched over 1.3 billion times.
Juan's next single "Tus Besos" was released on 25 April 2014 and became a hit, but he didn't make new music in the following a couple of years, nor performed live; his next concert was at the Carnival of Santa Cruz de Tenerife in Spain in 2019, with more than 400,000 people attending, thus breaking the record for most people attending a concert at an open-air plaza.
Juan's recorded several songs in English language, including "July 19th", "Something Good" and "Medicine for My Soul". He's also worked as a songwriter for other artists, including Taty Salas, Emmanuel and Luis Miguel.
¡Anda pronto a tu plataforma digital favorita! ¡Nuevo álbum Entre Mar y Palmeras ya disponible! https://t.co/rlCt09Z2Zp pic.twitter.com/T1MRhQjBml

— Juan Luis Guerra (@JuanLuisGuerra) June 18, 2021
Love life and wife
Juan's keeping the details of his love life away from the media's attention, but we still know that he's been married for four decades now, and has two children.
He and non-celebrity Dominican Nora Clementina Altagracia Vega Rasuk exchanged vows in a large ceremony in 1983, attended by many of their family members and friends; not many details have been shared about Nora, but it's believed that she was a high school teacher when she and Juan were introduced by a mutual friend. They have a daughter, Paulina Guerra Vega and a son Jean Gabriel Guerra together, but not many details have been shared about the two as they prefer to be left out of media.
There are no other women whom Juan's perhaps been with, that we know about; he's married to Nora as of August 2023, and they have two children together.
Interesting facts and hobbies
Juan's wife is the aunt of Vega Polanco, who was Miss Universe 2003.
He's a philanthropist and has donated money to numerous charity organizations; he became the Goodwill Ambassador for UNESCO on 17 October 2008, and organized a charity concert on 18 April 2010, with all the proceeds going to those hit by the 2010 Haiti earthquake.
Over 2.4 million people are following Juan on Instagram today, and he's posted more than 1,000 pictures and videos; most of his content features him performing at concerts.
Juan's passionate about travelling, and has been all around the world to perform; his favorite country to visit is Spain.
One of his favorite actors is Antonio Banderas, and some of his favorite movies are "Desperado", "Pain and Glory" and "The Mask of Zorro".
Height, eyes and wealth
Juan is 66 years old. His eyes are brown and hair's black, he's 6ft 6ins (1.95m) tall and weighs around 200lbs (90kgs).
Juan's net worth's been estimated at over $45 million, as of August 2023.