Who is Lorena Herrera?
Mexican actress and singer Celia Lorena Herrera de la Vega, was born in Mazatlan, Sinaloa, Mexico, on 18 February 1967, meaning that her zodiac sign Aquarius. She has 91 acting credits, but is probably still known best for portraying Claudia Villasenor in three episodes of the 1991 adventure series "Muchachitas", which starred Alejandro Camacho, Cecilia Tijerina and Tiare Scanda, and follows the lives of four best friends; the series aired 200 episodes and won many awards. This was also Lorena's debut TV series role.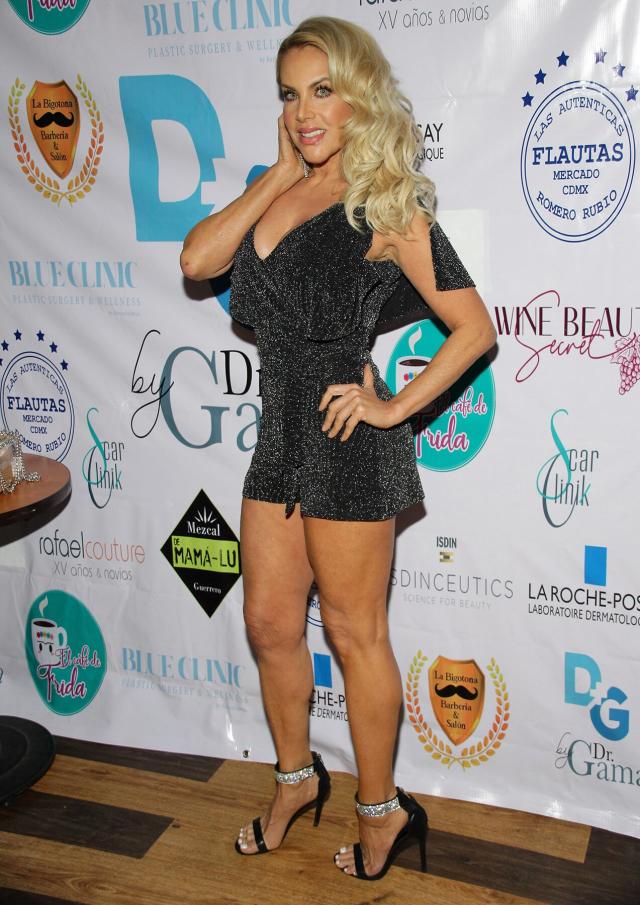 Education and early life
Lorena was raised in Mazatlan by her parents, however, being as secretive as she is, she's yet to share more details about her mother and father; it's believed that her mother's a housewife and her father an architect, but this is yet to be confirmed by Lorena. The popular actress is also believed to be an only child, as she's yet to speak about having siblings.
She was attending a local high school in Mazatlan when she fell in love with acting and began appearing in school plays; Lorena was then spotted by a modelling scout, and signed her first contract, which led her to move to Mexico City with her family. She then transferred schools, and upon matriculating from a local high school in Mexico City in 1985 Lorena focused on her career and didn't pursue a college degree.
Roles in movies
Lorena's debut film role was in the 1987 comedy "Los Mayates Atacan", and some of her following roles were in the crime action "Durazo, la Verdadera Historia", the comedy "Para Que Dure no se Apure", and the mystery horror comedy "Up Paso al Mas Aca", all released in 1988.
What marked the '80s for Lorena was playing Zoyla in the 1989 crime drama "El Pajaro con Suelas", which starred Alberto Rojas and Pedro Weber 'Chatanuga', and was written and directed by Ruben Galindo. It follows a shoemaker whose girlfriend's been kidnapped, while he's now trying to rescue her with his friends. Lorena appeared in various movies in the remainder of the decade, including the comedy "Para Todas Tengo", another comedy "El Agarratodo", and the adventure "Comando Marino", all released in 1990.
In 1991, Lorena starred in the fantasy science fiction comedy "Dos Nacos en el Planeta de las Mujeres", which was directed by and also starred Alberto Rojas, and Cesar Bono. It follows two male astronauts who've landed on a planet inhabited solely by women. Lorena could then have been seen cast in the 1991 crime thriller "Policia Secreto", the 1992 action crime thriller "Octagon and Mascara Sagrada in Fight to the Death" ,and the 1993 action "Halcones de la Muerte – Espias Mortales". She starred as Elisa in the 1999 crime drama "Asesinato por Encargo, which also starred Guillermo Quintanilla and Jorge Aldama, and was directed by Jose Medina. It follows Elisa whose father's been murdered by Carlota, and she's thus now seeking vengeance. The remainder of the '90s saw Lorena appear in the 1999 drama "Amigo Tequila", the 2000 drama "Provocacion", and the 2000 comedy "Y… Donde Esta el Policleto?"
Lorena had only a couple of film roles in the 2000s, appearing in the 2002 action "Comando M-5", the 2004 comedy "La Escuelita en Noche Buena", and the 2005 action "La Venganza del Viejo".
In 2014, she starred as Viola Alaniz Rico in the comedy "Una Fichera Torera", which also starred Alicia Encinas and Jose Magana, and was directed by Lourdes Alvarez. It follows Viola who's in desperate need of money, and has thus begun working as a stripper.
Lorena's two most recent film roles have been in the comedy "Escandalo Secreto: En Plena Cuarentena" and the drama "Perdiendo mi Virginidad 2", both in 2022.
Roles in TV series
Lorena appeared in four episodes of the 1991 comedy "Papa Soltero", and the year 1993 saw her play Jessica Rivas in three episodes of the drama "Entre la Vida y la Muerte", and Lorena in four episodes of the drama "Two Women, One Road".
In 1994, she portrayed Lorenita in two episodes of the comedy "Hasta que la Muerte los Separe", which starred Diego Sieres and Jorge Ortiz de Pinedo, and follows two people who've just married. In 1997 and '98, Lorena starred as Lucrecia in 107 episodes of the romantic drama "Maria Isabel", which also starred Adela Noriega and Fernando Carrillo, and follows Native American girl Maria Isabel who's befriended wealthy white girl Graciela, despite Maria's father not wanting them to be friends.
A couple of Lorena's following roles were in an episode of the 1999 comedy "¿Qué Nos Pasa?", three episodes of the 2000 romantic drama "You Are My Destiny", and an episode of the 2004 family drama "Amy, la Nina de la Mochila Azul". Also in 2004, she starred as Lorenita in 25 episodes of the comedy "La Escuelita VIP", which also starred David Villalpando and Martha Ofelia Galindo, and follows a group of people working at a local school. Lorena went on to appear in an episode of both the family comedy "Lola: Erase Una Vez", and the comedy "Adictos", then 2010 saw her star as Silvana Quinto in all 92 episodes of the drama "Nina de mi Corazon", which also starred Maribel Guardia and Arturo Peniche, and was created by Abel Santa Cruz. It follows the lives of a middle-class girl and a wealthy man who's fallen for her.
Aquí con mi #amor absoluto @robertoassadmtz en un espectacular vestido de mi adorado @mitzyofficial ayer en el homenaje a @LaCantanteDulce 💕 pic.twitter.com/aDkYw9bXcl

— Lorena Herrera (@Lorenaherrera) April 26, 2017
In 2015, Lorena portrayed La Pantera in 23 episodes of the romantic comedy "Amores con Trampa", which starred Itati Ccantoral and Eduardo Yanez, and follows several people living on a ranch.
Some of her most recent TV series roles have been in the 2016 comedy "Nosotros los Guapos", the 2017 comedy "Renta Congelada", and the 2019 comedy "Un Poquito Tuyo".
Other credits
Some of Lorena's recent talk-show appearances have been in "De Noche con Yordi Rosado", "Bake Off Mexico: El Gran Pastelero" and "¿Quién es la Máscara?"
Awards and nominations
Lorena was nominated for a 2005 MTV Movie Award, Mexico for Most Desirable Threesome for an Imaginary Movie, for "Solo Para Adultos" (shared with Ninel Conde and Sergio Mayer).
Career as a singer
Lorena's released five studio albums.
Her debut album "Soy" came out in 1996, comprising 10 songs, and her only non-studio album, "Soy Remix" was released in the following year.
In 2000, Lorena released her second album "Desnudame El Alma", once again comprising 10 songs, and her 11-song album "Sobrevivire" followed in 2003. Lorena's fourth album "Aqui Estoy" came out in 2005 and was followed by her fifth "Desnudame El Alma" in 2009, both comprising 10 songs.
She's since released a couple of singles, including "Flash" in 2015, "Plastik" in 2016, and "Soy La Mas" in 2018.
Love life and husband
Lorena prefers not to speak about her love life in public, but we still know about one man whom she's been with.
She met Mexican actor Roberto Assad, who's eight years her junior, in the first half of the 2000s; Lorena was around 35 at that time, and Roberto 27. The two married in a private ceremony in 2007, attended by only their closest family members and friends, but they divorced in 2012.
Some of Lorena's fans believe that she's been in relationship with a non-celebrity Mexican man for more than two years now, and that they prefer to keep it away from media. There are also those who believe that Lorena's lesbian, and is today dating a Mexican actress, but none of these rumors have been addressed by the popular actress.
Lorena seems to be unattached as of August 2023, was once married to Roberto Assad and doesn't have children.
Interesting facts and hobbies
Lorena posed nude for Mexico's edition of the magazine "Playboy" in March 2011, aged 44.
Her handprints were embedded onto the shopping center Paseo de las Luminarias in 2012.
Lorena's revealed that she prefers acting over singing.
She's also an author, having published her book "Tips de Belleza de Lorena Herrera".
Lorena won several beauty pageants during her 20s, including 'The Look of the Year'.
More than half a million people are following her on Instagram today, and she's posted over 3,800 pictures and videos onto the network; most show her during her everyday life, whether she's having lunch at fancy restaurants, spending time with her friends, or shooting for her movies.
Lorena loves to dance, and took lessons for several years during her 20s; her favorite styles are salsa and tango.
There are today rumors circulating the internet, claiming that she's enhanced her breasts, but these haven't been confirmed.
One of Lorena's favorite actresses is Natalia Martinez, and some of her favorite movies include "Death Race", "Broken City" and "End of Watch".
Height, eyes and wealth
Lorena's age is 56. She has blue eyes and blonde hair, is 5ft 8ins (1.74m) tall and weighs around 140lbs (63kgs).
Lorena's net worth's been estimated at over $1 million, as of August 2023.