Who is Lorenzo Zurzolo?
Italian actor Lorenzo Zurzolo was born under the zodiac sign Aries on 21 March 2000, in Rome, Italy. He has 22 acting credits, and is perhaps known best for portraying Vito in the popular 2022 drama movie "EO", which starred Tako, Marietta and Hola, and was written and directed by Jerzy Skolimowski. It follows a donkey as it's encountering both good and bad people on its journey – the movie won 21 of its 76 award nominations, including an Oscar nomination for Best International Feature Film.
Lorenzo's currently shooting for the upcoming series "M. Il FIglio del Secolo" and the movies "Diabolik Chi Sei?" and "La Storia".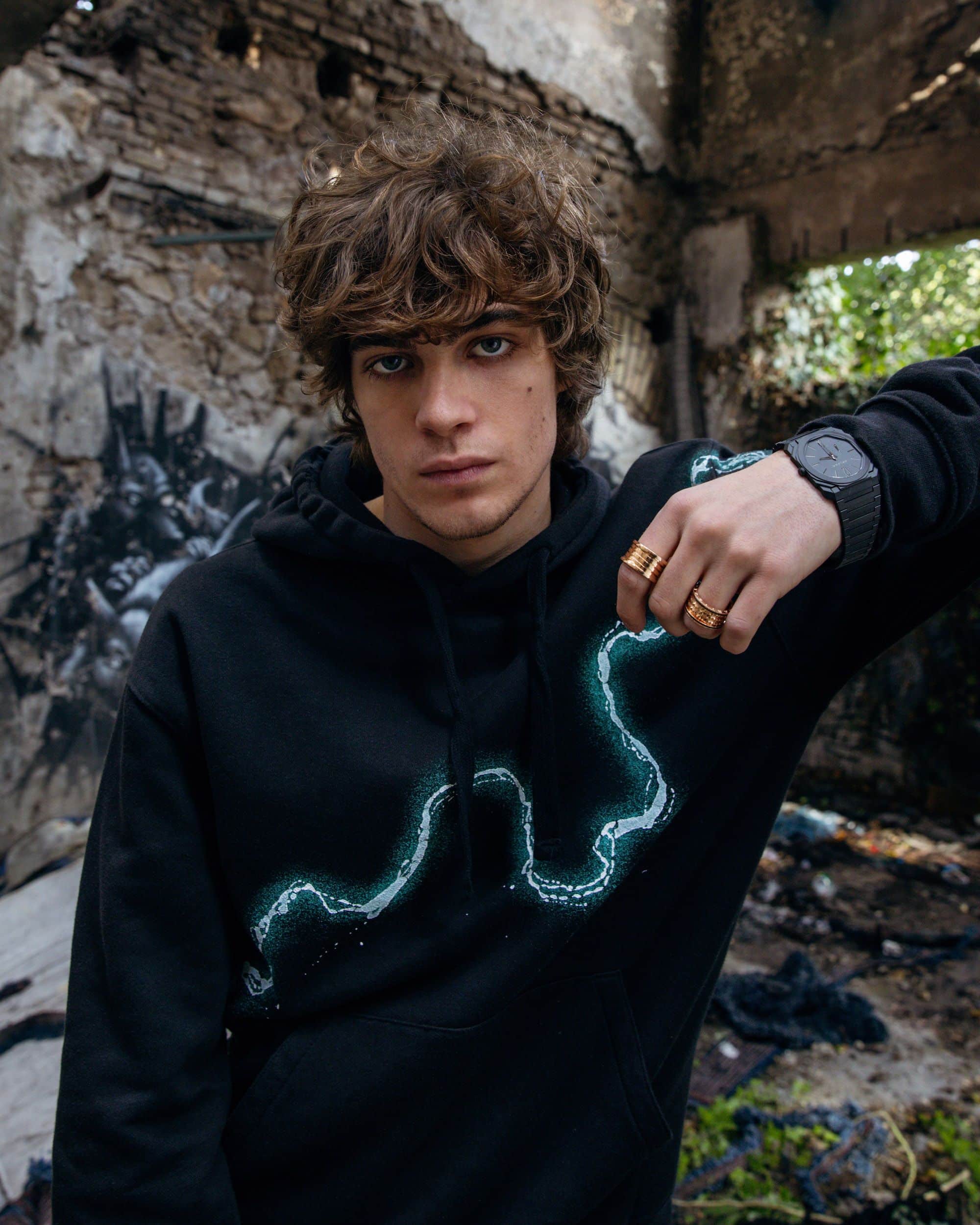 Education and early life
Lorenzo was raised in Rome alongside his older sister Ludovica, by their mother Gabria Cipulli and father Federico Zurzolo; not many other details have been shared about Lorenzo's family, as they prefer to stay away from media.
Lorenzo was only seven when he launched his career by appearing in a commercial, together with famous Italian former professional soccer player Francesco Totti, and Lorenzo was also seven when he made his debut TV series appearance, playing Dirigente Rai in a 2007 episode of the comedy "Decameron di Daniele Luttazzi"; he's been active in the film industry ever since.
Lorenzo studied at a local high school in Rome, and looked up to Italian actors Valerio Mastandrea and Elio Germano while growing up, as well as to Italian screenwriter and director Paolo Sorrentino. He matriculated in 2018, and then didn't enroll at college, wanting to focus on his acting career.
Roles in TV series
Lorenzo played Simone in the 2008 episode "Io ti Salvero" of the popular crime comedy "Don Matteo", which starred Nathalie Guetta and Nino Frassica, and was created by Domenico Saverni and Alessandro Bencivenni. It follows a Catholic priest who enjoys helping the police solve crimes, and the series won two awards.
The year 2009 saw Lorenzo appear in the episode "Un Nuovo Arrivo" of the drama "I Liceali", and the following year saw him play Ruolo Minore in the episode "Condominio" of the crime drama "Married to a Cop". In 2012, he portrayed Andrea in the episode "Il Richiamo del Sangue" of the family action comedy "Un Passo dal Cielo", which starred Gianmarco Pozzoli and Enrico Ianniello, and follows the life of mountain guard Pietro, who witnessed his wife die while climbing a challenging wall.
Complimenti a Lorenzo Zurzolo che sta girando la nuova fiction con Violenta Placido "Questo è il mio paese"! 🙂 pic.twitter.com/Tyt6OxUjpY

— Ag Paola Dragone (@agpaoladragone) December 16, 2014
In 2015, Lorenzo portrayed Nino Ferrari in all six episodes of the drama mini-series "Questo e il Mio Paese", which starred Fausto Maria Sciarappa and Violante Placido, and follows Anna who's moved to Calura, a small town of which her childhood friend Emilia is the mayor, while she's now made Anna deputy mayor.
Lorenzo's since appeared in three TV series, playing Michele in six episodes of the 2014 comedy "Bulletproof Heart", Niccolo Rossi Govender in 18 episodes of the 2020 drama "Baby", and Daniele in eight episodes of the 2022 drama "Prisma".
Roles in movies
Lorenzo's debut film role was playing the lead character Ruolo Minore in the 2012 drama "Young Europe", which also starred Catriona Loughlin and Sophie Blondin, and was written and directed by Matteo Vicino. It follows the lives of several people, including an Italian teenager, an Irish basketball player and a French lawyer – the film won one of its three award nominations.
Some of Lorenzo's following roles were in the 2012 comedy "Una Famiglia Perfetta", the 2013 romantic comedy "Outing – Fidanzati per Sbaglio" and the 2018 comedy "Sconnessi".
Lorenzo's new film "Weekend" by Riccardo Grandi will come out on December 17! pic.twitter.com/EZdFhD8xYH

— all lorenzo zurzolo (@loloarchive) November 20, 2020
In 2019, he portrayed Riccardo in the comedy "You Can't Kiss the Bride", which starred Vincenzo Salemme and Diego Abatantuono, and was directed by Francesco Micciche; the movie follows a fashion blogger and a singer-songwriter who've fallen in love and now want to marry, while their relatives are trying to make them change their minds.
Some of Lorenzo's most recent movie roles have been in the 2020 thriller "Weekend", the 2021 musical "Morrison", and the 2022 romantic comedy "Under the Amalfi Sun".
Other credits
Lorenzo made a guest appearance in a 2022 episode of the talk-show "Dias de Cine".
He was featured in the TV special "The 2022 European Film Awards", and the 2023 TV special "The Oscars".
Love life and girlfriend
Lorenzo shies away from speaking about his love life in interviews, and we know about only one girl whom he's been with.
Sometime around the year 2020, Lorenzo dated Italian non-celebrity girl Caroline Cannizzaro; the two were spotted spending time together on multiple occasions, but neither has spoken openly about their relationship.
There are some of Lorenzo's fans who believe that the popular actor is gay, and that this is why he's yet to speak about his love life in public, but Lorenzo hasn't addressed these rumors.
He seems to be unattached as of September 2023, hasn't married and doesn't have children.
Interesting facts and hobbies
Lorenzo honed his acting skills at OMNES ARTES school, where he was mentored by Veruska Rossi and Guido Governale.
More than 1.3 million people are following him on Instagram today, on which he's posted close to 150 pictures and videos, with most showing him during his everyday life, whether he's relaxing at home, attending red carpet events, or travelling around the world.
Lorenzo's been featured on the cover page of a number of magazines, most recently of "iO".
He loves the Adriatic Sea, which is perhaps why summer's his favorite season; he enjoys spending summers in Florence, Italy and in Croatia and Montenegro.
Lorenzo's physically quite active as he swims on a daily basis, and occasionally goes to the gym.
He loves animals, and enjoys volunteering at a local animal shelter in Rome.
One of Lorenzo's favorite actors is Terence Hill, and some of his favorite movies include "My Name Is Nobody", "They Call Me Renegade", and "Django, Prepare a Coffin".
Appearance and net worth
Lorenzo's age is 23. He has brown hair and blue eyes, weighs around 175lbs (79kgs) and is 5ft 11ins (1.8m) tall.
Lorenzo's net worth's been estimated at over $500,000, as of September 2023.