The Canadian model and actress Merritt Patterson, is perhaps best known for her performances in the TV series "Ravenswood" and "The Royals." She has also starred in various Great American Family and Hallmark Channel holiday films.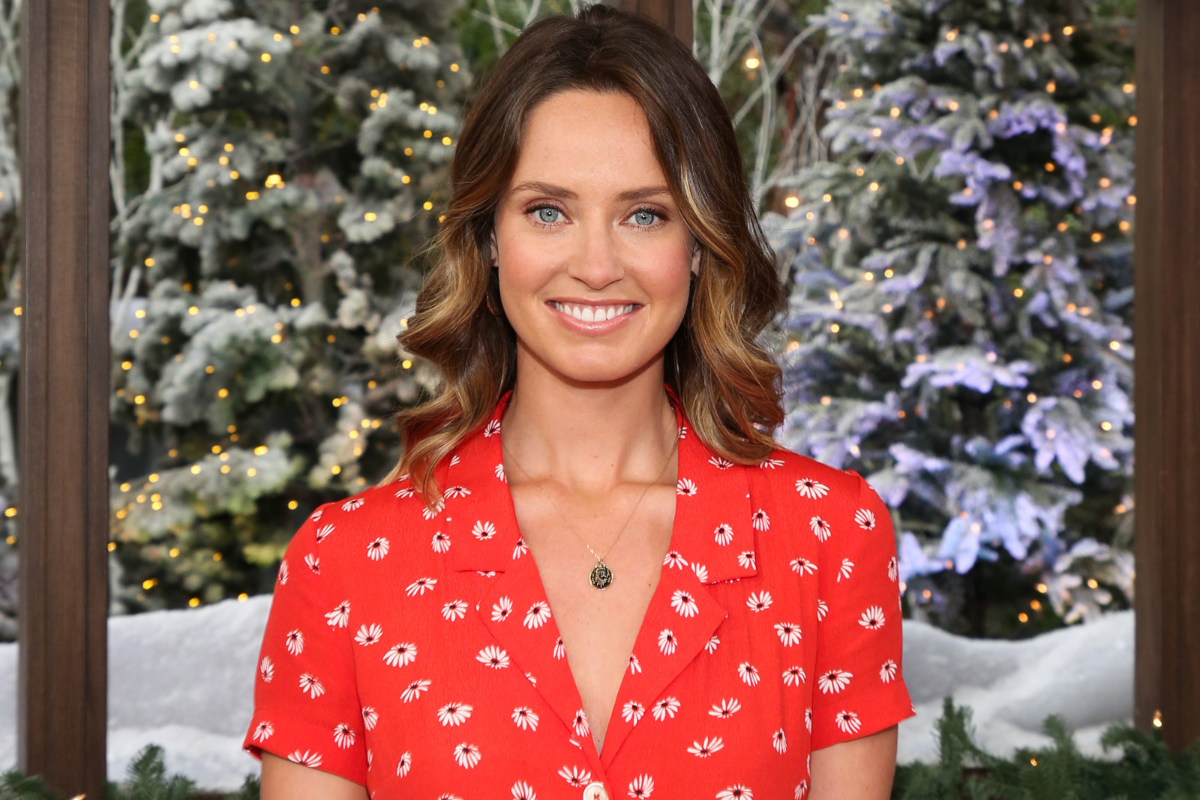 Age, Early Life, and Education Background
Merritt Patterson hails from Whistler, British Columbia, Canada, and was born under the Virgo zodiac sign on 2 September 1990, which makes her 33 years old as of 2023. She's the daughter of Dave Patterson and Leslie Patterson., and is of English and Scottish ancestry. Patterson was brought up alongside her sister, Mackenzie Patterson. She developed an interest in acting after watching her first play at a local theater, to which she had accompanied her parents. Patterson grew up very interested in dancing, and began participating in dancing competitions at the age of 11. When she was 16 years old, Merritt competed against 10,000 other teenage girls at the Teen Model Search by the Canadian Herbal Essences, and outperformed all of them.
Patterson hasn't revealed anything about her educational background, but it's reported that she matriculated from a local high school in 2008, then relocated to Los Angeles, California, to begin her acting career.
Hobbies and Interesting Facts
Merritt is a physically active person. She once dislocated her elbow and, on another occasion, broke her collarbone while biking.
She often practices hip-hop yoga which is a modern form of classic yoga; she trains at A Tribe Called Sweat gym.
The "Ravenswood" actress is an outdoorsy person, who is a huge fan of skiing, boating, swimming, and hiking – she often hikes at Griffith Park in Los Angeles.
Merritt has a strange phobia of butterflies.
It is reported that during the early stages of her career, Merritt had a rough time securing modeling representation because of her short stature.
She is keen on traveling, and has toured numerous US states and several European cities, such as Paris in France and London in England, both for work and leisure.
TV Appearances
In 2006, Merritt made her first TV appearance as Ashleigh Redmond in the American sci-fi "Kyle XY." She went on to appear in single episodes of various other TV series, such as "Supernatural" in 2009 and "Life Unexpected" in 2010. In 2013, she landed her career-defining role of Olivia Matheson in the ABC supernatural teen drama "Ravenswood." She was originally selected to portray the character of Tess – the role was given to Haley Lu Richardson – but the show's creators assigned her the role of Olivia after replacing the American model and actress, Elizabeth Whitson. The teen drama series is set in the fictional city of Ravenswood, and follows the lives of five strangers whose lives become intertwined by a dreadful curse that has troubled their city for generations. Merritt shared the screen with Tyler Blackburn, Brett Dier, Steven Cabral and Nicole Gale Anderson.
In 2014 and 2015 Patterson portrayed Ophelia Matheson in the E! TV drama soap opera "The Royals", sharing the screen with Alexandra Park, Tom Austen, William Moseley and Elizabeth Hurley. 2016 saw Merritt land the main role of Olivia in the second season of the Crackle series "The Art of More."
Film Appearances
Merritt made her film debut as Jessica in the 2009 3D dark fantasy horror "The Hole," which was directed by Joe Dante and starred Haley Bennett, Chris Massoglia, and Bruce Dern. In the year that followed, she made a brief appearance in "Percy Jackson & the Olympians: The Lightning Thief." In 2011, she won the role of Claire in the 2011 sci-fi TV film "Iron Invader," which aired on Syfy basic cable TV channel. 2014 saw Merritt appear in three films, including the biographical comedy-drama "Kid Cannabis," and the action horror, "Wolves." In 2017, she appeared in two Hallmark television films, which included "The Christmas Cottage."
Tonight in The Christmas Cottage Merritt Patterson and Steve Lund end up snowed in at a honeymoon cottage known for being a good luck charm for couples who stay there. Naturally sparks fly!#thechristmascottage #hallmarkies #CountdowntoChristmas pic.twitter.com/9972DK6cAc

— Hallmarkies Podcast (@HallmarkiesPod) December 9, 2017
In 2018 Merritt landed her career-defining role of Cynthia Zamperini in the Harold Cronk-directed Christian drama "Unbroken: Path to Redemption," a sequel to the 2014 movie "Unbroken." The film follows the story of Louis Zamperini (played by Samuel Hunt), who struggles to forget his tribulations as a World War II prisoner. Luckily, he develops feelings for a woman who gives him emotional support and helps him deal with the trauma. Merritt shares the screen with the likes of Maddalena Ischiale, Bobby Compo, and Vincenzo Amato. Her performance saw her nominated for a MovieGuide Award in the category of Most Inspiring Performance in Movies in 2019.
From 2018 to 2021, Merritt appeared in six Hallmark Channel TV films including "The Wedding March 4: Something Old, Something New" (2018), and "Chateau Christmas" (2020), and in 2021, she appeared in the Great American Family TV movie "Jingle Bell Princess," in which she played Princess Amelia. Most recently, in 2022, Merritt portrayed Eve Crane in the film "Heatwave", and Molly Frost in the Great American Family film "Catering Christmas."
Merritt has appeared in TV commercials for several brands, including Roger Touch Phones and UNO.
Social Media Presence
Merritt is active on Instagram (@merritt_pattrsn) with around 165,000 followers. She joined Twitter in September 2011, and is currently followed by over 45,000 fans (@merrittpattrsn).
Personal Life
Merritt is a married woman – she walked the aisle with JP Ringer on 17 September 2022, as she revealed in her Instagram account. Her husband is a talent agent, who worked with the now-defunct International Creative Management (ICM) Partners for almost a decade and a half. There are no records of how the two met and when they began dating. Ringer, who is an alumnus of Indiana University's Kelly School of Business, has also worked with Verve. The couple don't have any children as of September 2023.
Height, Weight, and Physical Appearance
Patterson is of White ethnicity, and has a pair of blue eyes and long brown hair, which she often dyes blonde or black. She is slim, weighs approximately 125lbs (57kgs), and is 5ft 5ins (1.65m) tall, with vital statistics of 35-26-35. Moreover, she wears shoe and dress sizes 7(US) and 6(US) respectively. Merritt follows a healthy diet, which is mostly made up of vegetables, to maintain her slim body.
Net Worth
Merritt has accumulated a good sum from her career as an actress. She also earns from brand endorsement deals, sponsorships, and commercial ads. She's worth approximately $1.5 million as of 2023, and is seemingly leading a luxurious life.