• Big Chief is a 37-year-old Caucasian street racer, race car pundit and TV personality from Louisville, Kentucky.
• He is known for his presence on the TV screen as a star in Discovery channel's reality program entitled "Street Outlaws".
• Big Chief has a net worth of over $2 million, primarily from his appearances on "Street Outlaws".
• He is active on social media, with almost 1 million followers on Facebook, 80 thousand on Twitter, and almost 800 thousand on Instagram.
• His body measurements are 5ft 7ins (1.71m) with dark brown eyes and a regular body shape.

Known for movies

Who is Big Chief?
Born Justin Shearer under the sign of Sagittarius on the 9th of December 1980 in Louisville, Kentucky USA, Big Chief is a 37-year-old Caucasian street racer, race car pundit and TV personality of unknown descent. He is perhaps best known for his significant presence on the TV screen as a star in Discovery channel's reality program entitled "Street Outlaws." He has also had a number of other successes throughout his career, most of which are related to muscle cars and local racing.
Early Life and Education
Big Chief was primarily raised by his mother of unknown profession and identity in his birthplace, but they moved to Oklahoma City when he was 12 years of age It is known that his father died early in his childhood, after which his mother didn't remarry and raised him and his brother – of unknown age and identity – on her own, working two jobs while also finishing a nurse school at the time. Nowadays, Justin expresses remorse for the fact that he wasn't a better son early on. It is also known that his mother taught him how to ride a horse when he was a child, and he also took a very early interest in street racing, since he used to ride his bike to watch the races on Old Route 66 near his birthplace. As for his education, it is unknown what high school he went to, though he is supposed to have matriculated in 1998. It is also unknown whether he ever furthered his education by attending college.
Career
Justin began hanging around the numerous street race crews of Oklahoma City when he was only 12 years old, but it took a while until he started racing himself. First off, he needed to gather enough funds for his own first car, so he worked various jobs, such as being a clerk at a gas station. He eventually got a job at Midwest Street Cars, which is a famous Oklahoma institution that deals in car parts and various other car-related accessories.  His first race car was a 1972 Pontiac LeMans, which he named The Crow, which he still has today, though it now looks quite different, as he had it completely restored after an racing accident. However, his career really took off the moment when he began hosting the wildly popular street racing reality TV series entitled "Street Outlaws", the first episode of which was aired on 11
th
June 2013. The show now has a total of 11 seasons, and it's still ongoing – Big Chief wasn't involved from the start, but instead gained significant recognition through his racing skills before being given the job. He now has a merchandise store with various clothing items featuring his image, quote, car or nickname, and this business seems to be a booming success.
Love Life
Nothing is known about Big Chief's relationships prior to his public one. It is known that he met Alicia Shearer during his time as a clerk at a gas station, where she also worked. He was 18 years old at that point, while her age is unknown, but she happened to be a street racing fan and a car enthusiast, which resulted in near-instantaneous attraction between the two. They began dating in 1998 and eventually married in 2006. Together, they have two sons, named Covil and Corbin, though it's unknown when exactly they were born. He lists the births of his sons as the two proudest moments in his life.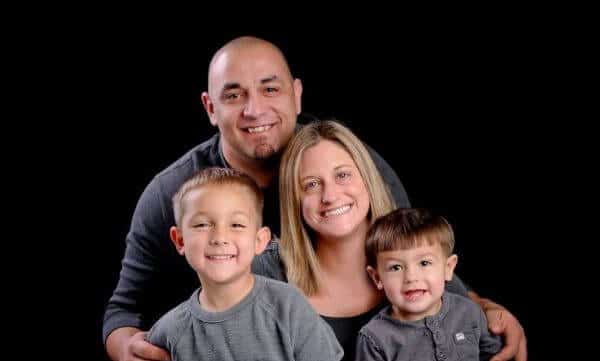 The Accident
Big Chief wrecked his car in a race in 2015, in which he suffered very serious injuries. In a public announcement following the accident, he declared: 'THANK YOU EVERYONE…. I'm pretty beat up right now. Just woke me up for some breathing treatments. Pulmonary contusions (bruised lungs). Crushed my L2 and L3 in my back, broken collarbone, and pretty beat up, but so thankful to be alive right now. They got me on non-stop oxygen and another round of cat scans, and X-rays coming up. The surgeon doesn't believe I will need back operation anymore, but they are going to keep me in the hospital again tonight to keep an eye on the lungs, YES I WILL BE BACK!'
What is Big Chief's Net Worth?
Have you ever wondered how rich Big Chief is, as of mid-2018? According to various authoritative sources, it has been estimated that the current total of Chief's accumulated wealth is over $2 million, although his current income is unknown. He made his fortune as a street racer and race car expert, but has possibly earned the most from his long-term presence on TV as the host of "Street Outlaws." As his career continues to develop, the said amount can be expected to increase.
Happy Fall! pic.twitter.com/HP55q68QlO

— Justin Shearer (@BigChiefOKC) November 5, 2013
Body Measurements
Concerning the physical attributes of the experienced street racer, only his height is known – 5ft 7ins (1.71m). His hair is non-existent since he is bald, his eyes are dark brown, while his body shape is generally described as regular.
Social Media Presence
Due to the major influence of social networks, it is nowadays a regular thing for active celebrities to nourish a close and active relationship with their fans, for the sake of increasing the popularity of the projects they're working on, and thus their own net worth. Chief seems to be a regular subscriber, if not the leading example of this celebrity trend, as his presence is quite ubiquitous on most social media networks. His Facebook page has almost 1,000,000 followers, his Twitter account has over 80,000, and his Instagram account has almost 800,000 fans.
Movies
Camera Department
| Title | Year | Status | Character |
| --- | --- | --- | --- |
| Sensitive Skin | 2016 | Video lighting - as Big Chief Quarterback | |
| Pornstars Try Nuru | 2016 | Video lighting - as Big Chief Quarterback | |
| Curiosity Killed the Cat | 2016 | Video lighting - as Big Chief Quarterback | |
| Family Fantasies | 2016 | Video lighting | |
| Public Interest | 2015 | Video lighting - as BIg Chief Quarterback | |
| Natural Remedy | 2015 | Video lighting | |
| Milk Maids | 2015 | Video lighting | |
| Interracial Rubdowns | 2015 | Video lighting | |
| Magic Mike XXXL: A Hardcore Parody | 2015 | Video grip | |
| Nuru in the Family | 2015 | Video lighting | |
| Rack City Titty | 2014 | Video lighting technician - as Big Chief Quarterback | |
| Nine 1/2 Weeks: An Erotic XXX Parody | 2014 | Video grip | |
| Asa Gets Wicked | 2014 | Video grip - as Big Chief Quarterback | |
| In Heat | 2013 | Video lighting grip | |
| T&A | 2013 | Video gaffer | |
| Devil on a Chain | 2013 | Video gaffer | |
| Wet | 2013 | Video lighting technician - as Big Chief Quarter Black | |
| Breaking Bad XXX | 2012 | Video grip | |
| Official the Hangover Parody | 2012 | Video gaffer | |
| Here Comes the Bride | 2012 | Video electrician | |
| Teen Ravers | 2012 | Video lighting grip - as Big Chief Quarter Black | |
| Official Sons of Anarchy Parody | 2011 | Video lighting - as Big Chief | |
| Inside Story | 2010 | Video grip | |
| BATFXXX: Dark Night Parody | 2010 | Video grip electric - as Big Chief Quarterback | |
| Bonny & Clide | 2010 | Video grip electric - as Big Chief Quarterback | |
| Not Really.. The Dukes of Hazzard: A Hardcore Parody | 2010 | Video best boy - as Big Chief | |
| The Delinquents | 2010 | Video lighting technician - as Big Chief Quarter Black | |
| The Jeffersons: A XXX Parody | 2009 | Video grip - as Chief Quarterblack | |
Producer
| Title | Year | Status | Character |
| --- | --- | --- | --- |
| My Roomate's a Lesbian | 2011 | Video producer - as Big Chief Quarter Black | |
| All About Kagney Linn Karter | 2011 | Video producer | |
| Big Tit Soccer Mom Orgy | 2011 | Video producer | |
| Official Vagina Monologues Parody | 2011 | Video producer | |
| The Real Housewives of the San Fernando Valley | 2011 | Video producer | |
| Official to Catch a Predator Parody 2 | 2011 | Video producer - as Big Chief Quarter Black | |
| Teachers Fucking Students | 2011 | Video producer | |
| Is Your Mother Home? | 2011 | Video producer | |
| Bachelorette Orgy | 2011 | Video producer | |
| Stripper Diaries 2 | 2011 | Video producer | |
Actor
| Title | Year | Status | Character |
| --- | --- | --- | --- |
| Wanted | 2015 | Video | Apache (Non-sex role) (as Big Chief Quarterback) |
| Underworld | 2013 | Video | EMT #2 |
| Beyond Fucked: A Zombie Odyssey | 2013 | Video | Zombie / Extra |
| Measure X | 2013 | Video | Boom Operator (uncredited) |
| Breaking Bad XXX | 2012 | Video | Porn Crew |
| Official the Hangover Parody | 2012 | Video | The Bodyguard |
| Official to Catch a Predator Parody 2 | 2011 | Video | Boom Operator (uncredited) |
| Popporn: The Guide to Making Fuck | 2009 | Video | |
Miscellaneous
| Title | Year | Status | Character |
| --- | --- | --- | --- |
| Physical Therapy | 2016 | Video production assistant - as Big Chief Quarterback | |
| Aftermath | 2014 | Video production assistant | |
| Star Kissed | 2013 | Video production assistant | |
| Underworld | 2013 | Video production assistant | |
| Official Next Friday Parody | 2012 | Video production assistant | |
| Harder | 2011 | Video production assistant - as Big Chief Quarter Black | |
| Hard Days Work | 2010 | Video production assistant - as Big Chief 1/4 Black | |
| Official Californication Parody | 2010 | Video production assistant - as Big Chief Quarter Black | |
Sound Department
| Title | Year | Status | Character |
| --- | --- | --- | --- |
| Devil Inside | 2016 | Video boom operator | |
| Measure X | 2013 | Video sound - as Big Chief Quarter Black | |
| Official to Catch a Predator Parody 2 | 2011 | Video sound - uncredited | |
| The Jeffersons: A XXX Parody | 2009 | Video boom operator - as Chief Quarterblack | |
Production Manager
| Title | Year | Status | Character |
| --- | --- | --- | --- |
| Official Revenge of the Nerds Parody | 2011 | Video production manager - as Big Chief Quarter Black | |
Self
| Title | Year | Status | Character |
| --- | --- | --- | --- |
| Best in Sex: 2016 AVN Awards | 2016 | TV Special | Himself |
Source:
IMDb
,
Wikipedia